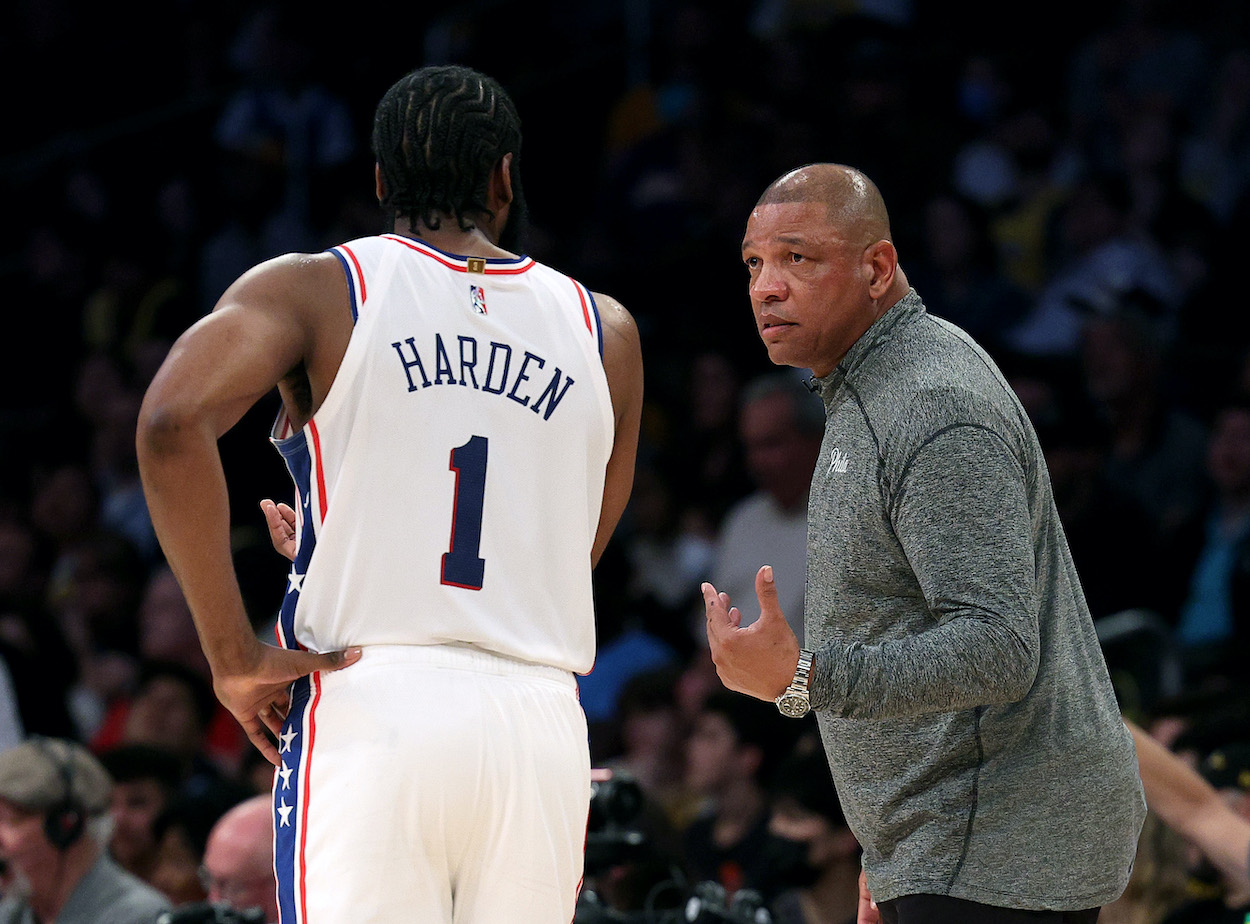 Philadelphia 76ers: Doc Rivers Makes Concerning Comments About Upcoming Playoff Run
Doc Rivers isn't helping 76ers fans feel too confident about a lengthy playoff run.
The new-look Philadelphia 76ers have been together for more than two months. Although James Harden hasn't suited up every single night, he's had 21 games to gel with his new teammates and find a system that works around MVP candidate Joel Embiid.
But with the playoffs right around the corner, Sixers head coach Doc Rivers made some concerning comments illustrating his team clearly still has some kinks to work out.
The 76ers are under immense pressure to make a deep playoff run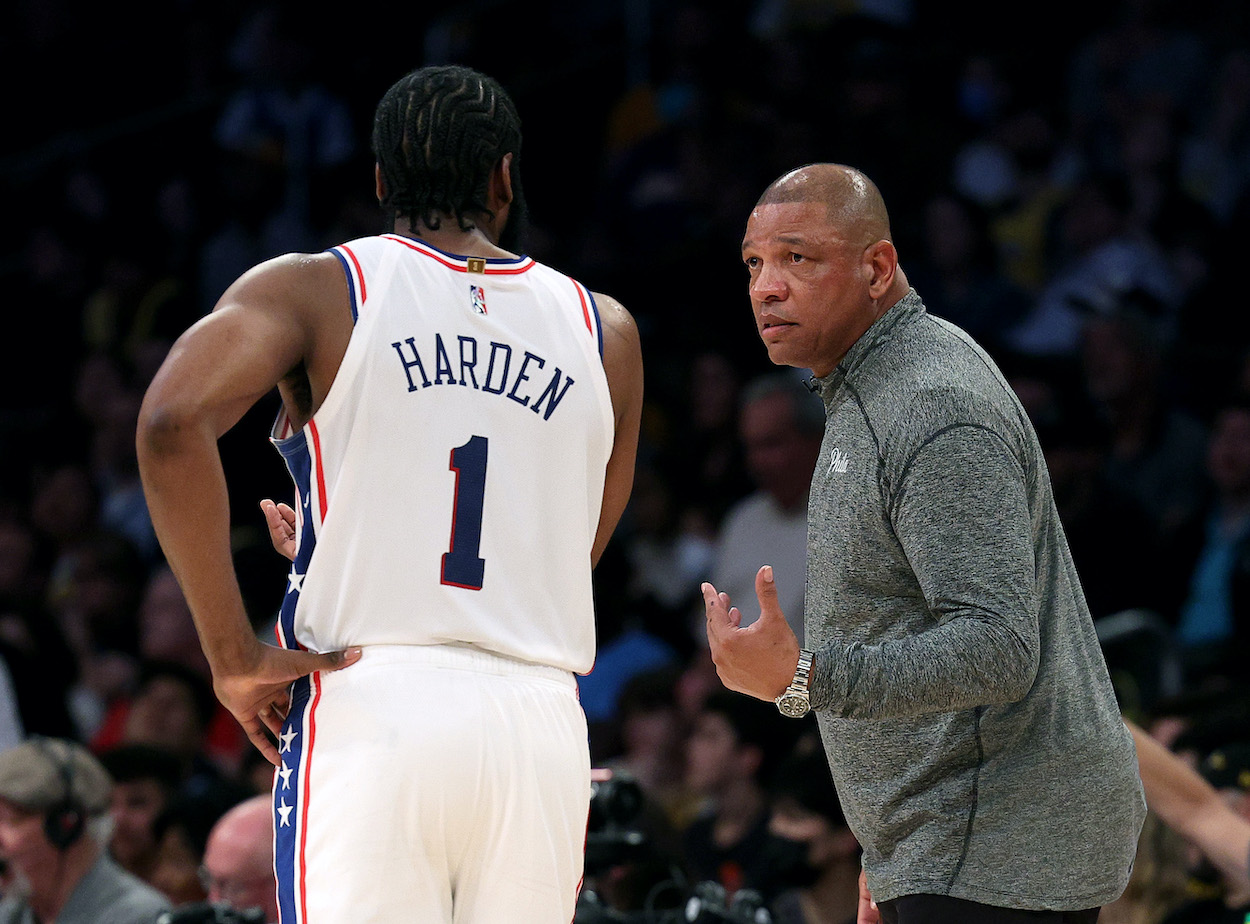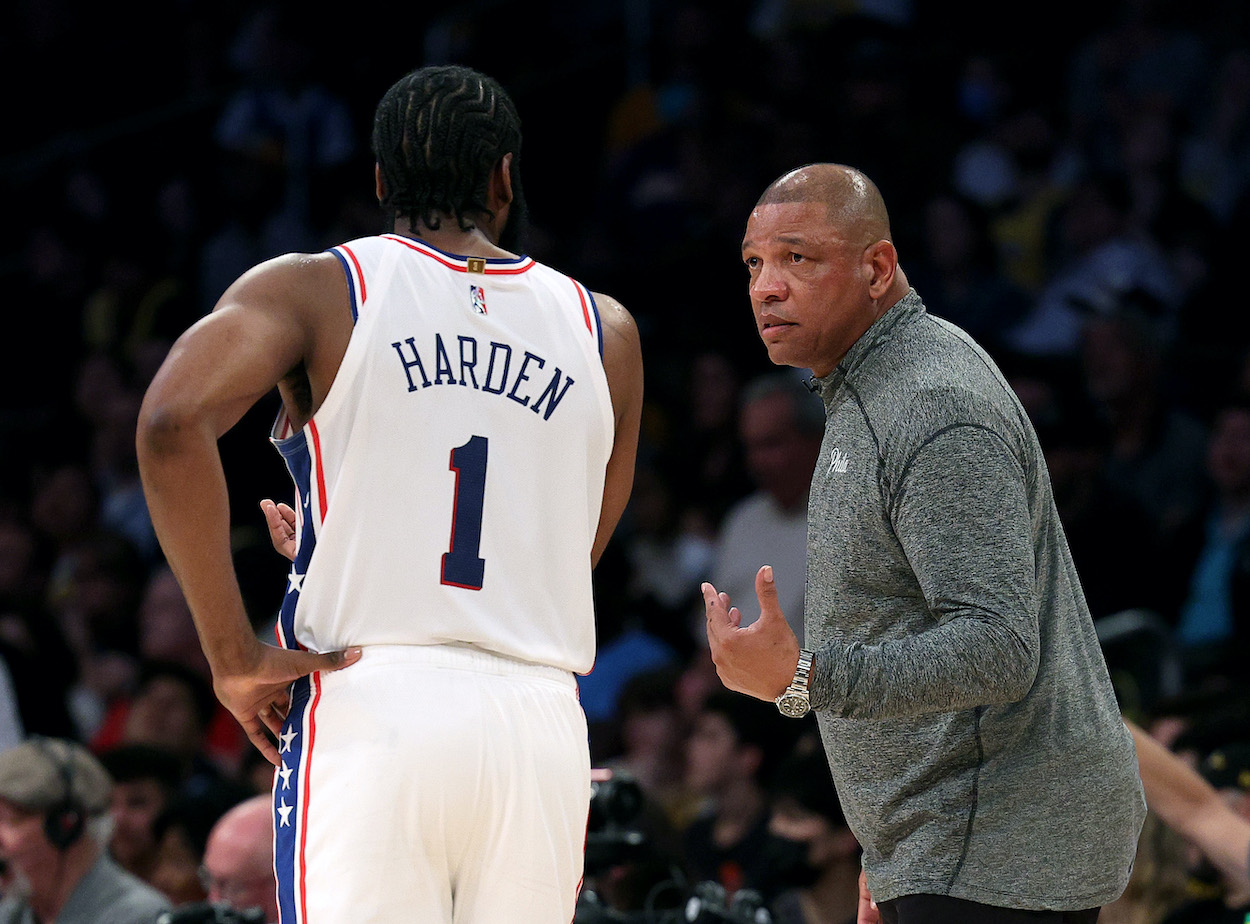 The 76ers have never entered the playoffs with more pressure on their shoulders in the Embiid era. Philly went all in at the NBA trade deadline by trading away Ben Simmons for Harden, and the expectations immediately shifted to championship or bust.
Harden is going to be 33 in a few months. Embiid just turned 28. Either or both could slip out of their prime at any moment. We're already seeing some of that regression from Harden. The once-nimble shooting guard now struggles to drive by defenders and exploit matchups in isolation. He's also never shot worse from three-point land than he has this season (33%).
It's possible The Beard is still limited by his nagging hamstring injury, but it's more likely his athletic peak is behind him and it's only down from here. That's a concerning issue for the 76ers, who will have to decide this offseason whether Harden is worth signing to another contract.
As for Embiid, the Sixers have paired him with a veteran leader who wants the ball at the end of games in Jimmy Butler, a pass-first defensive specialist in Simmons, and now a ball-dominant guard in Harden who, on paper, is the perfect offensive pairing with the center. If Act III ends up like the first two, the curtains may be closed on Embiid ever winning a title.
It's now or never for the 76ers, and even though they haven't had a full season to mesh, Embiid and Harden can't use chemistry as an excuse for another early exit.
Doc Rivers makes concerning comments regarding James Harden
Embiid and Harden have played 21 games together this season. In those games, the 76ers are 14-7. Philadelphia has a 125.75 offensive rating when Embiid and Harden share the court. For reference, the Utah Jazz lead the NBA this season with an offensive rating of 116.2.
It sure seems like Embiid and Harden are working just fine on the court together, but Rivers still thinks they need time to gel, and he said he's thankful the NBA Play-In Tournament is giving his team more time to do just that.
"I think this is really good," Rivers told reporters this week, per Keith Pompey of The Philadelphia Inquirer. "Maybe if I had been together [it would be different]. If you're Golden State or Milwaukee, I'm sure they would love to jump right into it. They already know what they're doing. But in this case, honestly, I think it's good for us. So I like it."
Wait, so you're implying you don't already know what you're doing? It's been two months, Doc.
As for Harden, Rivers doesn't think he's up to speed just yet.
"I think he's getting it," Rivers said. "I don't think any of us are there yet. But we're working on it. We're a work in progress."
A work in progress? Game 1 against the Toronto Raptors is this Saturday. You cannot afford to be a work in progress at this point in the season. This is a do-or-die postseason for the Sixers. If they still aren't where they need to be from a chemistry standpoint, it could be another short playoff run for Philly.
Like Sportscasting on Facebook. Follow us on Twitter @sportscasting19.