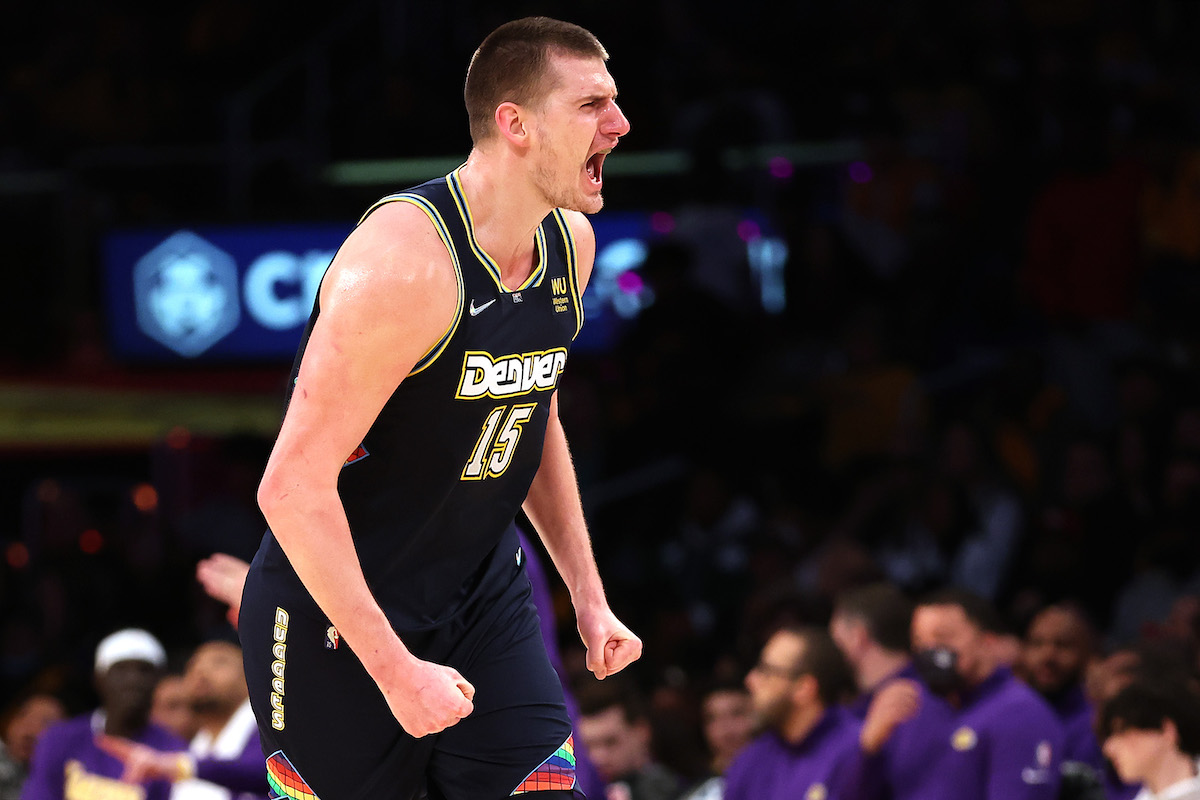 NBA Player Power Rankings: Nikola Jokic's Dominance Creates Tremendous Playoff Pressure for Denver Nuggets Star Center
Nikola Jokic claims the No. 1 spot in the NBA Player Power Rankings yet again, but now comes the fun part. He's proved himself in the regular season, and the playoffs are only going to ratchet up the pressure.
The NBA playoffs are upon us following a fantastically entertaining 2021-22 campaign, and that means the pressure ratchets up at least a few notches for regular-season superstars such as Denver Nuggets center Nikola Jokic.
That's not to say Jokic is only a regular-season superstar. But the likely back-to-back MVP fell to the eventual Western Conference representatives in four games during last season's second round — yes, in spite of some stellar individual showings — and might need to make some noise as a solo star this time around in order to validate the lofty territory in which he now finds himself.
Spoiler alert: He's holding off Giannis Antetokounmpo, Joel Embiid, and the rest of the league's leading stars yet again after checking in at No. 1 in the last edition of the NBA Player Power Rankings. But the rest of the field is shifting dramatically, especially now that only players still alive in the chase for a title are eligible.
Using data provided by NBA Math, we're turning to rolling player ratings, which use game score and schedule adjustments to evaluate how each player has performed over his last 10 appearances. The higher the number, the better the performance, and it's scaled so that the scores are comparable to the scale on which scoring outputs are measured.
Players must have suited up at least once in the last week and still hold 2021-22 title dreams to be eligible for our top-25 countdown, which begins now.
Nos. 25-21: Keldon Johnson, Zach LaVine, Bam Adebayo, Miles Bridges, Jordan Poole
25. Keldon Johnson, San Antonio Spurs: 16.82 (Previous ranking: unranked)
24. Zach LaVine, Chicago Bulls: 17.55 (Previous ranking: No. 20)
23. Bam Adebayo, Miami Heat: 17.72 (Previous ranking: unranked)
22. Miles Bridges, Charlotte Hornets: 17.75 (Previous ranking: No. 16)
21. Jordan Poole, Golden State Warriors: 18.04 (No change)
The San Antonio Spurs are still alive in the pursuit of a true playoff spot, and their No. 10 placement in the Western Conference standings isn't just a testimony to the stellar play of one Dejounte Murray. Jakob Poeltl's sturdy interior defense, Devin Vassell's evolving all-around game, and plenty more have contributed to the success, and all the while, Keldon Johnson has continued to morph into a convincing second option on the offensive end.
The third-year forward finished the regular season with eight consecutive games of at least 20 points, and he's not just benefitting from raw volume in an offense that lacks other established options. Over his last 10 appearances, he's averaged 21.8 points, 6.2 rebounds, 3.4 assists, and just 1.2 turnovers while shooting 46.6% from the field, 36.0% from downtown, and 79.6% at the stripe.
Johnson's growth as a three-point marksman has allowed him to do more than hurtle toward the basket with a full head of steam, and that newfound ability to harness his athleticism and physicality makes the Spurs all the more dangerous in games that really count.
Nos. 20-16: Jimmy Butler, Kyrie Irving, Karl-Anthony Towns, James Harden, Donovan Mitchell
20. Jimmy Butler, Miami Heat: 18.28 (Previous ranking: No. 19)
19. Kyrie Irving, Brooklyn Nets: 18.28 (Previous ranking: No. 7)
18. Karl-Anthony Towns, Minnesota Timberwolves: 18.3 (Previous ranking: No. 25)
17. James Harden, Philadelphia 76ers: 18.42 (Previous ranking: No. 23)
16. Donovan Mitchell, Utah Jazz: 18.58 (Previous ranking: No. 17)
James Harden hasn't exactly had the most stellar postseason history, which is why the Philadelphia 76ers immediately set about creating a role within their offense that would keep him fresh for the inevitable playoff run. And though it's now easy to complain about his lack of on-ball excellence operating alongside scoring champion Joel Embiid, he's at least trending up at the most important time of the year.
Over his last 10 games, Harden is averaging 19.6 points, 7.2 rebounds, and 10.5 assists. He's shooting a putrid 37.2% from the field and 30.6% from downtown, but he's at least getting to the line frequently and accepting a role that sees him excel more as a passer than a go-to scorer.
Some of those shots should start to fall at a higher clip in a difficult first-round series against the Toronto Raptors, who can throw a wide variety of bodies at him on a nightly basis. But even if they don't, Harden is set up to contribute positively with his facilitation — an underrated aspect of his game for years that's taking more of a center stage as he struggles to find nylon on his own.
Nos. 15-11: Darius Garland, LaMelo Ball, Brandon Ingram, DeMar DeRozan, Jaylen Brown
15. Darius Garland, Cleveland Cavaliers: 19.01 (No change)
14. LaMelo Ball, Charlotte Hornets: 19.15 (Previous ranking: No. 22)
13. Brandon Ingram, New Orleans Pelicans: 19.73 (Previous ranking: No. 18)
12. DeMar DeRozan, Chicago Bulls: 19.79 (No change)
11. Jaylen Brown, Boston Celtics: 20.49 (Previous ranking: No. 13)
LaMelo Ball has his work cut out for him to navigate the play-in tourney and earn a true postseason bid for his up-and-coming Charlotte Hornets. Beating the Trae Young-led Atlanta Hawks is a tough enough task, and that's before having to take down the loser of the game between the Brooklyn Nets and Cleveland Cavaliers.
But the 20-year-old guard is already finishing better around the basket and refusing to miss deep looks during the season's stretch run. Dating back to a March 23 loss to the New York Knicks, he's averaged 23.3 points, 6.1 rebounds, and 9.1 assists while slashing 47.0/45.7/90.5. That middle percentage coming on 9.2 attempts per game from beyond the arc makes it all the more impressive.
Ball may only be in his second season, but he's already blossomed into one of those offensive talents who could single-handedly go on a series-altering run — and that's saying nothing of his quick hands and preternatural instincts on the preventing side.
Nos. 10-6: Dejounte Murray, Pascal Siakam, Jayson Tatum, Devin Booker, Luka Doncic
10. Dejounte Murray, San Antonio Spurs: 20.68 (Previous ranking: unranked)
9. Pascal Siakam, Toronto Raptors: 22.92 (Previous ranking: No. 15)
8. Jayson Tatum, Boston Celtics: 22.99 (Previous ranking: No. 10)
7. Devin Booker, Phoenix Suns: 23.84 (Previous ranking: No. 6)
6. Luka Doncic, Dallas Mavericks: 24.07 (Previous ranking: No. 9)
Dejounte Murray struggled in his return from an illness that knocked him out of the San Antonio Spurs lineup for five games, but that appearance at the end of the regular season was little more than a tune-up before the set of elimination contests he and his team will face. Even with that in the mix, he's averaged 24.5 points, 7.5 rebounds, 8.2 assists, and 1.9 steals while slashing 43.9/37.1/83.6 over his last 10 outings.
The first-time All-Star has been bolstered by the improving play of Keldon Johnson and the other notable members of the San Antonio rotation, but this has, rather unquestionably, become his team.
He's in contention for an All-Defensive spot and may even get some Most Improved Player love after averaging 5.4 more points, 1.2 more rebounds, and 3.8 more assists per game, leading the league in steals, and developing into a two-way stalwart who can do damage from any area on the hardwood. He might not enjoy as much name recognition as the standouts surrounding him in these rankings, but he's earned the spot.
Nos. 5-1: Trae Young, Kevin Durant, Giannis Antetokounmpo, Joel Embiid, Nikola Jokic
5. Trae Young, Atlanta Hawks: 24.72 (Previous ranking: No. 8)
4. Kevin Durant, Brooklyn Nets: 25.61 (Previous ranking: No. 5)
3. Giannis Antetokounmpo, Milwaukee Bucks: 26.46 (No change)
2. Joel Embiid, Philadelphia 76ers: 28.21 (No change)
1. Nikola Jokic, Denver Nuggets: 30.98 (No change)
Nikola Jokic has become the odds-on favorite to win his second consecutive MVP thanks to a stellar individual stretch run in which he did just about everything for the Denver Nuggets. Not only did he continue to function as an improved interior defender, just as he has throughout the 2021-22 campaign, but he also kept throwing up double-digit numbers in points, rebounds, and assists.
Now, impressive as it may be that he averaged 33.1 points, 14.2 rebounds, 6.8 assists, 2.1 steals, and 1.0 blocks while shooting 62.7% from the field over his final 10 games of the regular season, all attention shifts to the playoffs.
And with that comes pressure. Oh, the pressure.
Even though MVP is a regular-seasohttps://www.sportscasting.com/2022-nba-play-in-tournament-viewing-guide/n award, expectations rise for players who earn the Association's most prestigious individual accolade — even more so for back-to-back winners, which Jokic should soon become.
Last season's postseason journey ended in a second-round sweep at the hands of the Phoenix Suns, and a first-round loss to the Golden State Warriors could shift the narrative surrounding the Serbian superstar. Would that be fair with Jamal Murray and Michael Porter Jr. yet to return to the lineup? Nope, but it's still the reality. With great success comes even greater expectations.
All stats, unless otherwise indicated, courtesy of Basketball Reference and NBA Math and accurate heading into the NBA playoffs.