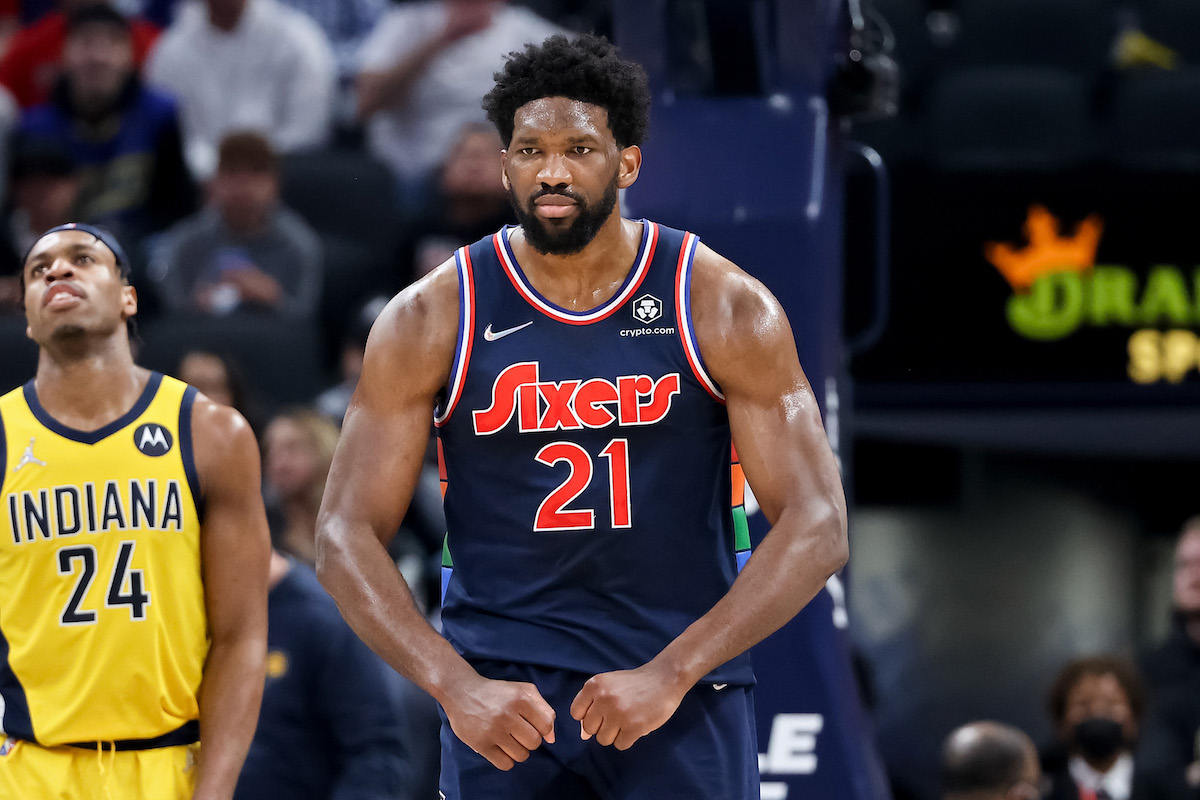 NBA Player Power Rankings: Joel Embiid Starting to Lock up the Scoring Title
Joel Embiid is close to locking up the 2021-22 NBA scoring title by averaging 30.4 points per game. He finished at No. 3 in the last edition of our NBA Player Power Rankings. Can he claim the top spot this time?
This Joel Embiid guy is pretty good at scoring the basketball.
Averaging a league-best 30.4 points per game for a Philadelphia 76ers squad set to secure home-court advantage in the first round of the NBA playoffs, the big man has thrived throughout the year regardless of who he's playing alongside — or, in the case of Ben Simmons, not playing alongside. He can, quite simply, get buckets inside and out, bolstering his MVP candidacy with his two-way play.
He's been a mainstay in the top five of our NBA Player Power Rankings, but has he risen any closer to the top spot after checking in at No. 3 in the last edition?
Using data provided by NBA Math, we're turning to rolling player ratings, which use game score and schedule adjustments to evaluate how each player has performed over his last 10 appearances. The higher the number, the better the performance, and it's scaled so that the scores are comparable to the scale on which scoring outputs are measured.
Players must have suited up at least once in the last week to be eligible for our top-25 countdown, which begins now.
Nos. 25-21: Towns, Porzingis, Harden, Ball, Poole
25. Karl-Anthony Towns, Minnesota Timberwolves: 18.81 (Previous ranking: No. 13)
24. Kristaps Porzingis, Washington Wizards: 18.97 (Previous ranking: unranked)
23. James Harden, Brooklyn Nets: 19.32 (Previous ranking: No. 17)
22. LaMelo Ball, Charlotte Hornets: 19.35 (Previous ranking: No. 24)
21. Jordan Poole, Golden State Warriors: 19.39 (No change)
The Washington Wizards aren't in the play-in mix as a byproduct of their No. 11 placement in the Eastern Conference standings, but this campaign quickly became more about the future than the present after Bradley Beal's season-ending wrist surgery back in February. And that's great news for Kristaps Porzingis, who arrived just prior to the trade deadline and has thrived for a team firmly off the national radar.
Over his last 10 games, he's left little doubt that he will function as a key part of the future in D.C. He's averaged 23.2 points, 10.1 rebounds, 3.4 assists, 0.9 steals, and 1.7 blocks while shooting 46.2% from the field, 38.5% on his three-pointers, and 87.1% at the stripe. Regardless of whether he's launched from beyond the arc or attacked the basket, he's displayed some of the aggression he often lacked in previous stops.
Porzingis is under contract through 2022-23 and then has a $36 million player option he'll likely pick up in 2023-24, so Wizards fans can already start dreaming about the pick-and-roll/pop action he'll run with a healthy Beal next year.
Nos. 20-16: LaVine, Butler, Ingram, Mitchell, Bridges
20. Zach LaVine, Chicago Bulls: 19.5 (Previous ranking: No. 19)
19. Jimmy Butler, Miami Heat: 19.5 (Previous ranking: No. 25)
18. Brandon Ingram, New Orleans Pelicans: 19.71 (Previous ranking: No. 22)
17. Donovan Mitchell, Utah Jazz: 19.71 (Previous ranking: No. 18)
16. Miles Bridges, Charlotte Hornets: 19.81 (Previous ranking: No. 19)
Remember when Happy Gilmore learned to putt and the entire game changed?
Jimmy Butler went 2-of-3 from behind the rainbow against the Chicago Bulls on April 2, and then he made two of his four deep attempts against the Charlotte Hornets three days later. Astoundingly, it was the first time all season he'd made multiple threes in consecutive appearances. Perhaps just as shockingly, those performances gave him his sixth and seventh outings all year with multiple made threes.
The Miami Heat have been winning games throughout the season, to the point that they're two games clear of the Boston Celtics for the best record in the Eastern Conference. And if Butler gains confidence from outside the arc, considering the fantastic campaign he's already submitting while doing so much of his damage on the inside, they could be that much deadlier for the most important games on the calendar.
Nos. 15-11: Garland, Siakam, Brown, DeRozan, Davis
15. Darius Garland, Cleveland Cavaliers: 20.18 (Previous ranking: No. 16)
14. Pascal Siakam, Toronto Raptors: 20.3 (Previous ranking: No. 15)
13. Jaylen Brown, Boston Celtics: 20.42 (Previous ranking: No. 14)
12. DeMar DeRozan, Chicago Bulls: 20.78 (Previous ranking: No. 23)
11. Anthony Davis, Los Angeles Lakers: 22.33 (No change)
Especially with Nikola Jokic and Joel Embiid technically eligible at forward on All-NBA ballots, Pascal Siakam is going to have an almost impossible time earning that type of recognition for the second time in his blossoming career.
One of Embiid/Jokic, Giannis Antetokounmpo, Jayson Tatum, LeBron James, Kevin Durant, DeMar DeRozan, and Jimmy Butler are the primary competition at the forward slots, and it's hard to imagine him earning one of the six at their expense. But Siakam is, rather unquestionably, playing at an All-NBA level even if he's not going to be rewarded with the actual accolade.
He's thrived throughout the season even while deferring touches to Fred VanVleet, Scottie Barnes, and the rest of an offense that can often excel in an egalitarian fashion under head coach Nick Nurse. He's played tremendous and versatile defense. And he's thrived as the year has gone on, averaging 25.1 points, 8.7 rebounds, 5.7 assists, and 1.0 steals while slashing 53.3/33.3/75.9 over his last 10 appearances.
Nos. 10-6: Tatum, Doncic, Young, Irving, Booker
10. Jayson Tatum, Boston Celtics: 22.45 (Previous ranking: No. 9)
9. Luka Doncic, Dallas Mavericks: 23.31 (Previous ranking: No. 8)
8. Trae Young, Atlanta Hawks: 23.87 (Previous ranking: No. 6)
7. Kyrie Irving, Brooklyn Nets: 23.9 (Previous ranking: No. 10)
6. Devin Booker, Phoenix Suns: 24.15 (Previous ranking: No. 7)
Before New York City relaxed the restrictions on unvaccinated workers, allowing Kyrie Irving to rejoin the Brooklyn Nets full-time, we couldn't quite be certain whether he'd be as effective when playing in every single game. He'd thrived in his part-time role, putting up high-scoring performance after high-scoring performance and capitalizing on the increased freshness with which he could operate when enjoying such long breaks between games.
Well, those questions no longer exist.
He's played eight games in a row, and he's averaged 27.0 points, 3.1 rebounds, 6.6 assists, and 1.5 steals during those contests. Better still, he's turned the ball over just three times per game and helped the Nets outscore their opponents by an average of 4.5 points with him on the floor as he's shot 41.2% from the field and 40.5% from downtown on 10.5 attempts per game. He's also connected from the stripe at a 97.0% clip.
As it turns out, Irving is a supremely talented basketball player regardless of the situation.
Nos. 5-1: Durant, James, Antetokounmpo, Embiid, Jokic
5. Kevin Durant, Brooklyn Nets: 25.73 (Previous ranking: No. 4)
4. LeBron James, Los Angeles Lakers: 26.12 (Previous ranking: No. 5)
3. Giannis Antetokounmpo, Milwaukee Bucks: 26.85 (Previous ranking: No. 2)
2. Joel Embiid, Philadelphia 76ers: 26.95 (Previous ranking: No. 3)
1. Nikola Jokic, Denver Nuggets: 30.36 (No change)
Joel Embiid has been spending much of this season trying to become the first center since Shaquille O'Neal to win the scoring title, though never at the expense of doing what's best for the Philadelphia 76ers. He's still dedicating plenty of his energy to playing high-level defense, has developed as a passer out of double-teams, and has never fallen into stat-chasing territory.
Even though LeBron James has a chance to claim the scoring crown for the first time since 2007-08 — a sentiment that could somehow remain true even if he technically doesn't qualify — Embiid is doing everything in his power to make all other candidates irrelevant.
He now sits above the field with 30.4 points per game, and he's scored an unfathomable 33.1 per contest in his last 10 outings, even putting up 89 total over his last two games. Plus, those numbers have come while he's slashed 53.0/40.5/78.2.
Embiid is locked in a tight battle for MVP with Giannis Antetokounmpo and Nikola Jokic, but he's making that scoring competition look more and more like it's over.
All stats, unless otherwise indicated, courtesy of Basketball Reference and NBA Math and accurate heading into games on April 7.