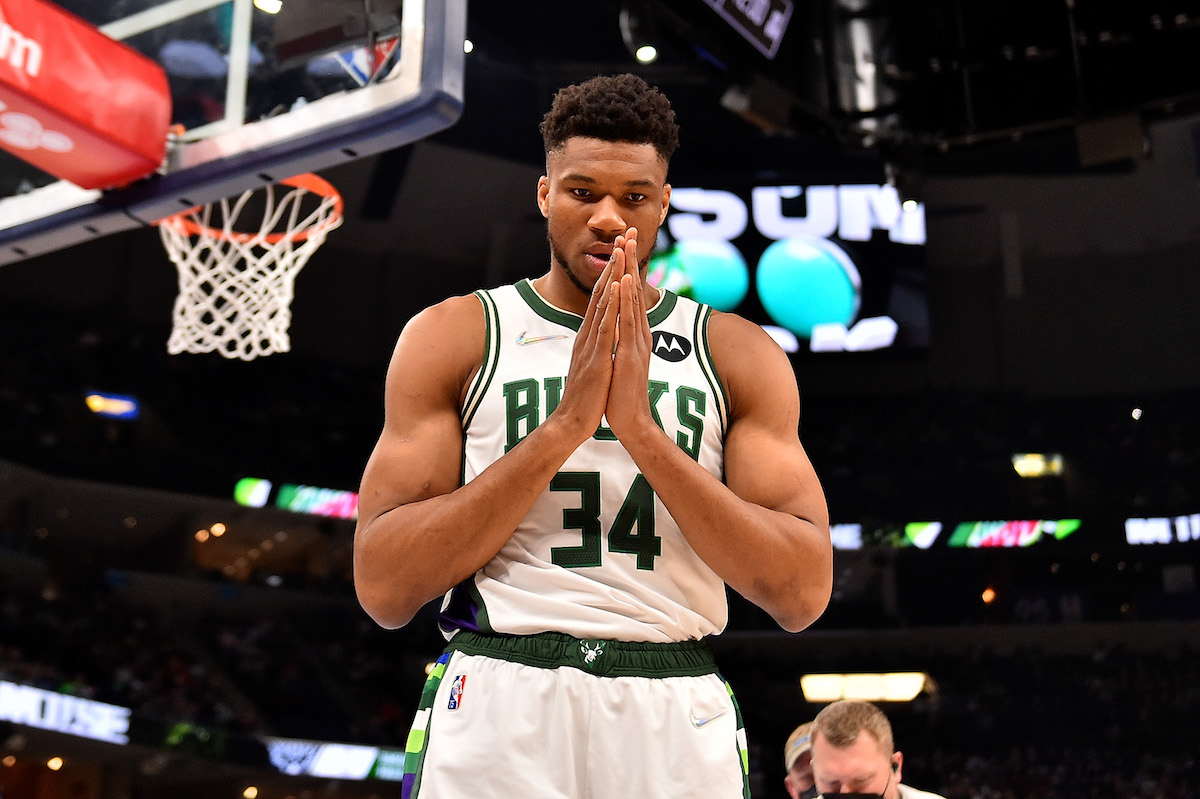 NBA Player Power Rankings: Giannis Antetokounmpo Can't Stop 2-Way Domination for Milwaukee Bucks
This Giannis Antetokounmpo guy is pretty good at basketball. But has he done enough to displace Nikola Jokic at the No. 1 spot in our player power rankings?
Giannis Antetokounmpo already has a full career's worth of NBA accolades for the Milwaukee Bucks. He may only be 27 years old, but he's already a two-time MVP, the 2019-20 Defensive Player of the Year, a one-time champion and Finals MVP, and a member of the 75th Anniversary Team.
He sure seems intent on climbing the NBA player power rankings and adding to his collection. He'll make his sixth All-NBA squad at the end of the regular season, has his Bucks positioned to defend their Larry O'Brien Trophy, and is one of the front-runners for both MVP and DPOY. Again.
Of course, he's not the only notable player thriving in recent weeks, nor is he the only one who's risen since our March 31 edition of the player power rankings.
Using data provided by NBA Math, we're turning to rolling player ratings, which use game score and schedule adjustments to evaluate how each player has performed over his last 10 appearances. The higher the number, the better the performance, and it's scaled so that the scores are comparable to the scale on which scoring outputs are measured.
Players must have suited up at least once in the last week to be eligible for our top-25 countdown, which begins now.
Nos. 25-21: Jimmy Butler, LaMelo Ball, DeMar DeRozan, Brandon Ingram, Jordan Poole
25. Jimmy Butler, Miami Heat: 18.99 (No change)
24. LaMelo Ball, Charlotte Hornets: 19.12 (Previous ranking: No. 15)
23. DeMar DeRozan, Chicago Bulls: 19.32 (Previous ranking: Unranked)
22. Brandon Ingram, New Orleans Pelicans: 19.25 (Previous ranking: No. 23)
21. Jordan Poole, Golden State Warriors: 19.37 (Previous ranking: No. 16)
Remember when DeMar DeRozan hit game-winner after game-winner, racked up 30-point performances, and featured prominently in the 2021-22 NBA MVP conversation? He's since fallen out of the primary part of that discussion due both to individual and team-wide regression for the Chicago Bulls, but he's still capable of throwing up some special performances.
One such outing came at the expense of the Los Angeles Clippers when DeRozan closed out March with 50 points, five rebounds, and six assists on 17-of-26 shooting from the field, a 2-of-2 performance from beyond the arc, and a 14-of-15 showing at the line.
Really, it was everything we've come to expect from this gifted scorer, just taken to that proverbial next level. His season high still sits at three triples, and he continued to do damage from inside the arc, peppering the Clippers defense with mid-range jumpers when he wasn't using his athleticism to attack the hoop. DeRozan's shot profile may be anathema to the modern NBA, but it continues to work for this remarkably skilled wing.
Nos. 20-16: Zach LaVine, Miles Bridges, Donovan Mitchell, James Harden, Darius Garland
20. Zach LaVine, Chicago Bulls: 19.5 (No change)
19. Miles Bridges, Charlotte Hornets: 19.54 (Previous ranking: No. 13)
18. Donovan Mitchell, Utah Jazz: 19.96 (Previous ranking: No. 22)
17. James Harden, Brooklyn Nets: 20.16 (No change)
16. Darius Garland, Cleveland Cavaliers: 20.2 (Previous ranking: No. 14)
It's no longer hyperbolic to refer to Darius Garland as one of the NBA's best passers. In fact, you can likely count the number of superior distributors on just a single hand. He's gotten that good.
Garland is averaging 8.6 assists per game, which leaves him behind Luka Doncic, Dejounte Murray, Trae Young, James Harden, and Chris Paul on that leaderboard, but the raw numbers sell him short as he's helped spark a surprisingly successful season for the Cleveland Cavaliers in spite of the myriad injuries. Plus, he's only getting better, registering 10.5 dimes and just 2.8 turnovers per game over his last 10 appearances.
He sits at No. 4 in secondary assists and No. 6 in potential assists, and his preternatural vision allows him to pass players open in a way that makes their lives that much easier. Evan Mobley and Jarrett Allen have scored so many easy buckets this year for a reason.
Cleveland, excluding Garland, has shot 46.9% from the field this year. Off his passes, that number skyrockets to 54.9%.
Nos. 15-11: Pascal Siakam, Jaylen Brown, Karl-Anthony Towns, Dejounte Murray, Anthony Davis
15. Pascal Siakam, Toronto Raptors: 20.24 (Previous ranking: No. 12)
14. Jaylen Brown, Boston Celtics: 20.44 (Previous ranking: Unranked)
13. Karl-Anthony Towns, Minnesota Timberwolves: 21.29 (Previous ranking: No. 18)
12. Dejounte Murray, San Antonio Spurs: 21.97 (Previous ranking: No. 11)
11. Anthony Davis, Los Angeles Lakers: 22.32 (Previous ranking: Unranked)
The Boston Celtics have one of the league's best defenses when they're at full strength, and that'll again be true if and when Robert Williams III is able to recover from left knee surgery and rejoin Marcus Smart and the rest of the team's versatile cohort of stoppers. They have a go-to scorer and MVP candidate in Jayson Tatum, who's still in the midst of a torrid second half.
But when Jaylen Brown is rolling, they're that much more dangerous on the offensive end, capable of overwhelming most opponents with primary scoring from multiple directions.
Such has been the case lately as Brown has averaged 27.4 points, 5.7 rebounds, and 3.3 assists while slashing 55.1/47.5/81.3 over his last 10 games. The C's have outscored opponents by a sensational 10.3 points per game with him on the floor in that stretch, and he's posted at least 25 in nine straight.
Good luck slowing down that red-hot Brown-Tatum combo, rest of the Eastern Conference.
Nos. 10-6: Kyrie Irving, Jayson Tatum, Luka Donic, Devin Booker, Trae Young
10. Kyrie Irving, Brooklyn Nets: 22.43 (Previous ranking: No. 7)
9. Jayson Tatum, Boston Celtics: 22.47 (Previous ranking: No. 8)
8. Luka Doncic, Dallas Mavericks: 23.31 (Previous ranking: No. 10)
7. Devin Booker, Phoenix Suns: 24.11 (Previous ranking: No. 9)
6. Trae Young, Atlanta Hawks: 25.1 (Previous ranking: No. 5)
Luka Doncic has been impressive enough over the last 10 games — see No. 8 finish — but he's risen to an even higher level over his five most recent outings.
With a surprising loss to the Washington Wizards the only outing keeping the Dallas Mavericks from a perfect record as they maintain their grip on the No. 4 seed in the Western Conference, the Slovenian superstar has averaged a scorching 33.8 points, 9.2 rebounds, and 10.2 assists while shooting 50.0% from the field, 41.9% from downtown, and 84.1% from the stripe. He's turning the ball over just 3.6 times per contest despite channeling his inner Atlas to carry the Mavs all on his lonesome, and his defensive intensity has crept up during the season's stretch run.
Doncic won't be able to work his way into the three-headed MVP conversation, but he's firmly on the periphery and is establishing himself as one of those classic "you don't want to face him in any postseason series" candidates. He's capable of single-handedly winning any game, and he's done so on a number of occasions.
Nos. 5-1: LeBron James, Kevin Durant, Joel Embiid, Giannis Antetokounmpo, Nikola Jokic
5. LeBron James, Los Angeles Lakers: 26.11 (Previous ranking: No. 2)
4. Kevin Durant, Brooklyn Nets: 26.28 (Previous ranking: No. 4)
3. Joel Embiid, Philadelphia 76ers: 27.22 (Previous ranking: No. 6)
2. Giannis Antetokounmpo, Milwaukee Bucks: 29.09 (Previous ranking: No. 3)
1. Nikola Jokic, Denver Nuggets: 30.59 (Previous ranking: No. 1)
It's hard to submit a better two-game stretch than Giannis Antetokounmpo had against the Philadelphia 76ers and Brooklyn Nets in his final two games of March.
First came a 40-point, 14-rebound, six-assist outing against the Sixers in which Giannis scored 12 in the final period and came up clutch by pinning a Joel Embiid put-back attempt to the backboard in the final second of the game, one that was so close that it necessitated a replay review to make sure he didn't goaltend. He followed that up with a 44-point, 14-rebound, six-assist masterpiece in a one-point overtime victory over the Nets, surpassing Kareem Abdul-Jabbar to become Milwaukee's franchise scoring leader in the process.
Antetokounmpo has already joined Michael Jordan, Hakeem Olajuwon, David Robinson, and Kevin Garnett as one of only five players to win both MVP and Defensive Player of the Year at some point in their careers. He has a chance to up his respective totals to three and two this year, and that would make him the lone man in league history with multiple dalliances with both marquee awards.
All stats, unless otherwise indicated, courtesy of Basketball Reference and NBA Math and accurate heading into games on April 5.