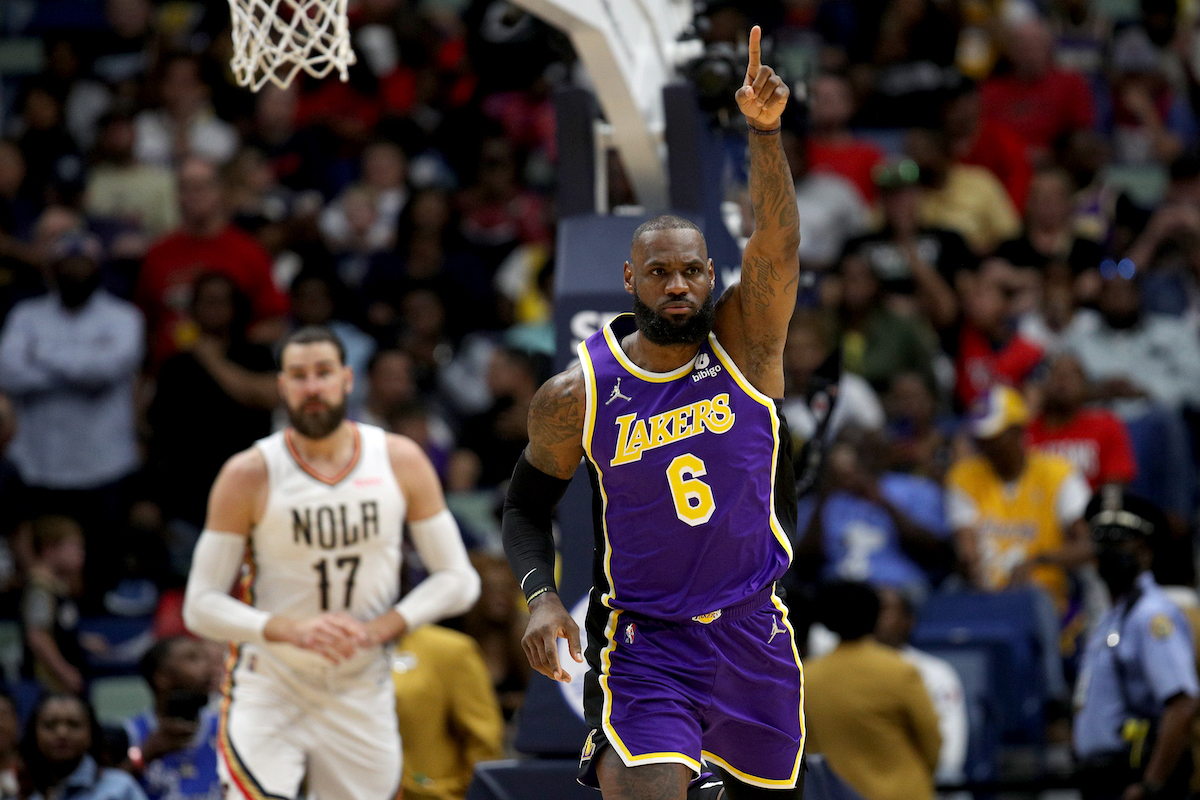 NBA Player Power Rankings: LeBron James Chasing Top Spot and Scoring Title as Devin Booker, LaMelo Ball, Trae Young Surge
LeBron James, when healthy, has thrown up enough jaw-dropping individual stats to stay near the top of the NBA player power rankings. But how high can he rise?
LeBron James is fighting through an ankle injury while trying to keep alive both his scoring title hopes and the Los Angeles Lakers' chances of playing in the NBA postseason, but he's still putting up huge individual numbers each time he's healthy enough to step onto the hardwood.
And he's not the only one thriving in recent weeks and moving up since our March 24 edition of the player power rankings. Devin Booker and Jayson Tatum are doing everything in their power to join Nikola Jokic, Joel Embiid, and Giannis Antetokounmpo in the MVP conversation, and a couple of young point guards in LaMelo Ball and Trae Young are catching fire during the most important part of the regular season.
Using data provided by NBA Math, we're turning to rolling player ratings, which use game score and schedule adjustments to evaluate how each player has performed over his last 10 appearances. The higher the number, the better the performance, and it's scaled so that the scores are comparable to the scale on which scoring outputs are measured.
Players must have suited up at least once in the last week to be eligible for our top-25 countdown, which begins now.
Nos. 25-21: Jimmy Butler, Kristaps Porzingis, Brandon Ingram, Donovan Mitchell, Khris Middleton
25. Jimmy Butler, Miami Heat: 18.46 (Previous Ranking: Unranked)
24. Kristaps Porzingis, Washington Wizards: 18.48 (Previous Ranking: Unranked)
23. Brandon Ingram, New Orleans Pelicans: 18.51 (Previous Ranking: Unranked)
22. Donovan Mitchell, Utah Jazz: 18.72 (Previous Ranking: No. 25)
21. Khris Middleton, Milwaukee Bucks: 18.79 (No change)
Don't look now, but the Miami Heat are again the owners of the No. 1 seed in the Eastern Conference, wrestling it back from the Boston Celtics with a head-to-head 106-98 victory Wednesday night. Kyle Lowry and Bam Adebayo may have been the stars of the show for that marquee matchup, but Jimmy Butler kept thriving with 24 points, three rebounds, two assists, and a steal of his own.
And really, that's been par for the course lately with Butler. Lowry's presence is so big on both ends of the floor, and the same is true of Adebayo, given his ball-handling ability and defensive versatility. But Butler still gets the job done on a nightly basis, albeit with fewer explosions than we've seen in previous years.
Despite topping out at 30 points and struggling from the three-point arc (even by his diminished standards), Butler has averaged 20.9 points, 4.8 rebounds, 4.6 assists, 1.2 steals, 0.6 blocks, and just 1.8 turnovers over his last 10 outings while shooting 50.7% from the field and 84.2% from the stripe. It hasn't been too glamorous, but it's getting the job done for a team no one will want to match up against in the postseason.
Nos. 20-16: Zach LaVine, Bam Adebayo, Karl-Anthony Towns, James Harden, Jordan Poole
20. Zach LaVine, Chicago Bulls: 19.23 (Previous Ranking: No. 24)
19. Bam Adebayo, Miami Heat: 19.24 (Previous Ranking: Unranked)
18. Karl-Anthony Towns, Minnesota Timberwolves: 19.4 (Previous Ranking: No. 10)
17. James Harden, Brooklyn Nets: 19.91 (Previous Ranking: No. 22)
16. Jordan Poole, Golden State Warriors: 20.04 (Previous Ranking: No. 18)
The Golden State Warriors might not be ready to have this conversation, but it's becoming increasingly clear that Jordan Poole has blossomed into a legitimate star and might need to factor into their short- and long-term plans more prominently than a struggling version of Klay Thompson.
Thompson has still put up big scoring figures over his last 10 games, but the Warriors have been outscored with him on the floor as he's shot just 41.7% from the field and 35.7% from beyond the arc. Poole, meanwhile, hasn't been able to get the Dubs into the green while he's on the court (though they're not as far into the red) and has averaged 27.6 points, 4.5 rebounds, and 5.1 assists while slashing 45.7/40.6/89.8 over his last 10 outings.
The younger shooting guard has grown as a playmaker, creating for both his teammates and himself off the bounce, and his deadly pull-up jumper has helped keep Golden State afloat. He might not be a part of the Big Three by the bay, but he should be.
Nos. 15-11: LaMelo Ball, Darius Garland, Miles Bridges, Pascal Siakam, Dejounte Murray
15. LaMelo Ball, Charlotte Hornets: 20.54 (Previous Ranking: Unranked)
14. Darius Garland, Cleveland Cavaliers: 20.58 (No change)
13. Miles Bridges, Charlotte Hornets: 21.18 (Previous Ranking: Unranked)
12. Pascal Siakam, Toronto Raptors: 21.8 (Previous Ranking: No. 16)
11. Dejounte Murray, San Antonio Spurs: 21.96 (Previous Ranking: No. 15)
We'll break our own rules and talk about two featured players in this portion of the power rankings because LaMelo Ball and Miles Bridges, by virtue of their status as lob partners and joint transition threats, are inextricably intertwined.
The Charlotte Hornets, winners of eight of their last 10 contests, are coming on strong during the season's closing run, and the two youngsters are the primary reasons. Just take a gander at their numbers over that stretch:
| | | | | | | | | |
| --- | --- | --- | --- | --- | --- | --- | --- | --- |
| Player | PPG | RPG | APG | SPG | BPG | FG% | 3P% | FT% |
| LaMelo Ball | 22.2 | 5.8 | 8.8 | 2.1 | 0.4 | 46.5 | 44.1 | 88.5 |
| Miles Bridges | 23.3 | 7.0 | 4.8 | 0.8 | 0.7 | 55.8 | 46.8 | 78.9 |
Ball is always a fantastic and flashy distributor, but he's downright unstoppable when he connects on 44.1% of his triples while firing away from beyond the rainbow 9.3 times per contest. And his thievery on the defensive end, much as we take it for granted, highlights just how much he's continued to develop his quick hands and instincts in the passing lanes.
Bridges can't miss, either, hitting at a 46.8% clip while hoisting 6.2 three-pointers per game. Those are unreal numbers, especially when paired with the increasing diversity of an offensive game that sees him thrive as a rim-running threat and an adept secondary facilitator who can make quick decisions in the teeth of the defense.
Nos. 10-6: Luka Doncic, Devin Booker, Jayson Tatum, Kyrie Irving, Joel Embiid
10. Luka Doncic, Dallas Mavericks: 22.92 (No change)
9. Devin Booker, Phoenix Suns: 22.96 (Previous Ranking: No. 11)
8. Jayson Tatum, Boston Celtics: 24.14 (Previous Ranking: No. 5)
7. Kyrie Irving, Brooklyn Nets: 24.73 (Previous Ranking: No. 4)
6. Joel Embiid, Philadelphia 76ers: 25.17 (Previous Ranking: No. 7)
Whether Devin Booker is operating alongside Chris Paul or running the show as the lead guard for the Phoenix Suns, he's leaving little doubt that he belongs at least on the periphery of the MVP conversation — and maybe higher, depending on how exactly you set up the criteria. He is, after all, functioning as the best player on what's been rather unquestionably the NBA's best team.
Booker operates as if he's in a permanent rhythm. His heat checks feel more like shots taken within the flow of the offensive schemes because he's working with that level of confidence, and he's still finding plenty of time to attack the basket, earn free-throw attempts, and keep his teammates engaged with his willing passing.
But his scoring continues to take center stage, highlighted by a 49-point showcase in a road victory over the Denver Nuggets.
Averaging 30.8 points and 5.8 assists while slashing 52.2/39.7/86.3 over a 10-game stretch is never anything to sniff at, and that's particularly true when Booker has made those numbers feel pedestrian due to the ease with which he plays.
Nos. 5-1: Trae Young, Kevin Durant, Giannis Antetokounmpo, LeBron James, Nikola Jokic
5. Trae Young, Atlanta Hawks: 25.76 (Previous Ranking: No. 12)
4. Kevin Durant, Brooklyn Nets: 26.54 (Previous Ranking: No. 6)
3. Giannis Antetokounmpo, Milwaukee Bucks: 28.01 (Previous Ranking: No. 2)
2. LeBron James, Los Angeles Lakers: 28.13 (Previous Ranking: No. 3)
1. Nikola Jokic, Denver Nuggets: 28.62 (No change)
Easy as it would be to highlight an unstoppable Kevin Durant or a version of Trae Young that refuses to let the Atlanta Hawks die during a massively disappointing season, we have to give center stage to LeBron James. He has too much on the line, and we're not talking about whether he can chase down Nikola Jokic for the No. 1 spot in the power rankings even though he's past his 37th birthday.
Most notably, James has to recover from a lingering ankle injury quickly enough that the Los Angeles Lakers can secure a spot in the play-in tourney and not see a frustrating campaign end without even a pseudo-postseason appearance. They currently sit at 10th place in the Western Conference, just a half-game ahead of the San Antonio Spurs, and Tankathon indicates that only the Memphis Grizzlies and Chicago Bulls have tougher remaining schedules.
Beyond that, James is still in the mix for a scoring title — an individual honor he hasn't earned since all the way back in 2007-08. His 30.1 points per game put him clear of Giannis Antetokounmpo (29.9), Joel Embiid (29.9), Young (28.1), and Luka Doncic (28.1), but he's only played in 55 games and needs 58 to qualify. Otherwise, the calculation assumes he scores zero in the necessary games to reach the volume threshold, and that would be bad news for the King when the race is this close.
He's already ruled out for Thursday, but how's that for some motivation to heal up from the ankle malady and get back on the floor for at least three of the Lakers' last six regular-season outings?
All stats, unless otherwise indicated, courtesy of Basketball Reference and NBA Math and accurate heading into games on March 31.