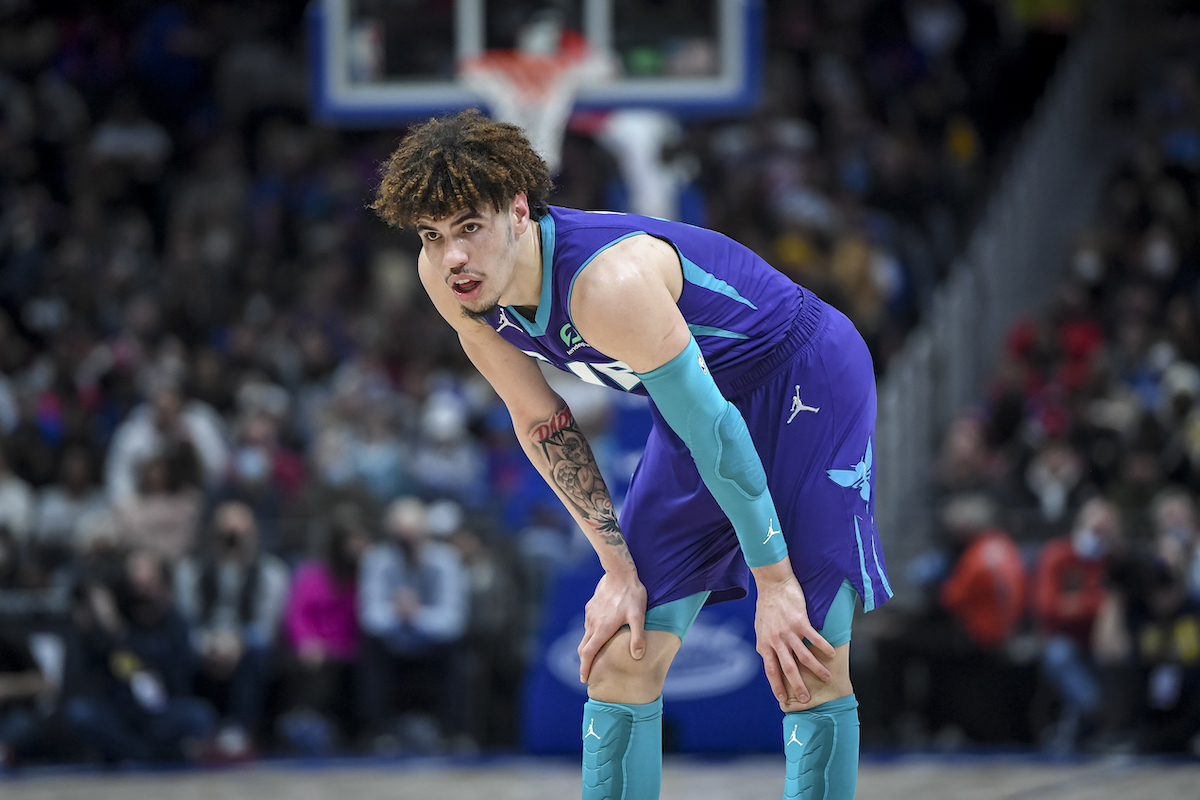 LaMelo Ball, LeBron James Already Brushing Passing Shoulders
LaMelo Ball beat everyone but LeBron James to 700 career assists, leaving little doubt of his passing prowess in the process.
Let's get this out of the way right from the get-go: LaMelo Ball and LeBron James are not the same basketball player, nor are they anywhere close to proper analogues for one another.
The former is a 6-foot-7, 180-pound point guard for the Charlotte Hornets who thrives as a flashy playmaker and creative offensive engine while offering quick hands and ever-improving positioning on the defensive end. The latter is a 6-foot-9, 250-pound tank who can line up at any position and affect the game in virtually every way imaginable, from overpowering defenders with drives to the hoop to locking down adversaries in on-ball situations.
But as a distributor and at this early stage of his NBA career, Ball only has one close comparison, and that's where James enters the equation.
LaMelo Ball gets to 700 assists faster than any player but LeBron James
Though the Charlotte Hornets couldn't get the better of the Miami Heat when the final buzzer sounded, dropping a double-overtime nailbiter 111-107, Ball still received some personal recognition. With a 14-point, 10-rebound, 14-assist showing, he did everything in his power to keep the home team in control on the honeycomb floor, and the Hornets actually outscored the Heat by a single point when he was in action.
Perhaps the achievement is a bit soured by the loss, but Ball managed to join impressive company with a one-handed, swinging transition feed from one free-throw line to the other that resulted in a Miles Bridges dunk. He was only 179 days past his 20th birthday, which made him the second-youngest player in NBA history to record 700 dimes, trailing only LeBron James.
Yes, some context is necessary.
The NBA is currently in the midst of a high-scoring era in which assists are easier to come by. Top prospects also enter the league at slightly younger ages and immediately assume high-profile roles, which allows them to rack up counting stats quicker than the vast majority of their historical predecessors.
But Ball, who played his first game for the Hornets at 19 years and 123 days old after the organization made him the No. 3 pick of the 2020 NBA draft, is still an anomaly. None of the other modern-day candidates have ascended up the passing hierarchy quite this quickly.
Trae Young? He was at 21 years and 50 days when he hit 700. Luka Doncic? He checked in at 20 years and 310 days for dime No. 700. Some other current youngsters have come close, but Ball tops them all.
Except James, of course.
LaMelo Ball isn't just a product of volume
Even as a rookie, Ball left little doubt he was one of the league's premier distributors, and not just from a sheer volume standpoint. He averaged 6.1 assists during his inaugural campaign in Charlotte, but perhaps even more impressively, he avoided a typical rookie pitfall by displaying steady care of the ball and logging only 2.8 turnovers per contest.
As a sophomore, he's entering All-Star Weekend, during which he'll represent the Eastern Conference for the first time, with per-game averages of 7.5 assists and 3.2 turnovers — numbers matched or bettered by only Tyrese Haliburton, Kyle Lowry, Dejounte Murray, and Chris Paul. In fact, only 80 qualified players in all of NBA history have submitted such a combination of statistics, and just 24 of them did so during one of their first two go-rounds in the Association.
James, for the record, is not among them. He averaged 7.2 assists and 3.3 turnovers as a sophomore, both of which were improvements upon his rookie numbers for the Cleveland Cavaliers. (Granted, the Ohio native was far more dominant as a scoring threat, but that's neither here nor there for our purposes.)
If you're wondering whether Ball's quick rise to passing prominence is just because Charlotte has afforded him opportunities to thrive as a set-up man, wonder no longer. The low turnover numbers, especially given Ball's elevated usage in James Borrego's offense, are telling in and of themselves, and so is a deeper look at the statistics.
Based on his potential assists and actual assists, the Hornets are connecting on 56.3% of their shots following one of Ball's passes, which isn't too shabby when the team as a whole (Ball not included) has a 46.3 field-goal percentage. Terry Rozier, Miles Bridges, and Gordon Hayward are Charlotte's next-leading assist men, and their teammates are hitting 51.4, 51.9, and 53.1% of their shots off their respective feeds, which come with significantly less volume.
Don't subscribe to the numbers? That's fine, too. Just watch Ball play the game and you'll immediately be dazzled by the creativity he displays on a routine basis, anticipating defensive attention before it materializes and ambidextrously fitting the rock into the tightest of spaces while always seeming to find the shooting pocket.
He's the future in Charlotte. That much is already clear regardless of whether you're subscribing to the eye test or the numbers.
Now just imagine if he keeps following in LeBron James' footsteps and challenging more of his records.
All stats, unless otherwise indicated, courtesy of Basketball Reference and NBA.com and accurate heading into the All-Star break.