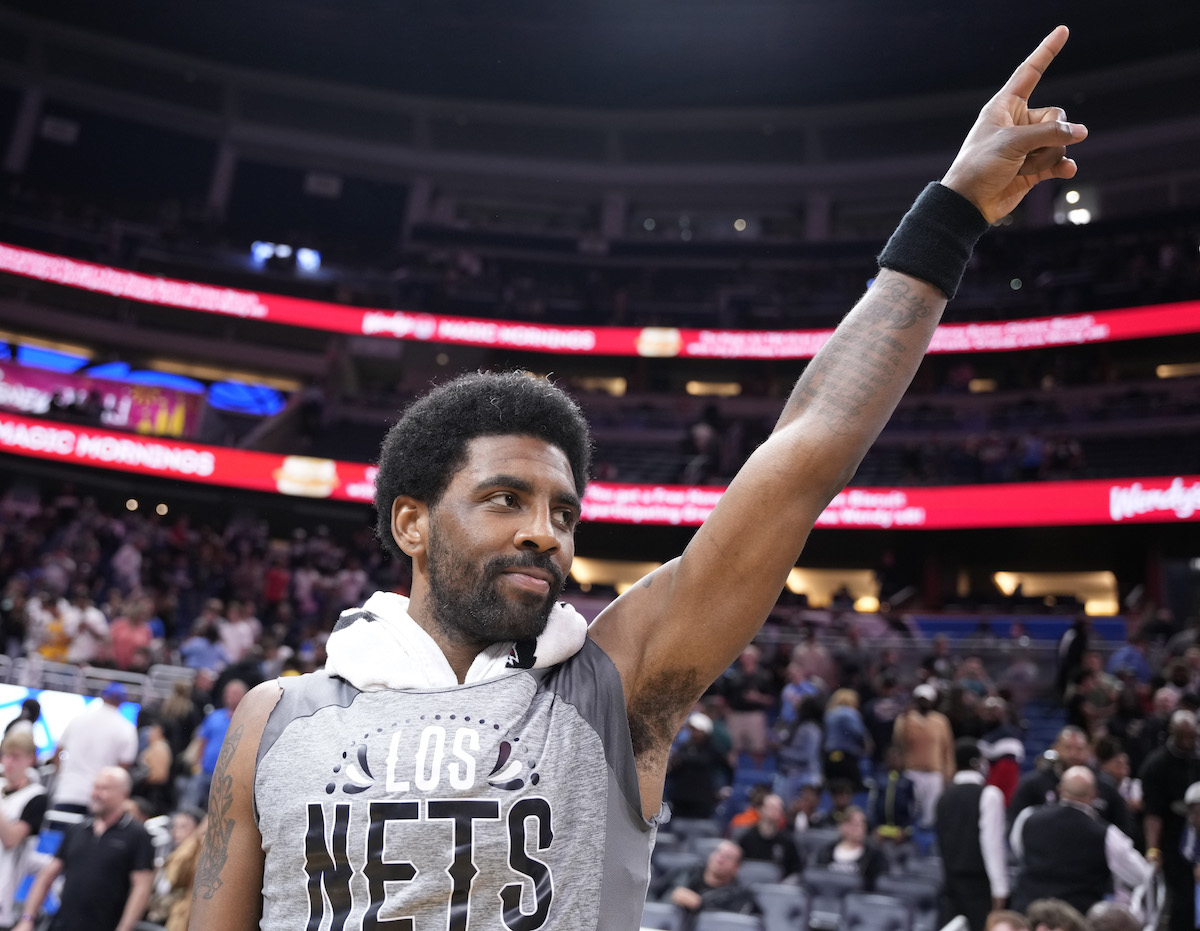 NBA Player Power Rankings: Kyrie Irving Trying to Chase Down Nikola Jokic, Giannis Antetokounmpo
Kyrie Irving is already trending toward the top of the NBA player power rankings, but how high has he risen in the battle against Nikola Jokic, Giannis Antetokounmpo, and the league's other leading stars?
Kyrie Irving has now been unleashed, and he'd already been trending toward the top of the NBA player power rankings even before playing a single home game for the Brooklyn Nets during the 2021-22 campaign.
In the March 21 edition, Irving checked in at No. 9. How much higher has he risen as he looks to make up ground against Nikola Jokic, Giannis Antetokounmpo, and the rest of the Association's leading superstars in our 10-game evaluations?
Using data provided by NBA Math, we're turning to rolling player ratings, which use game score and schedule adjustments to evaluate how each player has performed over his last 10 appearances. The higher the number, the better the performance, and it's scaled in a way that the scores are comparable to the scale on which scoring outputs are measured.
Players must have suited up at least once in the last week to be eligible for our top-25 countdown, which begins now.
Nos. 25-21: Donovan Mitchell, Zach LaVine, CJ McCollum, James Harden, Khris Middleton
25. Donovan Mitchell, Utah Jazz: 18.34 (Previous Ranking: Unranked)
24. Zach LaVine, Chicago Bulls: 18.51 (Previous Ranking: No. 25)
23. CJ McCollum, New Orleans Pelicans: 18.71 (Previous Ranking: 20)
22. James Harden, Brooklyn Nets: 19.12 (Previous Ranking: No. 16)
21. Khris Middleton, Milwaukee Bucks: 19.14 (Previous Ranking: No. 22)
When Donovan Mitchell is feeling it, he's feeling it.
He typically saves that level of detonation for the postseason, but it's coming a bit earlier for a team doing everything in its power to maintain its spot at No. 4 in the Western Conference standings.
The Utah Jazz have gone 9-6 since returning from the All-Star break, and that's been just enough to stave off a Dallas Mavericks team with an identical record, a Denver Nuggets squad that's two games back and should soon have some notable reinforcements, and a Minnesota Timberwolves outfit determined to end its playoff drought behind the ceaselessly great play of Karl-Anthony Towns.
Mitchell's three-point shooting has fallen off in his last few outings, but his last 10 games include a nine-triple performance against the Chicago Bulls and a seven-trey outburst against the New York Knicks that saw him become the first player in Jazz history to reach that mark in consecutive showings.
He's scored at least 30 points in four straight games, still found time to thrive as a distributor (6.0 assists per game in his last 10), avoided turning the ball over despite his heavy usage, and done everything in his power to keep the Jazz offense afloat despite Mike Conley's enduring struggles.
Nos. 20-16: Deandre Ayton, Terry Rozier, Jordan Poole, Christian Wood, Pascal Siakam
20. Deandre Ayton, Phoenix Suns: 19.33 (Previous Ranking: Unranked)
19. Terry Rozier, Charlotte Hornets: 19.55 (Previous Ranking: No. 15)
18. Jordan Poole, Golden State Warriors: 19.61 (Previous Ranking: No. 23)
17. Christian Wood, Houston Rockets: 19.79 (Previous Ranking: Unranked)
16. Pascal Siakam, Toronto Raptors: 19.84 (Previous Ranking: No. 18)
The Houston Rockets may have the worst record in the league, leading the charge for their pick of Chet Holmgren, Jabari Smith Jr. (yes, despite the early March Madness exit), and Paolo Banchero, but they've still had a few positive developments in recent weeks.
Jalen Green has come on strong during the second half of his rookie season, Kenyon Martin Jr. has decided to stop missing three-pointers, and Christian Wood has gone flat-out thermonuclear.
Over his last 10 games, Wood is averaging 21.2 points, 10.1 rebounds, 2.8 assists, 0.9 steals, 1.2 blocks, and just 1.6 turnovers while shooting 59.7% from the field, 49.1% from downtown, and 72.9% from the stripe. He's mixed in the occasional outing in which he doesn't register as a notable scorer, but his explosions have more than negated those misfires.
Take, for example, a 39-spot in a victory over the Washington Wizards that saw Wood connect on eight of his nine attempts from beyond the rainbow. Or a 32-point, 13-rebound, seven-assist detonation against the Indiana Pacers. Each time, Wood showed takeover instincts even while operating within the flow of the offense.
The consistency of a true star isn't quite there yet, but the 26-year-old is doing his darnedest to prove to the Rockets that Green isn't the only franchise centerpiece on their roster.
Nos. 15-11: Dejounte Murray, Darius Garland, Ja Morant, Trae Young, Devin Booker
15. Dejounte Murray, San Antonio Spurs: 21.1 (Previous Ranking: No. 17)
14. Darius Garland, Cleveland Cavaliers: 21.16 (Previous Ranking: No. 19)
13. Ja Morant, Memphis Grizzlies: 21.7 (Previous Ranking: No. 14)
12. Trae Young, Atlanta Hawks: 22.22 (Previous Ranking: No. 10)
11. Devin Booker, Phoenix Suns: 22.28 (Previous Ranking: No. 12)
Darius Garland's all-around game is steadily improving, and it's hard to knock the scoring acumen of a 22-year-old throwing up 21.4 points per game on a 46.7/37.2/90.8 slash line. But his passing still takes center stage on a nightly basis, and rightfully so.
The Vanderbilt product has already asserted himself as one of the game's best distributors, showing preternatural instincts in both transition and the half-court set. He excels at throwing lobs to the Cavs' big men on the interior, he's capable of on-target kick-out passes on his drives to the hoop, and he often tosses feeds that get players open rather than waiting on them to extricate themselves from the clutches of a defense before relinquishing possession.
And he's getting better by the day.
Garland has posted a whopping 25.7 points and 12.2 assists per game over his last 10 appearances, buoying the Cleveland offense almost single-handedly. If someone is open, rest assured he's going to find them. At this rate, he might even create a good look for them if they're smothered.
Nos. 10-6: Luka Doncic, Karl-Anthony Towns, Shai Gilgeous-Alexander, Joel Embiid, Kevin Durant
10. Luka Doncic, Dallas Mavericks: 22.31 (Previous Ranking: No. 7)
9. Karl-Anthony Towns, Minnesota Timberwolves: 22.49 (Previous Ranking: No. 8)
8. Shai Gilgeous-Alexander, Oklahoma City Thunder: 23.91 (Previous Ranking: No. 4)
7. Joel Embiid, Philadelphia 76ers: 24.89 (Previous Ranking: No. 5)
6. Kevin Durant, Brooklyn Nets: 25.03 (Previous Ranking: No. 11)
Since returning from a 21-game absence that spanned nearly two months, Kevin Durant has suited up in 10 contests and looked a lot like his vintage self. While helping the Brooklyn Nets go 6-4 over that stretch, he's averaged 31.2 points, 7.0 rebounds, and 7.4 assists, shooting 53.4% from the field, 38.3% on three-pointers, and 93.4% percent on his free-throw attempts.
Though the highlight was unquestionably a 53-point outburst at the expense of the New York Knicks, he's already been rounding into even better form in recent days.
First came 38 points on 11-of-15 shooting against the Portland Trail Blazers. Then 37 on 15-of-23 in a victory over the Utah Jazz. And though Brooklyn couldn't get the better of the Memphis Grizzlies on Beale Street Wednesday night, Durant still shined with 35 points, 11 rebounds, and eight assists.
The 33-year-old superstar could stand to be a bit more careful with the ball, but his offensive game is quite clearly clicking, which makes it all the more astounding that he's not even the highest-ranked player on his own team in this edition of the player power rankings.
5. Jayson Tatum, Boston Celtics: 25.9 (Previous Ranking: No. 6)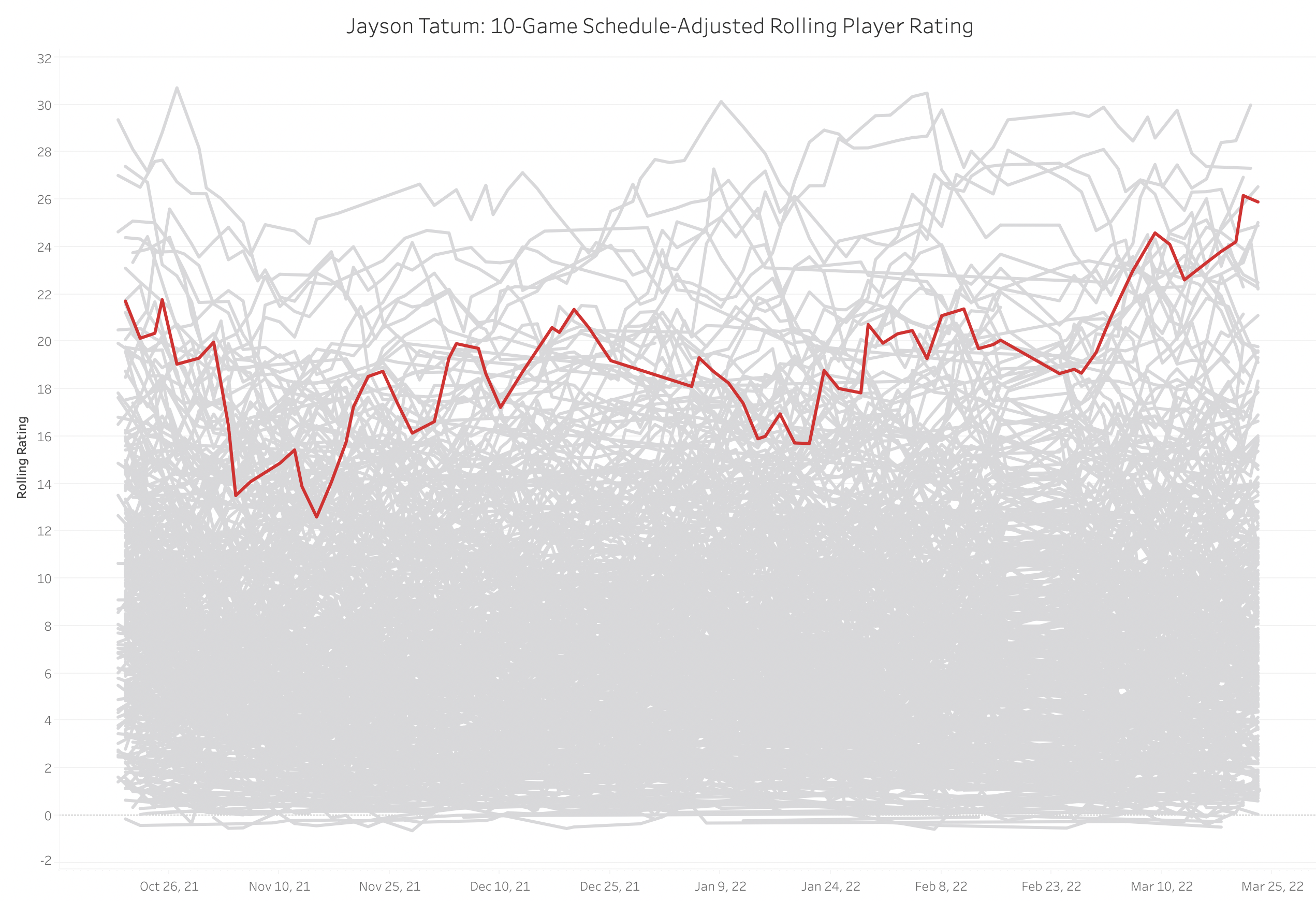 Though they still have to close a 1.5-game deficit, the Boston Celtics are doing everything in their power to chase down the Miami Heat for the No. 1 seed in the Eastern Conference, and Jayson Tatum has been the primary driver behind their recent success.
As good as Robert Williams III and Marcus Smart have been defensively — and both need a lot more credit in the race for Defensive Player of the Year — and as high-powered as Jaylen Brown's offense can be when everything is clicking, Tatum has been a consistent force on both ends.
Able to assume difficult perimeter assignments and make the unorthodox rotations that power the defensive schemes of head coach Ime Udoka, Tatum has still had the energy to carry the scoring unit on a nightly basis and blow kisses to the crowd in the process. Only one of his two 50-point outings falls into the relevant range, but he's averaging a whopping 33.7 points, 6.8 rebounds, and 4.5 assists in his last 10 games while slashing 54.2/48.5/90.9.
4. Kyrie Irving, Brooklyn Nets: 26.54 (Previous Ranking: No. 9)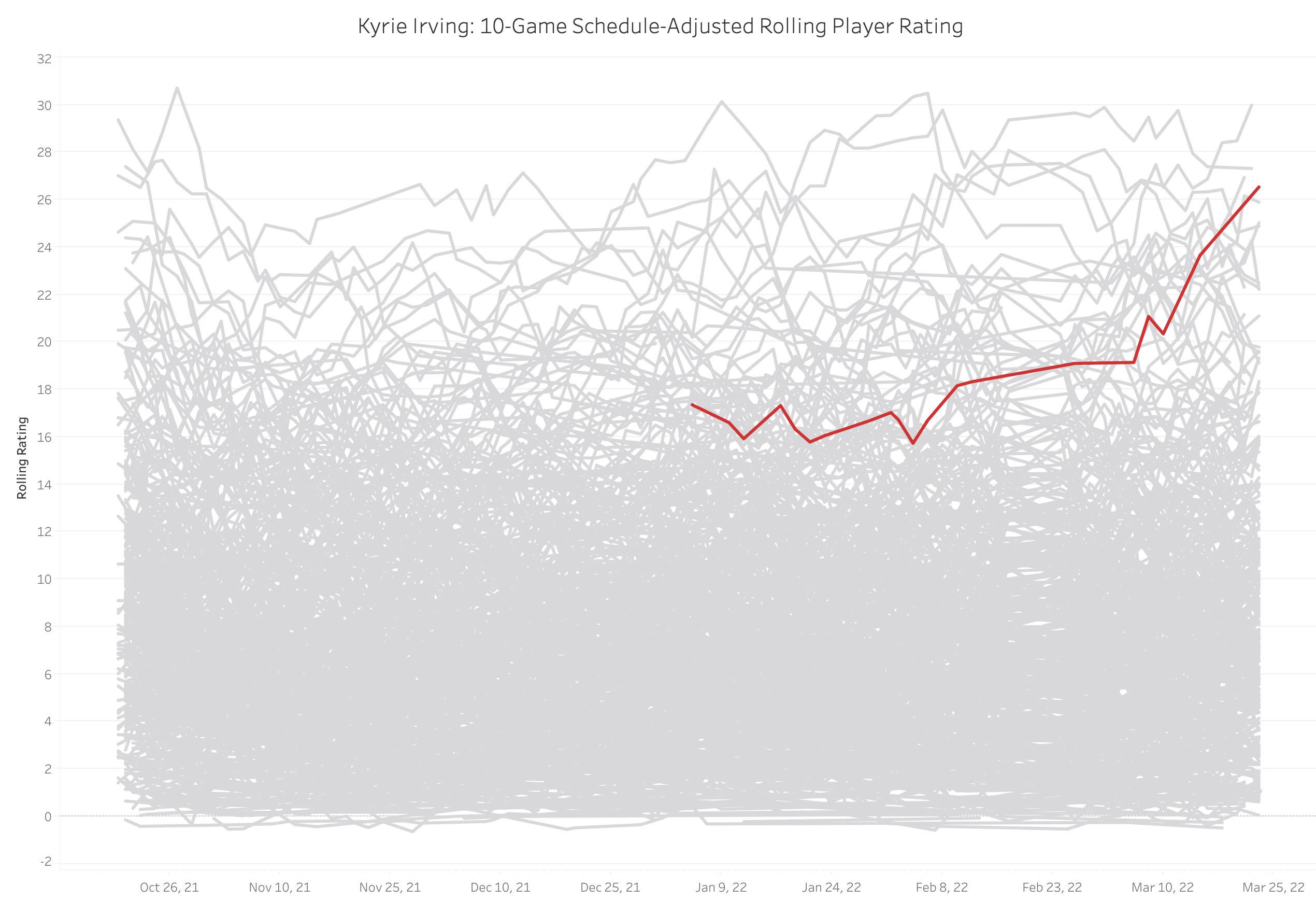 In a Thursday press conference at Citi Field, New York City Mayor Eric Adams announced a policy change, lifting the private sector coronavirus vaccine mandate for performers and athletes in the city that had prevented Kyrie Irving from participating in the Brooklyn Nets' home games.
Putting aside political ramifications and thoughts on Irving's decision-making, that's obviously great news for the Nets, who will now have unfettered access to one of their best players. And, of course, it helps that said player is already flat-out rolling.
Because of his spotty availability, Irving's last 10 games stretch all the way back to Feb. 4, but he's been virtually unstoppable each time he takes the floor.
In his last six showings, he's gone for 38 points against the Milwaukee Bucks, 19 points against the Boston Celtics' suffocating defense, 50 points against the overmatched Charlotte Hornets, 22 points in a marquee matchup with the Philadelphia 76ers, 60 points in a memorable performance against the Orlando Magic, and 43 points in another inspired showing during a road loss to the Memphis Grizzlies.
On one hand, Irving might have the benefit of more energy to expend because of the long gaps between games in which he can put on a Brooklyn uniform. But what if he's thriving without the luxury of added chemistry with his teammates he can only generate through the consistent availability he'll soon enjoy?
3. LeBron James, Los Angeles Lakers: 26.94 (Previous Ranking: No. 3)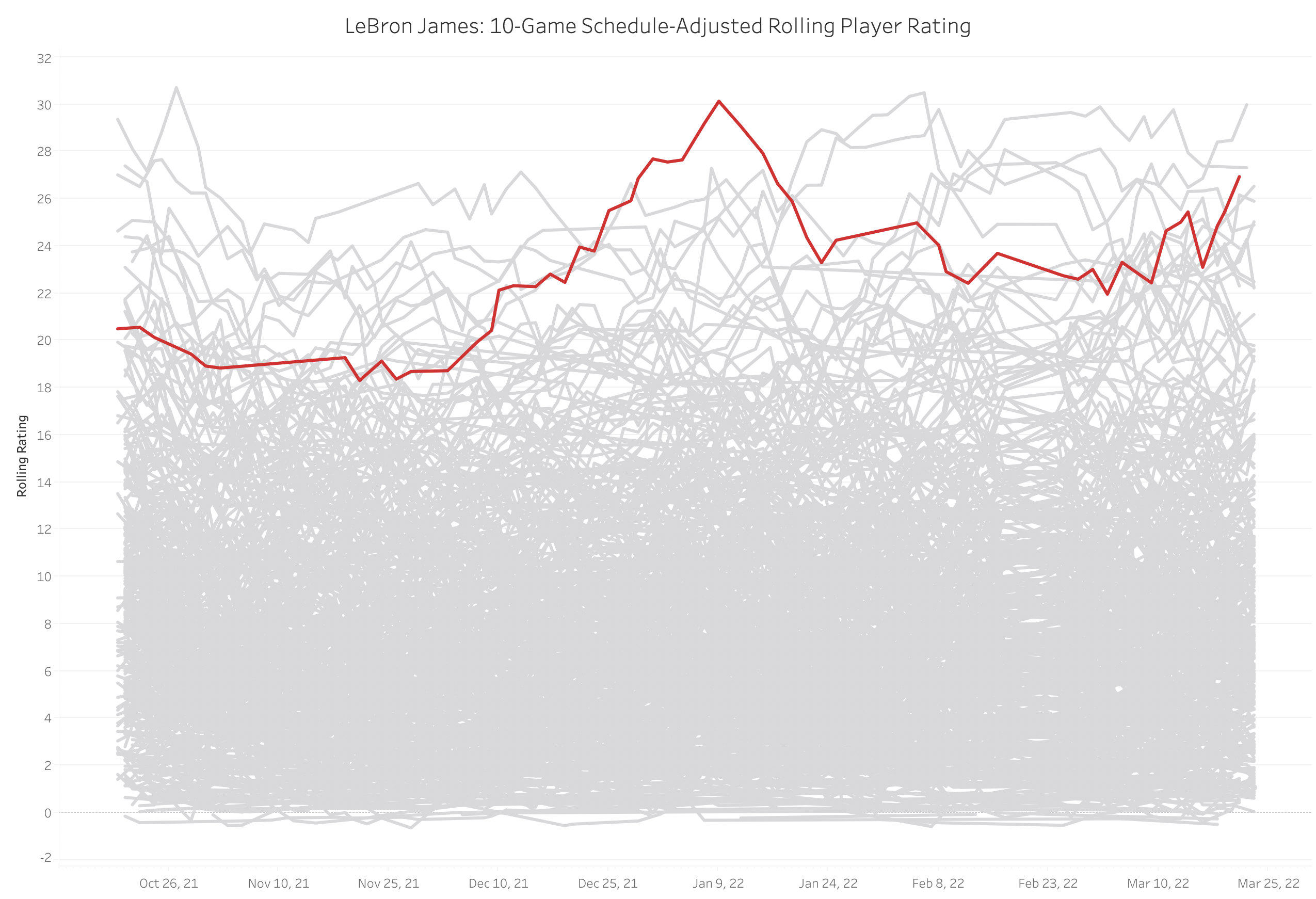 "I'm literally having the time of my life right now," LeBron James said after dropping a 38-spot in a road victory over the Cleveland Cavaliers, per ESPN. "The game's such a beautiful thing."
And he wasn't done.
"At my point in my career, I don't get involved in that stuff. I don't read about it. I don't hear it too much," he continued, referring to all the off-court noise about the Los Angeles Lakers' disastrous 2021-22 campaign. "… None of that stuff matters to me. I'm having a blast playing the game of basketball."
Was he being entirely truthful? Probably not, which helps explains why Stephen A. Smith went off at his expense. He certainly hasn't looked like he's having the time of his life when he's been frustrated with his teammates for not securing a defensive rebound or rotating properly, nor has he during some terse press conferences after losses.
But from an individual perspective, James is making the game of basketball quite the "beautiful thing" with his scoring prowess at age 37. He just refuses to slow down, even if his high-scoring efforts are having less of an impact in the win-loss column than ever before.
2. Giannis Antetokounmpo, Milwaukee Bucks: 27.32 (Previous Ranking: No. 2)
Giannis Antetokounmpo just keeps rolling along, putting together a somewhat under-the-radar case to hold up the Maurice Podoloff Trophy for the third time in his already-illustrious career.
He doesn't need to find new ways to torment opponents since he can just keep attacking the basket and finishing over, through, and around just about every adversary. And that mentality has allowed him to submit his most devastating season as a scorer yet even though he's already earned MVP twice.
Antetokoumpo is averaging a career-high 29.7 points in 2021-22, and he's ascended to the proverbial next level during the campaign's second half.
Since the beginning of 2021? He's scored 31.7 points per game with a 65.6 true shooting percentage. Since the All-Star break? He's scored 30.9 points per game with a 63.9 true shooting percentage bolstered by nonstop parades to the charity stripe.
The Greek Freak has always demonstrated a high floor, and he's pushing toward his ridiculous ceiling with even more frequency these days.
1. Nikola Jokic, Denver Nuggets: 29.99 (Previous Ranking: No. 1)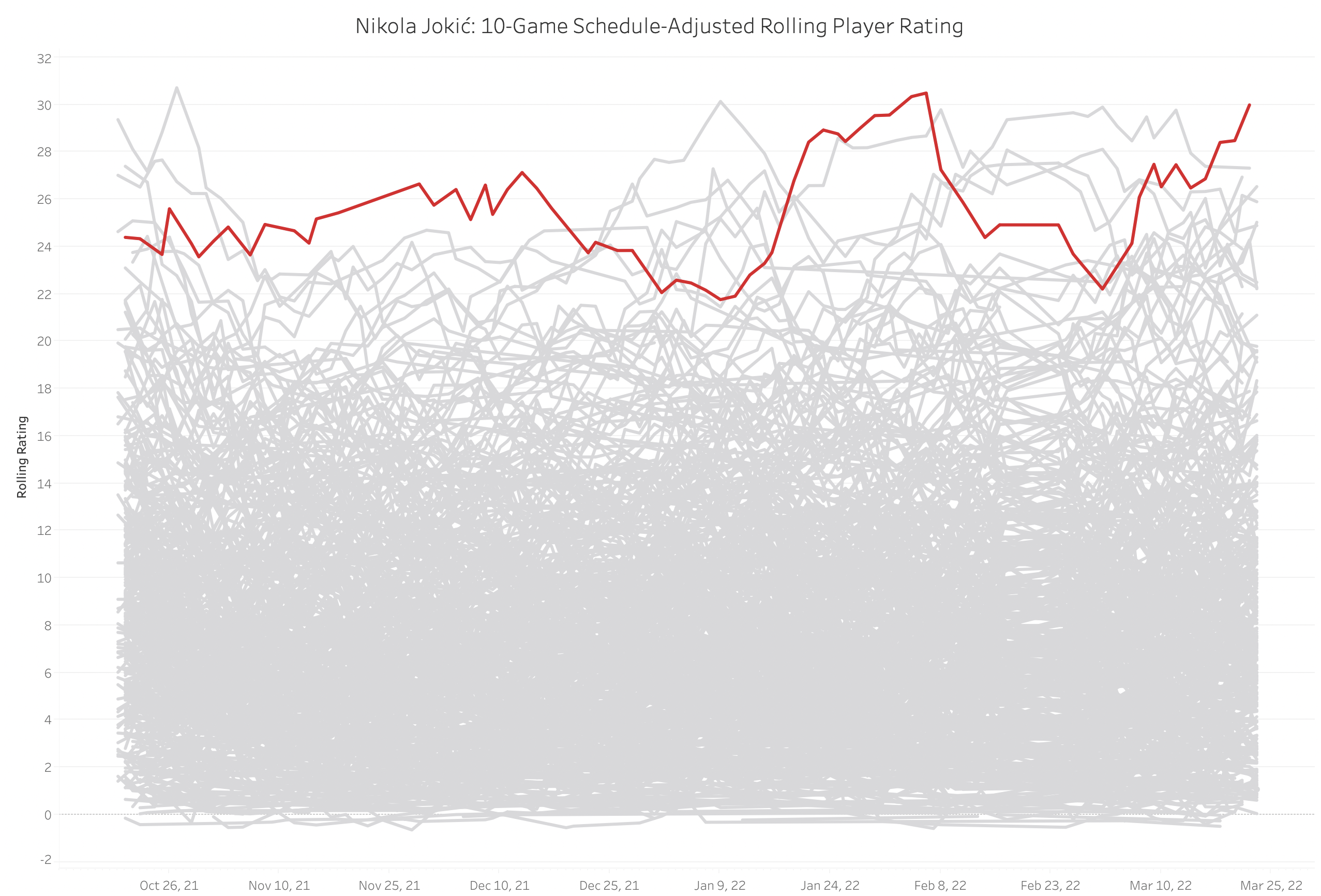 Though Nikola Jokic has been unable to carry the Denver Nuggets to victory after victory against a brutal schedule, he's done enough to keep the Denver Nuggets positioned prominently in the Western Conference standings as they await reinforcements in the form of Michael Porter Jr. and Jamal Murray.
Over his last 10 games, he's been a part of losses to the Golden State Warriors, Toronto Raptors, Cleveland Cavaliers, and Boston Celtics and victories over the New Orleans Pelicans, Warriors, Sacramento Kings, Philadelphia 76ers, Washington Wizards, and Los Angeles Clippers. And put in that context, it's hard to fault him too much for a lackluster team record since the only defeats are coming against teams firmly in the playoff mix.
Plus, he just keeps throwing up huge numbers.
During that same stretch, Jokic has averaged 30.1 points, 12.5 rebounds, 8.1 assists, 1.4 steals, and 1.8 blocks, turned the ball over just 3.4 times per contest despite his heavy involvement, slashed 58.7/25.0/83.5, and helped Denver outscore the murderers' row of opponents with him on the floor.
Has it been enough to guarantee him a second consecutive MVP selection? Certainly not with Joel Embiid (the enduring betting favorite) and Giannis Antetokounmpo continuing to operate at a high level. But it's allowed him to keep his stranglehold on the No. 1 spot in the player power rankings.
All stats, unless otherwise indicated, courtesy of Basketball Reference and NBA Math and accurate heading into games on March 24.