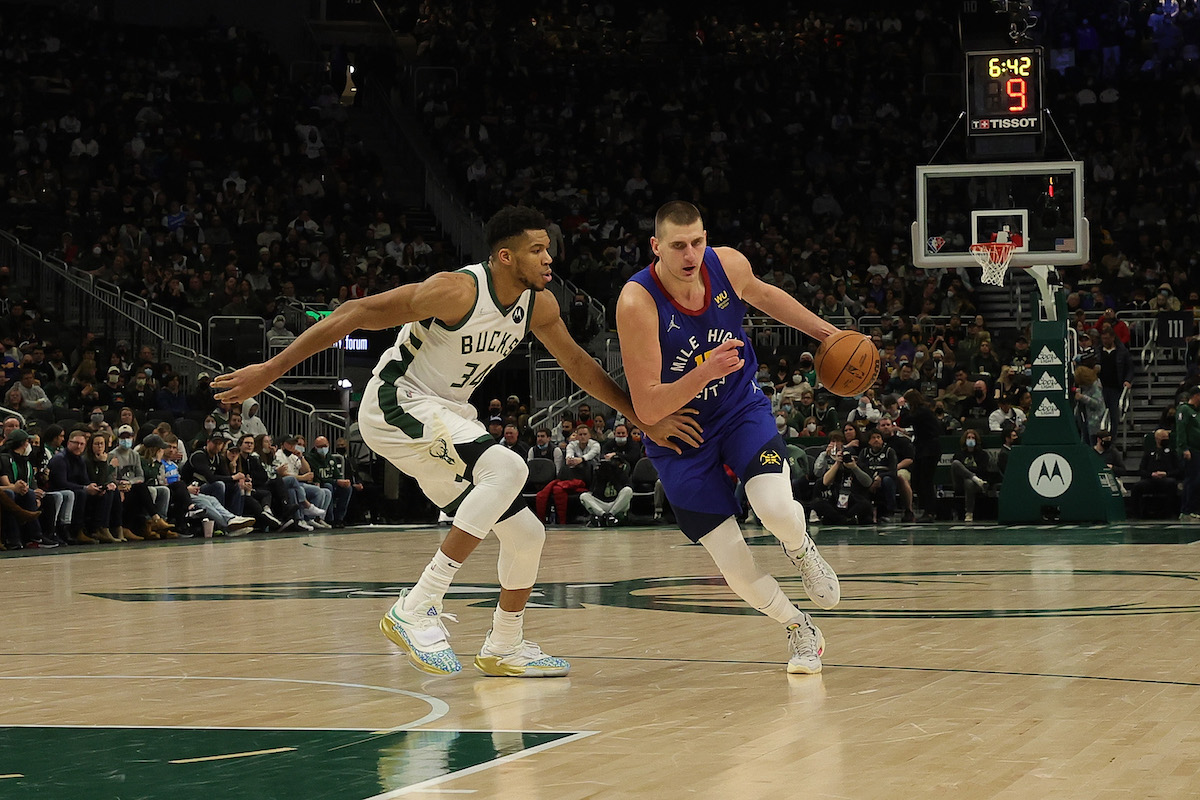 NBA Player Power Rankings: Nikola Jokic and Giannis Antetokounmpo Battling for No. 1 Spot
In this first edition of our NBA player power rankings, does Nikola Jokic, Giannis Antetokounmpo, LeBron James, or someone else take the top spot?
Who's the best player in the NBA?
Has Nikola Jokic's season-long dominance for the Denver Nuggets given him the crown? Is Giannis Antetokounmpo, already with two MVPs and a Finals MVP on his resume, holding down the top spot? Does Joel Embiid's scoring-and-defense combo for the Philadelphia 76ers make him a leading candidate in the wake of an endorsement from Kevin Durant? What about LeBron James now that he's the second-leading scorer in the long history of the league?
We're not interested in answering that from a legacy perspective, or even from a season-long one. Those are topics for a different time, and the latter is akin to yet another MVP conversation. Instead, we're looking solely at recent performances to form our NBA player power rankings.
Using data provided by NBA Math, we're turning to rolling player ratings, which use game score and schedule adjustments to evaluate how each player has performed over his last 10 appearances. The higher the number, the better the performance, and it's scaled in a way that the scores are comparable to the scale on which scoring outputs are measured.
Players must have suited up at least once in the last week to be eligible for our top-25 countdown, which begins now.
Nos. 25-21: Zach LaVine (17.84), Miles Bridges (18.32), Jordan Poole (18.5), Khris Middleton (19.15), Tyler Herro (19.28)
The player power rankings begin with a trio of players you might not have expected to see, if only because they have notable teammates who have generated far more headlines throughout the 2021-22 season.
DeMar DeRozan is the member of the Chicago Bulls on the periphery of the MVP conversation, but Zach LaVine has been rolling for the Windy City in recent weeks. Even following a 12-point disaster in a Friday loss to the Phoenix Suns, he's averaging 24.3 points and 5.2 assists over his last 10 appearances. The Bulls may be seeing their season fall apart, but it's hard to pin the blame on his high-flying shoulders.
For the Charlotte Hornets, LaMelo Ball gets most of the attention because of his up-and-coming status and flashiness on the hardwood. But Miles Bridges has quietly surged back to the level at which he started his Most Improved Player candidacy. Over his last 10 games, he's averaged 21.1 points, 5.9 rebounds, and 4.6 assists while slashing a scorching 52.1/43.6/86.7.
Then we come to Jordan Poole, set to take on even more responsibility for the Golden State Warriors now that Stephen Curry is out indefinitely with a sprained ligament in his left foot. Even with No. 30 in the lineup, though, Poole was excelling for the Dubs thanks to his smooth pull-up jumper and basket-attacking dominance. He's scored at least 20 points in nine straight games, only five of which have seen him open in the starting lineup.
Speaking of smooth offense, how about Khris Middleton and Tyler Herro? The former has continued to make tough mid-rangers for the Milwaukee Bucks, excelling even without the spotlight and doing his best to provide a post hoc justification for his All-Star selection. The latter won't stop making contested buckets off the bounce and looks primed to lock down both Sixth Man of the Year and a massive contract extension as soon as he's eligible.
Nos. 20-16: CJ McCollum (19.83), Darius Garland (20.25), Pascal Siakam (20.28), Dejounte Muray (20.32), James Harden (21.21)
This whole CJ McCollum on the New Orleans Pelicans thing seems to be working. Since he debuted for the Big Easy on Feb. 10, he's averaged 26.1 points, 5.3 rebounds, and 6.7 assists while shooting 50.5% from the field and 39.1% from beyond the arc. He's only getting more comfortable, too, which bodes well for the Pelicans' chances of locking down a spot in the Western Conference's play-in games.
Darius Garland didn't need a change of scenery to break out. Though the Cleveland Cavaliers continue to be decimated by notable injuries, he's back in the lineup and thriving as both a scorer and a distributor. The number of easy buckets he's created for Evan Mobley, Jarrett Allen, and Co. this season is roughly infinite.
Pascal Siakam and Dejounte Murray, meanwhile, may be having two of the most overlooked All-NBA-caliber seasons for the Toronto Raptors and San Antonio Spurs, respectively. Both have been excellent all year, and both have taken exactly zero steps back recently. Over their last 10 games, Siakam has averaged 26.5 points, 8.2 rebounds, and 4.8 assists, while Murray has put up 24.5, 8.0, and 8.6.
As for James Harden, he's continued to take a backseat role to Joel Embiid during his brief Philadelphia 76ers tenure. But even a backseat role for the bearded guard involves plenty of step-back triples and excellence as a distributor. The latter is an oft-underrated part of his repertoire, so it's notable that Harden has averaged 10.5 dimes in a Philly uniform despite building chemistry with his teammates on the fly.
Nos. 15-11: Terry Rozier (21.47), Ja Morant (21.66), De'Aaron Fox (22.76), Devin Booker (22.85), Kevin Durant (22.86)
Now we arrive at the tier that features a handful of young guards and an injury-impervious basketball marvel.
Terry Rozier may be viewed as a tertiary figure for the Charlotte Hornets, falling behind both LaMelo Ball and Miles Bridges in the pecking order. But when his shot is falling, his aggressive style of play can yield tremendous dividends. Such has been the case in recent weeks as he puts up high-scoring performance after high-scoring performance even without spending too much time at the charity stripe.
Ja Morant and De'Aaron Fox fill much more obvious roles. The Memphis Grizzlies guard continues to produce explosive highlights and keep his Memphis Grizzlies near the top of the Western Conference standings, and his 46- and 52-point outbursts are still factoring into his score here. The Sacramento Kings ball-handler has started to build impressive chemistry with Domantas Sabonis, acquired at the trade deadline, as his team puts forth an entertaining and surprisingly competitive product.
Since Chris Paul went down with his thumb fracture on Feb. 16, Devin Booker has done everything possible to keep the Phoenix Suns well clear of the field for the West's No. 1 seed. With a four-game absence baked in, he's averaged 28.2 points, 4.8 rebounds, and 7.0 assists while turning the ball over just 2.9 times per contest and slashing 52.5/41.1/93.0.
As for Kevin Durant? Well, what more can we really say about him at this stage of his illustrious career?
It doesn't matter which injury he's returning from or who's joining him in the Brooklyn Nets lineup. He's going to score over everyone from everywhere all the time anyway. Over eight appearances following a 21-game absence, he's averaging 30.0 points, 6.3 rebounds, and 7.3 assists while shooting 53.6% from the field, 39.1% from downtown, and 92.1% from the stripe.
Nos. 10-6: Trae Young (22.97), Kyrie Irving (23.65), Karl-Anthony Towns (23.82), Luka Doncic (24.11), Jayson Tatum (24.22)
Trae Young may not be much of a defensive menace, and his Atlanta Hawks have had trouble getting going all season — a reality that won't change with John Collins out indefinitely. But he's continued to thrive as an offensive powerhouse who can single-handedly win just about any game. The Indiana Pacers and Portland Trail Blazers found that out the hard way when he went for 47 and 46 on the two ends of a mid-March back-to-back.
Kyrie Irving can't single-handedly win any game since the enduring coronavirus vaccine mandates ensure that he can only suit up on the road. But when he's in a uniform, he looks like one of the most skilled scorers the Association has ever seen. Due to the unique circumstances, his last 10 games date back to Feb. 2 and include 60-, 50-, and 38-point outbursts.
As for Karl-Anthony Towns, Luka Doncic, and Jayson Tatum, they're all thriving for squads looking to continue their climbs up the standings in their respective conferences.
Towns has the Minnesota Timberwolves up to No. 6 in the West and exploded for 60 points of his own against the San Antonio Spurs on March 14. Doncic has continued to do everything under the sun for a Dallas Mavericks outfit up to No. 5 in the West. Tatum can't be stopped on offense and is contributing significantly to a dominant defense as the Boston Celtics narrowly edge out the Chicago Bulls and Cleveland Cavaliers for home-court advantage in the first round of the Eastern Conference playoffs.
5. Joel Embiid, Philadelphia 76ers: 24.6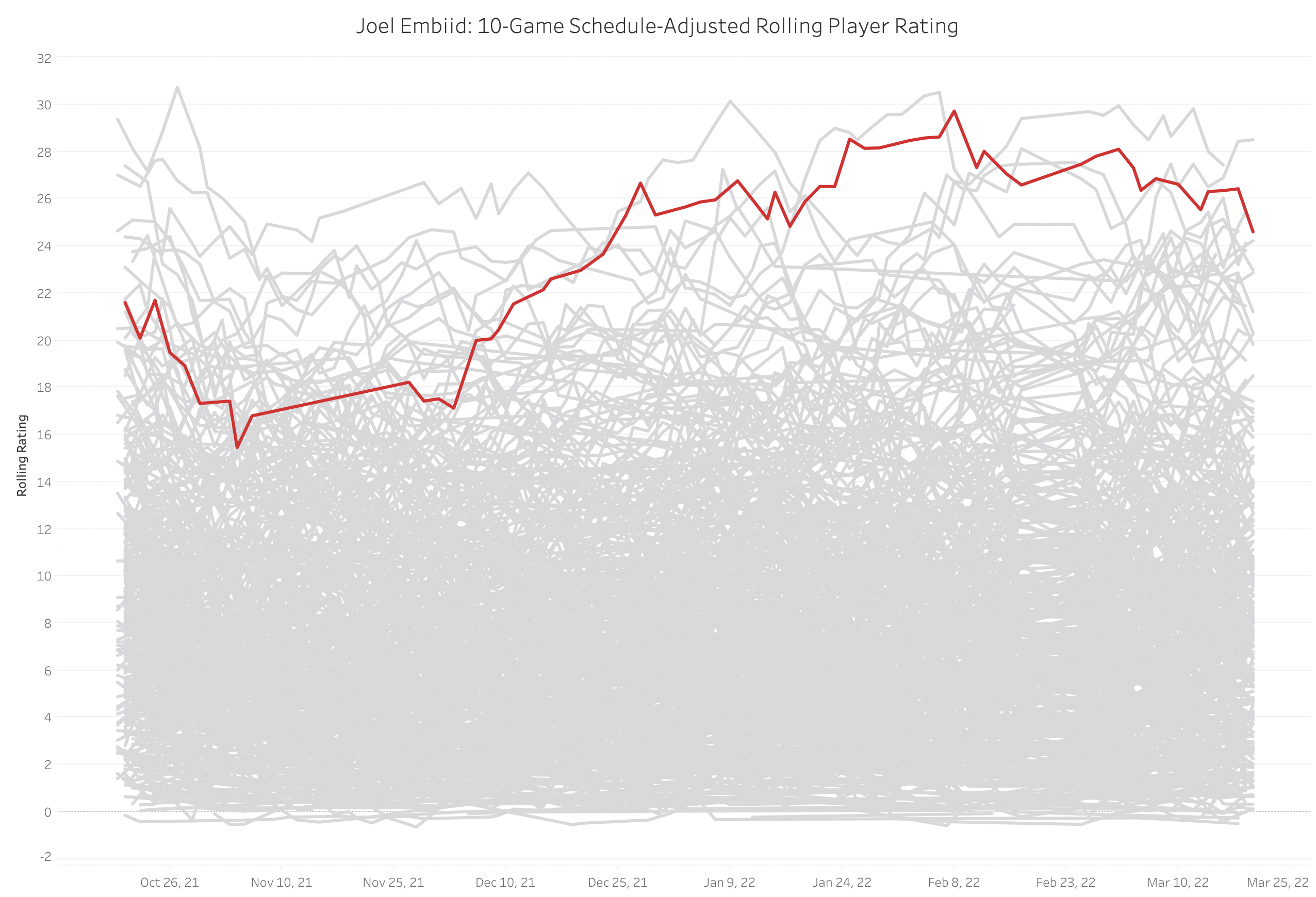 Is Joel Embiid actually going to do it? Can he really become the first center since Shaquille O'Neal to win the NBA's single-season scoring crown?
He's currently in the top spot (29.8), edging out LeBron James (29.8) and Giannis Antetokounmpo (29.8) in a race so close that you need an extra significant figure to show the discrepancies in the top three. In fact, the leading trifecta is so tightly packed that if Antetokounmpo had connected on just one more of his 1,118 field-goal attempts, he'd jump from No. 3 to No. 1.
Embiid isn't letting either of the other two overtake him with any semblance of ease, though.
Over his last 10 outings, even if they've failed to match the true heights he reached back in January and early February, he's averaged the same 29.8 points to go along with 12.5 rebounds, 3.7 assists, 1.5 steals, and 1.2 blocks per game.
4. Shai Gilgeous-Alexander, Oklahoma City Thunder: 24.62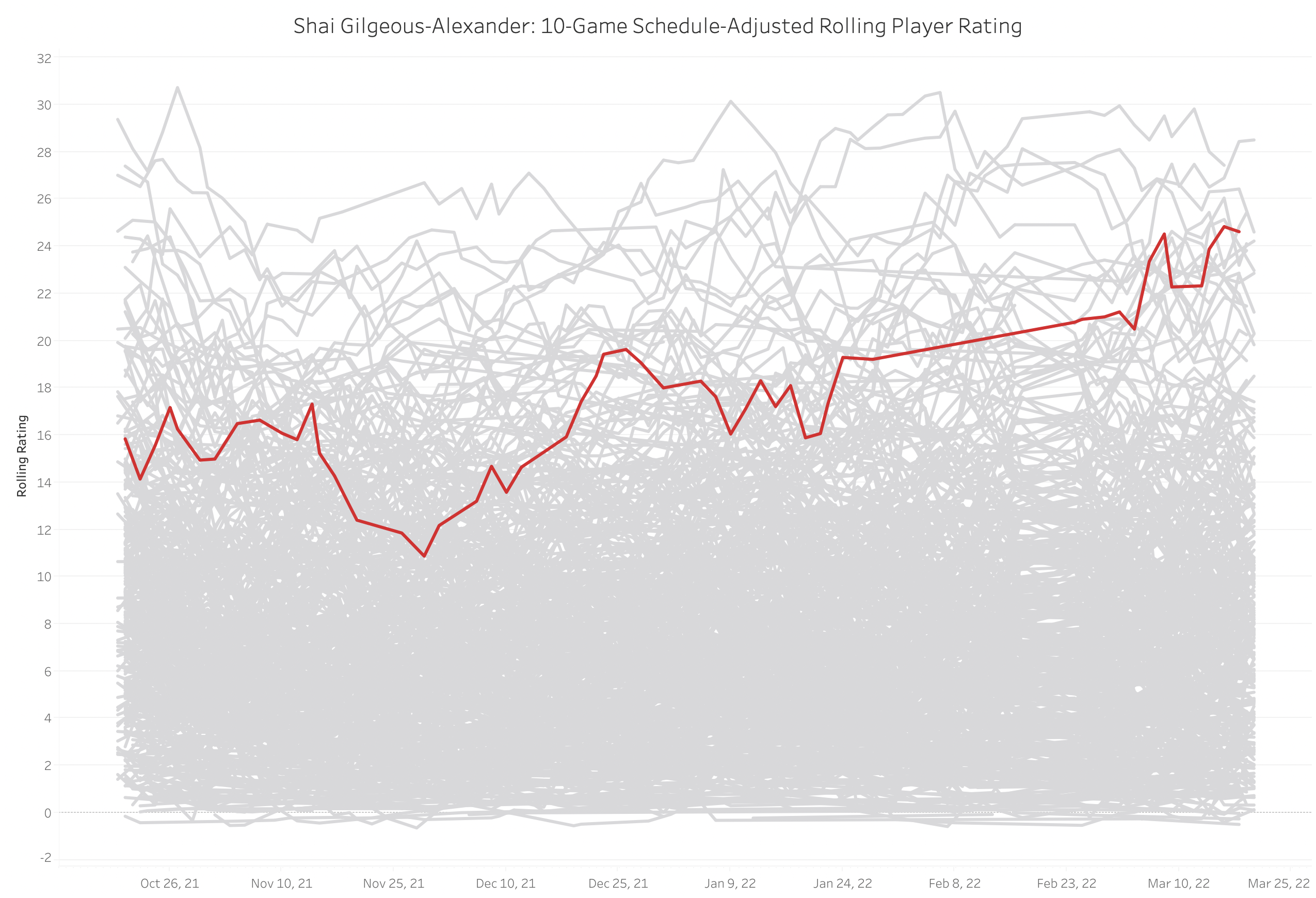 Shai Gilgeous-Alexander is a tremendous example of how the Oklahoma City Thunder are more stealth-tanking than outright tanking. They may have assembled a roster that struggles to compete against the true powerhouses in each conference, but they're still doing their darnedest to put forth their best showings on a nightly basis.
If that weren't the case, SGA would have been shut down for the season under the guise of some lingering injury — or, at the very least, not on the court for so many minutes.
Instead, the 23-year-old has continued to get better and better throughout the season, leaving no doubt that he's a centerpiece for this organization even with Josh Giddey taking on more responsibility alongside him. He's averaging 30.3 points, 6.2 rebounds, and 7.2 assists over his last dozen contests, and that's with an eight-point stinker in a blowout loss to the Minnesota Timberwolves baked into the numbers.
3. LeBron James, Los Angeles Lakers: 25.42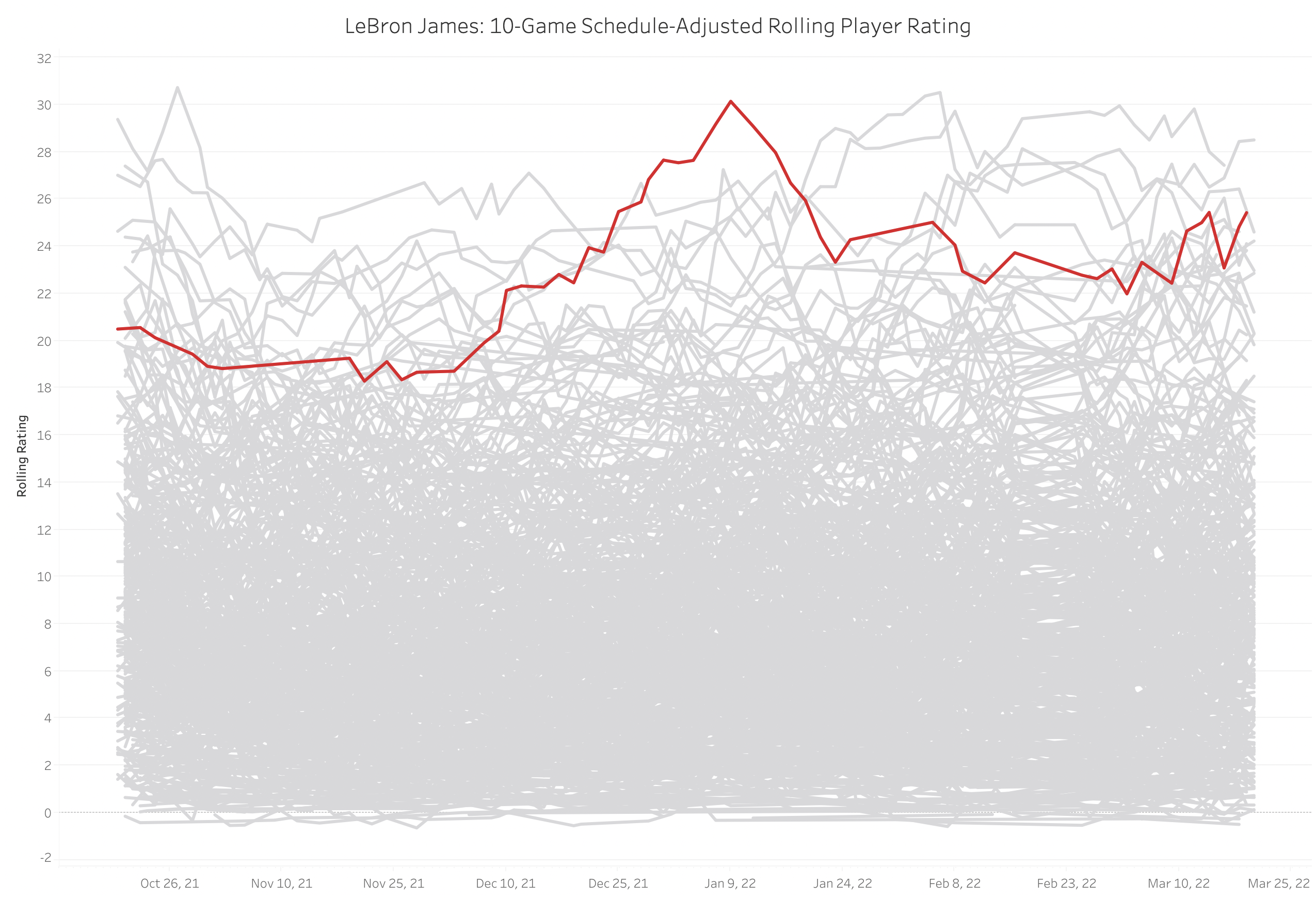 Two things have remained constant for the Los Angeles Lakers throughout the 2021-22 season.
Their team in general has struggled, plagued by both injuries and the ill-fitting pieces they've asked to wear the Purple and Gold, and LeBron James has kept throwing up huge individual numbers, leaving little doubt that Father Time is contractually obligated to avoid affecting his performance.
James' numbers may be less impactful on the winning efforts this year, but he's in the mix for a scoring title during his age-37 season, has passed Karl Malone for No. 2 on the all-time points leaderboard, and has continued to produce jaw-dropping box-score figures.
Averaging 33.5 points, 9.1 rebounds, and 5.6 assists while slashing 53.2/38.6/74.6 would be a career highlight for almost any player in the history of this sport. It's just another 10-game stretch for the ageless King.
2. Giannis Antetokounmpo, Milwaukee Bucks: 27.43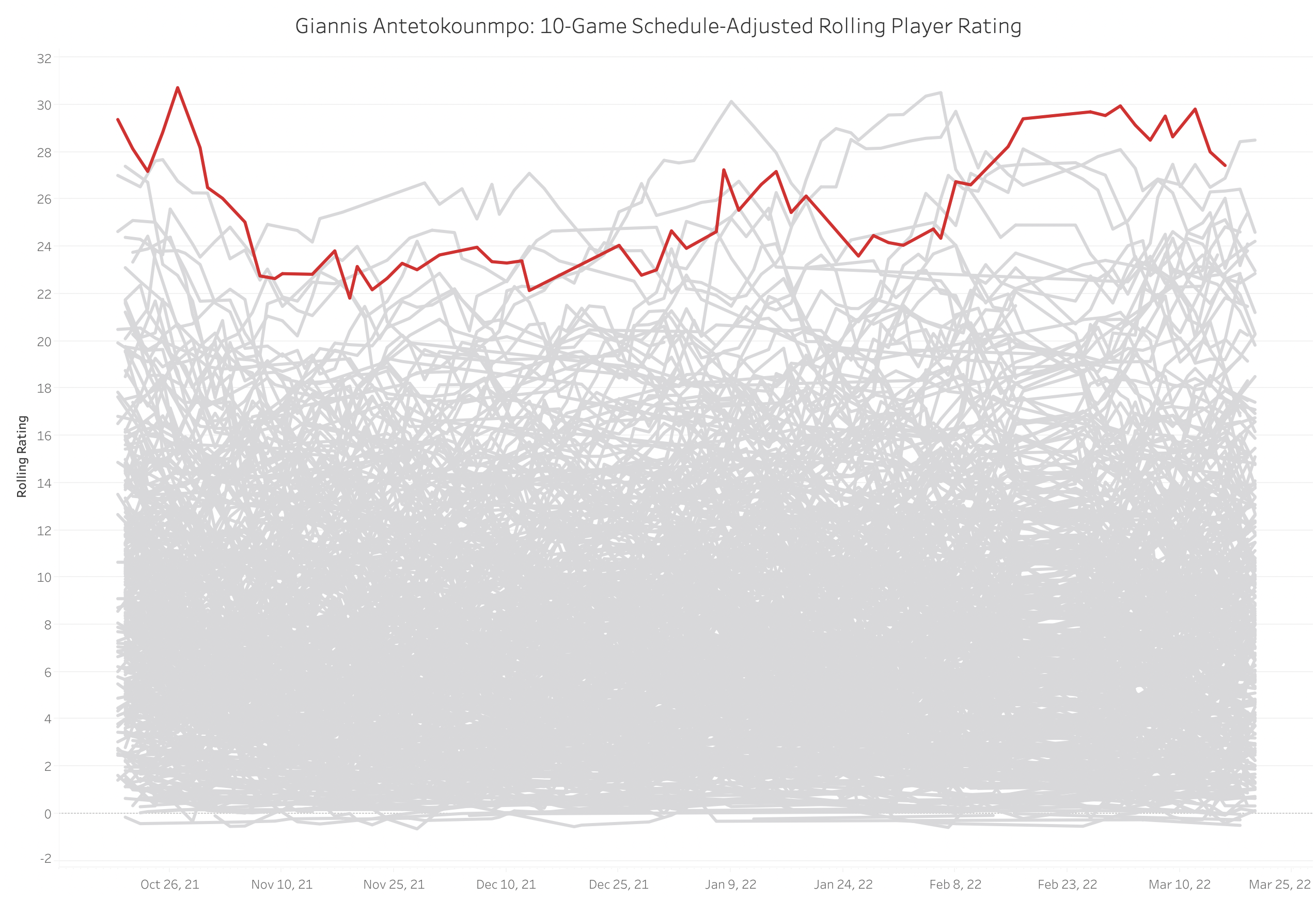 Don't look now, but the Milwaukee Bucks, the NBA's reigning champions, are right back in the thick of the race for the No. 1 seed in the Eastern Conference. They trail the Miami Heat by three games, which may be too much to overcome at this stage of the 2021-22 season. But they've gone 8-3 since the All-Star break, and one of the losses came to the Minnesota Timberwolves with Giannis Antetokounmpo taking a day off to rest his knee.
Brook Lopez's return, Serge Ibaka's integration into the lineup, and Khris Middleton's return to form have all helped Brewtown move in the right direction, but the Greek Freak has continued to serve as the driving force of the Bucks' excellence.
Over his last 12 appearances, he's averaged a whopping 33.1 points, 12.8 rebounds, 5.2 assists, 1.5 steals, and 1.1 blocks, and the consistency of his all-around excellence has been unreal. With the exception of a 19-point performance in a victory over the Phoenix Suns (and he still had 13 boards and six dimes before fouling out), he's recorded at least 26 points in each outing and has topped 30 in eight of them, including each of his last five.
When Antetokounmpo is in destroyer-of-worlds mode, the rest of the NBA has no answers.
1. Nikola Jokic, Denver Nuggets: 28.5
Nikola Jokic has done enough to keep the Denver Nuggets in a place of prominence within the Western Conference standings that the prospect of pairing him with a healthy Jamal Murray and Michael Porter Jr. might just be downright terrifying.
On Sunday, the Boston Celtics teased out a rare poor performance from the Serbian superstar, holding him to 23 points, eight rebounds, and four assists on 8-of-23 shooting. In the grand scheme of things, that's not the worst outing. But it is by Jokic's lofty standards.
After all, he entered that 124-104 loss to Boston averaging 30.0 points, 13.2 rebounds, 8.3 assists, 1.4 steals, and 1.6 blocks while shooting an absurd 61.9% from the field over a nine-game stretch.
Jokic is still battling against Joel Embiid and Giannis Antetokounmpo for the top spot in the MVP rankings, but he's ascended back into the No. 1 spot in the player power rankings — the same one he made his permanent residence for much of the season's first half.
All stats, unless otherwise indicated, courtesy of Basketball Reference and NBA Math and accurate heading into games on March 21.