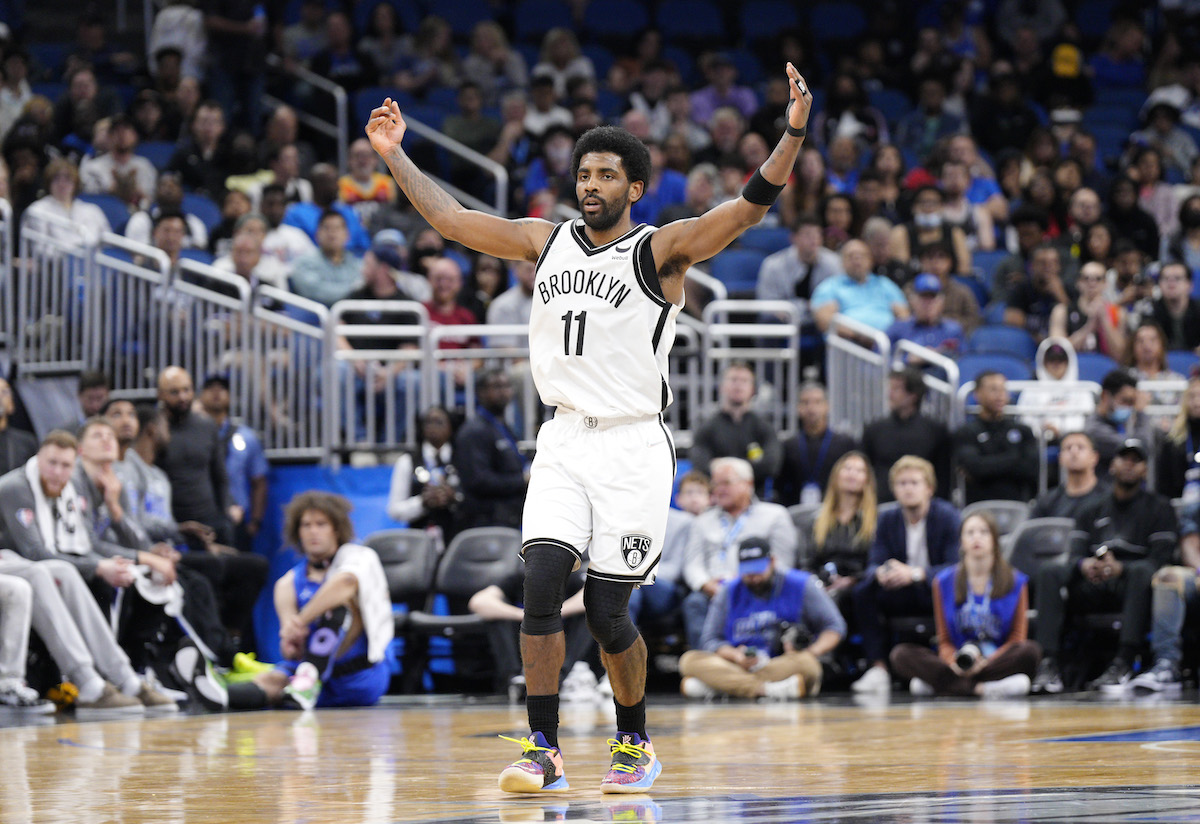 Kyrie Irving, Karl-Anthony Towns, and the Most Unexpected Scoring Outbursts of the 2021-22 NBA Season
Kyrie Irving and Karl-Anthony Towns both went for 60. LeBron James and Jayson Tatum have multiple 50-point games. But who has the most unexpected scoring outburst this season?
The NBA has seen an onslaught of jaw-dropping performances in recent weeks, ranging from Brooklyn Nets point guard Kyrie Irving dazzling onlookers and fellow players with 60 points to Karl-Anthony Towns hitting that exact same number for the Minnesota Timberwolves the day before. LeBron James has thrown up multiple 50-point games for the Los Angeles Lakers, and the same is true of Jayson Tatum with the Boston Celtics.
But we're not just interested in the highest-scoring outputs of the 2021-22 season. We want shock value.
To quantify the unexpectedness of a scoring outburst, we're turning to a rather simple formula: looking at the difference between the performance in question and a player's scoring average. The higher the discrepancy, the more unexpected the detonation.
Basically, a 50-point game from someone averaging 10 points is far more shocking than a 50-point game from some competing with James, Joel Embiid, and Giannis Antetokounmpo for the scoring title.
Something must be in the water because March Madness doesn't just apply to college basketball. Six of the top 10 featured spots go to players who put up their numbers in the third month on the calendar.
T9. Myles Turner, Indiana Pacers: 27.1 outburst score
Date: Oct. 22, 2021
Points: 40
Scoring Average: 12.9
This is how you kick off a season with style.
Myles Turner's first showing of the 2021-22 campaign came two nights earlier with nine points, seven rebounds, and four blocks in a loss to the Charlotte Hornets. He followed it up by torching the Washington Wizards for 40 points and 10 rebounds while shooting 15-of-22 from the field and 5-of-9 from downtown.
He made a career-high seven triples a few weeks later, but this exemplified the upside in his 6-foot-11 frame. When he's finishing powerfully on the interior and stretching out a defense in the same game, he's tough to slow down.
T9. Jaylen Brown, Boston Celtics: 27.1 outburst score
Date: Jan. 2, 2022
Points: 50
Scoring Average: 22.9
At the time, this felt more like Jaylen Brown ascending to the proverbial next level than having a true outburst. He'd kicked off his 2021-22 efforts with a 46-point showcase against the New York Knicks, and with a brief injury-related absence in the middle, he was averaging 24.3 points through 23 appearances following this 50-spot at the expense of the overmatched Orlando Magic.
Since then, Brown has averaged "only" 21.8 points, taking a more decisive backseat to Jayson Tatum, dedicating more of his energy to the defensive end, and operating smoothly within the egalitarian offensive schemes of head coach Ime Udoka.
Still, there's no doubt this 25-year-old can go off when he's feeling it.
8. Jayson Tatum, Boston Celtics: 27.2 outburst score
Date: March 6, 2022
Points: 54
Scoring Average: 26.8
Jayson Tatum also checks in with the No. 23 outburst score of the season courtesy of his 51 points against the Washington Wizards on Jan. 23. And if efficiency were taken into account, that would rather easily be his top performance of the season:
Jan. 23: 51 points, 10 rebounds, 7 assists, 1 turnover, 18-of-28 on field goals, 9-of-14 on three-pointers, 6-of-6 on free throws, 54.9 game score
March 6: 54 points, 5 rebounds, 3 assists, 2 turnovers, 16-of-30 on field goals, 8-of-15 on three-poitners, 14-of-17 on free throws, 39.0 game score
But we're only worrying about pure volume here, and nothing the Duke product has done can top his 54 points against the Brooklyn Nets. He was raining in jumper after jumper, constantly drilling difficult looks until he eventually got to blow kisses to those in attendance.
7. Trey Murphy III, New Orleans Pelicans: 27.4 outburst score
Date: March 11, 2022
Points: 32
Scoring Average: 4.6
And this is exactly why outburst score exists.
In a vacuum, a 32-point performance barely registers. To this point in the 2021-22 campaign, 102 individual performances have resulted in exactly 32 points, and 379 have topped that mark.
But this one came from Trey Murphy III, who is averaging a meager 4.6 points for the New Orleans Pelicans after entering the Association as the No. 17 overall pick of the 2021 NBA Draft. He's only scored in double figures on two other occasions, registering 12 against the Detroit Pistons on Feb. 1 and 11 against the Phoenix Suns on March 15.
This performance admittedly came in a blowout loss to the Charlotte Hornets, and he recorded 16 of his 32 points in the fourth quarter after the game was basically out of hand. But he still made the shots, regardless of whether they were thunderous dunks or swishes from beyond the arc.
"He's been working extremely hard," head coach Willie Green said afterward (h/t Oleh Kosel of The Bird Writes). "You're starting to see it more as he progresses throughout the season. He's played in some G League games, which helped him stay sharp. He just played free tonight, and he plays hard. In that previous game, he came out, played hard, gave great effort, and it just carried over. So we're all proud to see Trey come out and play like he did tonight."
6. Trae Young, Atlanta Hawks: 27.7 outburst score
Date: Jan. 3, 2022
Points: 56
Scoring Average: 28.3
Trae Young can flat-out score the basketball.
That much is beyond clear as we near the stretch run of his fourth professional go-round. He averaged 29.6 points as a second-year standout, dropped to 25.3 in his third season, and has risen back up to 28.3 in his fourth, putting him on the periphery of a scoring-title race he'd fully enter with one more showing like this one.
And should anyone rule that out?
Young has broken past the 40-point threshold on four other occasions in 2021-22, and even a monstrous 56-point performance seems relatively routine because of the ease with which he operates on the scoring end. The rainbow threes, floaters in traffic, tough finishes, and step-back jumpers all seem so seamless when everything is clicking for the 23-year-old.
5. Jordan Clarkson, Utah Jazz: 29.2 outburst score
Date: March 12, 2022
Points: 45
Scoring Average: 15.8
Jordan Clarkson loves to shoot, and he can put up some massive numbers when he's granted the opportunity to do so. For a Utah Jazz squad that needs more shot creation and has been dealing with significant injuries throughout the 2021-22 season, it shouldn't be too surprising that he got to go on a heater for almost the entirety of a game against the Sacramento Kings.
Though it's by no means his primary skill, Clarkson is a capable marksman, albeit an inefficient one. He's knocking down 33.9% of his three-pointers throughout his career but has only connected at a 31.9% clip this season.
For one night, he forgot about that, raining in seven treys on 13 attempts while peppering in plenty of buckets from floater territory. Again, that shouldn't be surprising. Nor should the fact that he only recorded two assists in the nine-point victory at Vivint Smart Home Arena.
4. Josh Hart, Portland Trail Blazers: 29.5 outburst score
Date: March 12, 2022
Points: 44
Scoring Average: 14.5
In the interest of full disclosure, this one is a bit misleading.
Yes, Josh Hart put up 44 points in a victory over the Washington Wizards, looking quite a bit like a future star who could score in all possible manners. But the outburst score is based on his full-season scoring average rather than what he's done since a midseason move.
Hart received far fewer opportunities to thrive as a featured scorer in 41 games with the New Orleans Pelicans than he has in his first 10 appearances with the Portland Trail Blazers, who, lest we forget, have been operating without the high-scoring services of one Damian Lillard. With the Pelicans, he averaged just 13.4 points. With Rip City, he's already put up games with 44, 31, 27, 23, and 22 en route to 19.1 points per game.
If his outburst score were based solely on what he's done in Portland, his mark of 24.9 would leave him tied with Gordon Hayward for 18th place.
3. Kyrie Irving, Brooklyn Nets: 32.3 outburst score
Date: March 15, 2022
Points: 60
Scoring Average: 27.7
When Kyrie Irving is available and feeling it, he can put on an absolute show. Few scorers in NBA history have had a deeper bag of tricks with possession of the basketball, and he couples that with a smooth, quick release that he can get off in just about any situation. His game can only be described as gorgeous.
Well, Irving was feeling it against the Orlando Magic.
One week after torching the Charlotte Hornets for 50 points, he dropped 60 while shooting 20-of-31 from the field, drilling eight of his 12 attempts from deep, and missing just one of his 13 shots from the charity stripe. Among the 78 showings in NBA history that have cleared 60 points, only four have featured fewer field-goal attempts: 30 from Bernard King in 1984, 30 from James Harden in 2018, 26 from Karl Malone in 1990, and 24 from Harden in 2019.
2. Kemba Walker, New York Knicks: 32.4 outburst score
Date: Dec. 23, 2021
Points: 44
Scoring Average: 11.6
What a weird season for Kemba Walker.
He's been yanked in and out of the lineup by New York Knicks head coach Tom Thibodeau, who somehow still enjoys the support of the front office. He's been shut down for the season to rehabilitate a knee injury that won't stop hampering him. He's gone on enough of a scoring binge to earn Player of the Week honors in the Eastern Conference.
Make it make sense. We certainly can't.
Regardless, this was unquestionably Walker's piece de resistance in 2021-22, dropping 44 points against the Washington Wizards by burying an endless array of pick-and-roll pull-up jumpers when he wasn't turning back the clocks and attacking the basket with aplomb. Not only did he make a season-high seven triples, but he also set his high-water mark for free throws with nine.
1. Karl-Anthony Towns, Minnesota Timberwolves: 35.2 outburst score
Date: March 14, 2022
Points: 60
Scoring Average: 24.8
Apparently, Karl-Anthony Towns just wanted to submit further evidence that he's the best shooting big in NBA history — a statement that's not meant to imply disrespect to the men like Dirk Nowitzki who helped pave the way for his long-range success.
The poor San Antonio Spurs didn't stand a chance. Towns knocked down seven triples, made 15 shots at the charity stripe by aggressively attacking the basket when he wasn't showcasing his beautiful jumper, and all but refused to take inefficient looks. He was either letting fly near the top of the key or trying to finish on the interior, and everything worked.
"Karl was fantastic," San Antonio head coach Gregg Popovich said about the man who threw up a 32-point third quarter (h/t ESPN). "He drove it, he shot it — he always plays hard. He's a hell of a player. It's not like it was a surprise, but tonight he was special."
It wasn't a surprise Towns went off like this given his skill set and importance to the Minnesota Timberwolves. He also exceeded his season average by more than any other player has in 2021-22.
Somehow, those ideas aren't mutually exclusive.
All stats, unless otherwise indicated, courtesy of Basketball Reference.