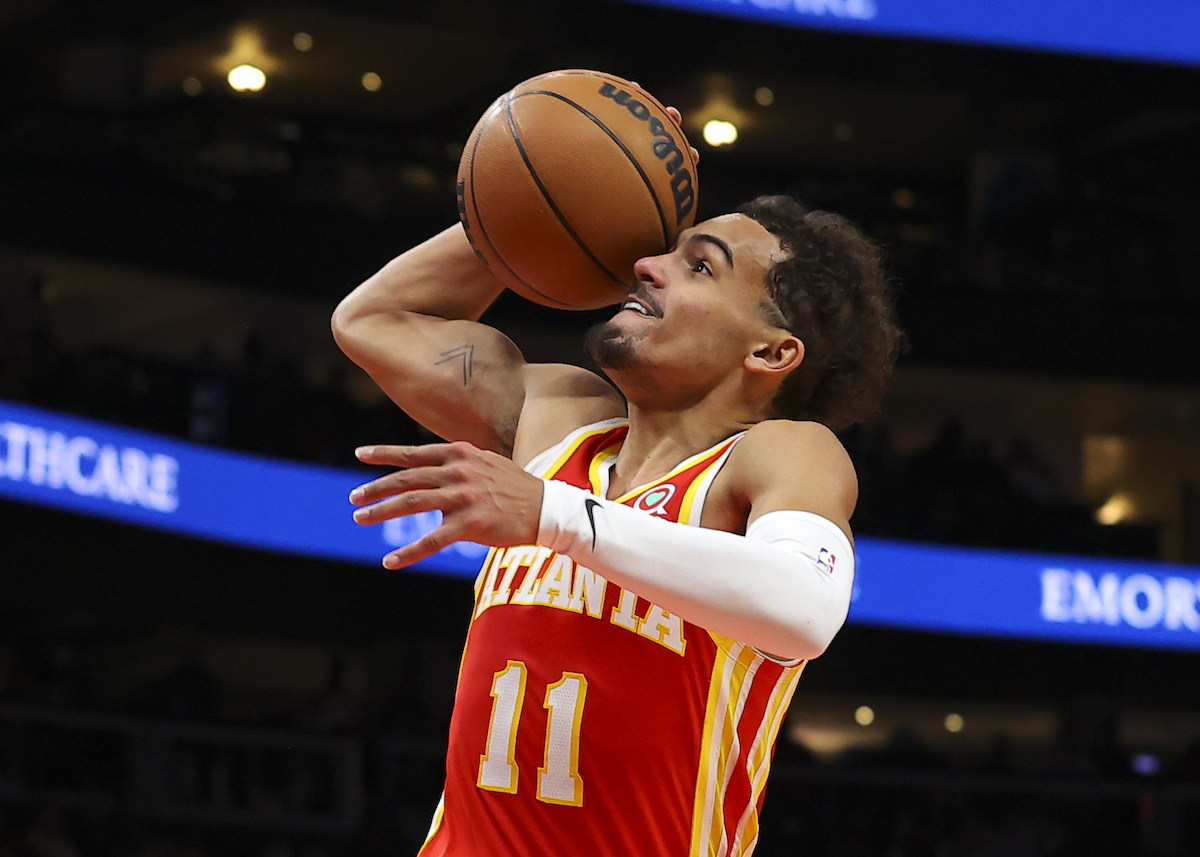 Trae Young Defense: Why His Offense Helps Hide Flaws for Atlanta Hawks
Trae Young might be the NBA's worst defender. He's also so good on offense for a team that can hide his flaws that it might not matter.
Trae Young, even with a pair of All-Star selections under his belt in four seasons for the Atlanta Hawks, remains a polarizing NBA superstar. For all the hype he generates with his long-range marksmanship, flashy passing, sheer mastery of the pick-and-roll game, and offensive magnetism, he loses ground in some basketball circles because of defense that can be generously described as "porous" or "nonexistent."
But make no mistake about it: Young is a game-changing superstar who deserves every bit of the recognition he's received thus far, and those legitimate critiques of his defense, or lack thereof, shouldn't depress his overall standing too significantly.
Not only does his offensive prowess more than outweigh his struggles on the point-preventing end, but the Hawks are also better-prepared to cover up the warts during the second half of the 2021-22 campaign.
For Trae Young, offense is greater than defense
Much like Trae Young's defense itself, a valid defense of his, well, defense doesn't exist.
Young's slight 6-foot-1, 164-pound frame holds him back against a wide variety of opponents, and that's when he even cares to insert himself into the action. Far too frequently, he lollygags on the preventing end, failing to stick with an assignment or make a proper rotation because he's conserving energy for the side of the court on which he can do so much more damage. The Hawks attempt to hide him on the easiest assignments, but adversaries routinely target him with switches designed to negate those decisions.
And yet, Young overcomes all of it with his jaw-dropping combination of volume and effectiveness on the scoring end.
Coming out of the All-Star break, the Oklahoma product is averaging 27.8 points and 9.3 assists while shooting 50.1% on two-pointers, 38.3% on threes, and 89.8% at the stripe. He's the source of almost everything the Hawks do on offense, generating countless opportunities for his teammates with slick kick-out passes and a deadly floater game that opens the door for easy lobs around the hoop.
Even the distance from which he's willing to let fly makes things easier for his compatriots because he puts pressure on the opposition as soon as he crosses the timeline.
This is the third consecutive season Young has posted a usage rate north of 30 (career-high 35.1% this season) while assisting on at least 45% of the shots his teammates make while he's on the floor (career-high 46.3%). The only other players to meet both those marks in a qualified campaign? Russell Westbrook (six times), Luka Doncic (twice), James Harden (twice), LeBron James, John Wall, and Deron Williams.
Turn to virtually any catch-all metric, and the message is clear: Young's defense deserves criticism, but his offense is so staggeringly good that he remains one of the most productive overall players in the Association.
FiveThirtyEight's RAPTOR metric grades Young as the No. 2 player on offense and places him 245th out of 250 qualified players on defense. Taken together, he's earned 6.2 WAR, which trails only nine players during the 2021-22 campaign. Sports Math Network's TPA metric gives him the No. 2 offensive score, and even though he's dead last on defense, he's still sitting pretty at No. 14 overall.
Just 14 players have earned more win shares, which is more impressive when Young's Hawks are still climbing toward a .500 record. He's 11th in estimated wins, per Dunks & Threes. The list goes on and on, but rarely do the metrics stray from that overarching message of overall value.
And that's with an Atlanta unit that hasn't done what it could do so well last year: make up for Young's defense with a well-constructed roster prepared to mitigate any issues at the point of attack.
Atlanta Hawks are primed to pick up the defensive slack
The easy counter to claims that Young remains one of the most valuable players in basketball despite his defensive woes involves pointing to Atlanta's overall lack of success.
His inadequacies on one end of the court seem to limit the team's ceiling (yes, in spite of last year's run to the Eastern Conference Finals) and force specialized roster construction to have a snowball's chance in hell at holding up the Larry O'Brien Trophy.
There's admittedly some validity to that line of thinking. Young may never be the absolute best player in the world without tapping into his inner Stephen Curry and becoming an average (or, in Curry's case, better than average) defender in spite of his reputation. Atlanta will have to consider his shortcomings whenever it makes personnel decisions.
But the Hawks have already proved they can come within sniffing distance of a title, and they can get back on track in 2021-22 during the season's stretch run.
De'Andre Hunter is the team's best on-ball defender but hasn't been himself during the current campaign. Not only did he miss almost two months recovering from a wrist injury, but he also wasn't operating at full strength when he returned. He's now working himself into an offensive rhythm and has looked far more explosive in recent weeks, and the rest-and-relaxation period taken while the NBA's leading stars congregated in Cleveland should only help.
Important as that point-of-attack uptick may be, the Hawks must also be able to clean up behind Young. When the second line of defense can competently protect the hoop, the diminutive point guard is free to gamble for steals without fear of as many repercussions, and he often looks more energetic as a byproduct of those endeavors.
Last year, opponents shot 52.9% at the rim when Clint Capela was guarding them. This year, that number has skyrocketed to 60.8%, and the team-wide results have followed suit. Atlanta has gone from allowing opponents to shoot 61.4% within six feet in 2020-21 to 64.2% in 2021-22.
That might not sound like a big discrepancy, but the team's leaguewide rank has plummeted from No. 12 to No. 24, and a drop of nearly three percentage points matters a lot when facing 28.4 such shots per game.
Fortunately for the Hawks, Capela has been more effective as the season has progressed, dropping his individual rim-protection numbers to 57.5% since the start of February. Not only did he have to play his way back into shape after rehabbing Achilles injuries over the offseason, which manifested in the form of drastically reduced explosion in the season's first half, but he also had to overcome lingering effects of a COVID-19 bout, per Chris Vivlamore of the Atlanta Journal-Constitution.
That progress alone, especially coupled with growth from promising second-year big Onyeka Okongwu, should help lift a Hawks unit that's fallen from No. 18 in defensive rating last year (112.1) to No. 27 this go-round (113.3). Pair that with more focus in transition and the inevitable normalization of unsustainably high opponent three-point percentages and Atlanta should look more like the team it was during last year's run to the postseason's penultimate round.
This squad isn't built to be a defensive juggernaut. It is, however, set up to account for and thrive in spite of Young's defensive porosity.
As the Hawks, currently sitting 10th in the Eastern Conference at 28-30, attempt to climb out of their early-season hole and lock down a playoff spot that doesn't necessitate a play-in appearance, that defensive growth is paramount. Without the necessary strides, Young's offensive value easily superseding his most notable flaw won't matter because he'll be watching far too many postseason clashes from the comfort of his own couch.
All stats, unless otherwise indicated, courtesy of NBA.com or Basketball Reference and accurate through the All-Star break.