Steve Kerr Passionately Shuts Down the False Narrative About Stephen Curry's Game: 'He's an Excellent Defender'
Stephen Curry has long been considered a below-average defender, but Warriors head coach Steve Kerr is here to change that narrative.
Stephen Curry can do just about everything at an elite level on the basketball court, but he's always been known as a below-average defender throughout his career. At 6-foot-2 and 185 pounds, it's simply harder for him to switch onto bigger, stronger players and keep them from getting to the rim.
But Golden State Warriors head coach Steve Kerr sees a different player in Curry this season, and he believes the future Hall of Famer has turned into an "excellent defender" in year 13.
Stephen Curry never gets credit for his defense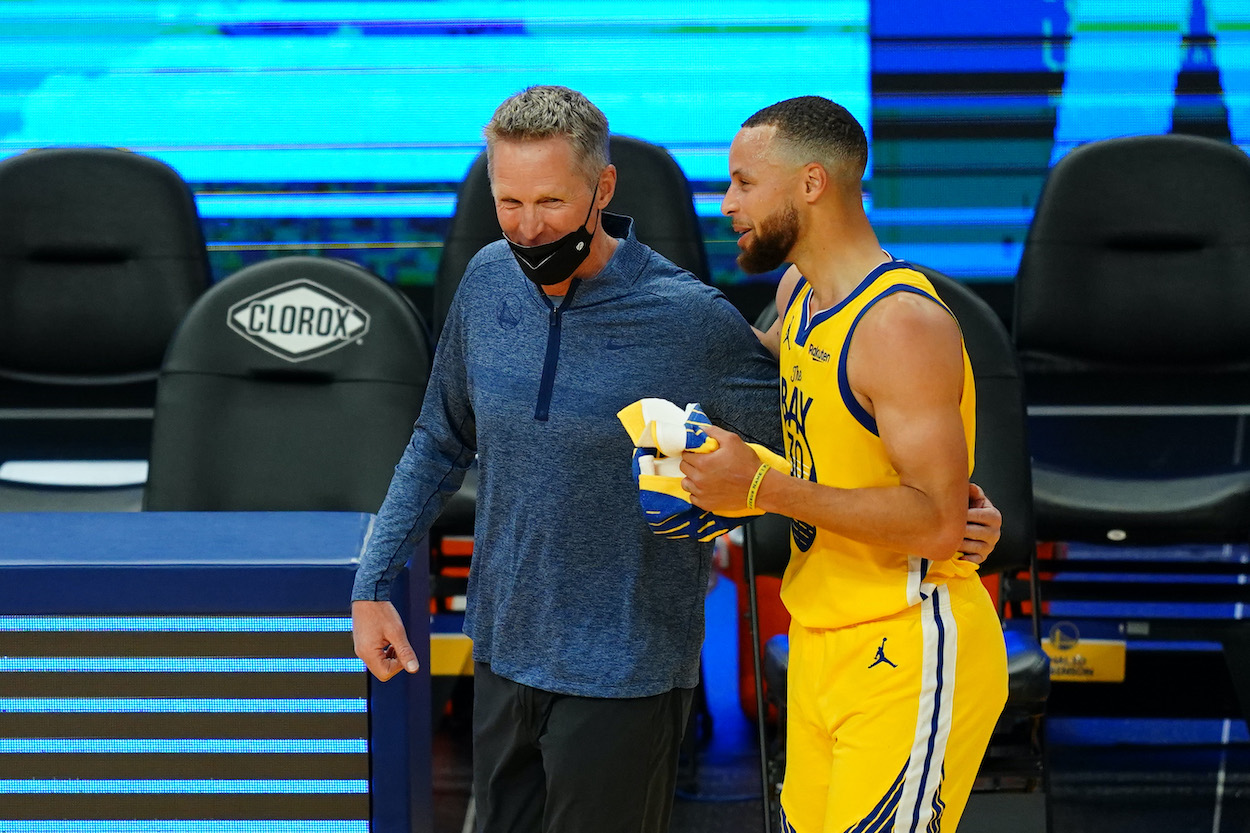 All throughout his NBA career, Curry has been known as a brilliant shooter who struggles on the defensive end. He's always been undersized compared to most of the players around the league, so he's often been targeted on defense whenever opposing teams can find advantageous matchups against him.
But Curry has never gotten credit for being the ballhawk he's always been.
The Warriors superstar has averaged 1.7 steals per game over the course of his career. He twice led the NBA in total steals with 163 in 2014-15 and 169 the following season.
Curry may give up easy buckets to bigger players at times, but he always makes up for it with the turnovers he's able to force.
Steve Kerr shuts down the narrative by calling Curry an "excellent defender"
Not many people give Curry any credit for his defense, but those people also don't work with him every day. Kerr, on the other hand, knows Curry's game better than anyone, and he believes it's finally time to give the man some credit.
He stuck up for Curry in a recent interview with Hanif Abdurraqib of GQ.
From when I arrived here seven years ago, there's been a huge difference. He's built his body in a way that impacts how he can finish at the rim, how he can get into the paint, and get through screens. And it's also helped him on defense. He's an excellent defender. This stigma has remained from early in his career that he's a weak defender, and I would just ask anyone to watch him night to night.

Steve Kerr
Curry reportedly added five pounds in the offseason, and it's paid off on the defensive end this season.
The best defensive season of his career
Over the last three seasons, Curry has recorded defensive ratings of 110, 113, and 111. Those figures are far below average for everyday starters in the NBA, but he's turned back the clock this year.
In 2021-22, Curry has a defensive rating of 99.5, which would be the best mark of his career if it holds for the entire season.
Kerr's right. It's time to give Curry the respect he deserves on defense.
All stats courtesy of NBA.com.
Like Sportscasting on Facebook. Follow us on Twitter @sportscasting19.