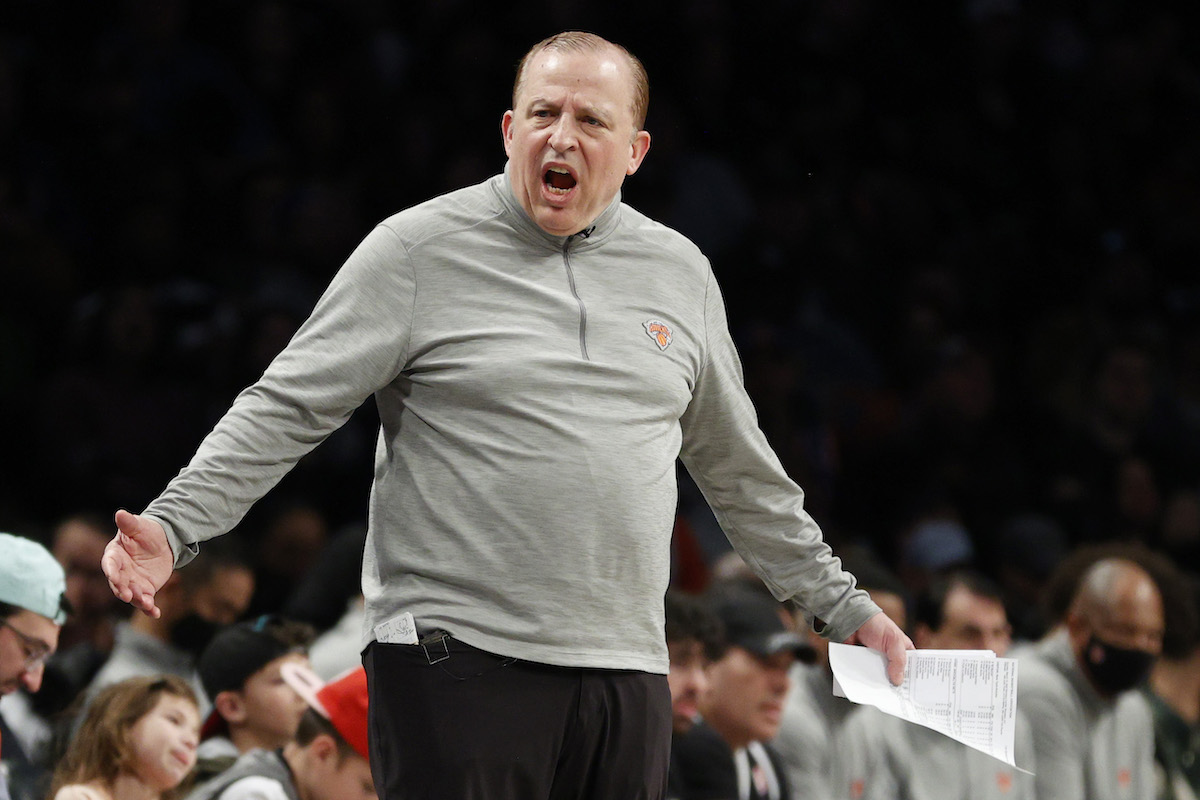 Keeping Tom Thibodeau Would be Latest Example of New York Knicks Ineptitude
The New York Knicks are reportedly retaining Tom Thibodeau as their head coach. Because of course they are.
The New York Knicks haven't exactly had a stellar 2021-22 season.
Following a sudden rise to prominence one season earlier, the Big Apple-based franchise has experienced a subsequent fall from grace. Injuries have pervaded a roster that never made much sense, alleged star forward Julius Randle has regressed dramatically, the defense has fallen off, and aside from a surge by up-and-coming star RJ Barrett and a few flashes of brilliance from Quentin Grimes and Miles McBride, not much has gone right.
Tom Thibodeau, as is so often the case in the NBA, would be an easy scapegoat for the failure to reach elevated expectations due simply to his status as the head coach of an underperforming roster. The Knicks, however, reportedly aren't interested in traveling down that path.
Knicks reportedly plan to retain head coach Tom Thibodeau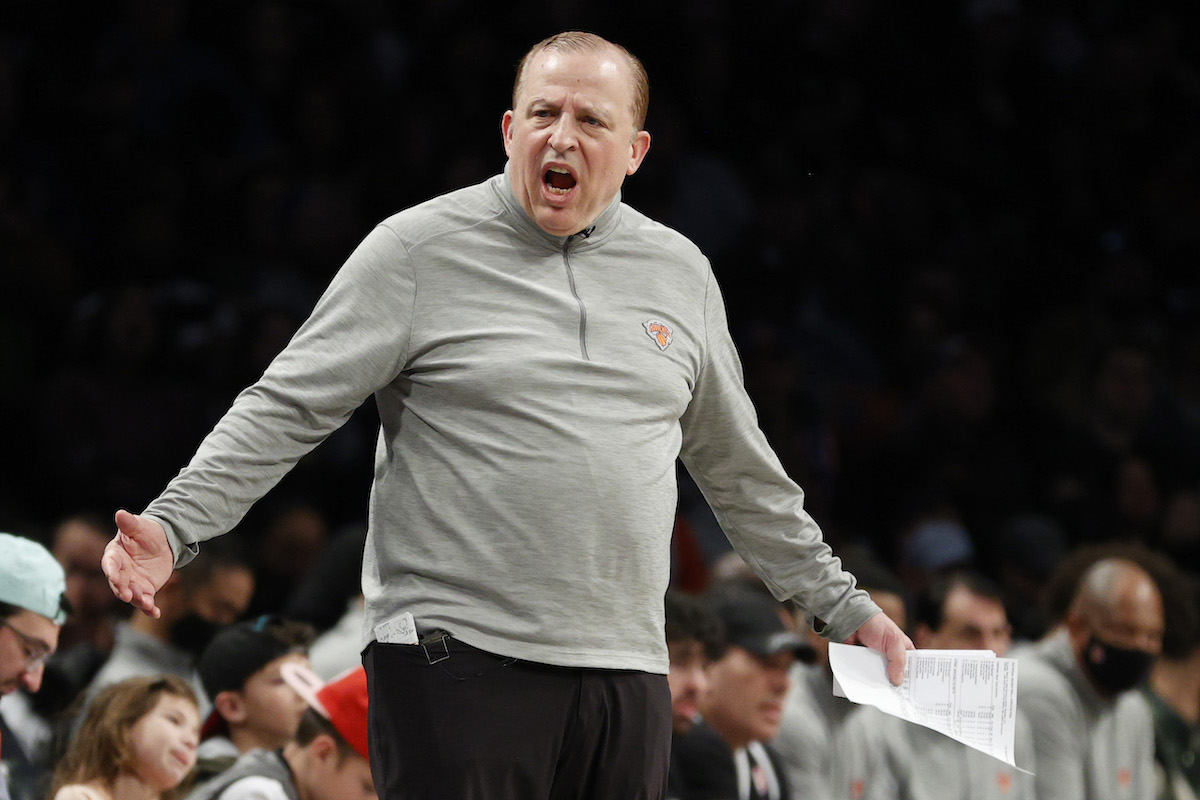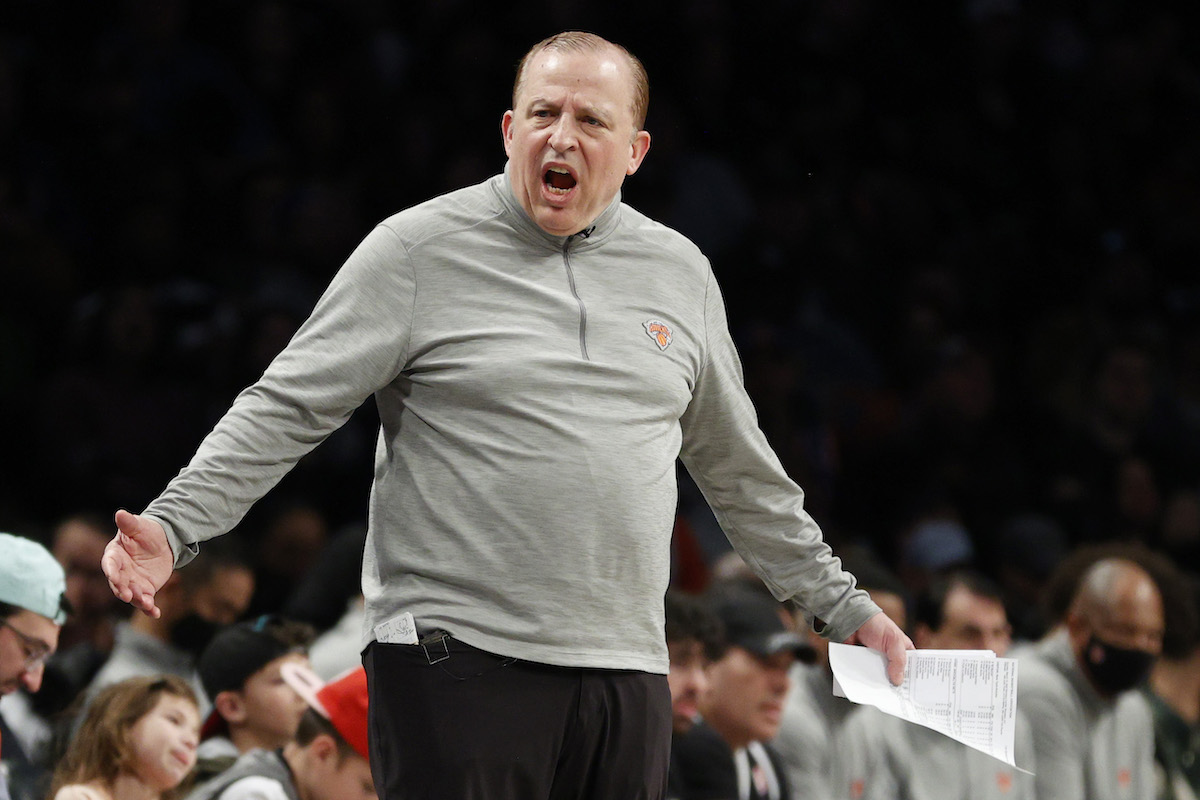 "After weeks of leaguewide speculation that Tom Thibodeau's tenure with New York was heading toward an unceremonious end, Thibodeau is expected to remain the Knicks' head coach beyond this 2021-22 season," Bleacher Report's Jake Fischer reported.
The 64-year-old is only in his second season with the organization, debuting with a 41-31 record after inheriting a team that had gone 21-45 during the shortened previous go-round.
However, the Knicks' fortunes have done a total 180 in 2021-22.
Rather than competing for home-court advantage in the first round of the playoffs, they've fallen to 28-40 at the time of Fischer's report, topping only the Indiana Pacers, Detroit Pistons, and Orlando Magic in the Eastern Conference while sitting 5.5 games behind the Charlotte Hornets for the final play-in spot.
Thibodeau is in the middle of a five-year contract extension signed in July 2020, and he'll apparently be given time to see this experiment through. In fact, Fischer reported that the organization is likely to make significant personnel changes this offseason — just not on the sideline:
There will be a level of turnover in New York this summer. The Knicks have been open to discussing the majority of their roster in varying capacities dating back to the 2021 draft. They are expected to target the point guard market particularly, with Jalen Brunson widely known to be at the top of New York's wishlist.

Bleacher Report's Jake Fischer on the New York Knicks
Beyond that, New York's rationale for retaining the head coach seems to be predicated on two flimsy arguments.
The Knicks do have some excuses
First is a lack of reasonable alternatives, whether in the form of external candidates or internal options such as associate head coach Johnnie Bryant.
The only issue there is that it's impossible to ascertain how someone will perform in the top seat until they're given a chance to do so, and intriguing candidates exist every offseason when a team is willing to look past the most recognizable names. In many ways, the purported reasoning seems designed simply to shield the incumbent from deserved criticism. It's akin to saying, "We don't have any better options, so just accept what we have. Please?"
Second, we have the injuries.
Yes, the Knicks have been the unfortunate recipients of far too many unfortunate developments.
Derrick Rose, who has thrived since arriving in New York midway through Thibodeau's first season, has played efficient offensive basketball when healthy but has only been able to suit up for 26 games during the 2021-22 campaign. He may be the Knicks' most effective player — he's certainly the most effective point guard on the roster — but he's also 33 years old with an injury list so long it can't be recited in a single breath.
Expecting him to remain in working order and carry a roster at this stage of his career is a foolish endeavor.
Nerlens Noel has suited up in just 25 contests this season, preventing him from using his havoc-inducing defensive skills to buttress Thibodeau's classic pack-the-paint schemes. Offseason addition Kemba Walker has only taken the floor 37 times. Cam Reddish, acquired from the Atlanta Hawks prior to the trade deadline, played in just 15 games before he was shut down.
New York's excuses only do so much to excuse Thibodeau
Those are legitimate excuses, but a perfect run of health still wouldn't have solved the overwhelming issues faced by this imbalanced, imperfect roster. Even with Rose in the picture, the point guard rotation would be weak. Even with Noel in the fold, a unit that finished second in defensive rating last year would have suffered from a normalization of opponent three-point percentages, among other issues.
The Knicks are still held back by the schematic and rotational inflexibility shown by Thibodeau, both of which have been pervasive traits throughout his career on the sideline. The lack of willingness to develop young players, instead relying on known veteran commodities who are played to the point of exhaustion, holds back in-season development, and that's saying nothing of inconsistent treatment of players like Walker, who was inexplicably jerked in and out of the lineup.
Offensively, New York frequently deviates from any set plans to run isolations and dribble hand-offs that give possession back to a limited ball-handler and ask for shot creation in an impossible situation. Off-ball players don't move around frequently enough. Randle is relied upon far too frequently, as if the ridiculously difficult shots he hit for much of last season were sustainable.
Beyond that, the team has shown a consistent lack of energy throughout the season, blowing numerous double-digit leads and looking stagnant on both ends with far too much frequency. Thibodeau may have public — and potentially private — support from his players, but as the saying goes, actions often speak louder than words.
The Knicks don't exactly have a young roster. They're trending in the wrong direction after doubling down on last season's unsustainable success (see: Fournier, Evan). They're failing to develop some of their newest players due to the aforementioned inflexibility.
Now, they're reportedly sticking with a head coach who hasn't had consistent runs of success since leaving the Chicago Bulls seven years ago and looking to make win-now moves in the offseason rather than addressing some of the foundational flaws. That's how organizations end up with just one meager playoff series victory in over 20 seasons.
And if the Knicks aren't careful, they won't be creating any positive postseason memories for quite a while longer.
All stats, unless otherwise indicated, courtesy of Basketball Reference and accurate heading into games on March 16.