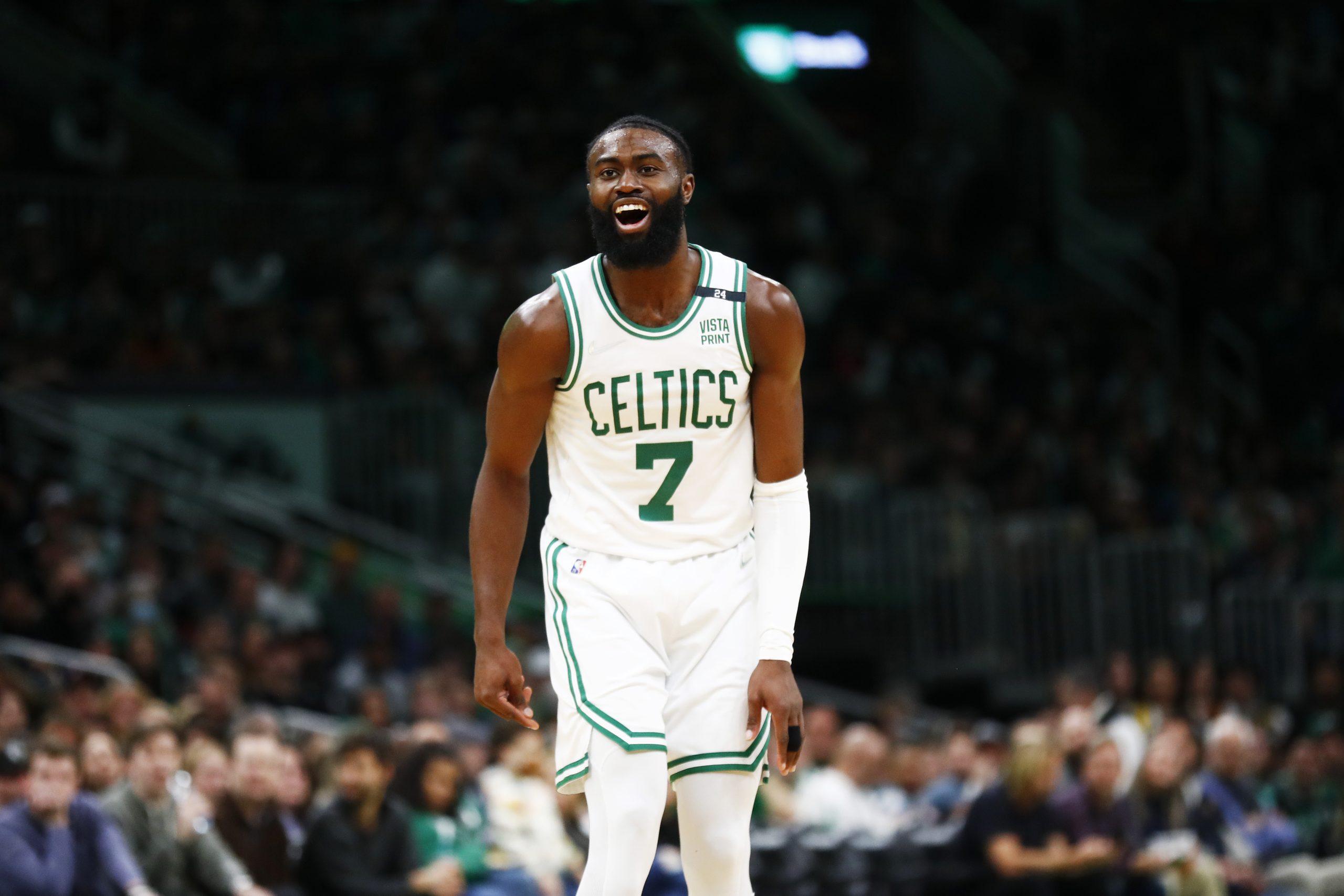 For Jaylen Brown, It's Proceed With Caution During Boston Celtics Streak
The Boston Celtics are the hottest thing going in the NBA right now.
The Boston Celtics are on a new level, and so are their fans. The hot streak that has lasted three months has been contagious, spreading throughout TD Garden and New England. Wednesday night against the Utah Jazz had a playoff-like buzz midway through the first quarter. Veteran swingman Jaylen Brown, who finished with 26 points, is enjoying the run, but he also warned about not getting too caught up in the moment.
Jaylen Brown and the Boston Celtics aren't just winning, they're blowing everyone out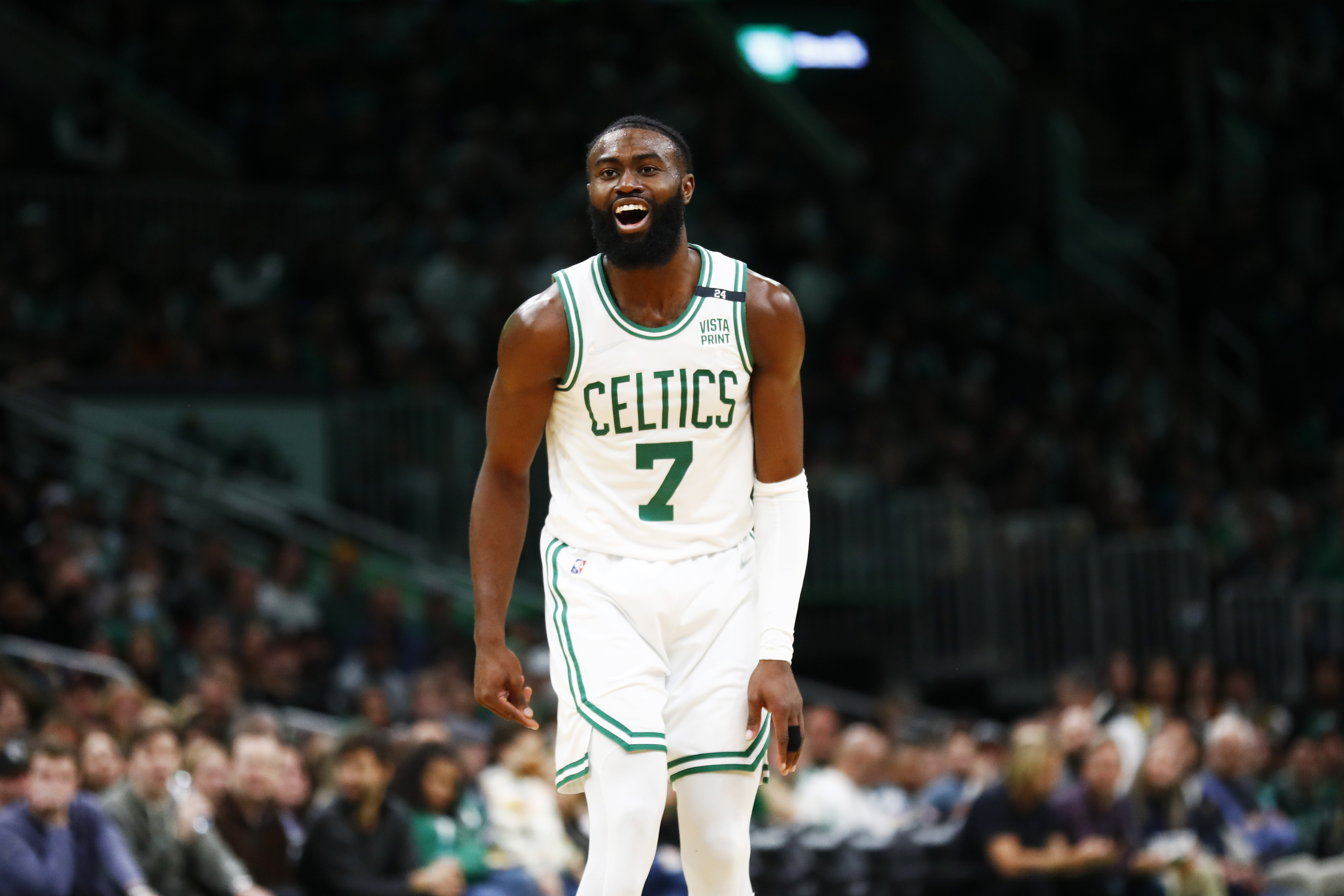 It's been a wild three months for the Celtics, who have gone from mediocre to one of the most feared teams in the NBA. With only eight games remaining in the regular season, the Celtics are playing their best basketball as the postseason approaches.
Brown and Jayson Tatum each scored 26 points Wednesday night as the Celtics blew out the Jazz, 125-97. The win was the fifth straight for Boston. The Celtics moved within 1.5 games of first place in the Eastern Conference.
Fresh off a 4-0 West Coast trip, the Celtics picked up right where they left off, cruising early against the Jazz in front of a raucous TD Garden crowd. Boston has won 10 of its last 11 games and 21 of its last 24. Not only are they winning, but they are cruising in doing so.
They have won their last 10 games by an average of 16 points. Three of their last four wins have been by 20 or more points.
"Guys are confident, playing free and playing together," first-year coach Ime Udoka said, per ESPN. "I think we all feel there's another level we can take it to."
Jaylen Brown remains confident, but also remembers the early struggles
The Celtics have done a complete turnaround. In their first 50 games, they blew big leads and saw their frustration mount. They went 25-25 during that stretch.
Now, they're playing their best basketball. In fact, they might be playing the best basketball of any team in the league.
"That's crazy, right? Brown said postgame, per CLNS Media. "I feel like this was very prime for us, we just had to put full stretches together. I knew the energy was about to shift. So I'm happy that we're here now."
They are just 1.5 games behind the East-leading Miami Heat. Brown knows had they not blown those big leads earlier this year, they might be sitting in first place.
"As many games as we blew in the first half of the season — it would have been nice to have won some of those games because we would be in first right now," Brown said. "But everything happens for a reason. We take it one game at a time and we'll see where we're at playoff time."
As confident as they are now, Brown knows how things can quickly change. He's kept that ugly start to the season fresh in his mind and uses it as a reminder.
"It wasn't long ago when we are at the bottom of the East," he said. "We can't forget about that."
Brown and the Celtics look like legitimate contenders
Thoughts of the Celtics becoming the top see in the Eastern Conference would have generated nothing but laughter before Christmas. The team couldn't find itself. The Celtics showed signs of promise but also showed a lack of mental toughness.
Now, they've put it all together under Udoka, and have shown it's no fluke. The Celtics strung together a nine-game win streak right before All-Star Weekend. Although they looked great during that stretch, there still weren't many believers. Since that win streak, they've gone 12-3. It's a pretty good sample size to determine they have figured things out.
The playoffs were once a legitimate question mark. Now, the Celtics are legitimate title contenders.
Brown said he still is taking things "one game at a time," but he knew what this team was capable of even through the early-season adversity.
"Everything takes time," he said postgame. "Everybody wants things to work right away, but new team, new coaching staff, you know kinda working through some things. A lot of adversity early in the season. I missed 15 games. We had people with COVID. There was a lot of stuff going on. Now, we've kinda got our feet under us, and things are going a lot better for us."