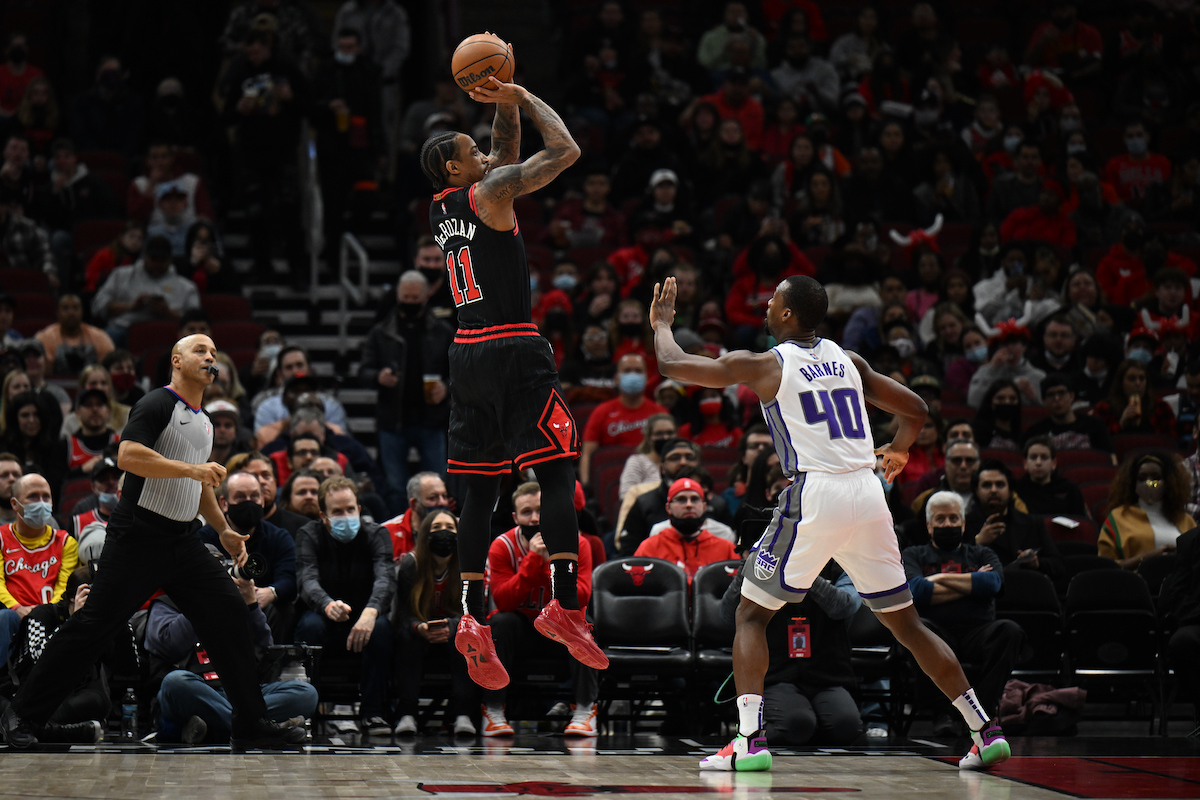 DeMar DeRozan is Blowing Away the Field as a Mid-Range Scorer
DeMar DeRozan is blowing away the field as a mid-range scorer, but who comes closest to matching his prowess in what's typically regarded as an inefficient zone?
Mid-range jumpers may be anathema to modern-day NBA strategies, but that doesn't prevent some players from thriving in those pull-up zones. DeMar DeRozan, firmly in the midst of a campaign for the Chicago Bulls that should have him factoring into any and all MVP conversations, is the leading example, raining down jumper after jumper from that less-traveled territory.
Relentlessly decried as inefficient shots that should be eschewed in favor of finishes around the basket and steady streams of three-pointers, mid-range buckets can actually still add some value. Among other reasons, they present opponents with a wider variety of locations to defend, and the right players can leverage their jump-shooting skills to tickle the twine at opportune times.
Just as we ranked the best isolation scorers during the 2021-22 campaign, we're now turning to the numbers and breaking down the best of the best from mid-range.
Spoiler alert: DeRozan blows away the field, but a few Brooklyn Nets players and a host of other notable names are doing their best to nip at his size-15 heels.
Methodology for determining the NBA's best isolation scorers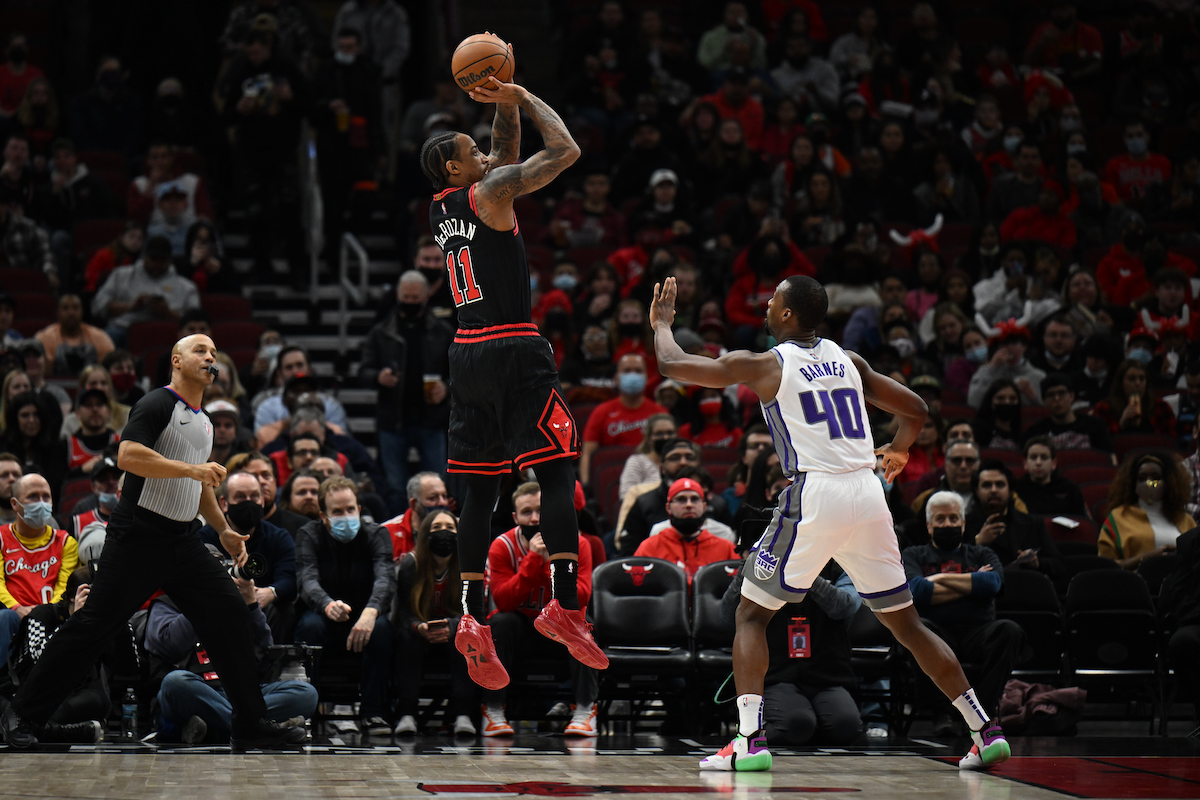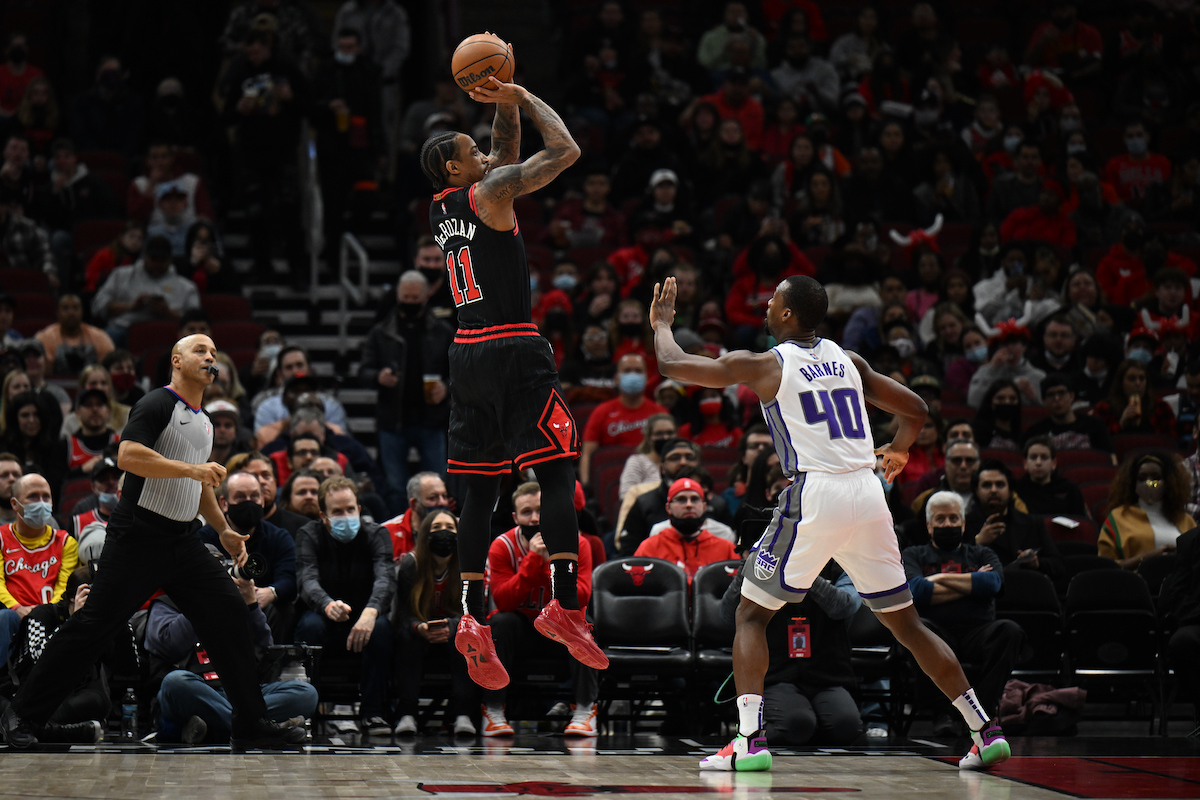 The NBA as a whole has taken 20,282 mid-range jumpers during the 2021-22 season, connecting on 8,225 of them for a field-goal percentage of 40.6%. Since each mid-ranger, by definition, is worth two points, that means the average shot is producing 0.811 points (rounding errors explain the slight discrepancy).
As an aside, that also helps explain why the mid-range jumper has fallen out of favor in today's Association.
The league as a whole is scoring 1.107 points per possession, which is significantly higher than that typical shot from the notoriously inefficient zone. But the true masters of the mid-range craft, even if they still fall a bit below the overall average offensive efficiency, keep defenses honest, forcing them to cover every zone in a half-court set and opening up easier opportunities for their teammates.
Back to the methodology, though. By comparing an individual's points per shot (PPS) to that league average, we can see how much more or less productive he is on a per-possession basis. Multiply that difference by the number of field-goal attempts, and we arrive at the crucial metric for our rankings: points above average.
Julius Randle of the New York Knicks will serve as our example because he's dead last throughout the league during a disappointing fall from grace as a follow-up to last year's unexpected postseason run:
Randle is shooting 84-of-246 from mid-range territory (34.1%)
His 0.683 PPS are 0.121 fewer than the league average
He's at -31.52 points above average
Essentially, a league-average mid-range scorer would be expected to score 31.52 more points than Randle actually has with the same number of shots. That's … not great for either him or the Knicks.
Conversely, the following five players edged out Brandon Ingram, De'Aaron Fox, Monte Morris, Bradley Beal, Cam Thomas, Khris Middleton, Devin Booker, Jrue Holiday, Darius Garland, and Trae Young for the featured spots.
5. Seth Curry, Brooklyn Nets: 57.03 points above average
Mid-Range Attempts: 196
Points Per Shot: 1.1
Yes, you read that correctly. Seth Curry is the one featured here. His brother, Stephen Curry of the Golden State Warriors, is down at No. 41 in the pecking order, shooting 47-of-110 for 4.78 points above average as a mid-range marksman.
Seth, meanwhile, has continued to expand his scoring game during the 2021-22 campaign, which began with the Philadelphia 76ers and saw him moved to the Brooklyn Nets as part of the Ben Simmons-James Harden blockbuster at the trade deadline. He's always been a lethal three-point marksman, but he's gotten increasingly comfortable putting the ball on the floor and pulling up off the bounce for a two-pointer.
He's shooting a scorching 54.2% from 10-to-16 feet, and his accuracy actually increases to 54.6% on longer twos. Both zones are seeing him utilize them with more frequency than ever before, and it's clearly working.
4. Chris Paul, Phoenix Suns: 59.01
Mid-Range Attempts: 270
Points Per Shot: 1.03
This shouldn't be even remotely surprising.
Throughout the entirety of a career sure to land him in the Hall of Fame, Chris Paul has excelled as a pull-up specialist from the elbows. He's the unquestioned master of snaking through a pick-and-roll, putting a defender in jail, and pulling up from around the free-throw line for a shot that rips through the net as he trots back down the floor.
This year has been no different.
Paul's thumb injury will keep him out for much of — if not all of — the remaining portion of the regular season for the Phoenix Suns, thereby preventing him from adding to an already-impressive tally while foisting more responsibility upon the capable shoulders of Devin Booker. But the Point God's status as a mid-range maestro is already unbesmirchable, much as is the case for each of the next three players in our countdown.
3. LaMarcus Aldridge, Brooklyn Nets: 59.52
Mid-Range Attempts: 188
Points Per Shot: 1.13
Ever since he left the Texas Longhorns and joined the Portland Trail Blazers as the No. 2 overall pick of the 2006 NBA Draft, LaMarcus Aldridge has thrived in this category. His 6-foot-11 frame, lanky arms, and high release on his jumper have made the shot virtually unblockable, and he's always been comfortable letting fly along the baseline or from the elbows.
Aldridge has dabbled with the idea of expanding his range to three-point territory, taking upwards of three triples per game each of the last two seasons, but he's played more to his strengths with the Brooklyn Nets. He took only five in five late-season contests for the New York residents in 2020-21, and he's averaging just one per game for head coach Steve Nash in 2021-22.
Instead, he's refocused his efforts on his mid-range ability, and the results have been fantastic. Aldridge, averaging only 13.7 points per game (his lowest since his rookie season), has settled in as more of a rotational contributor and taken fewer shots as a result. But among the 63 players with triple-digit mid-range attempts, not a single player is averaging more points per shot.
2. Kevin Durant, Brooklyn Nets: 73.99
Mid-Range Attempts: 254
Points Per Shot: 1.1
Good luck slowing down Kevin Durant in literally any scoring situation.
Regardless of whether he's attacking the basket, operating in isolation (where he checked in at No. 3 in points above average coming out of the All-Star break), serving as a catch-and-shoot threat from the perimeter, or breaking down a defender in mid-range territory, he's going to get buckets.
He's a born scorer, after all.
His 2021-22 efforts with the Brooklyn Nets — notably, he's the third member in the top five here — have been no exception. Durant is essentially a lead guard trapped in the frame of a big man, except he also moves with the grace and fluidity of a dynamic athlete a foot shorter. That package makes him an unstoppable shooter who can rise and fire over the outstretched arms of any defender quick enough to keep up with him.
Not only has he connected on 53.6% of his two-pointers from at least 10 feet this season, but he's also made it look so effortlessly easy.
1. DeMar DeRozan, Chicago Bulls: 103.0
Mid-Range Attempts: 524
Points Per Shot: 1.01
Dallas Mavericks superstar Luka Doncic doesn't seem to believe DeMar DeRozan is capable of missing a mid-range attempt, and the rest of the league may be following suit.
After adding a game-winner against the Atlanta Hawks in the first game out of the All-Star break to his ever-growing resume and keeping alive his jaw-dropping string of scoring performances, DeRozan has a list of victims so long it might soon become a full-length novel. Every opponent knows he wants to dance around the free-throw line and either side-step or spin his way into a fallaway jumper, but they're still powerless to stop it.
Sixty-four players are scoring more than one point per mid-range shot this season. Fifty-five of them have combined to take a total of 456 relevant attempts.
DeRozan alone has taken 524, submitting a mind-numbing combination of mid-range volume and efficiency that simply isn't supposed to exist in today's three-happy NBA.
All stats, unless otherwise indicated, courtesy of NBA.com or Basketball Reference and accurate through games on Feb. 24.