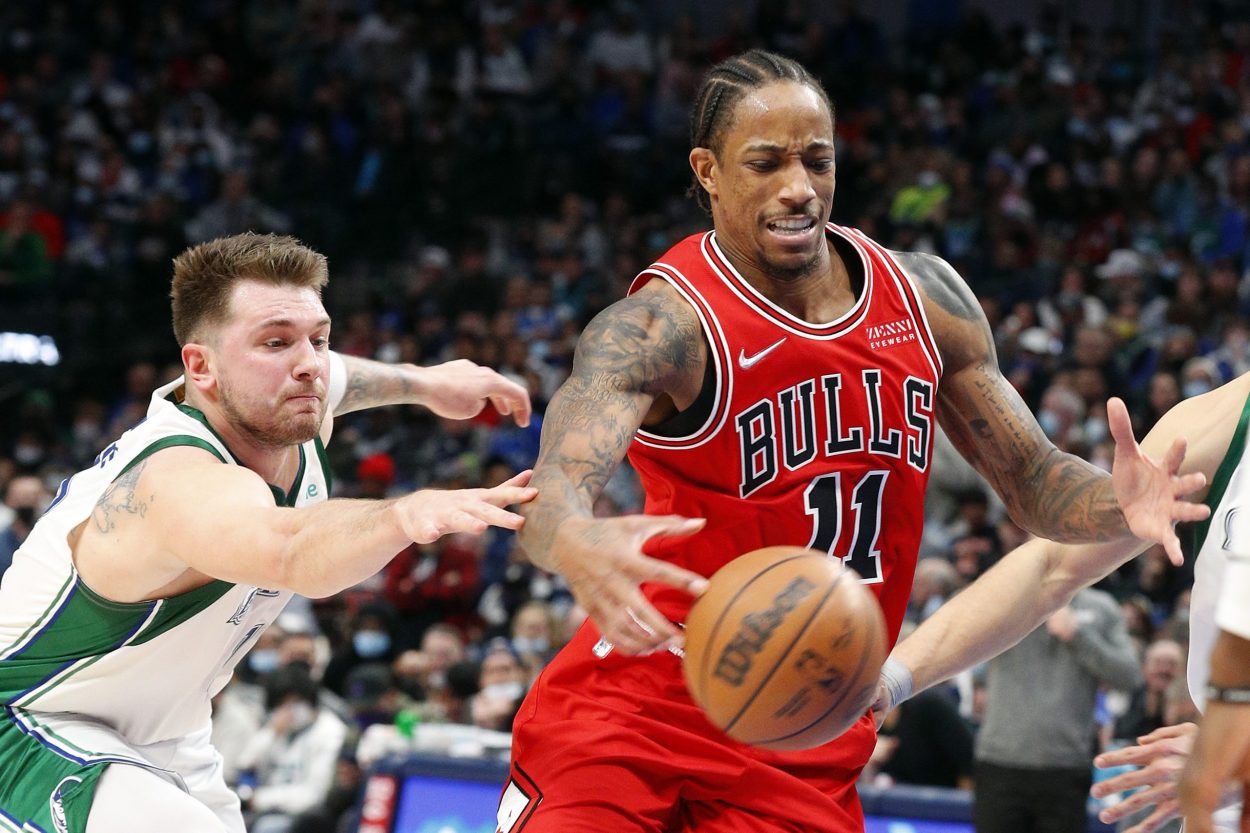 Luka Doncic Simply Cannot Believe DeMar DeRozan's Mid-Range Brilliance
Luka Doncic is just like the rest of us when it comes to DeMar DeRozan's absurd efficiency as a mid-range scorer. Can he copy DeRozan's style?
Luka Doncic can do just about everything on a basketball court. The Dallas Mavericks guard scores by creating separation off the dribble and uses his size to overwhelm opposing guards while repeatedly dazzling with breathtaking court vision and passing angles. However, despite Doncic's all-world talents, he doesn't appear to believe Chicago Bulls star DeMar DeRozan inhabits this planet.
DeRozan's mid-range mastery puts him on par with legends of NBA past and makes him a legitimate contender for league MVP. During All-Star Weekend in Cleveland, Doncic decided to ask DeRozan about his scoring ability. Well, it was less asking and more boylike fawning on Luka's part.
Now, Doncic should take it upon himself to copy DeRozan's success.
Luka Doncic sounded astonished talking about DeMar DeRozan's mid-range game
Doncic sought out DeRozan ahead of the 2022 NBA All-Star Game to ask one question: has he ever missed a mid-range shot in his life. No, seriously. Luka went there.
The Mavs guard had an incredibly humorous interaction with the 32-year-old veteran in which Doncic jokingly alluded to DeRozan's making every mid-range jumper he takes. The Bulls wing played along and responded with, "Sometimes," only for Doncic to press further.
"But like, 19 out of 20 you make … in a game."

–Luka Doncic, speaking with DeMar DeRozan about his mid-range game
Doncic's comments are exaggerative in nature. Still, they underscore DeRozan's remarkable scoring efficiency inside the arc.
According to NBA.com, DeRozan has made over 50% of his mid-range attempts, with over 80% of those field goals coming unassisted. That's a tremendous number, considering the modern NBA continually prioritizes three-point shooting.
DeRozan's ability to get to his spot on either elbow, spin off either shoulder in the post, and rise up over defenders has made him practically unstoppable as a scoring threat. Those qualities helped him embark on a historic scoring streak.
Luka is wise to inquire about DDR's talents. Doncic could stand to benefit from some mid-range improvements.
Should Doncic try to mimic DeRozan's mid-range supremacy?
Luka Doncic already has one of the deadlier offensive weapons in basketball. He deploys step-back jumpers with ample frequency and uses the move to great effect. Doncic also has ample success getting to the basket.
Could a lesson at the DeMar DeRozan school of mid-range proficiency make Luka the most offensive force in basketball?
Doncic has made just 37.5% of his mid-range attempts, per NBA.com. There's a particular separator between the Mavs star and DeRozan in this regard.
Luka's floater and runner games are terrific. Both shot types represent a big component of mid-range scoring. He also succeeds when he can get deep position and use the glass on turnaround bank shots. But he often misfires on fadeaways.
Doncic has made just 37.1% of his fadeaways, per NBA.com. He's made only 40.7% of his turnaround fadeaway jumpers. DeRozan, meanwhile, has made over 49% of his fadeaways, including a whopping 51.8% of his turnaround fadeaways.
This points to a critical area of improvement for Doncic. Though he's often able to power past defenders on his way to the basket, the help defense will occasionally cut off his path to the rim. However, if he can hone a more effective fadeaway, he'll become that much more dangerous as a scorer.
Mavericks governor Mark Cuban recently commented on Doncic being "humbled" by needing to improve his conditioning. Can the soon-to-be 23-year-old also acknowledge a need to fine-tune his mid-range game?
Sleeper MVP candidates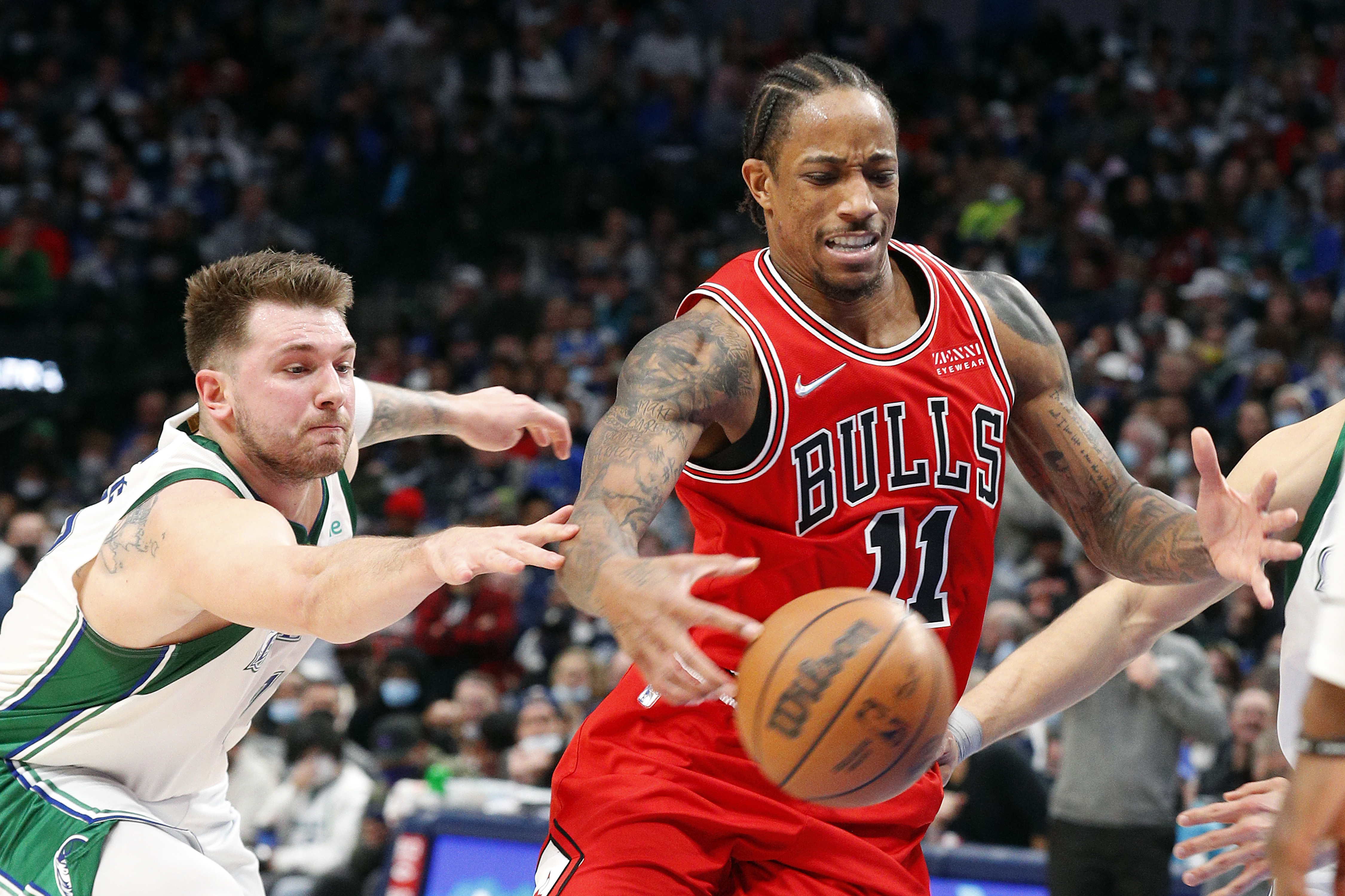 Nikola Jokic, Joel Embiid, and Giannis Antetokounmpo are typically considered the front-runners for the NBA MVP Award, with Embiid staking his claim during All-Star Weekend. Still, there's a lot of season left, and both Donic and DeRozan have cases.
Doncic averaged 27.5 points, 9.2 rebounds, and 9.0 assists before the break. He dominates in the first quarter and sets the tone for Dallas' offense. Conversely, DeRozan has been one of the best closers in the sport, taking over in crunch time and often bailing out an injury-riddled Bulls team with his late-game scoring.
Nearly a decade separates the two All-Stars, yet they both find themselves in the thick of the MVP race. Doncic is sure to contend for multiple MVPs in the years to come, especially if he can adopt DeRozan's mid-range excellence.
Stats courtesy of Basketball Reference unless otherwise noted.