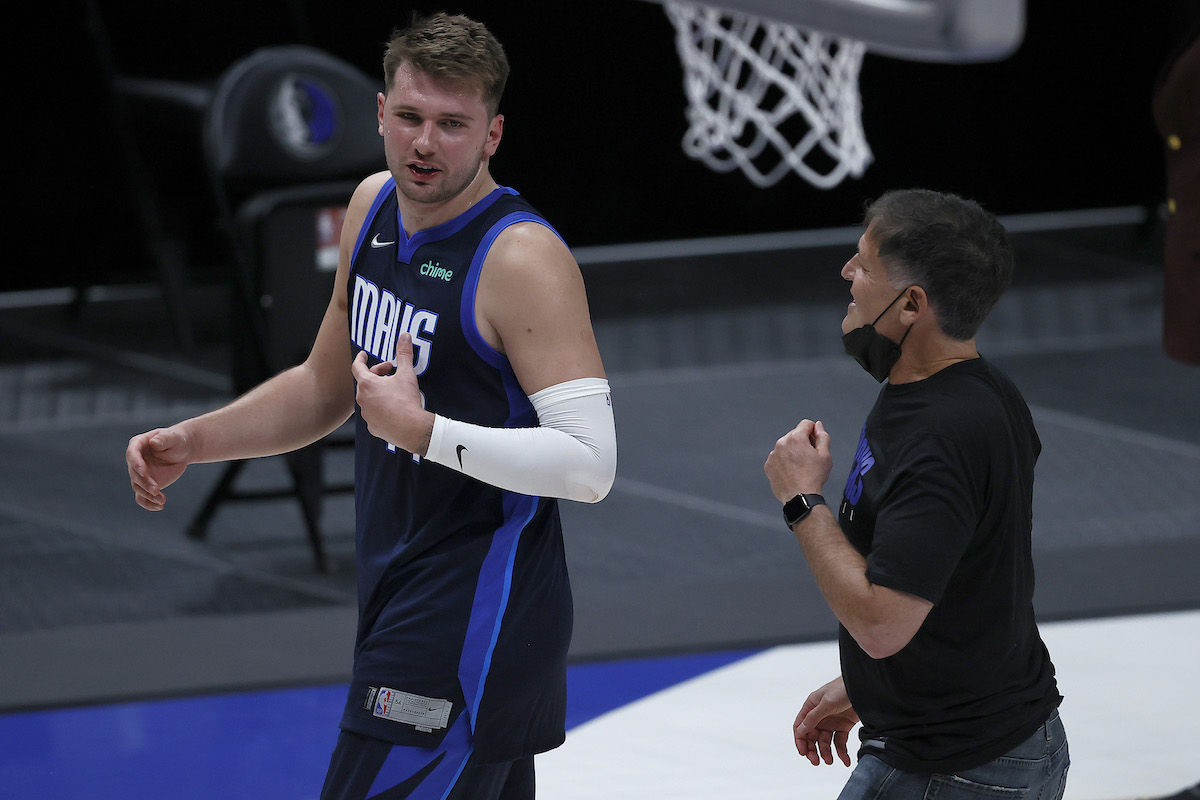 Mark Cuban's Luka Doncic Claims Should Terrify Rest of NBA
Luka Doncic is already dominating for the Dallas Mavericks, but team governor Mark Cuban's recent comments indicate the best may still be yet to come for the young superstar.
What if Luka Doncic has another level to reach for the Dallas Mavericks?
The 22-year-old Slovenian wunderkind is already a three-time All-Star with top-six MVP finishes in consecutive seasons, and that streak is likely to rise to three if he keeps the Mavs trending up the Western Conference standings. Behind his utter domination of first quarters in recent weeks, he's picking up steam, both in terms of team success and potential end-of-year accolades, and he might just be getting started.
But it's that "picking up steam" part prompting team governor Mark Cuban to suggest his franchise centerpiece might only be getting started.
Mark Cuban comments on how Luka Doncic was 'humbled'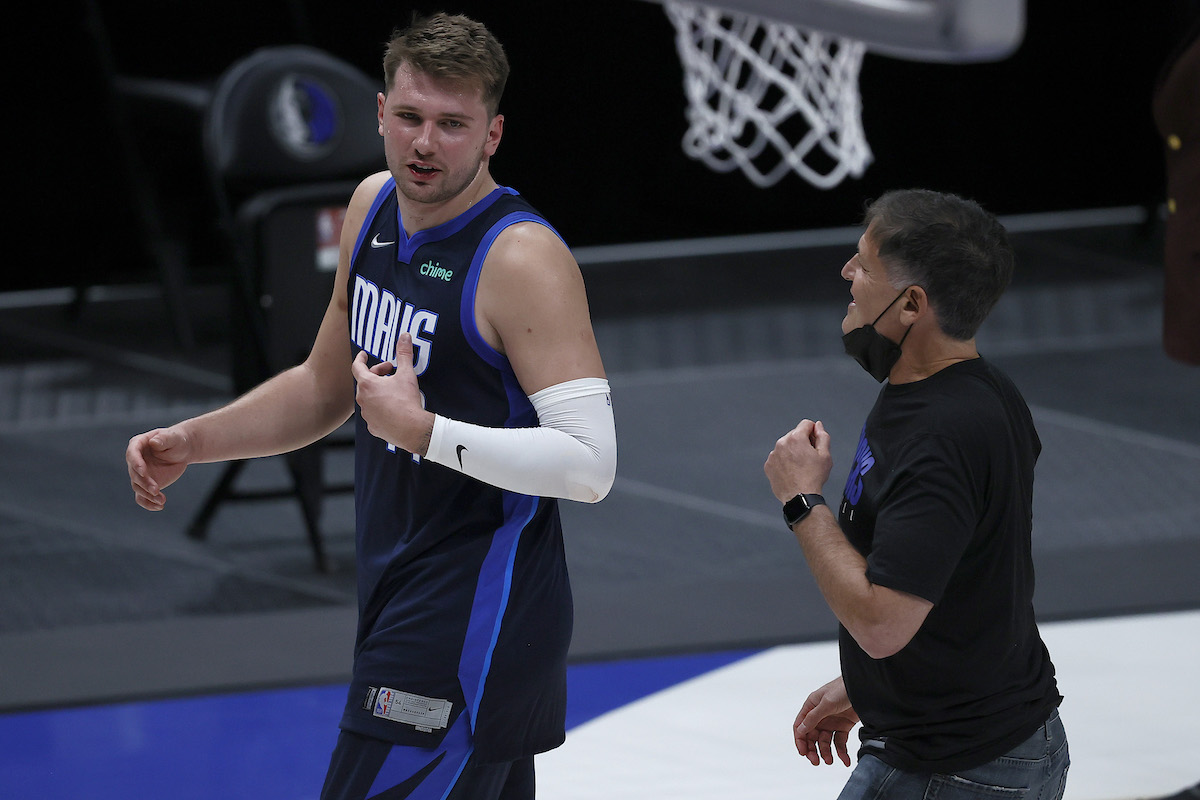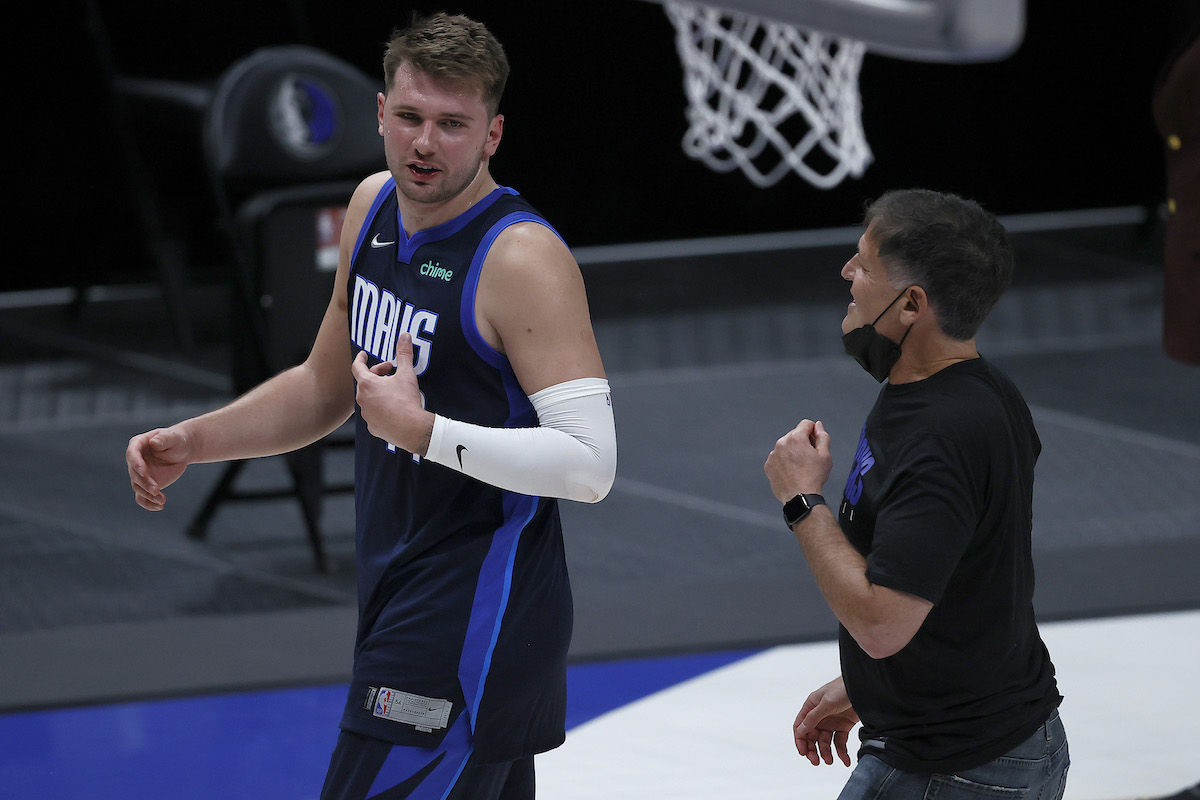 Few would dispute that Doncic looked a bit sluggish at the beginning of the campaign and was taking the classic late-career Shaquille O'Neal approach by playing himself into shape as the season progressed. He moved a bit slower. His frame didn't look optimized. He wasn't creating the same amount of separation when attempting to extricate himself from the clutches of a defense.
Doncic himself acknowledged as much after a Dec. 7 loss to the Brooklyn Nets in which TNT analyst Reggie Miller said he was "plodding up and down the court" and "has got to trim down." The Mavericks guard dropped 28 points, nine assists, and six rebounds but shot a dispiriting 9-of-21 from the field and failed to make much defensive noise.
Acknowledging the comments, Doncic admitted, per Dallas Basketball's Mike Fisher, "People are going to talk about it, yes or no. I know I've got to do better. I had a long summer. I had the Olympics, took three weeks off, and I relaxed a little bit. Maybe too much. I've just got to get back on track."
Gotten back on track he has, and Cuban hasn't overlooked the progression, especially now that both star player and team are rolling through their schedule.
"I think he was humbled a little bit. I think he didn't like being called out for his weight and other things, and it finally clicked that there's a level of discipline that's required," Cuban posited while speaking on 96.7 The Ticket's The Musers Mornings (h/t ESPN's Tim Marchman). "… He knows what he needs to do, and it finally clicked that if he's going to be the best — and I know he wants to be the best — that there's certain things he has to control. Once he got a handle on those things, it's just been Katy bar the door. He's just been unstoppable."
Will the midseason development — and the words of affirmation from one of the organization's central figures — prompt Doncic to use his offseasons in a more productive manner? It's hard to say, especially because he followed up the most recent NBA season with Olympic participation, creating a temporal sequence that's even more draining and time-consuming and thereby necessitating more rest-and-relaxation time before reentering the grind.
But even if nothing changes, he's been able to do more than just work himself into playing shape during the middle of the campaign.
Doncic is flat-out dominating
Coming out of the All-Star break, Doncic's Mavericks are sitting pretty at 35-24, well above .500 and within sniffing distance of home-court advantage in the opening round of the Western Conference playoffs. The Utah Jazz, operating with numerous substantial holes after Joe Ingles was lost for the season and they subsequently failed to make much noise at the Feb. 10 trade deadline, are 1.5 games clear for the No. 4 seed, but that gap can easily close.
After all, Doncic is just flat-out dominating in recent weeks:
| | | | | | |
| --- | --- | --- | --- | --- | --- |
| Month | PPG | RPG | APG | TS% | +/- |
| October | 22.5 | 8.5 | 7.5 | 49.5 | -12.9 |
| November | 27.3 | 8.0 | 8.7 | 54.9 | -7.8 |
| December | 26.0 | 7.4 | 9.2 | 57.6 | +8.0 |
| January | 25.6 | 10.1 | 9.5 | 54.9 | +11.5 |
| February | 36.3 | 10.6 | 9.4 | 59.0 | +15.2 |
The No. 3 pick of the 2018 NBA draft is playing with unbridled confidence, taking on remarkable scoring burdens and shouldering monumental usage within Jason Kidd's offensive schemes. The season-ending injury to Tim Hardaway Jr. and the injury to/trade of Kristaps Porzingis may have created a weaker supporting cast, but a fully optimized Doncic has been able to take on that extra volume and use it to devastate opponent after opponent.
Listed at 6-foot-7, 230 pounds, he reportedly showed up at camp tipping the scales at 260 pounds and has since dropped 15, per Marchman. Considering the pure aesthetics of his game and the additional strength he's put on display in January and February contests, it feels safe to assume that he's dropped weight while adding muscle, so those 15 pounds might be underselling his in-season physical progress rather dramatically.
He's been more engaged defensively since returning from a lengthy absence prompted by an aggravation of a sprained right ankle against the Indiana Pacers on Dec. 10 — part of a series of ankle maladies that have plagued him on and off throughout the year. He's gotten off to hot start after hot start and not seen his shooting percentages drop off too drastically in crunch-time situations.
In short, he looked as dominant heading into All-Star Weekend as he did underwhelming at the start of the year.
We still haven't seen the best of Luka Doncic
During his age-22 season, his fourth go-round in the Association, Doncic is averaging 27.5 points, 9.2 rebounds, 9.0 assists, 1.1 steals, and 0.5 blocks while shooting 44.9% from the field, 33.5% from beyond the arc, and 73.1% from the stripe. Though the individual numbers have jumped around a bit, that's basically in line with the quality of play he submitted each of the last two seasons after taking the NBA by storm as a rookie in 2018-19.
And that, in and of itself, is astounding.
Only the following players have ever posted at least 27, eight, and eight during a qualified campaign:
Oscar Robertson (five times)
Luka Doncic (three times, including this season)
James Harden (once)
LeBron James (once)
Michael Jordan (once)
Russell Westbrook (once)
Robertson is the anomaly among anomalies since he hit the benchmarks for five consecutive seasons, beginning with his age-22 rookie campaign with the Cincinnati Royals in 1960-61. Jordan was 25. Harden was 27. Westbrook was 28. James, since he defies logic in just about every way, waited until his age-33 season to join the exclusive club.
Doncic, though, doesn't celebrate his 23rd birthday until the final day of February. He's already brushing shoulders with legends of the sport, and he still has so much more time to develop. He's even done this while playing his way into shape during the regular season, enough so that Cuban was willing to comment on him being "humbled" and it "finally" clicking.
If this is the baseline, the ceiling could be high enough that we can't possibly comprehend it because we've never seen anything like it before. And really, that ability to baffle onlookers and opponents alike is just par for the course when it comes to Luka Doncic.
All stats, unless otherwise indicated, courtesy of Basketball Reference and NBA.com and accurate through the All-Star break.