Jordy Nelson Has Interesting Take on Any Hopes of a Green Bay Packers Return
Jordy Nelson hasn't played in the NFL since 2018. He isn't planning on a return, either. The former Green Bay Packers wide receiver was a guest speaker at a Milwaukee event this week and offered an interesting take when the subject of a comeback came up.
Jordy Nelson retired and has always maintained he won't return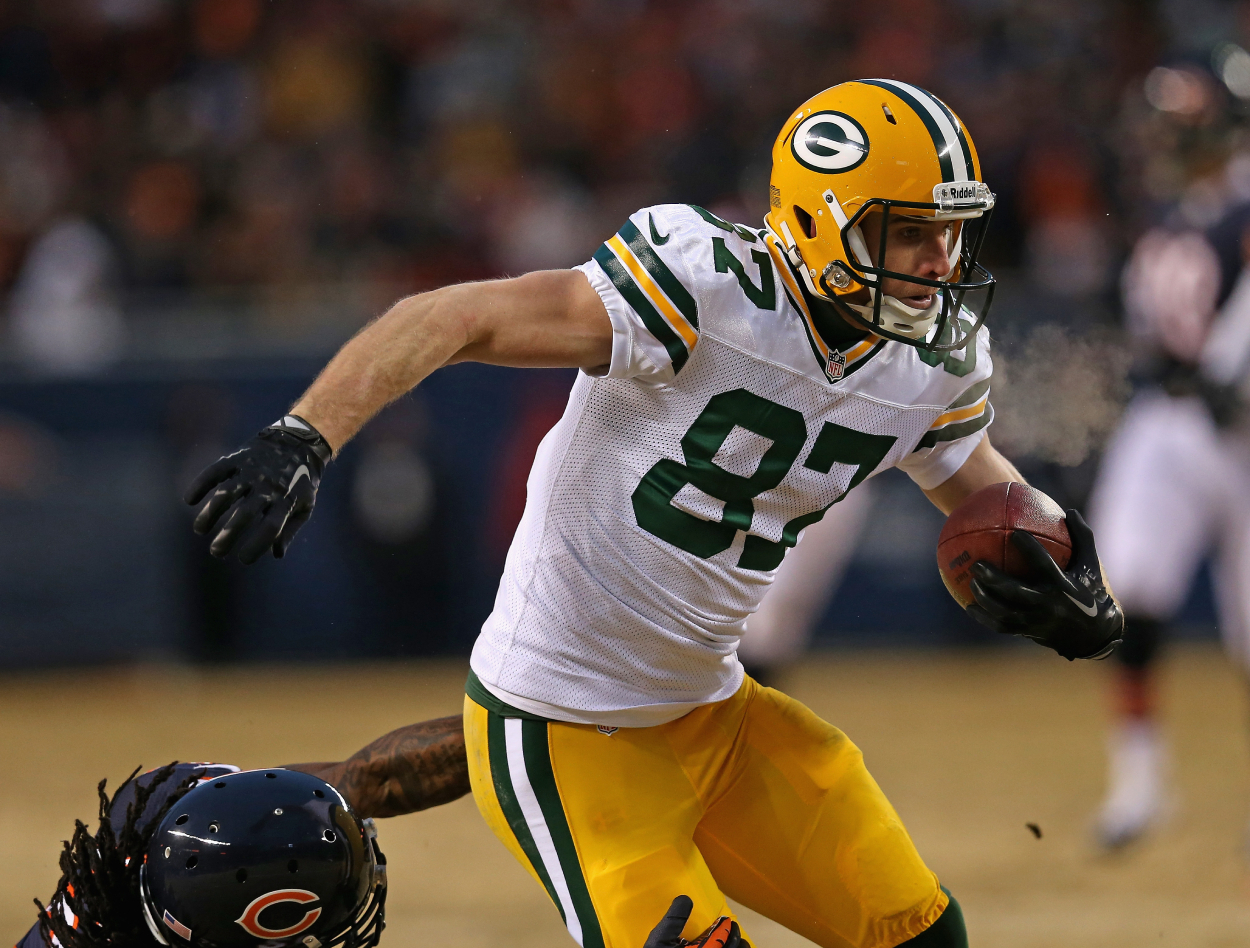 Nelson has never changed plans since he retired from the NFL after the 2018 season. Every year the question of him returning to the NFL pops up, and every year he says no.
Nelson played 10 years in the NFL, the first nine with the Packers, who selected him in the second round of the 2008 NFL Draft. He's still only 36 years old and could probably still find a spot on a team in need of receiver depth. He just doesn't want to.
He teamed with quarterback Aaron Rodgers to form a potent combination, and the two were instrumental in the Packers' Super Bowl victory over the Pittsburgh Steelers in the 2010 season. Nelson made the Pro Bowl in 2014 when he had career-highs in receptions (98) and yards (1,519). He also racked up 13 touchdowns.
In his nine years with the Packers, Nelson totaled 69 touchdowns and 7,848 yards. He played his final season with the Oakland Raiders and had 739 yards and three touchdowns in 15 games.
Nelson missed the entire 2015 season after suffering a torn ACL during the preseason. He bounced back nicely, claiming the AP Comeback Player of the Year after leading the league in receiving touchdowns with 14. He had 97 catches and 1,257 yards.
Jordy Nelson laughs off latest comeback question but offers an interesting take
Nelson was back in Wisconsin this week as the keynote speaker at Sharp Literacy's "A Novel Event" Monday. He was there to ask local business and community leaders to support the group's efforts to help all area kids read. Before the event took place, Stephen Watson of WISN 12 News, spoke with Nelson. Of course, the subject came up.
Watson asked him how retirement was and then asked if he had received any text messages from former teammates asking him to return.
"Retirement's great," Nelson said. "Enjoyed the transition. The transition has been smooth. It's been fun to be back home. We're settled in now with our school and our house and everything.
"I have not received any texts. I did talk to Randall (Cobb) after he came back, but I am happy with where I'm at. It's fun to watch them on Sundays."
Watson then joked with Nelson, asking at what age is he going to be when he's too old to get that question. That's when Nelson offered his interesting take on the whole comeback thing.
"I honestly laugh," he said. "It's a very interesting cycle. When you come here and you start playing well, you're underpaid. The moment you get paid, you're overpaid. The moment you get old, you can't play, but the moment you retire, they want you to come back because you can still play.
"So, I don't think you're ever going to please everyone, so you just gotta go your way. It's so true. They don't want you, but then the moment you're done, everyone's like, 'Why aren't you playing? We want you back.' A year ago, you said I couldn't play anymore."
Nelson believes the Packers can play for a Super Bowl
The Packers haven't made a return trip to the Super Bowl since Nelson & Co. went in 2011. Nelson believes they have a chance to get back there this year.
"When you've got Aaron (Rodgers) and Davante (Adams) out there, and then what they've been able to do with their run game now," he said. "With the defense coming and when (David) Bakhtiari gets back, hopefully these guys will be coming back healthy at the right time.
"You just gotta get in the tournament. I mean, when we won it, we weren't supposed to even be in it. You gotta get in and see what happens."
The Packers are 8-2, with one of those losses coming when Rodgers sat out after testing positive for COVID-19.
The defense has been a pleasant surprise, pitching a shutout last week in a 17-0 win against the Seattle Seahawks. The Packers have been playing without two of their top defensive players in cornerback Jaire Alexander and linebacker Za'Darius Smith.
With the defense playing lights out, Nelson may be on to something.