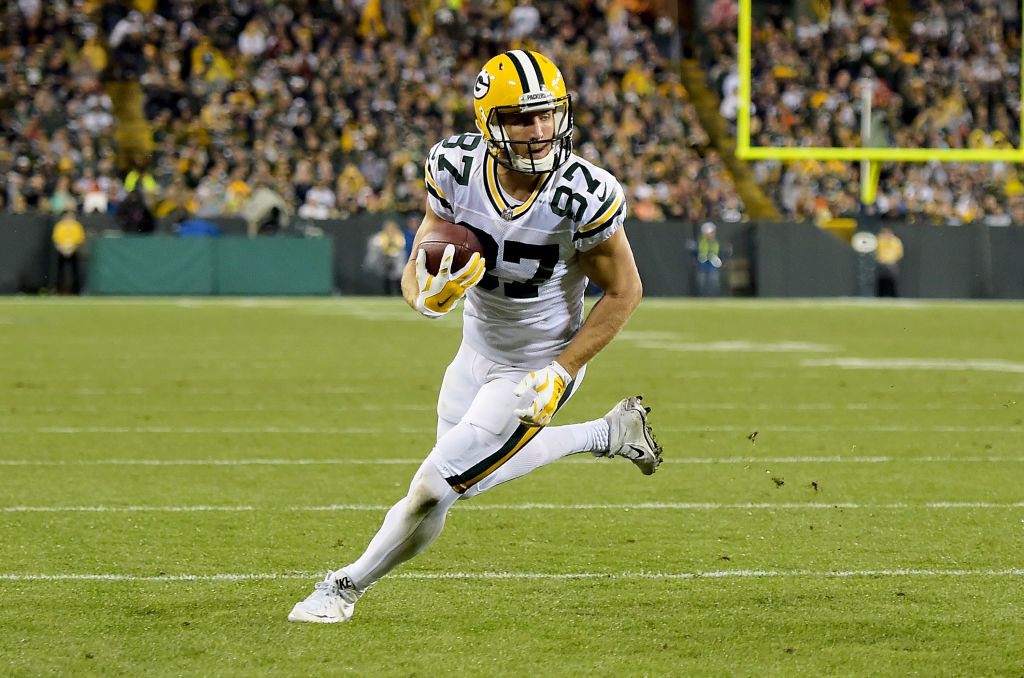 Jordy Nelson Made $56 Million in the NFL, But He's Still Working on the Family Farm
Former Green Bay Packers receiver Jordy Nelson made more than $56 million in the NFL, but he's still getting down and dirty on the family farm.
While professional athletes may seem immortal, every one of them, inevitably, has to retire. Once their on-field career is done, most players choose between a handful of paths. Some turn into coaches; others try their hand at entrepreneurship. Former Green Bay Packers and Oakland Raiders receiver Jordy Nelson, however, opted for a more humble option.
During his playing career, Nelson made more than $56 million. Rather than living a life of luxury in retirement, though, the receiver is still getting his hands dirty on the family farm.
Jordy Nelson's road to the NFL
Growing up in Kansas, Jordy Nelson shone as an all-around athlete. He was the football team's starting quarterback, an all-state basketball player, and starred as both a sprinter and long jumper on the track and field team.
When it came time to head to college, Nelson only had eyes for Kansas State; he grew up in Manhattan and Wildcats football games growing up. His college career didn't get off to a flying start, though. Nelson walked onto the team but redshirted his freshman year; he looked set to slot into the lineup as a defensive back, but the coaching staff moved him to wide receiver. That shift proved to make all the difference.
Nelson burst onto the scene as a sophomore, catching 45 passes for 669 yards and eight touchdowns. His junior campaign, however, proved to be an injury-plagued step backward. Nelson rebounded as a senior, though; he pulled in 122 passes for 1,606 yards and 11 touchdowns and was named an All-American before heading to the NFL.
Becoming a star in the NFL
After his final game at Kansas State, Jordy Nelson entered the 2008 NFL draft. The Green Bay Packers selected him in the second round, and the receiver headed to Wisconsin.
While Nelson's first three seasons in the league were largely unremarkable, he exploded during the 2010 playoffs, helping the Packers win Super Bowl XLV. When the next season began, the receiver was a key component of the Packers offense; he became one of Aaron Rodgers' favorite targets, piling up 68 catches for 1,263 yards and 15 touchdowns.
Despite some injury issues—Nelson's 2012 campaign was hampered by a hamstring issue, and he missed the entire 2015 season with a torn ACL—the receiver earned more than $45 million in his nine seasons with the Packers. He spent 2018 with the Oakland Raiders, pocketing just under $11 million, before calling it a career.
Despite his football career, Jordy Nelson is still working down on the farm
During his NFL career, Jordy Nelson spent the offseason on his family farm, herding cows and cutting wheat; he even said the physical labor and escape from football helped him prepare for the new season. In retirement, he's still getting his hands dirty.
"I do plan on farming," Nelson told Successful Farming in 2017, while he was still playing football. "We plan on moving back home to Kansas and working with my brother on the farm. I don't know if I will be doing the sun up to sun down stuff. Obviously, come harvest time, I'll be there to help him, but I told him he can lay me off whenever he wants and I'll go on vacation. We're working it out and figuring out what we want to do. Obviously, I love doing it. It allows me to be outside and gives me something to do. It's fun."
In retirement, it seems like the former receiver has stuck true to his word. While he's not spending every day on the farm, he is present and accounted for when his brother needs him.
"I knew what I was going to do when I was done," Nelson told Amy Kaplan of FanSided. "I grew up on a family farm back in Kansas and that where I kinda always knew I would go back to, especially having the kind of career I had. I go farm with my brother probably three to four times a week. I coach my son's fourth-grade basketball team, stuff like that I am really enjoying."