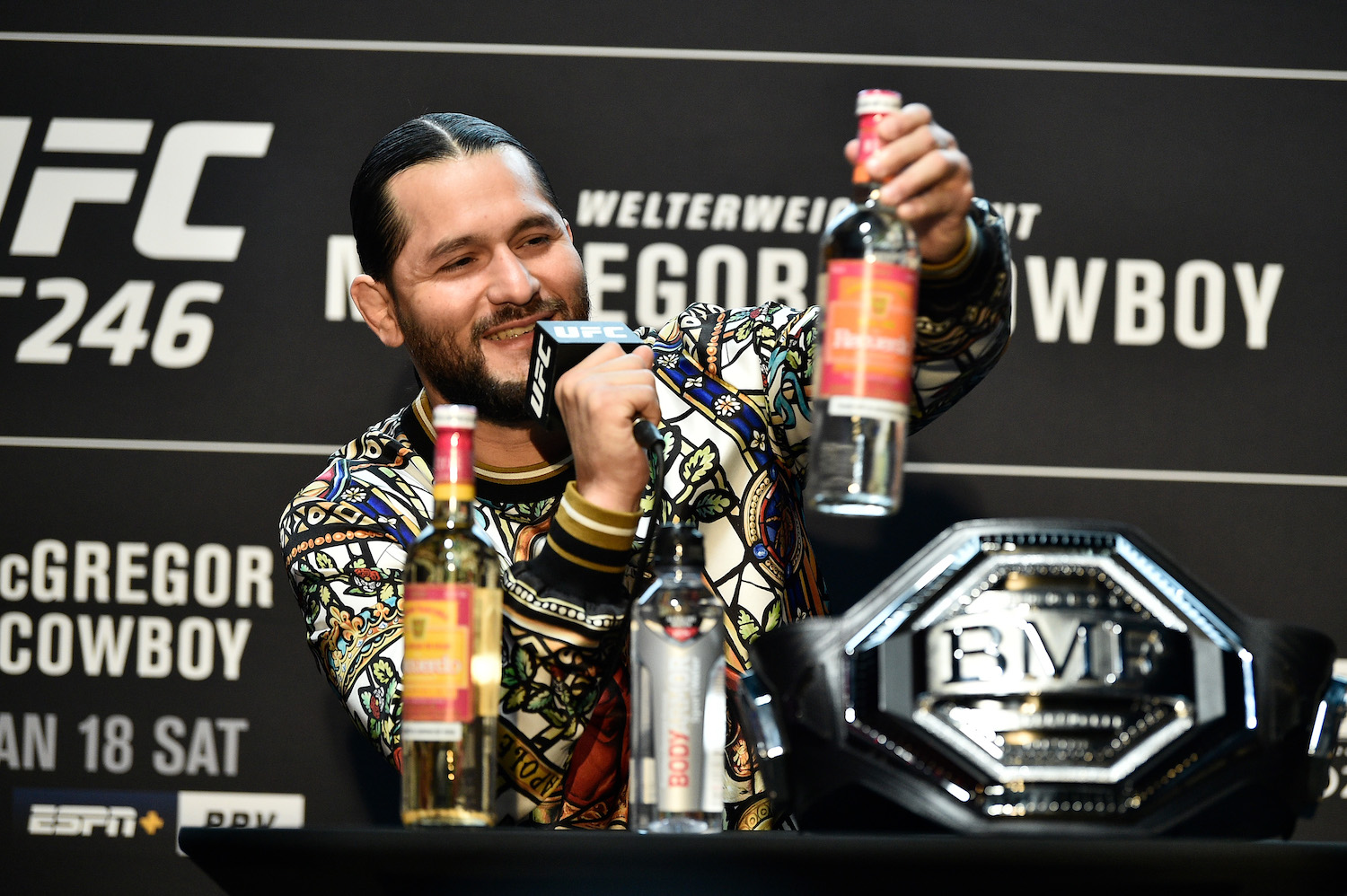 Jorge Masvidal Is Equal to Conor McGregor in 1 Unique Way
UFC welterweight Jorge Masvidal made history last year with a five-second knockout. Now he's targeting Conor McGregor in the world of alcohol.
Since 2013, Jorge Masvidal has made a name for himself inside the Octagon with the UFC. He became a huge sensation last year after recording the fastest knockout in UFC history. While Masvidal plans to fight into the foreseeable future, he's started preparing for life after his MMA career is over by launching a new business and he's challenging Conor McGregor in the process.    
Jorge Masvidal's lengthy UFC career
At 36 years old, Jorge Masvidal is one of the most experienced fighters in the UFC. His professional MMA career started back in 2003. A decade later, with a 23-7 record, Masvidal joined the UFC. It's been a mixed bag of results since he arrived.
In his first 10 UFC fights, Masvidal had an average 6-4 record, which included a tough split-decision defeat to former UFC lightweight champion Benson Henderson in 2015. In the last four years, Masvidal has found more consistency and earned victory over some of the UFC's biggest names.
One of those hard-earned victories came at the beginning of 2017, when Masvidal delivered a second-round knockout to Donald "Cowboy" Cerrone. Unfortunately, 2017 didn't turn out to be a good year for Masvidal as he suffered a pair of defeats after the Cerrone victory. It was at that point, Masvidal decided to take some time off and reassess his career. 
Masvidal makes UFC history
After a 16-month layoff, Jorge Masvidal returned to the Octagon in March 2019. He looked like a different fighter. In his return, Masvidal had a dominant performance and defeated Darren Till via a second-round knockout to earn Performance of the Night and Fight of the Night bonuses. 
In Masvidal's second fight back, he made a statement to the rest of the UFC welterweight division, and it only took a few seconds to do it. Against a 19-0 Ben Askren, Masvidal left his corner, lunged forward with his knee and delivered the perfect blow to his opponent. Lights out in five seconds. It was the fastest knockout in UFC history. 
That fight earned Masvidal Knockout of the Year honors from multiple MMA media outlets, but more importantly, it elevated his status overnight. The fighter with the fastest knockout in UFC history has a ring to it, and Masvidal rode the wave. In November 2019, he won a somewhat controversial TKO over Nate Diaz by doctor stoppage, and improved his overall record to 35-13. 
Jorge Masvidal launches brand of alcohol
Following Jorge Masvidal's record-setting defeat of Ben Askren, the No. 3-ranked welterweight knew it was time to strike while the iron was hot. Masvidal capitalized on his rising status at the start of 2020 when he launched his own alcohol brand, Recuerdo Mezcal. 
"I've tasted a number of mezcals, but until Recuerdo Mezcal I hadn't found one I was willing to put my name behind," Masvidal said in a statement.   
Recuerdo is distilled with traditional production techniques using sustainably harvested Oaxacan agave, according to the brand. It features an "Abocado con Gusano" mezcal enriched with the agave worm for a silkier texture, and a worm-less "Joven" expression with a smokier taste.
Recuerdo Mezcal, which has received positive reviews since its launch, is available in Texas, California, and Florida with a price tag of $34.99 for the Joven and $37.99 for the con Gusano.
While Masvidal has ventured into the same business as McGregor, he hopes to one day be in the same Octagon as the former UFC champ. Until that happens, he will have to settle with battling it out against the Irish superstar in liquor stores across the country.