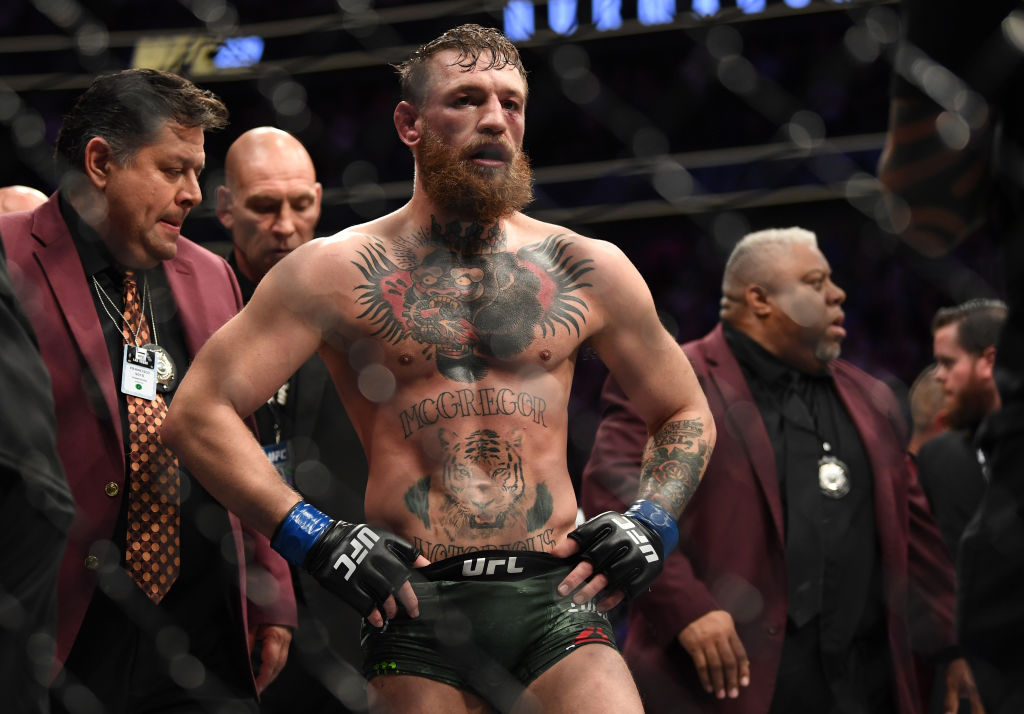 UFC Rivals Are Right: Conor McGregor Won't Be Missed
Conor McGregor's 22-4 career record doesn't impress his MMA peers, who think he's the most overrated fighter in the sport.
Conor McGregor misses the attention. The man loves basking in the warmth of the UFC spotlight. How else to explain his need to go on Twitter shortly after the conclusion of UFC 250 to say he's retiring, again?
McGregor could easily have waited until Wednesday to make the announcement, thereby drawing attention away from NASCAR instead of quality wins by Amanda Nunes and Sean O'Malley. But that's not Conor McGregor's style.
'How can I miss you if you won't go away?'
Pardon the stereotype, but Conor McGregor's heritage suggests he might be partial to Irish folk tunes instead of country music. That's too bad because there's a honky-tonk favorite he needs to hear: "How Can I Miss You If You Won't Go Away?"
Saturday's announcement marked McGregor's third – at least — retirement declaration in recent years. He told ESPN that he is "bored of the game." He said he's looked at options for his next fight and is coming up blank.
"There's nothing there for me," he said. "I'm trying to get excited. I'm trying my best."
Even a casual observer recognizes his words as rubbish. A cursory glance at the UFC rankings shows McGregor slotted at No. 4 on the list of contenders for the lightweight belt that he lost to Khabib Nurmagomedov in October 2018. McGregor has fought just one of the top 10 contenders, No. 3 Dustin Poirier – and that was in 2014.
In fact, McGregor is pretty much retired even when he isn't retired. Nurmagomedov and Cowboy Cerrone this past January have been his only UFC bouts in 43 months. And yet the man manages to stay in the news, be it through a gimmicky boxing match with Floyd Mayweather or online sniping with has-been pop stars.
He needs that spotlight too much to simply just go away, even as his peers strongly suggest that Conor McGregor wouldn't be missed.
Conor McGregor received 42 very unflattering votes
The Athletic conducted a survey of MMA competitors and released the results on the eve of this past weekend's UFC 250. The website asked a variety of questions, including a query about who ranks as the best pound-for-pound fighter in MMA history.
McGregor scored a respectable seven on that list. However, he was the runaway leader in another category: most overrated fighter. The Athletic polled 170 professional fighters from 24 countries, and McGregor received 42 votes to easily outdistance light heavyweight champion Jon Jones, who was cited on 13 ballots.
It might be argued that there's some jealousy involved when two of the biggest names in the history of the sport finish at the top of the list of overrated fighters. Both command big money for their fights, and McGregor likely made more from his boxing match against Floyd Mayweather Jr. than most people will pull down in their entire UFC careers.
But perspective is important. There's a chance your kid has had as many fights on the school bus in the past four years as McGregor has had in the octagon in that time. MMA competitors may still respect McGregor's ability as a fighter, but they don't have the same God-like adoration that some UFC fans do.
In that sense, they recognize the reality: We just witnessed UFC 250, Conor McGregor has fought twice since UFC 205, and the sport continues to do just fine.
Does anyone else notice a trend here?
The survey question that The Athletic posed about overrated fighters is interesting beyond the fact that Conor McGregor won in a landslide. That's because UFC lightweight champion Jon Jones finished second, and flyweight and bantamweight champion Henry Cejudo placed fifth on the list.
McGregor announced his retirement (again) over the weekend, Cejudo said he was done with the sport after defending his bantamweight title against Dominick Cruz last month, and Jones' latest spat with UFC boss Dana White has him talking about surrendering his championship and trying to get out of his contract.
McGregor is 31 years old, Jones 32, and McGregor 33. All have been champions – multiple times, in fact. All would seem to still be in their prime.
And seemingly none of them would be missed by their peers.