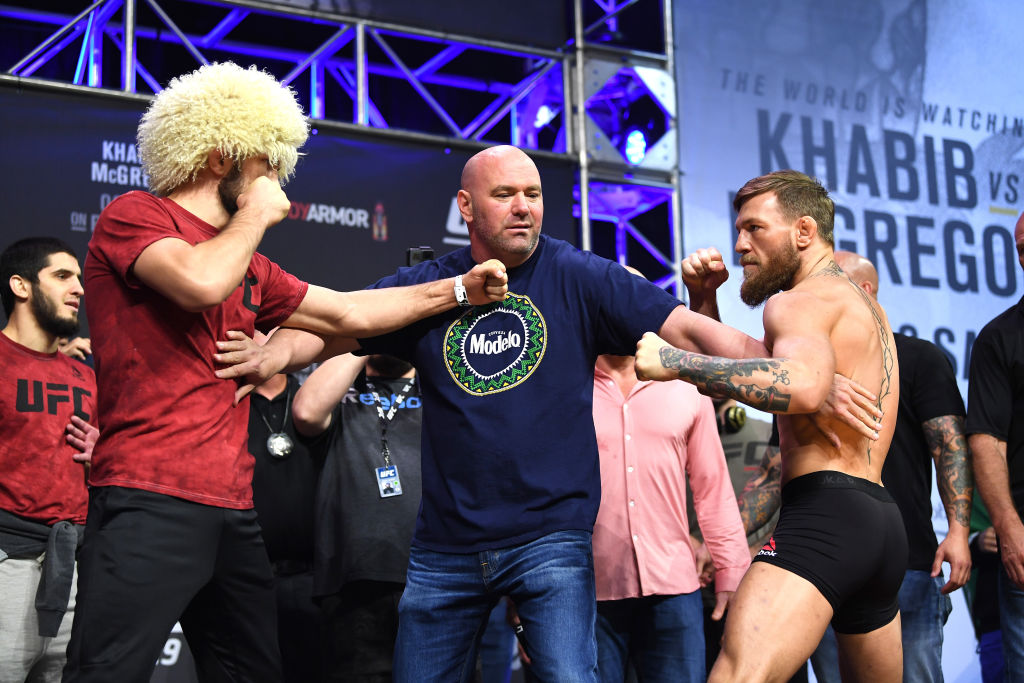 Conor McGregor Puts Khabib Nurmagomedov Rivalry on Hold to Send Well Wishes to Khabib's Father
Conor McGregor went after Khabib Nurmagomedov online recently, but he just put their differences aside to send prayers to Khabib's father.
Conor McGregor and Khabib Nurmagomedov are not friends. In fact, they despise each other. If that wasn't evident after their iconic fight in 2018, it was clear earlier this week when the two traded jabs on Twitter. Despite their mutual hatred, McGregor put the rivalry on hold to wish Khabib's father a speedy recovery Wednesday after he fell into a coma. As hateful as UFC fighters might seem sometimes, they're still humans who experience the same emotions as the rest of us.
Khabib Nurmagomedov's father Abdulmanap is fighting for his life
Khabib Nurmagomedov's father, Abdulmanap, was reportedly placed in a medically-induced coma Wednesday after dealing with complications related to Pneumonia. UFC fighter Islam Makhachev said the 57-year-old was in critical condition at the time.
Abdulmanap was brought from his home in Dagestan to Moscow last month to be treated for Pneumonia. He was released from the hospital last month, but his health has declined rapidly in recent days.
Khabib's father has been his trainer for the majority of his career. He's a widely-respected figure in the MMA world, and the father and son are very close personally and professionally.
Conor McGregor and Khabib Nurmagomedov have an intense UFC rivalry
Conor McGregor and Khabib Nurmagomedov didn't always despise each other. They actually used to be friends years ago. The two had some friendly Twitter exchanges in 2014 and even took a smiling picture together.
That all changed when Mcgregor announced he wanted to make the move from 145 pounds to 155 pounds in 2015. He said Khabib would probably be the 155 champ at the time, but Khabib said he would smash McGregor if he moved up a weight class.
In 2016, the two started going back on forth on Twitter. Khabib first accused McGregor of ducking a fight, but the rivalry took a turn for the worst when McGregor's coach brought religion into the beef. John Kavanagh, McGregor's longtime coach, made fun of Khabib for refusing to fight during Ramadan.
Khabib took great offense to that comment, and he used that hatred to destroy McGregor in the octagon at UFC 229 in 2018. There's no rematch scheduled at this time, but both fighters have expressed interest in fighting again soon.
McGregor puts the rivalry aside to send well wishes to Khabib's father
As much as McGregor and Khabib despise each other, there is still some sort of mutual respect between the two fighters. When the news broke of Khabib's father going into a coma, McGregor put the feud on hold to wish Abdulmanap a speedy recovery.
"Praying for the recovery of Abdulmanap Nurmagomedov," McGregor said in a Twitter post Wednesday night. "A man responsible for more World champions, across multiple fighting disciplines, than we even know. A true martial genius! Very saddened upon hearing this news tonight. Praying for the Nurmagomedov family at this time."
It's encouraging to see even the most bitter rivals can still put a feud aside when one is dealing with the potential loss of a family member. As much as McGregor has criticized Khabib in the past, his tweet expressing sadness for the former champ might be the most impactful yet.