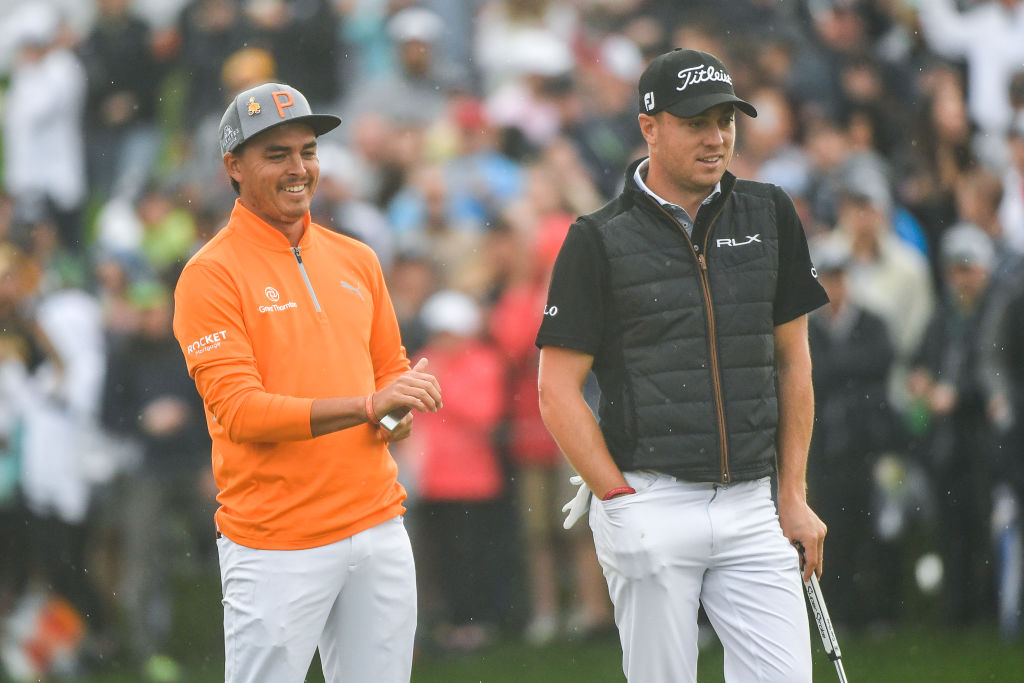 Justin Thomas and Rickie Fowler Squared Off Left-Handed and It Was Hilariously Amazing
PGA Tour stars Justin Thomas and Rickie Fowler contested a "Lefty Championship" on Thursday, creating some hilarious and amazing moments.
Like so many other professional athletes right now, PGA Tour stars Justin Thomas and Rickie Fowler are just trying to stay busy.
With the PGA Tour currently on hiatus, it's understandable that players want to keep their games sharp. Since the coronavirus shut down the sports world, many players have documented that they're still putting in some work but JT and Rickie took things to a whole new level on Thursday, competing in their own "Lefty Championship", resulting in some hilarious and incredible moments.
Rickie Fowler 'smoked' Justin Thomas in a matchup earlier in the week
This past Sunday, on what would have been the final day of The Players Championship, Rickie Fowler and Justin Thomas teed it up against one another in an effort to stay sharp. At the time, neither knew how long the game would be shut down and simply wanted to get a round in.
While JT shot a solid 65, it was no match for his good friend. Fowler, who won The Players Championship in 2015, came amazingly close to a 59, missing out by just a shot with a 60. Even in the loss, Thomas said the pair had "a lot of fun" out there, even if he got "smoked" by his pal.
But the real fun would come later in the week.
Thomas and Fowler played a "Lefty Championship" on Thursday
Justin Thomas and Rickie Fowler teed it up once again on Thursday, only this time with a little stipulation in play. Both righties, the duo decided to play left-handed at Michael Jordan's course in Sobe, Florida, The Grove XXIII, and the whole thing was documented on social media. Absolute gold.
For starters, the lefty swings are fantastic. It doesn't stand to reason that either would constantly be practicing swings that way but both look pretty darn good, even if the results weren't all gems. Notice the little jab from JT when Fowler's tee shot goes astray. But really take notice of Thomas' club throw. Amazing distance.
Naturally, there were going to be some hilarious moments out there. Both have the reputation of being fun guys to play with and hang out with and putting the two of them together in a crazy round like this could only bring out the best in both.
Thomas held a five-stroke lead at the turn but found disaster on the back nine. He carded a nine, an eight, and a couple of sevens on his way to a second-nine 57. In the end, Rickie Fowler once again came out on top, besting JT's 101 with a 94. Fowler put together an entire "Lefty Day" story on Instagram and it's worth watching all the way through.
When will JT and Rickie get back to work?
While Rickie Fowler and Justin Thomas are at least having fun with their time off, they won't be playing an official round anytime soon. The PGA Tour announced earlier this week that no tournaments will take place until at least mid-May. The PGA of America also shut down the 2020 PGA Championship in San Francisco, which was set to take place May 14-17.