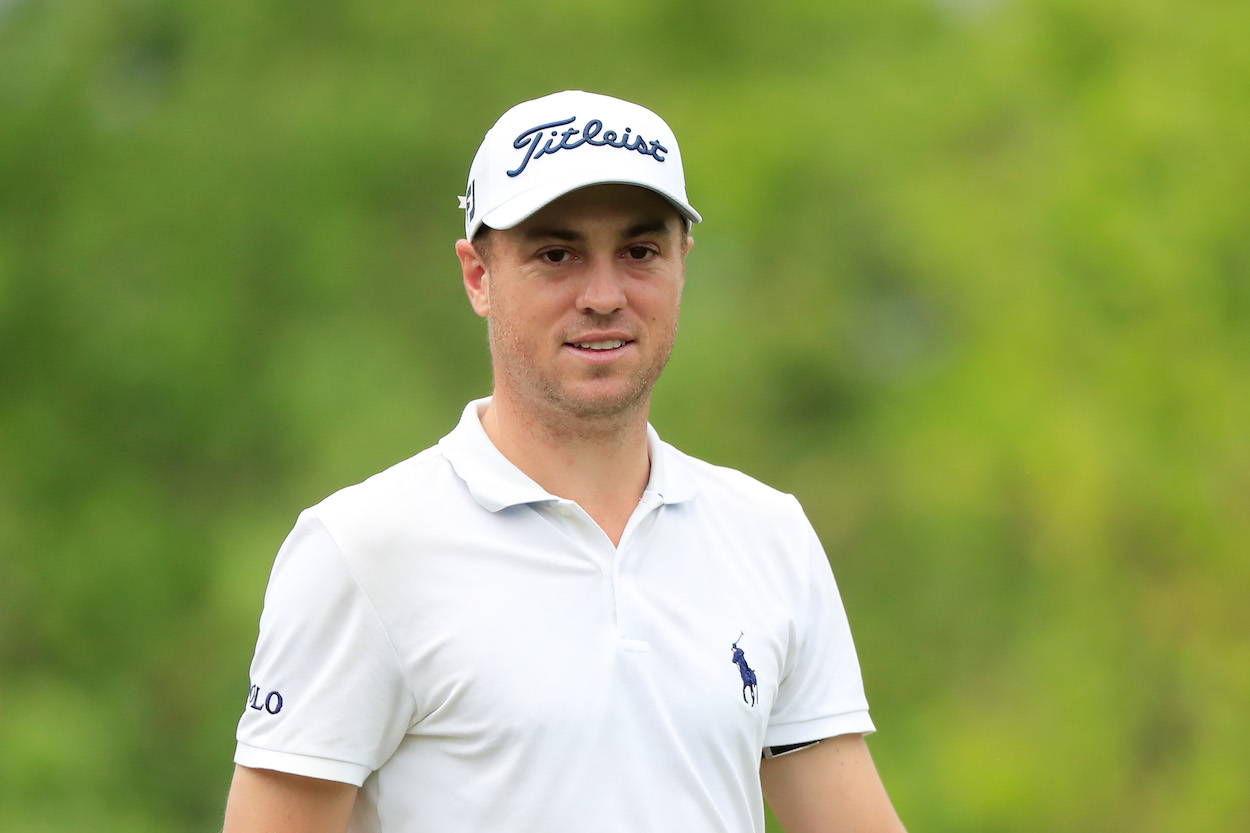 Justin Thomas' Homophobic Slur Has Resulted in a Big Blow to His Bank Account
After Justin Thomas uttered an anti-gay slur, it was just a matter of time before he lost a sponsor or two. He's lost one of his biggest and it's going to cost him a lot of money.
Justin Thomas is currently the No. 3-ranked golfer in the world. He's made his way to the top in six seasons on the PGA Tour, which has included 13 wins and one major, the 2017 PGA Championship. Thomas already has amassed more than $39 million in career earnings, excluding sponsorships. 
Last week Thomas was caught on a mic using an anti-gay slur during the Sentry Tournament of Champions in Hawaii. He apologized for his remark afterward. However, that wasn't enough for one of Thomas' major sponsors, who abruptly ended its sponsorship, costing the golfer a huge chunk of change. 
Justin Thomas has had success at Sentry Tournament of Champions
Justin Thomas won his third overall PGA Tour event and first tournament on American soil at the Sentry Tournament of Champions in 2017, defeating Hideki Matsuyama by three strokes.
Thomas got 2020 off to a good start with another winning effort in Hawaii, defeating Patrick Reed and Xander Schauffele on the third playoff hole to capture his second Sentry title. 
With so much past success, Justin Thomas entered the 2021 Sentry with a lot of confidence and hopes of earning his third victory. He opened with an 8-under 65 and held a share of the lead on the first day. He followed with scores of 69 and 68 before closing with a 66 and an impressive final score of 24-under. It still wasn't enough as he finished one shot behind the winner Harris English.
However, Thomas' 2021 Sentry Tournament of Championship won't be remembered for his score but the insensitive remark he made during his round on Saturday.  
Justin Thomas makes homophobic slur early in round 
Early in third-round action, Justin Thomas missed a par putt on the fourth hole. As the 27-year-old walked up to tap in for bogey, he uttered a homophobic slur that a nearby microphone picked up on live TV.
When Thomas learned his offensive comment had been broadcast on the air, he made it a point to talk with the Golf Channel after his round and address his remark.
"There's no excuse. I'm an adult. I'm a grown man," Thomas acknowledged to the Golf Channel. "There's absolutely no reason for me to say anything like that. It's terrible. I'm extremely embarrassed. It's not the kind of person that I am … But unfortunately, I did it and I have to own up to it and I'm very apologetic. I deeply apologize to everybody and anybody who I offended and I'll be better because of it." 
Ralph Lauren ends contract 
While Justin Thomas offered a heartfelt apology, the damage was done. Ralph Lauren, which has sponsored Thomas since he turned pro in 2013 and has been regularly featured with his Polo shirts, took swift and severe action. The company released a statement indicating it was cutting ties with the golfer.
"We are disheartened by Mr. Thomas' recent language, which is entirely inconsistent with our values," the company said in a statement. "While we acknowledge that he has apologized and recognizes the severity of his words, he is a paid ambassador of our brand and his actions conflict with the inclusive culture that we strive to uphold.
"In reflecting on the responsibility we have to all of our stakeholders, we have decided to discontinue our sponsorship of Mr. Thomas at this time. As we make the decision, our hope is that Mr. Thomas does the hard and necessary work in order to partner with us again — truly examining this incident, learning, growing and ultimately using his platform to promote inclusion."
The deal with Ralph Lauren, which Thomas re-signed with the company in 2018, will cost him hundreds of thousands of dollars, based on the amounts top-tier golfers like Thomas receive for shirt sponsorship, according to Golf.com.
While Ralph Lauren's statement left the window open for Justin Thomas to re-sign with the company at some point in the future, Thomas clearly has some work ahead of him before that can ever happen. It's a painful lesson for a painful word, but one Thomas can learn from and become a better person for it.