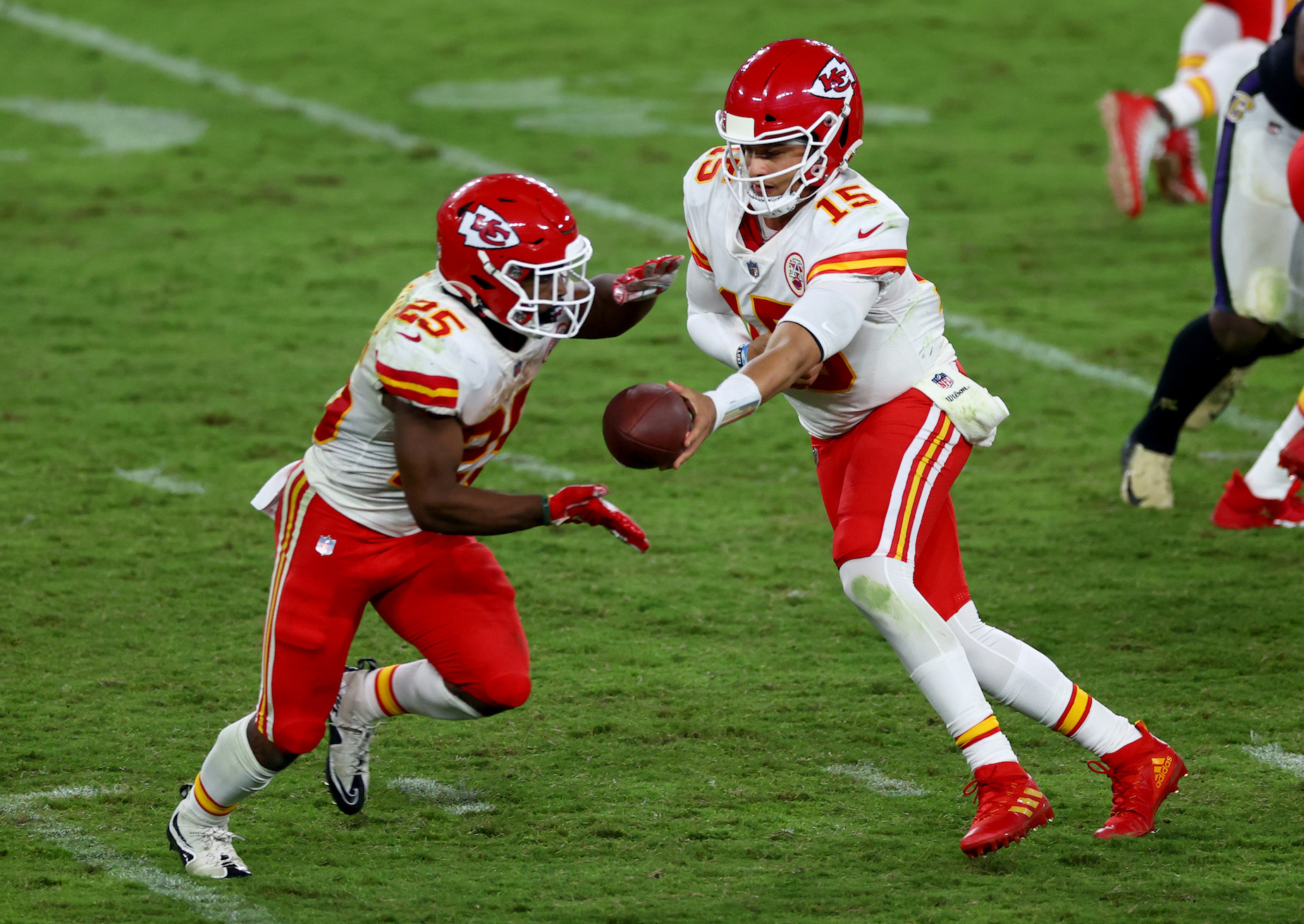 Kansas City Chiefs Running Back Clyde Edwards-Helaire Isn't Going Anywhere, Even After the Arrival of Le'Veon Bell
Despite Le'Veon Bell's arrival in Kansas City, the Kansas City Chiefs aren't giving up on rookie running back Clyde Edwards-Helaire.
In theory, the defending Super Bowl champion isn't supposed to snag an immediate starter at the end in the first round of the NFL draft. The Kansas City Chiefs, however, threw conventional wisdom out the window this April. Despite holding the 32nd-overall pick, the club managed to snag Clyde Edwards-Helaire and slotted him into the starting lineup.
While the Kansas City Chiefs rookie got off to a hot start to his NFL campaign, he's now facing some competition from Le'Veon Bell. Despite the veteran's arrival, though, don't expect Clyde Edwards-Helaire to go anywhere.
Clyde Edwards-Helaire has slowed down after a fast start
Coming out of the 2020 NFL draft, the general consensus was that the Kansas City Chiefs had stolen a star in Clyde Edwards-Helaire. After the first game of the regular season, it seemed like that was exactly the case.
During the Chiefs' Week 1 win over the Texans, Edwards-Helaire rushed for 132 yards and a touchdown on 25 carries. Since then, however, he hasn't found the same level of success; in the subsequent four games, the running back accumulated a total of 206 yards and failed to find the end zone.
While it's easy to contextualize Edwards-Helaire's decreasing effectiveness—the Chiefs offense hasn't looked great this year, forcing Patrick Mahomes to throw the ball more—the running back could get even less work in the coming weeks. After parting ways with the Jets, Le'Veon Bell signed a one-year contract with Kansas City; even if he's not the number one running back, he'll still eat up a decent chunk of the total touches.
Le'Veon Bell won't be the starter in Week 6, at least
At this point, it's not clear who Andy Reid envisions as the Kansas City Chiefs' first-choice running back. One thing, however, is clear: Le'Veon Bell will not be the starter for Week 6's meeting with the Buffalo Bills.
As explained by ESPN's Adam Teicher, COVID-19 protocols place strict time constraints on when Bell can join the Chiefs. Since the running back needs to test negative for five straight days and then pass a point of contact test on the sixth day before even entering the team's facilities, he won't be in action on Monday night.
Assuming that everything goes according to plan, Le'Veon Bell will be able to play in the Chiefs Week 7 game against the Denver Broncos. While you probably shouldn't expect much from him—Andy Reid's offense is complex, especially without the benefit of practice time—the running back should be in uniform and able to carry the ball at least a handful of times.
The Chiefs aren't ready to give up on Clyde Edwards-Helaire, even with Le'Veon Bell on the roster
Once Le'Veon Bell is ready for action, though, it's safe to assume that Clyde Edwards-Helaire will see less of the football. Despite that reality, however, the Kansas City Chiefs aren't giving up on their rookie running back.
"I will answer this like this—first of all, we drafted Clyde for a reason," offensive coordinator Eric Bieniemy explained on Friday, according to Charles Goldman of Chiefs Wire. "Clyde is doing a heck of a job. The rest of that, I'm going to allow Coach to address that because he is the Head Coach for a reason and Brett Veach is the General Manager for a reason. Then after they address all that, I'll make sure that I jump in. But Clyde is doing a heck of a job. We have been very proud of what our guys have put on tape."
Andy Reid also went on the record praising Edwards-Helaire for his first five weeks of NFL action. "He's working his tail off every day to just take another step forward," the head coach said, according to Sports Illustrated's Joe Andrews. "He's had a tremendous year up to this point and will keep getting better, which is a great thing."
When you see an established veteran join the team, it's only natural to worry about a promising rookie being bumped down the depth chart. In the long run, though, Le'Veon Bell's acquisition could still be a boon for Clyde Edwards-Helaire. There's nothing worse for a young player's development than being placed in an impossible situation; having a physical running back on the roster will ideally allow CEH to take on a less demanding role, catching passes and running to the outside rather than grinding things out between the tackles.
If nothing else, the Kansas City Chiefs can look back at what happened the last time they brought a promising rookie along slowly, rather than throwing him directly into the fire. Everything worked out pretty well for Patrick Mahomes; the same can be true for Clyde Edwards-Helaire.
Stats courtesy of Pro-Football-Reference