Kansas City Chiefs Star Chris Jones is 1 Big Play Away from $1.25 Million vs. the Denver Broncos
The Kansas City Chiefs need a win in Week 18 against the Denver Broncos in order to keep their hopes of winning the AFC (and earning a bye and home-field advantage) alive. There are some personal milestones for players on the line in this game as well. One of those is a $1.25 million bonus for star defensive lineman Chris Jones. The big man is just one sack away from adding that sweet bonus check to his already sky-high salary.
Kansas City Chiefs DL Chris Jones is already one of the highest-paid defensive players in the NFL 
NFL contracts can be hard to understand and even harder to compare. That said, star Kansas City Chiefs defensive lineman Chris Jones is one of the highest-paid defensive players in the NFL by nearly any measure.
Jones is currently in the second year of a four-year, $80M contract — with $60M guaranteed — that he signed heading into 2020.
In the offseason, he converted a $20M roster bonus to a signing bonus, clearing $13.3M in cap space for the Chiefs. That means his base salary this season is just $1M and his cap hit sunk to $8.5M. However, when the season ends, he'll have cleared $21.5M in earnings.
The annual average value (AAV) of Jones' contract is $20M. This puts him tied for 10th among defensive players. His total cash take-home of $21.5 makes him sixth among defensive players in 2021. The top five are:
T.J. Watt, Pittsburgh Steelers – $36.6M
Jonathan Allen, Washington Football Team – $31.1M
Leonard Williams, New York Giants – $26.0M
Darius Leonard, Indianapolis Colts – $23.4M
Myles Garrett, Cleveland Browns – $21.7M
Interestingly, Jones is not the highest-paid defensive player on his own team long-term, though. Defensive end Frank Clark is No. 1 in the NFL on that side of the ball in base salary ($18.5M), and cap hit ($25.8M). He's also ahead of Jones and ninth overall in AAV at $20.8M.
Jones gets a $1.25 million bonus if he reaches 10 sacks
Chris Jones will take home $21.5M this season, but why not make it $22.75M?
The Pro Bowl defensive lineman, who played both defensive end and defensive tackle this season, has a $1.25M incentive bonus in his contract if he reaches 10 sacks.
Heading into Week 18 vs. the Denver Broncos, Jones is sitting on nine sacks.
Playing DE with pass-rusher Frank Clark out injured, Jones started the season nicely, with 2.0 sacks vs. the Cleveland Browns in Week 1. However, Jones — along with the Chiefs as a whole — went into a slump. He didn't record another sack until Week 8 vs. the New York Giants.
More than anyone, though, Jones should thank (and maybe send some tasty Kansas City BBQ to) Dak Prescott and the Dallas Cowboys offensive line if he gets his sack bonus this year. In a Week 11 victory over his former college teammate Prescott and the 'Boys, Jones dominated, recording an incredible 3.5 sacks.
The former second-round pick out of Mississippi State added a half-sack vs. the Las Vegas Raiders in Week 14 and two more in Week 17 vs. the Cincinnati Bengals.
Now, heading into the newly-minted Week 18, Jones needs just one more full sack to earn his $1.25M, and he has an excellent matchup to get it.
The Denver Broncos are a good team to play if you need a sack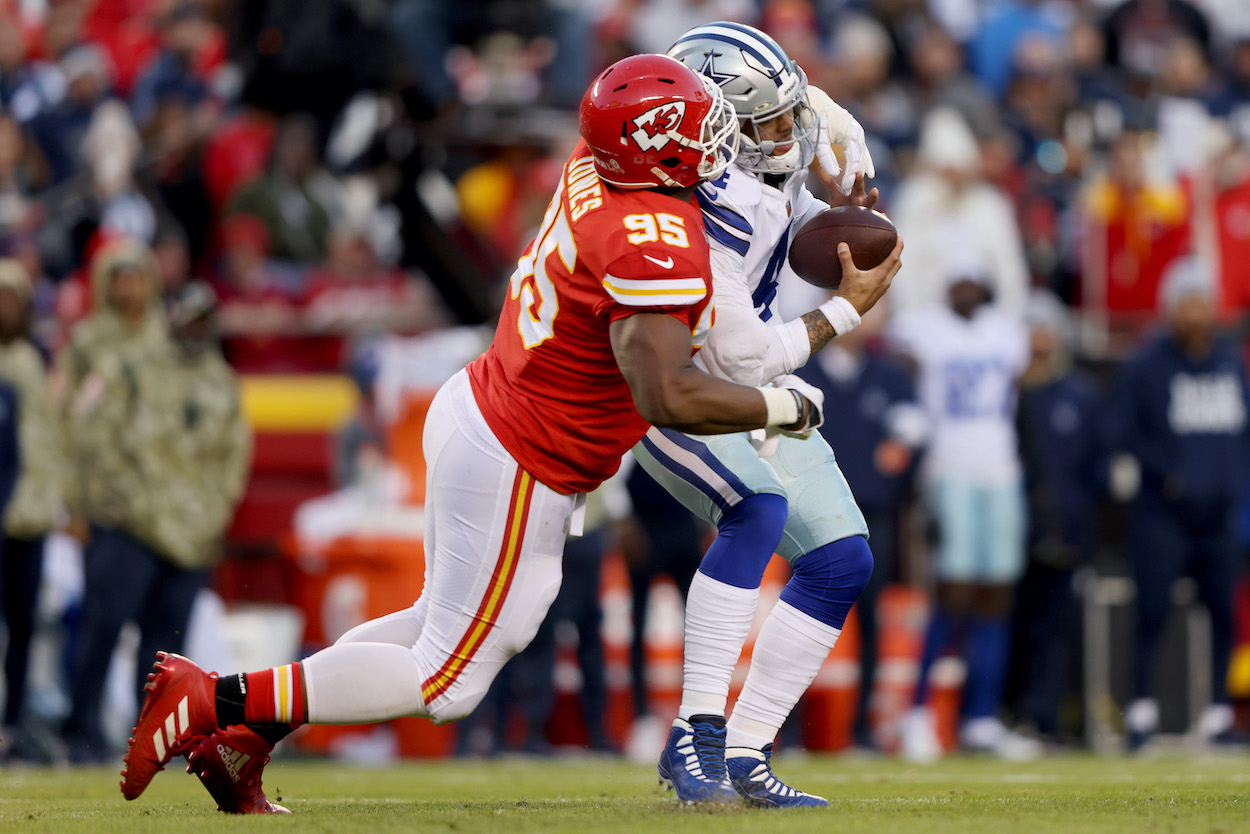 If you need a sack with a million dollars on the line, the best NFL team to play would be the Baltimore Ravens. John Harbaugh's team has allowed 54 sacks on the season. Following that, the Cincinnati Bengals and Chicago Bears are tied for second with 51 apiece. The Carolina Panthers (50) and Cleveland Browns (48) round out the top five.
Chris Jones is still in a good position to find his 10th sack of the season playing the Denver Broncos. The team is solidly in the bottom half of the league in sacks allowed. Denver is tied for 11th-most allowed at 39 with the Miami Dolphins.
Looking deeper into the numbers, sacking a Broncos QB is even easier when you consider that the offense has thrown the 22nd fewest passes (516) in the league this season. That number gives them a sack rate of 7.0%, tied with the New York Jets, Washington Football Team, and New Orleans Saints for ninth-highest this season.  
Also, Denver's Week 18 starter, Drew Lock, has an 8.4% sack rate this season, compared to injured QB Teddy Bridgewater's 6.8%.
Lastly, Jones should play most of the game Saturday. The Chiefs need a win to keep their hopes of stealing the No. 1 seed in the AFC away from the Tennessee Titans if Mike Vrabel's squad trips up against the Houston Texans on Sunday.
The verdict: by Saturday night, Kansas City's already rich DL Chris Jones should be $1.25 million richer.
All stats courtesy of Pro Football Reference and contract figures courtesy of Spotrac