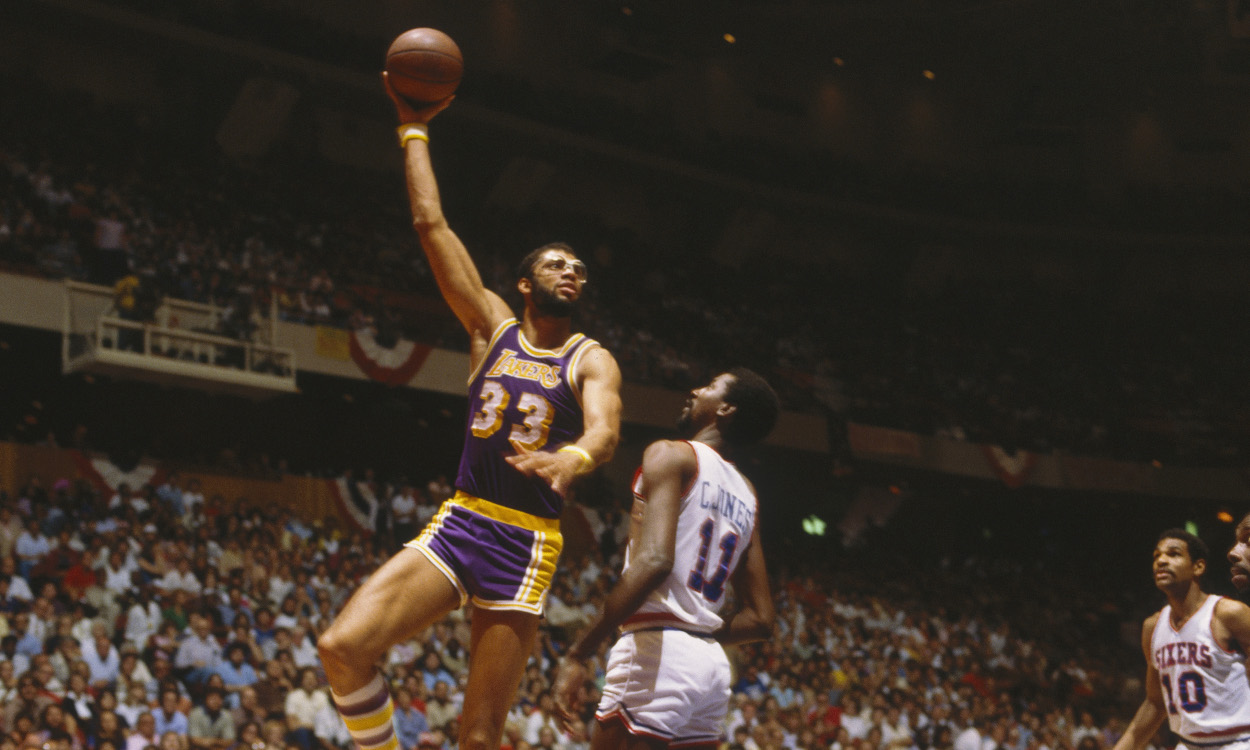 Kareem Abdul-Jabbar Destroyed NCAA's No-Dunking Rule With an Even Better Weapon
When the NCAA banned dunking in 1967, UCLA star Kareem Abdul-Jabbar (then Lew Alcindor) responded with something he learned as a child. Final score: Kareem 1, NCAA 0.
The NCAA wanted to stop Kareem Abdul-Jabbar. He spent his first season with the UCLA varsity team dunking on anyone and everyone. In the short term, it was successful. Then known as Lew Alcindor, the two-time National Player of the Year didn't dunk during his final two varsity seasons. But what the NCAA's ban on dunking did was force Abdul-Jabbar to develop one of the most unstoppable moves in basketball history.
In 1967, basketball was moving above the rim. The powers-that-be in the NCAA felt the 7-foot-2 Alcindor had an unfair advantage. After the Bruins demolished Dayton for the 1967 national title, the NCAA declared the dunk dead in college hoops. The young superstar was angry about the decision but found a new way to dominate the game.
Kareem Abdul-Jabbar was a star upon arrival in LA
Under the eligibility rules at the time, Kareem Abdul-Jabbar couldn't immediately suit up for coach John Wooden. First-year students weren't permitted to play on the varsity according to NCAA rules. The rule was waived during the Korean War in 1950–51. But college athletics' national governing body reinstated its ban on freshmen participation in 1952, per The New York Times.
The NCAA amended the rule in 1968 to allow athletes in any sport other than basketball or football to play. Freshman eligibility became universal on campuses in 1972. Kareem had to wait a season before playing on the varsity. He was dominant on arrival. He averaged 29.0 points and 15.5 rebounds per game as a sophomore.
Meanwhile, the Bruins were 88–2 with Abdul-Jabbar on campus. They won the first three of their record seven straight national championships. However, a ban on dunking imposed in 1966 forced the big man to get creative with his offensive repertoire.
No dunks allowed, said the NCAA
As unimaginable as it seems today, there was no dunking in college basketball for 10 seasons. From 1967–77, high-flying players soared above the rim before gently dropping the ball into the goal.
Per The Undefeated, Kareem saw racial overtones behind the decision. The interview was originally given to the now-defunct Chicago Defender.
"To me, the new 'no-dunk' rule smacks a little of discrimination. When you look at it … most of the people who dunk are Black athletes."

Kareem Abdul-Jabbar
In response to the ban, Abdul-Jabbar brought back a tool he learned as a kid. Wooden hesitated to turn his star loose with the skyhook, per Lakers Nation, but Kareem's proficiency won the coach over.
"I think he just saw that I could put it in regularly. It was a high-percentage shot. He just told me to adjust where I shot it on the court so that I could be in a good position on the court. Take advantage of other bigs," Abdul-Jabbar explained.
He traced the origins of his signature move to elementary school, doing what was known as a George Mikan drill: "It's a drill where you work in front of the basket, you shoot the ball off the glass with either hand, and you get the footwork down. You work on your ambidexterity, and you learn how to use the glass. It's a really good drill."
And it paid off in a really good way for Abdul-Jabbar.
Armed with the nearly unblockable weapon, Kareem Abdul-Jabbar became a legend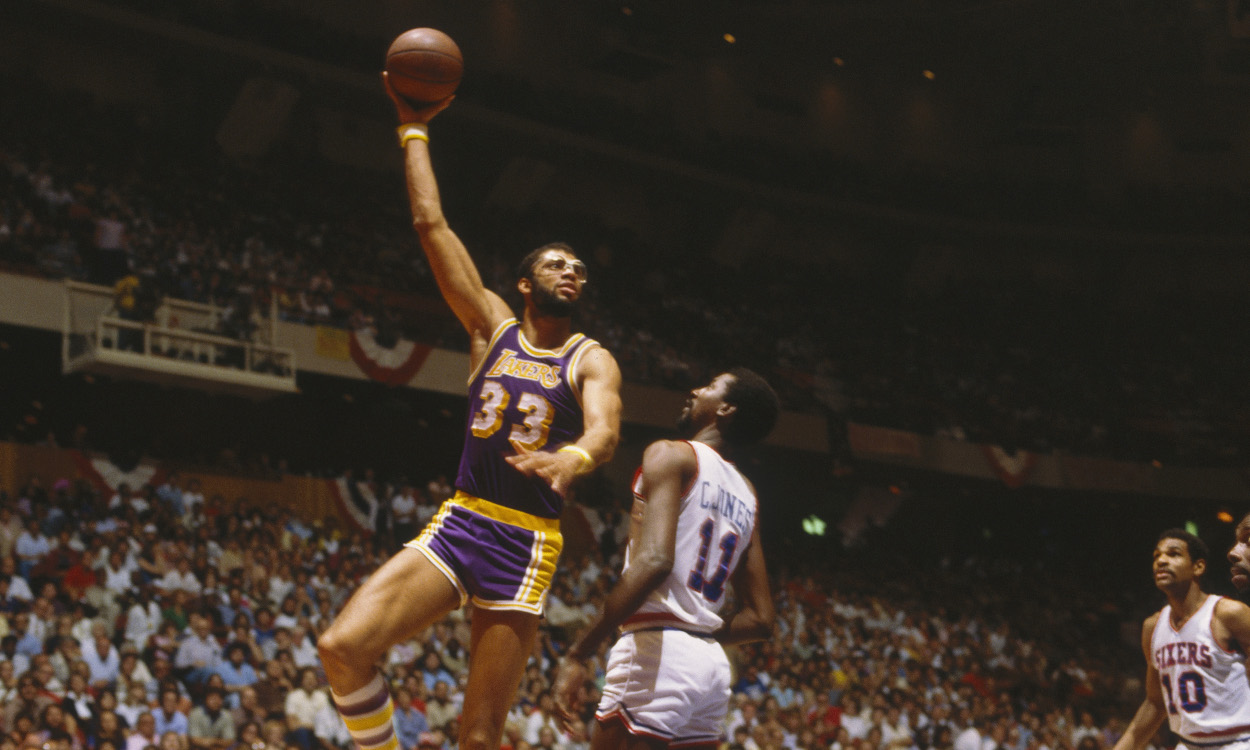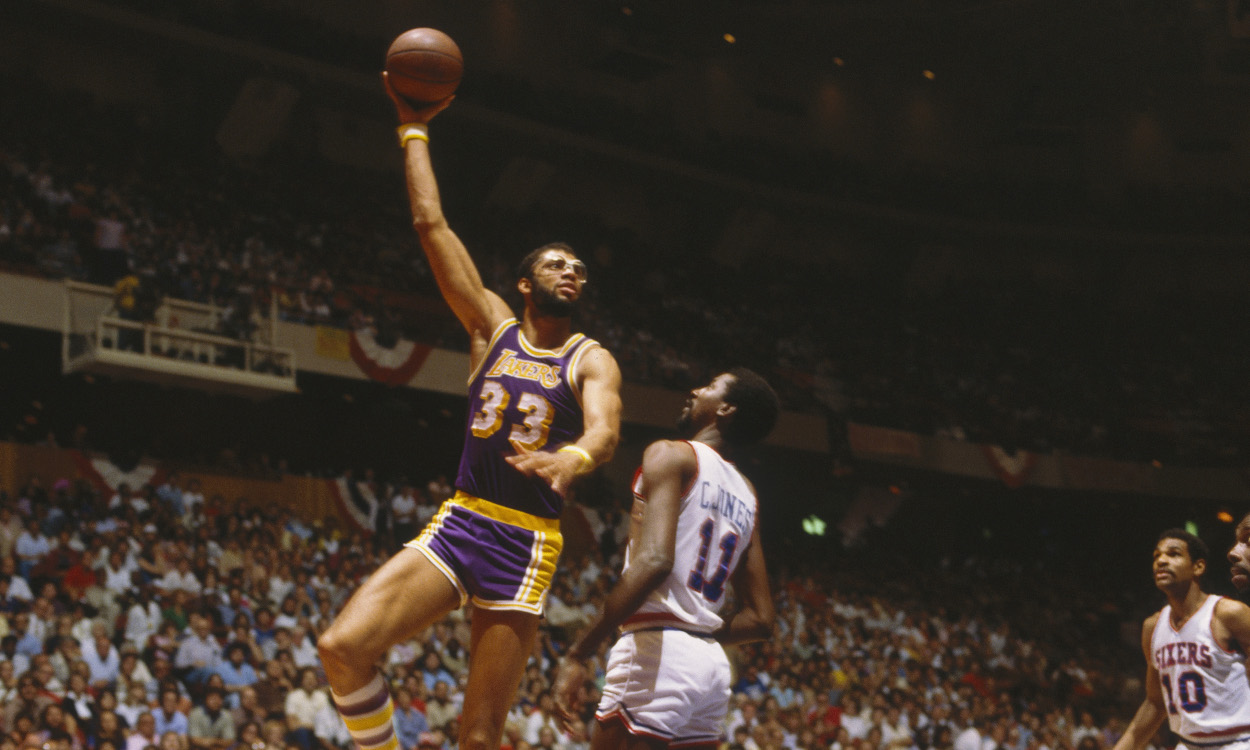 Upon entering the NBA with the Milwaukee Bucks in 1969, Kareem Abdul-Jabbar was an immediate star. He led a second-year expansion team to 56 wins as a rookie. The following campaign, Kareem and the Bucks set a record that still stands as Milwaukee won a title in the team's third season.
Though he played just six years in Milwaukee, Abdul-Jabbar remains the franchise's all-time leading scorer with 14,211 points. Giannis Antetokounmpo will pass him during the 2021-22 season, barring injury, as he enters the campaign with 12,319. A scoring record for Kareem isn't unusual. In 20 seasons, he amassed an NBA record of 38,387 points.
In a 2009 interview with J.A. Adande of ESPN, Abdul-Jabbar said he didn't remember his defender ever blocking the shot.
"I don't recall it ever being blocked by somebody who was guarding me. Maybe a few people got to it, coming to help where I couldn't see them, but if I knew where someone was, that person was not going to block that shot because I always got my body in between them and the ball before I released the ball, and it's impossible to get to. Manute Bol was [five] inches taller than me, and I shot a number of them on him and made them without him blocking it."

Kareem Abdul-Jabbar
While Kareem Abdul-Jabbar learned the fundamentals of the skyhook as a child, would it have become his dominant weapon without the NCAA seeking to limit his influence? That's a question for another day.
Statistics courtesy of Basketball Reference and SRCBB.