Kevin McHale Was a Legendary Defender, but He Still Knew That He 'Couldn't Stop' Kareem Abdul-Jabbar
During the 1980s, the Boston Celtics reigned supreme as one of the top teams in the Eastern Conference. On the opposite coast, though, the Los Angeles Lakers were also a powerhouse capable of giving any opposition nightmares. Just ask Kevin McHale about that.
Although the forward was a capable defender, he still didn't care for the sight of purple and gold. In fact, for all his prowess, McHale couldn't stand facing off against Kareem Abdul-Jabbar.
Kevin McHale knew his way around the low post, both offensive and defensively
As the cliche says, defense wins championships. Even if you prioritize the offensive side of basketball, Kevin McHale had you covered at both ends of the floor.
Although it took him several seasons to become a guaranteed starter, McHale proved to be a capable scorer for the Celtics. He averaged 17.9 points per outing across his 13 seasons in Boston; in his prime, he was capable of potting more than 20 points per night. Once he got an opponent into his "torture chamber" on the low block, you could almost guarantee that the ball would tickle the twine.
On defense, the big man didn't slack off. He averaged 4.9 defensive rebounds and 1.7 blocks per contest for his career and had a knack for using both his 6-foot-10 height and overall length to torture his opponent. McHale also earned a place on three All-Defensive First Teams and three All-Defensive Second Teams, proving he didn't simply stuff the box score.
While you could cynically argue that winning is pretty easy with Larry Bird on your side, McHale played a valuable role in winning three NBA titles. There's a reason why his number 32 hangs from the rafters in Beantown.
Kevin McHale still hated defending Kareem Abdul-Jabbar
For all of his talent, McHale still had the unenviable challenge of defending some of the league's top offensive talents. In the former Celtic's mind, though, Kareem Abdul-Jabbar stands head and shoulders above the rest.
During a 2017 episode of The Dan LeBetard Show, the host read a Chares Barkley quote in which the forward said that McHale gave him nightmares. LeBetard then asked the Celtics big man who occupied that role in his memory.
"Well, guys I couldn't stop were Kareem," McHale explained. "We played in so many big games against those guys. When you played Kareem and the game, you know everyone thinks of the Magic Showtime Lakers, which they were, and, speaking of Magic, one of the best players ever to play, but man, they went to Kareem late in those tight games on that right box, and I'm telling you what. Oh, man."
Unsurprisingly, the power forward had some painful memories of Abdul-Jabbar's signature Sky Hook.
"You tried to slap it low. I mean, look, you tried everything," McHale continued. "And, at the end of the day, you could not stop it. That Sky Hook was the most… 38,000 points, big shots, big games, and, you know, you just knew where they were going with the ball. He could really pass. I don't think Kareem gets enough props as far as he's one of the top five players of all time."
Robert Parish also had to give Kareem Abdul-Jabbar some serious props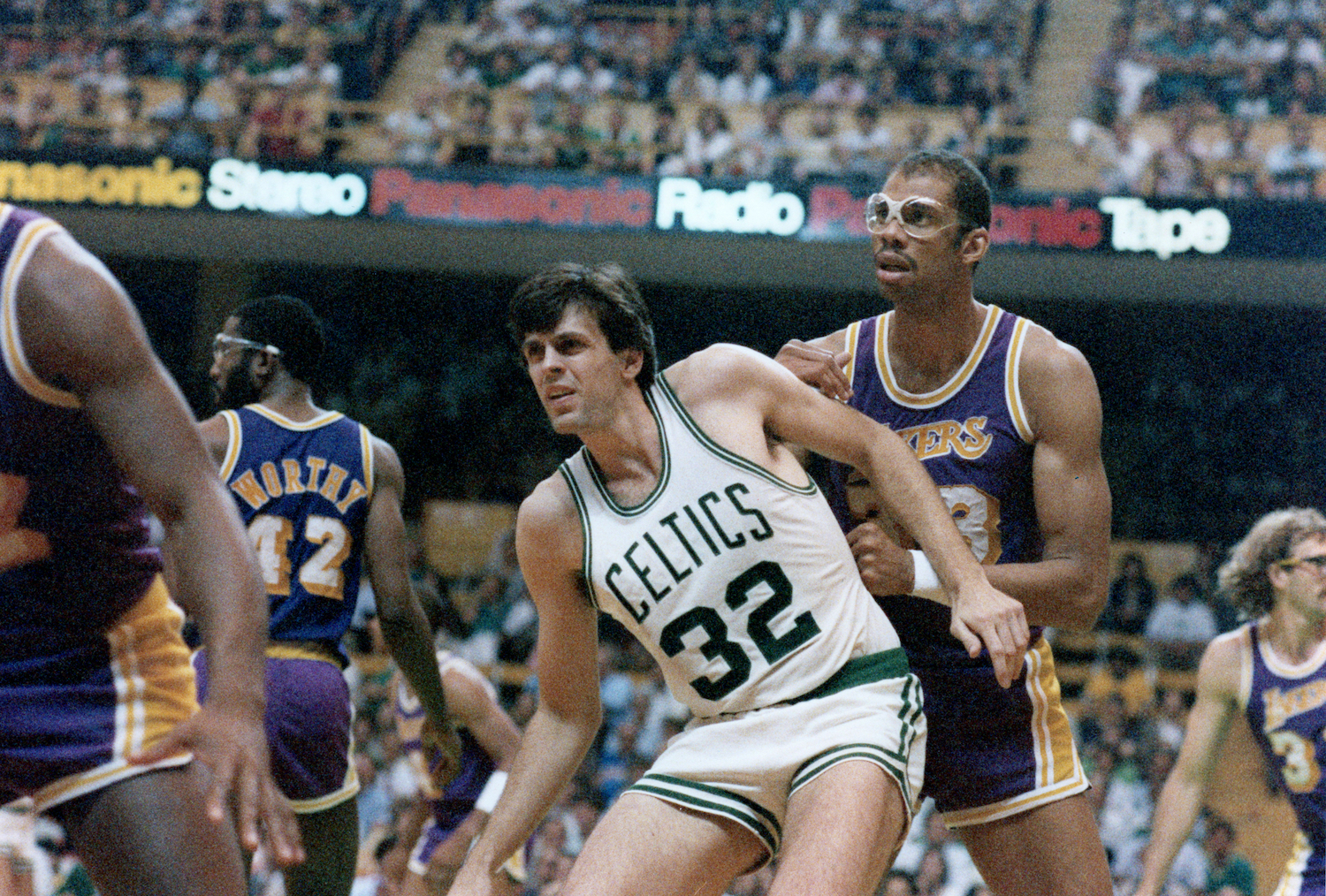 Despite the famous rivalry between the Celtics and the Lakers, McHale wasn't the only Boston star to give Kareem props. Robert Parish has also paid the big man high compliments on multiple occasions.
During an appearance on the In the Post with Elvin Hayes podcast, Parish argued that Michael Jordan had never beaten a truly great team en route to an NBA championship. In The Chiefs' mind, Wilt Chamberlain, Bill Russell, and Kareem Abdul-Jabbar were the ones truly deserving of the hype. "Put them in any order you want. In my opinion, they are the three best ever," he added.
Parish would later speak a bit more about Abdul-Jabbar during a Cedric Maxwell Podcast interview. When asked about Jordan's claim to the GOAT title, the Chiefs took the chance to discuss the Lakers big man.
"I don't agree with that assessment," Parish explained. "Michael was great in his time, and you've got to give him credit for winning six championships in a row, two three-peats. You know I acknowledge that, and I respect that. But as good as Michael was, and he had exceptional talent, you know Kareem. That skyhook was unstoppable."
Regardless of how you feel about the NBA GOAT debate, Kareem Abdul-Jabbar certainly deserves a place near the top of the list. If nothing else, he did enough to make a lasting impact on the Boston Celtics.
Stats courtesy of Basketball-Reference