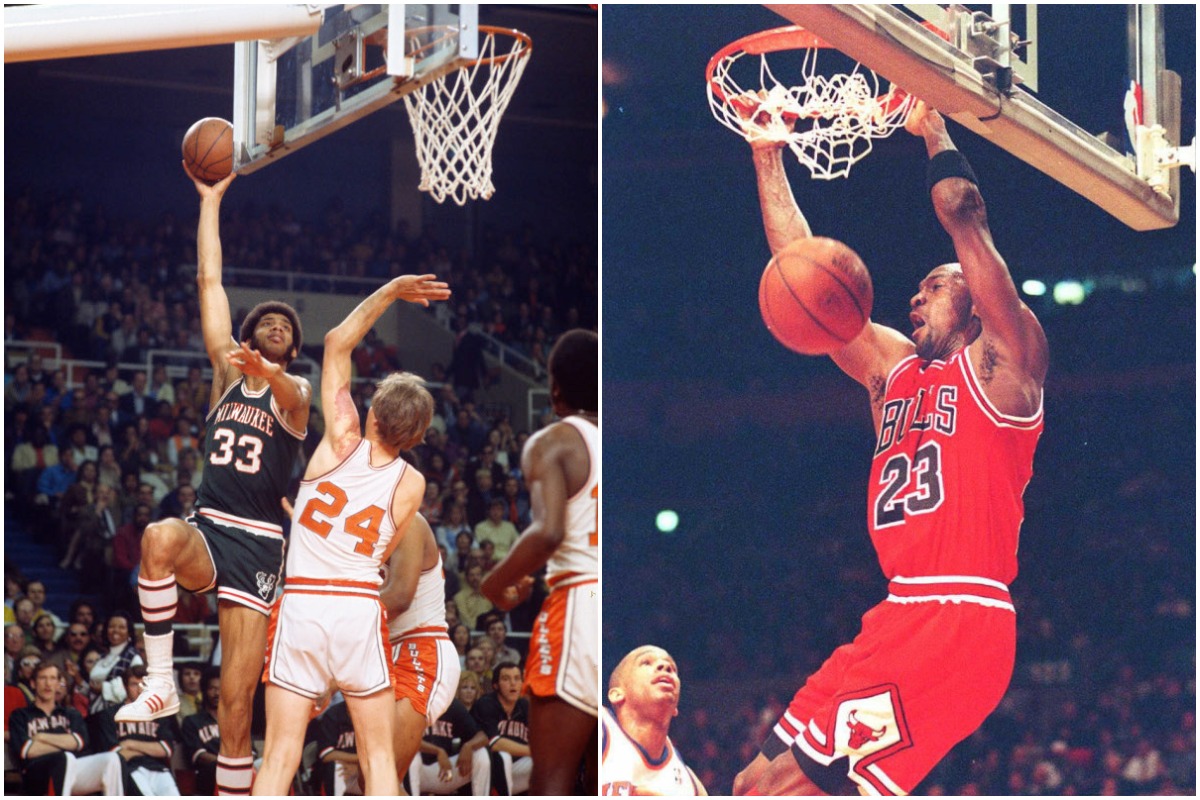 Kareem Abdul-Jabbar Shares Reasons Why He Doesn't Think Michael Jordan Is the GOAT
Kareem Abdul-Jabbar doesn't have much use for the never-ending GOAT debates. On the other hand, he's not ready to dismiss players from early in his long NBA career over Michael Jordan, either.
In a classic case of mixed messages, Kareem Abdul-Jabbar both declined a discussion about the GOAT debate because it's not a real thing and declared a choice for the title. The man scored more points than anyone else in NBA history, so he's undoubtedly allowed his quirks. But it's probably a discussion that can get tiresome when you are part of a small group under consideration as the best to grace an NBA court.
Abdul-Jabbar's NBA career began in 1969, battling Hall of Famers Wilt Chamberlain, Wes Unseld, and Willis Reed regularly. It ended in 1989 against the likes of Robert Parish, Patrick Ewing, and Hakeem Olajuwon. He saw a wide swath of greatness at all positions, from the early-career wizardry of Earl Monroe to having a front-row seat to the Michael Jordan show in his later years. But Abdul-Jabbar has consistently downplayed his claim to the GOAT title.
Kareem Abdul-Jabbar doesn't always take GOAT discussions seriously
In a 2018 interview with Marc J. Spears of The Undefeated, Kareem Abdul-Jabbar likened discussions about the NBA GOAT topic to those about superheroes. As in, they are amusing but not particularly serious.
"These GOAT discussions are a fun distraction while sitting around waiting for the pizza to be served. But they're on a par with, 'Which superpower would you want most: flight or invisibility?'"

Kareem Abdul-Jabbar
Ultimately, the skyhook king argued that the entire concept of a solitary greatest player comes from a flawed premise.
"The reason there is no such thing as the GOAT is because every player plays under unique circumstances. We played different positions, under different rules, with different teammates, with different coaches. Every player has to adapt to their circumstances and find a way to excel. This isn't 'Highlander.' There can be more than one."

Kareem Abdul-Jabbar
He's not wrong. It's difficult to compare players from the same timeframe against each other because of all the variables. Crossing eras? It's like comparing apples to floor lamps.
If you made Kareem choose, he'd take a former teammate over Michael Jordan
Kareem Abdul-Jabbar has a compelling case as the GOAT. He won a record six MVP awards. Abdul-Jabbar is the only player to be named MVP from a team that didn't make the playoffs. He was the NBA Finals MVP in 1971 and again in 1985. If LeBron James is around long enough to be Finals MVP in 2026, he will match Abdul-Jabbar's span from the first time to last in earning the award.
While appearing on The Dan Patrick Show in 2018, the host asked Abdul-Jabbar his reaction to questions about whether Michael Jordan is the GOAT.
"Those people probably didn't see Oscar Robertson play or Jerry West play. Some of the guys that played when the games weren't televised. Their names aren't there because people admire Michael's athletic ability, and for me, they just see someone who's tall. I couldn't do what Michael did, and Michael couldn't do what I did."

Kareem Abdul-Jabbar
The NBA on TV in the 1960s was either Chamberlain or Bill Russell or (preferably) Chamberlain against Russell. Robertson might as well have played during the Mesozoic Era. The Cincinnati Royals were not must-see TV in the 1960s. Even in a nine-team NBA, two-thirds of them were more challenging to find than Bigfoot.
Comparing Michael Jordan to Kareem Abdul-Jabbar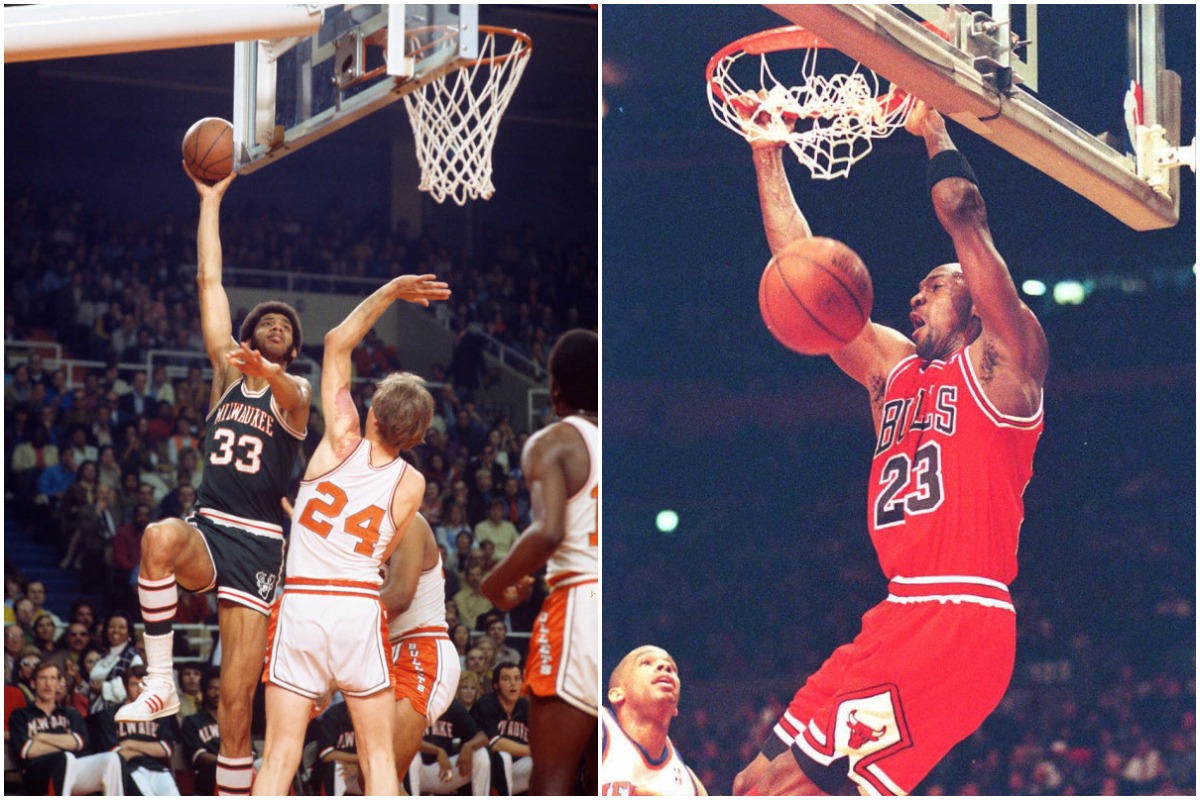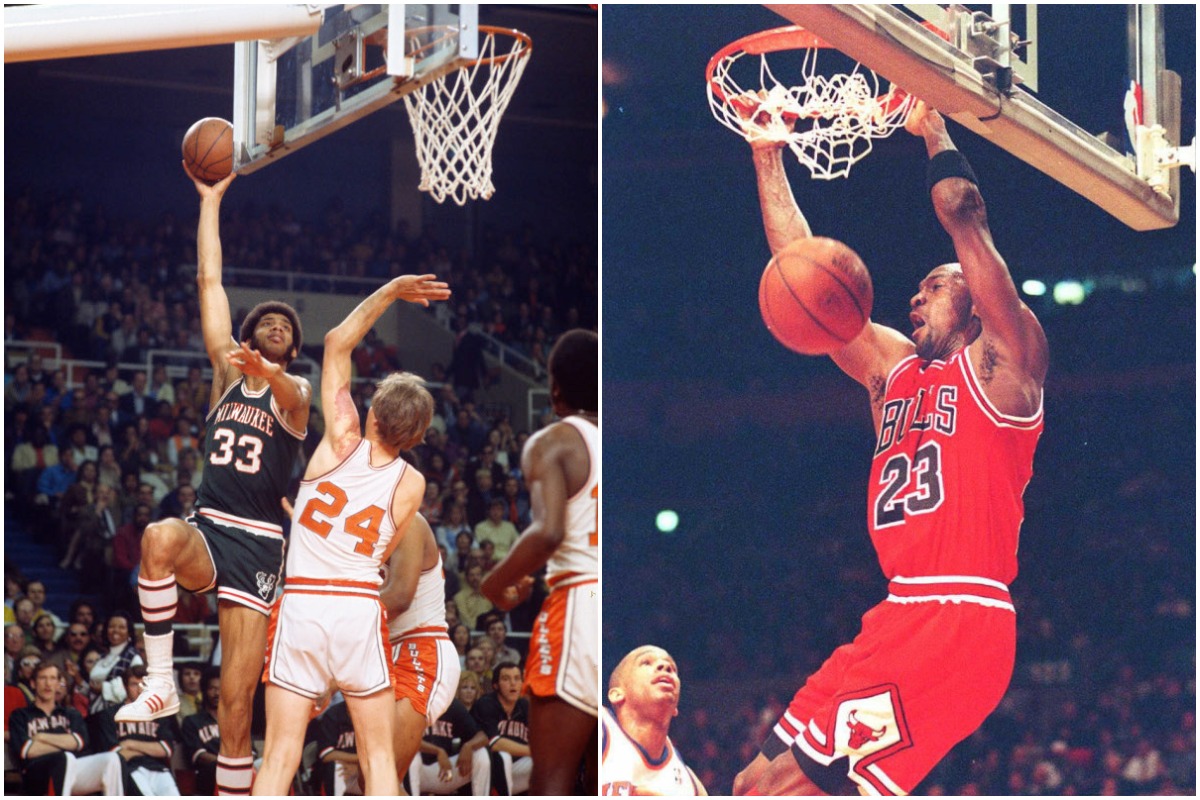 Michael Jordan receives more support than Kareem Abdul-Jabbar in the GOAT debate for several reasons. The NBA was more available over Jordan's career than it was during Kareem's. Cable TV brought the league more exposure than the time of over-the-air broadcasting.
More fundamentally, Jordan had an explosive athleticism that Abdul-Jabbar didn't. While His Airness wagged his tongue and left foes helpless in his wake, the Big Fella just swooped sky hook after sky hook over frustrated defenders.
During his prime, Abdul-Jabbar received criticism for not playing hard. Seriously. He was so graceful even at 7-foot-2 that sometimes his game appeared effortless. Throw in the fact Kareem played at such a high level for so long, and fans often took him for granted. The guy was All-NBA First Team at age 38. He was guilty of making it look easy, even if it wasn't.
It's a strange juxtaposition. Kareem Abdul-Jabbar, the big man under the basket, played with an effortless fluidity that belied the work it took to reach that level. Michael Jordan, the guard, was more of a blunt-force instrument. He made opponents submit with a combination of extraordinary athletic ability and sheer force of will.
Which one is greater? Frankly, it comes down to a matter of taste. The style of play one finds most appealing is likely the deciding factor.
Like Sportscasting on Facebook. Follow us on Twitter @sportscasting19.