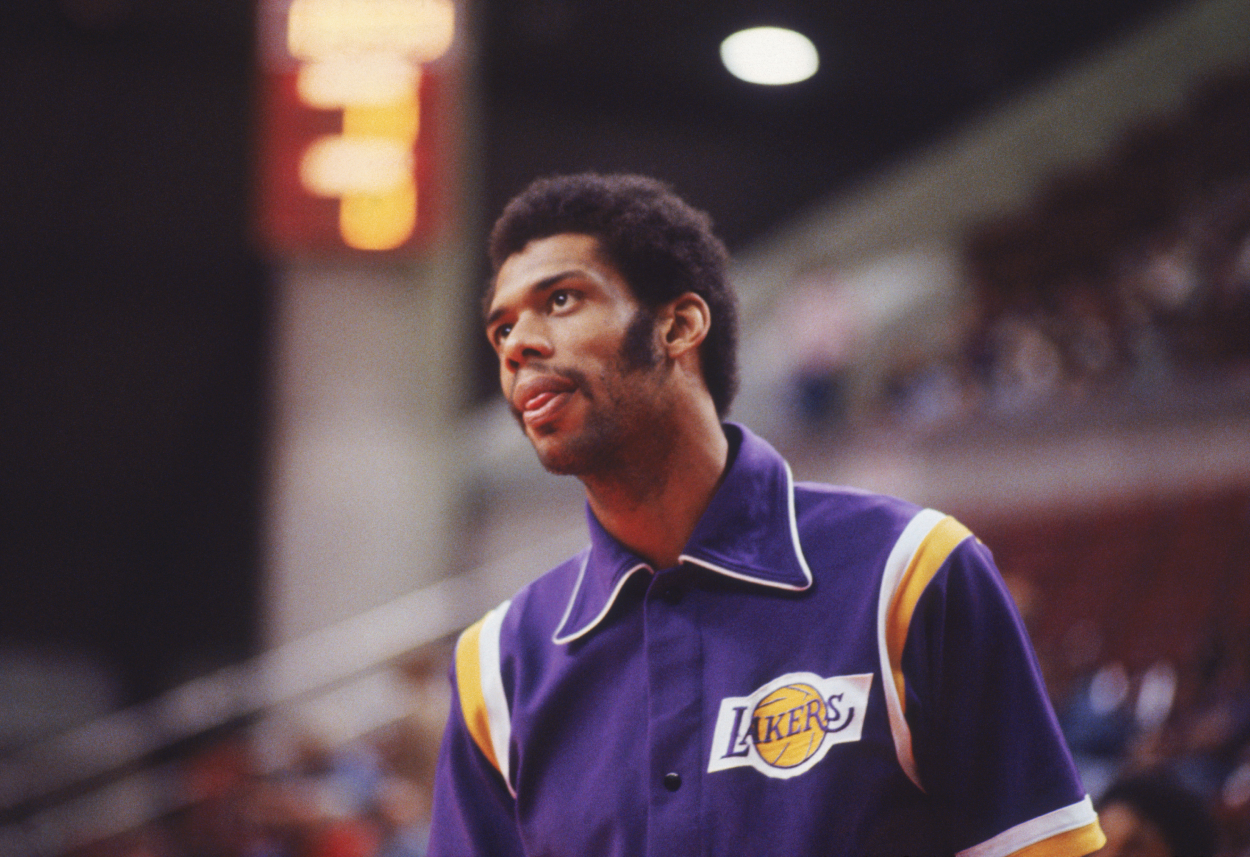 Kareem Abdul-Jabbar, Kent Benson Have Different Versions of What Led to Ugly Sucker Punch, Broken Hand, and Record-Setting Fine
Kareem Abdul-Jabbar and Kent Benson seem to have different versions of their ugly altercation in 1977.
The 1977-78 NBA season got off to a wild start, and so did Kent Benson's professional basketball career. Benson, the first pick in the 1977 NBA Draft by the Milwaukee Bucks, faced Kareem Abdul-Jabbar and the Los Angeles Lakers in the season opener and Benson's NBA debut. The two players lasted two minutes on the court after Abdul-Jabbar sucker-punched Benson with a right hook.
Benson saw stars, and Abdul-Jabbar saw a doctor for what turned out to be a broken hand from the punch. Abdul-Jabbar was slapped with a record fine. The former Lakers center recently spoke about the incident, and it's a different version from Benson's.
Kareem Abdul-Jabbar and Kent Benson had an ugly incident on Oct. 18, 1977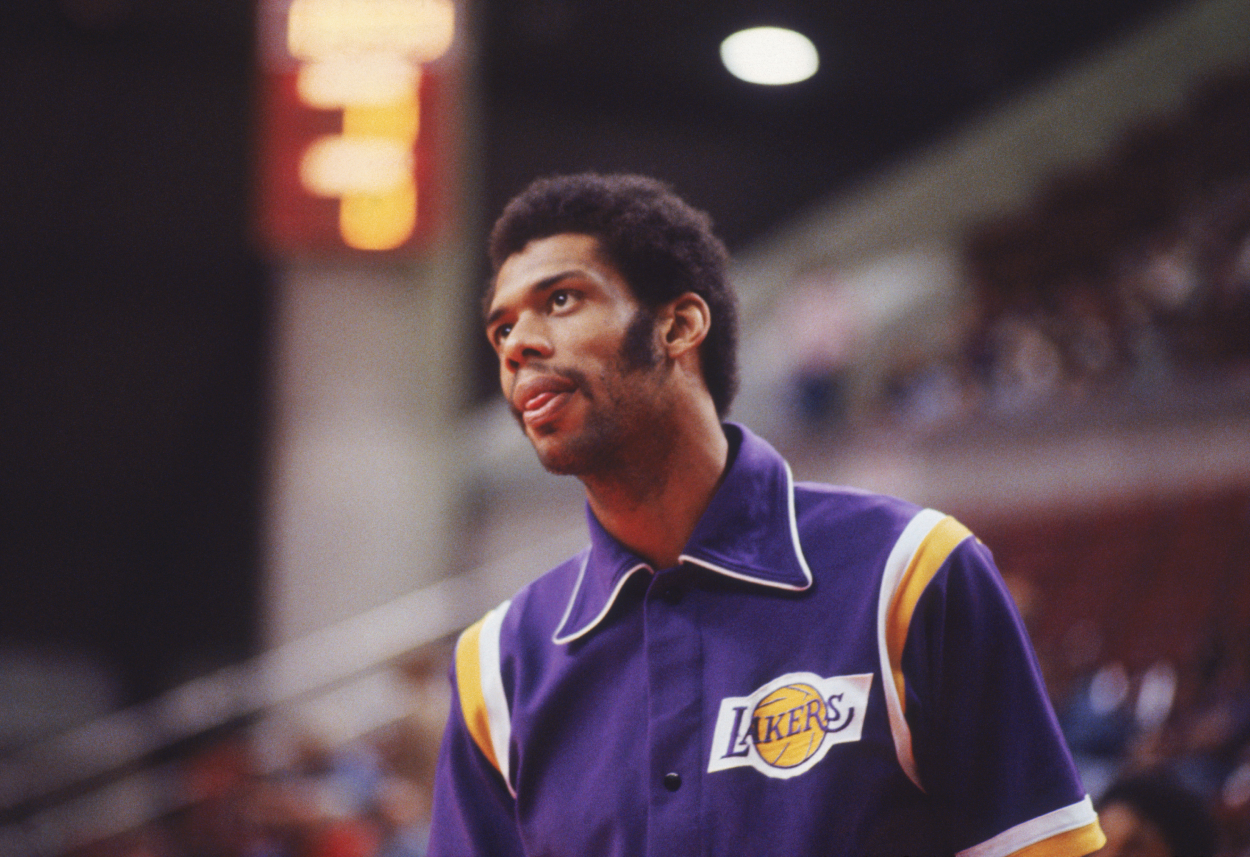 Benson hadn't been in the league for two minutes and found himself in the middle of controversy. Drafted first overall out of Indiana, the 6-foot-10, 235-pound Benson went up against one of the league's best in Abdul-Jabbar. It was Benson's first regular-season game, and he was playing in front of his home crowd.
Right from the beginning, the two big men were getting physical with each other. There was some elbowing as the two battled for position in the paint. Things escalated with Benson elbowing Abdul-Jabbar in the stomach/groin area. While the game played on, Abdul-Jabbar stepped aside to gather himself and keeled over for a couple of seconds.
He returned to guard Benson and then sucker-punched the Bucks rookie in the right side of the head, knocking him to the floor. Abdul-Jabbar's actions resulted in a record-setting $5,000 fine and a tongue-lashing from then-NBA Commissioner Lawrence F. O'Brien.
"The fact that a single, swift act of violence resulted in injuries to two players points up the danger and recklessness of such action," O'Brien said in a statement, according to The New York Times. "Conduct of this nature will not be tolerated and will be punished accordingly. Every player in the NBA is on notice that I oppose fighting during games, no matter what the provocation. I will use all of the powers of my office to prevent violence within the NBA."
The players union fought the historic fine to no avail.
"We're unhappy with fighting on the court and we've talked about it at our meetings," said Larry Fleisher, the association's counsel. "That's not what the NBA is about. But fining a player $5,000 offends me just as much. I don't care how much he's making, that's tremendous fine."
Kareem Abdul-Jabbar recently spoke briefly about the incident
Abdul-Jabbar didn't speak with reporters immediately after the incident. He did, however, touch on it recently when he was a guest on former teammate Byron Scott's podcast.
Scott brought up the incident.
"The Kent Benson incident, where Kent Benson elbowed you, just a deliberate elbow," Scott said on his Off the Dribble podcast. "Anybody can go to YouTube and look at this. He hit you in a great spot where you just bent over. Play goes on and you kind of gathered yourself, squared up, and just said, 'POW' and knocked him out."
Abdul-Jabbar reluctantly spoke about it.
"I'm so sorry I did that," he said as Scott told him Benson deserved it. "Broke my hand. (Benson's elbow) was a cheap shot, a sneaky shot. He did that because his coach, Don Nelson, told him to like rough me up if he was going to be successful. He just made himself a problem. Every time I saw him after that, I made sure he realized that I knew how to play."
Benson said it was Abdul-Jabbar who started the whole thing
Benson had a different version of how the whole event unfolded. In a YouTube video posted in 2014, he explained the situation and pointed the finger at Abdul-Jabbar as the instigator.
"In my NBA debut, I went up against the Los Angeles Lakers and Kareem Abdul-Jabbar," Benson said. "We control the tip and we come down, and Brian Winters takes a shot from outside, misses it. I go up over Kareem, rebound, and put the ball back in.
"On the way back down court, he elbows me several times. I beat him down to his spot on the block where he could shoot his famous hook shot. As he comes down, he takes his elbow and barrels it into my chest. We're jostling for position and I elbow him back. Nothing malicious, but I elbow him back.
"He puts on a big act like he was hurt. He bent over, kinda fell back 10 feet. You can see he looks to see if the officials are looking. I'm watching the ball come down the court because he's back behind me. He takes a running start and sucker-punches me right in the temple. Didn't knock me out but it knocked me silly. I was seeing stars and birdies and everything else.
"He hit me so hard he broke his hand. He was out 21 games and had the largest fine in NBA history at the time. That gave me an opportunity to learn about forgiveness. I had forgiven him. It was hard to do, no doubt."
In either case, it was a black eye for the NBA — and one for Benson, too.