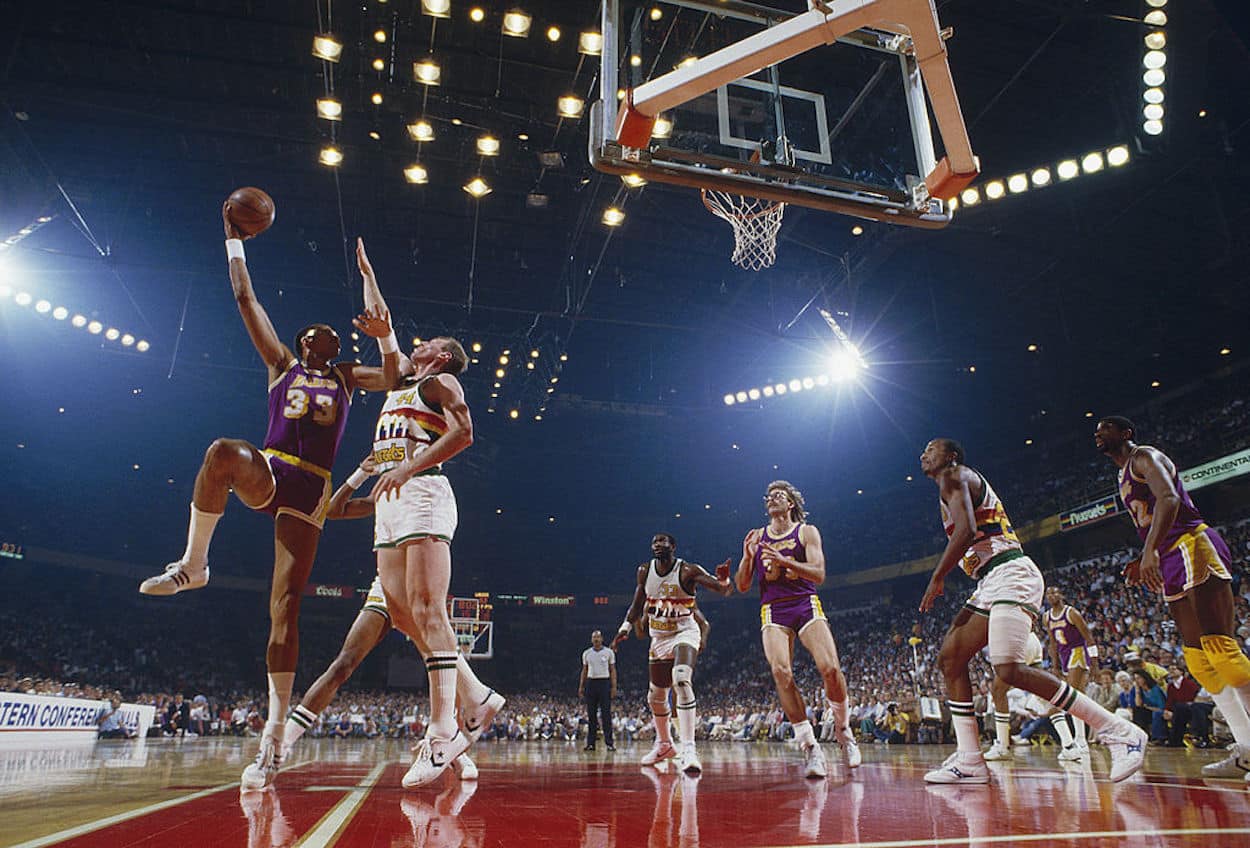 Kareem Abdul-Jabbar May Owe Some of His NBA Success to an 'Old Wive's Tale' and His Careful Choice of Shoes
While Kareem Abdul-Jabbar is a pretty intelligent guy, he did buy into some folk wisdom about taking care of his ankles.
During his time on the NBA hardwood, Kareem Abdul-Jabbar earned a rightful place within the basketball pantheon. Not only was the big man an elite talent, but he proved to be incredibly durable. Cap spent 20 seasons in the Association and, barring two seasons, never appeared in fewer than 70 contests across a campaign. What was the secret to that success?
While there are plenty of potential places to look — the center was simply a great player, which helped a great deal — it's possible that an old wive's tale and his footwear made all the difference.
Does that sound a bit unbelievable? Let's travel back in time and see what Abdul-Jabbar himself had to say.
Kareem Abdul-Jabbar believed an old wive's tale and tried to keep his ankles as loose as possible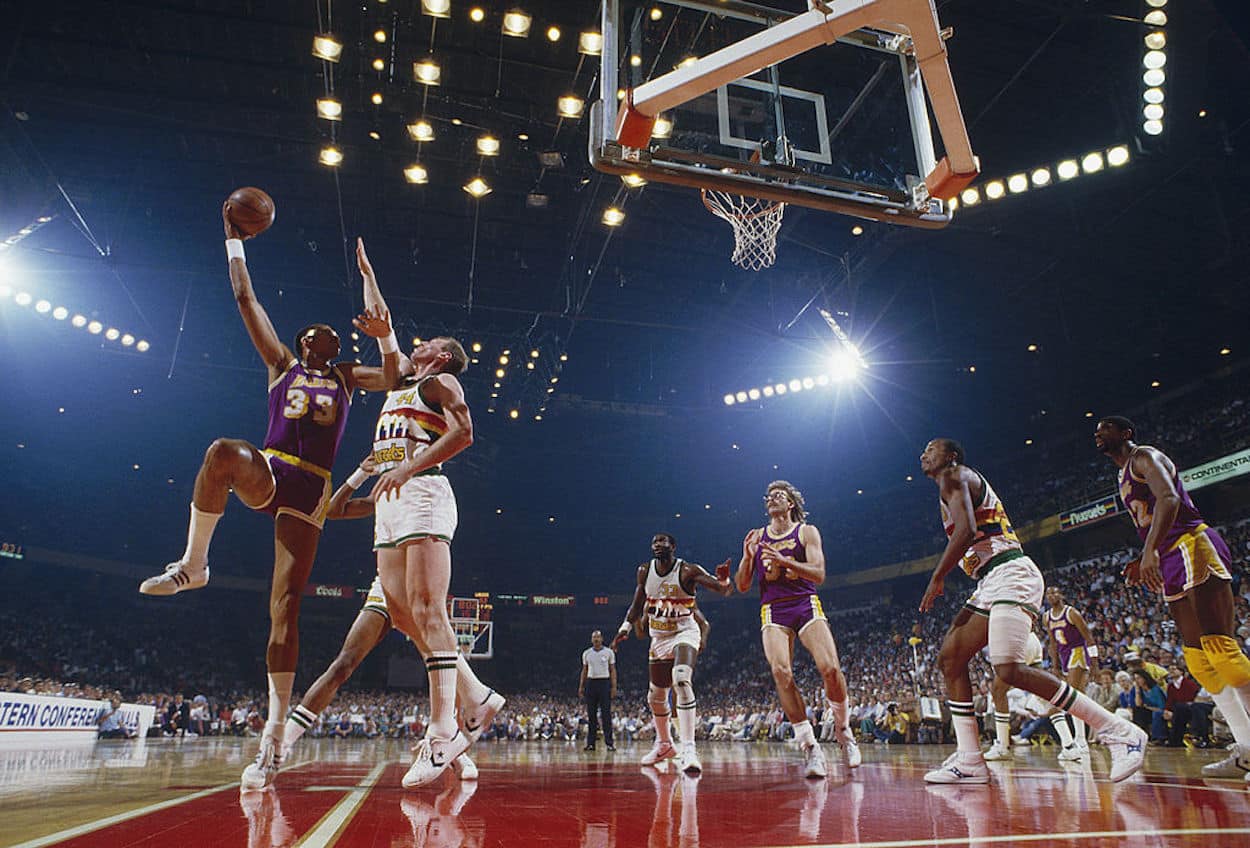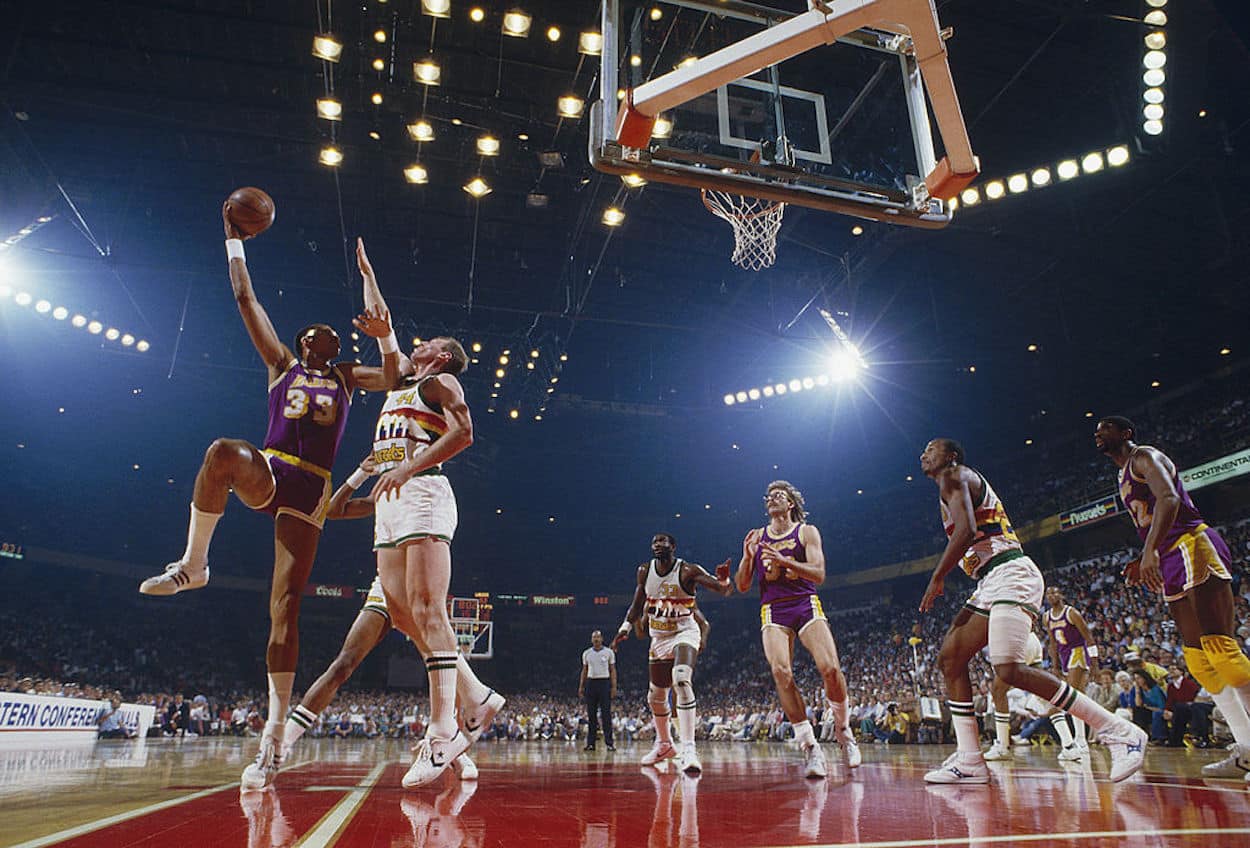 In the world of basketball, players usually do whatever they can to protect their ankles. There's a reason why the default sneaker is a high-top, after all. Kareem Abdul-Jabbar, however, had a different idea.
Throughout his career, the big man preferred lower-cut shoes. He also avoided ankle tape or other protective measures.
"The same way he had once made a study project of marijuana before ever trying it, Abdul-Jabbar stripped everything he did on a basketball floor to its essence and contemplated it, discarding conventional wisdom unless he could make it his own," Gary Smith explained in a 1985 Sports Illustrated story honoring the big man. "The only pair of ankles ever to endure more than 16 NBA seasons was also one of the few in the league unbraced by tape or high-cut sneakers."
So what did Kareem have to say about his preferences? Thankfully for us, the piece included a quote from the man himself.
 "It's an old wives' tale that taping and supporting your ankles prevent injuries," he explained. "Your skeletal system was built to absorb shock. If you bind your ankles, the stress is going to get transferred to the next available joint—your knee."
And while there's no way to know if those choices did make a difference, Abdul-Jabbar did remain remarkably healthy. Despite his size, he never battled significant knee or ankle issues; as Smith noted, his only major injuries were "self-inflicted hand fractures."
Would the center still have had a decorated career without his low-top shoes? It's possible. But, by that same token, we've also seen how lower body issues can ruin a big man's NBA life.
And, beyond the statistical differences that would have been caused by spending less time on the court, Abdul-Jabbar's longevity helped enhance his resume. Had he retired in 1985, for example, he would have four championships, rather than six, to his name. 16 seasons still would have been a respectable total, but those two rings matter when you're getting into the upper echelons of NBA greatness.
Who knows, maybe adhering to an old wive's tale deserves some credit for Kareem's place in basketball history.
With that being said, though, Abdul-Jabbar did plenty of work on his body
As Gary Smith alluded to, Kareem Abdul-Jabbar's efforts weren't limited to simply keeping his ankles loose. The big man was quite literally ahead of his time when it came to taking care of his body.
In the piece, Smith explained that Kareem spent the previous summer swimming, jumping heavy rope, and practicing yoga. The latter part stood out, especially during the rough-and-tumble 1980s. The paint was something of a war zone at the time, and you'd be more likely to see a fistfight than someone spending some quiet time to stretch.
Most big men would never consider yoga," Maurice Lucas noted. "They're too macho—their mentality is to overpower people, not finesse them. Most of them put on weight with age and develop knee trouble."
Abdul-Jabbar, however, didn't have any notable lower body issues. If anything, he just kept playing and got better with age.
Maybe the center just hit the genetic lottery, and, in addition to being tall, he wasn't predisposed to injury. Perhaps his meditation practices allowed him to push through nagging bumps and bruises without heading to the sidelines.
Or maybe his lack of high-top sneakers and ankle tape made all the difference. At this point, it's all in the history books either way.
Have thoughts on this topic? Keep the conversation rolling in our comments section below.