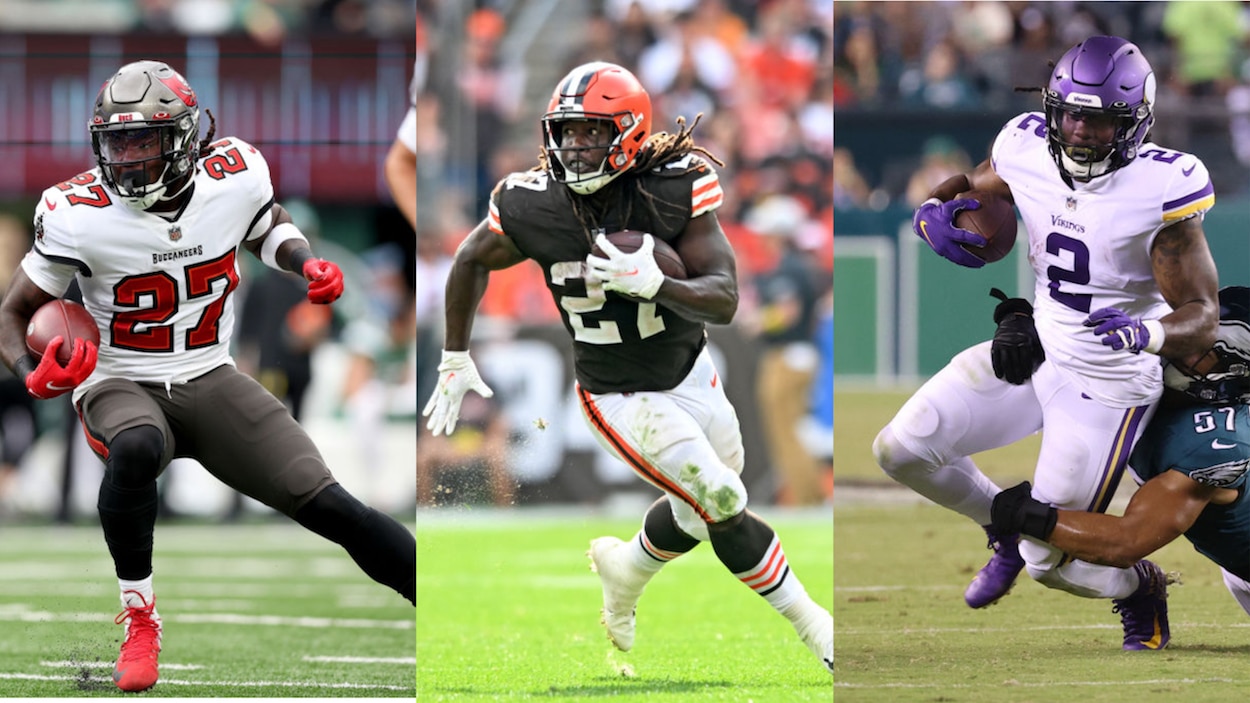 Kareem Hunt and the 3 Running Backs Denver Should Trade for Following Javonte Williams' Injury
If the Denver Broncos are looking for a Javonte Williams replacement, there are certainly some interesting candidates out there.
The Denver Broncos' offense suffered a massive blow in Week 4, as starting running back Javonte Williams suffered a torn ACL against the Las Vegas Raiders, ending his sophomore season. With the injury coming just four weeks into the new season, Denver will be on the search for a temporary replacement.
The Broncos retained Melvin Gordon III this offseason on a one-year deal to split touches with Williams. Gordon is an immensely talented runner, scoring at least eight touchdowns each of the past six seasons, but has been unreliable carrying the ball. He's already lost two fumbles in four games this season, totaling 11 in the past four seasons and 15 across his career.
Denver also has Mike Boone on the roster, but you would be hard-pressed to see him taking a bulk of the carries moving forward. With Gordon's fumbling problems and it being unlikely Boone becomes the lead back, the Broncos are in the market for another running back.
Here are three running backs the AFC West club could target in the trade market following Williams' injury.
Kareem Hunt
It's about time Kareem Hunt gets another chance to become a workhouse running back in the NFL. He's been very successful with the Cleveland Browns across the past four seasons, amassing 2,442 yards from scrimmage and 21 total touchdowns. However, the Pro Bowl running back averages just 13 touches per game and could see more usage elsewhere.
His last season as a full-time starter came with the Kansas City Chiefs in 2017 as a rookie, where he rushed for 1,327 yards and eight touchdowns while also going for 455 receiving yards and three scores. At 27 years old, he's more than capable of handling a larger role and replicating that kind of stat line.
Ultimately, the Broncos could acquire Hunt simply because the Browns don't require his services. Cleveland already has arguably the best running back in the league in Nick Chubb, who has the second-most rushing yards (459) and rushing touchdowns (5) through four games this season. He's put up over 100 yards from scrimmage in every game this season and isn't slowing down any time soon.
Additionally, Hunt has made his intention to leave Cleveland clear, as he requested a trade back in August, but the Browns immediately put out a statement saying they don't intend on trading him. Circumstances have changed since then, and both parties could benefit from a change of scenery.
Hunt is in the final year of his contract and will be an unrestricted free agent in 2023. On the Broncos side, acquiring him won't require any commitment after this season. It will probably cost a mid-round pick, but Hunt could be the lead back for the remainder of the 2022 season before Williams resumes his starting role next year.
Alexander Mattison
Alexander Mattison has been a fine running back for the Minnesota Vikings, but he could soon be a very hot commodity. The 2019 third-round pick has served as a backup to Dalvin Cook for the past three seasons, receiving a handful of carries on occasion. He is less proven than Hunt but has stepped up to the plate every time he's needed to. 
In 2021, he started four games, carrying the ball 86 times for 356 yards, which equates to 89 yards per game and 4.1 yards per attempt. He also started the 2020 season finale, going for 145 total yards and two touchdowns. He's more than capable of producing at that level for the Broncos if given the opportunity.
Similarly to Hunt, Mattison will be an unrestricted free agent in 2023. It's unlikely that Mattison will ever get a larger role in Minnesota with Cook around, so this could be his best chance to show the rest of the league he's capable of being a true, No. 1 running back.
Ronald Jones II
Ronald Jones II signed with the Kansas City Chiefs back in March and probably expected a much larger role than what he's getting. He hasn't been active for any of the Chiefs' games this season, and that isn't expected to change any time soon. 
Kansas City has a very loaded running back room, and head coach Andy Reid has shown that he prefers heading into matchups with Clyde Edwards-Helaire, Jerick McKinnon, and Isiah Pacheco in the backfield. 
Jones is still a young running back. He just turned 25 years old and has plenty of juice left in his game. He had a breakout year in 2020, going for 978 yards and seven touchdowns on the way to winning a Super Bowl with the Tampa Bay Buccaneers. He's averaged at least 4.2 yards per carry each of the past three seasons and can definitely ease Denver's pain of losing Williams.
With Jones receiving zero playing time and not even dressing up for games, he would probably be the easiest to acquire for Denver. Even though the Chiefs are a division rival, it wouldn't hurt to make an offer and likely wouldn't require much in return.
Stats courtesy of Pro-Football-Reference