Karl Malone Realized He Needed the Los Angeles Lakers Much More Than He Thought Back in 1983
Karl Malone was gunning for that elusive ring. He came awfully close in 1997 and 1998 with the Utah Jazz, but Michael Jordan got in the way. After 18 seasons with the Jazz, he joined the Los Angeles Lakers for the 2003-04 season, forming a superteam with Kobe Bryant, Shaquille O'Neal, and Gary Payton, among others.
Although he came oh-so-close to winning an NBA title, losing to the Detroit Pistons in the Finals, Malone realized at the time that he needed the Lakers more than he thought.
Karl Malone spent one year with the Lakers and it didn't go as planned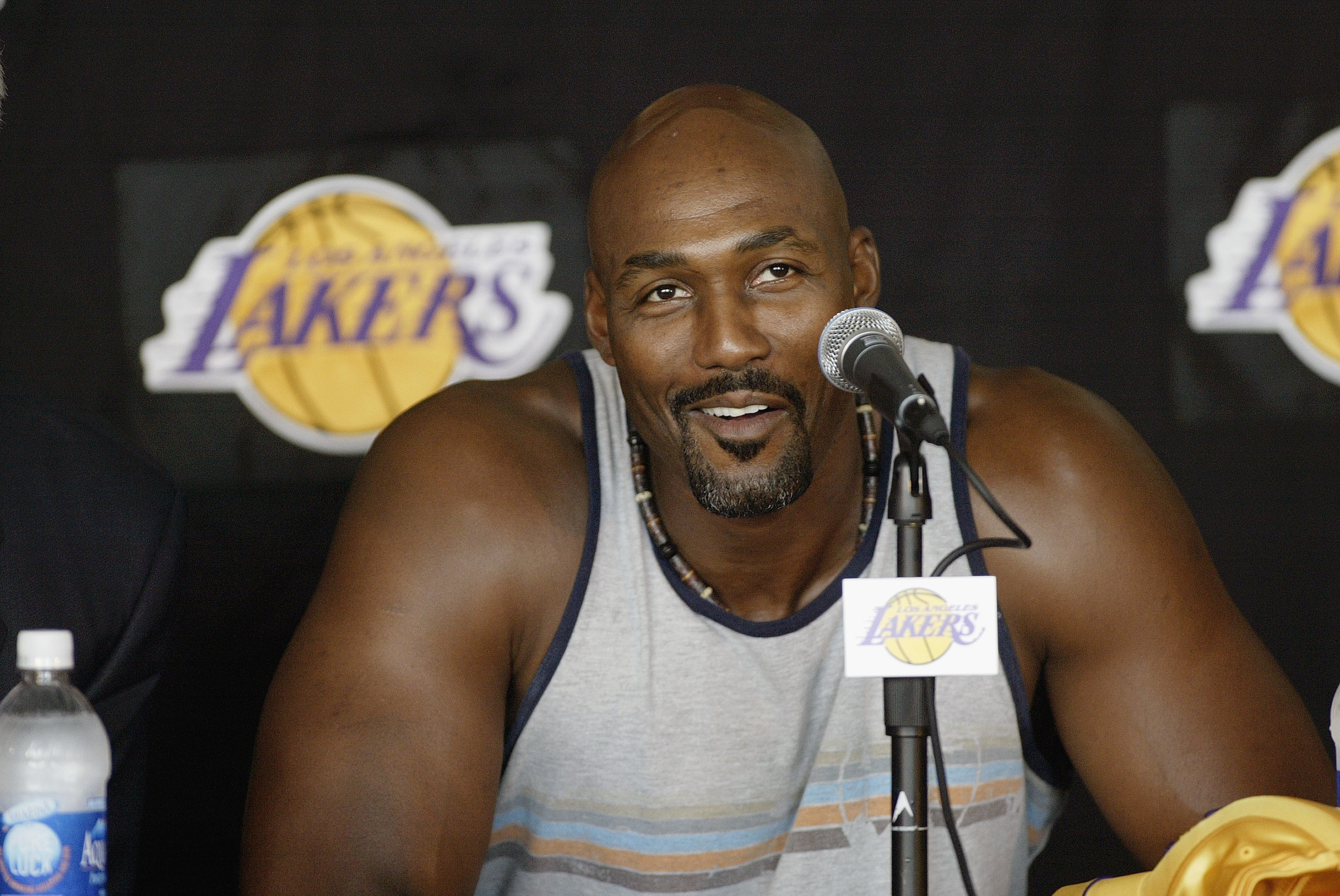 Malone was 40 years old when he played with the Lakers. They entered as the favorites to win it all, but Malone's journey to the Finals in what wound up being his last NBA season was far from smooth.
LA cruised to an 18-3 start to the season, but four minutes into a game against the Phoenix Suns, Malone suffered a knee injury. He missed 39 games. In the first seven games without their big power forward in the lineup, the Lakers lost six of their next seven games.
Malone returned as the playoffs drew near, and the Lakers entered the postseason with a 56-26 record and the No. 2 seed out West.
Malone showed he was back in the first round against the Houston Rockets as he put up a 30-point, 13-rebound effort in Game 4. The Lakers knocked off the Rockets in five games and then took care of the San Antonio Spurs and then Kevin Garnett and the Minnesota Timberwolves in six games.
The Pistons thumped the Lakers in the Finals. Detroit earned a split in LA, winning Game 1. They took care of things on their home court, winning the next three to close out the series in five games.
Karl Malone realized he needed the Lakers more than expected
Just before Malone's season with the Lakers, he suffered his biggest loss. His mother, Shirley, died from a heart attack. She was 64.
Malone was crushed.
Before her death, Malone was adjusting well to his new place in Newport Beach. He was happy, as was Shirley.
"I was on such a high," Malone told The Los Angeles Times in late August 2003. "A new situation. Different situation. Family's great. Wife and kids great. Training for the Olympics. Just a high. And then, as high as I was, I'm just that low."
Shirley wanted her son to win a championship. Even though her son spent 18 years with the Jazz, the Lakers were her favorite team.
"She was really happy, because all those years with the Jazz, she always wanted him to win a championship," Malone's brother Terry said then. "She was always a Laker fan. Me too. My mom always loved Magic and Kareem and all of them. That pretty much was what was going on with that. She loved the Lakers."
Malone didn't realize how much he needed his change of scenery until his mother died.
"All of this is medicine to me," he said. "It's helping me get through a difficult time. It's just therapy for me. Psychologists and psychiatrists and all, they fine. But that's not what I needed. I needed this. I needed this right here, like out of a movie, to hear the birds on the beach, like something you watch on TV. This ain't real. I think about so much and get so excited."
Malone learned something about his mother before her death that put a smile on his face
As good as Malone's mother was to him, he returned the favor. He bought her a new home. Later, he asked her a question.
"Mom, what is your favorite color?"
"Burgundy," she said.
"What's your dream vehicle?"
"A pickup."
Shirley enjoyed her burgundy pickup truck. Her son shook his head.
"I never knew, all these years, that my mom loved pickup trucks," he said.
Malone never got that title he wanted with the Lakers, but he got exactly what he needed with them.