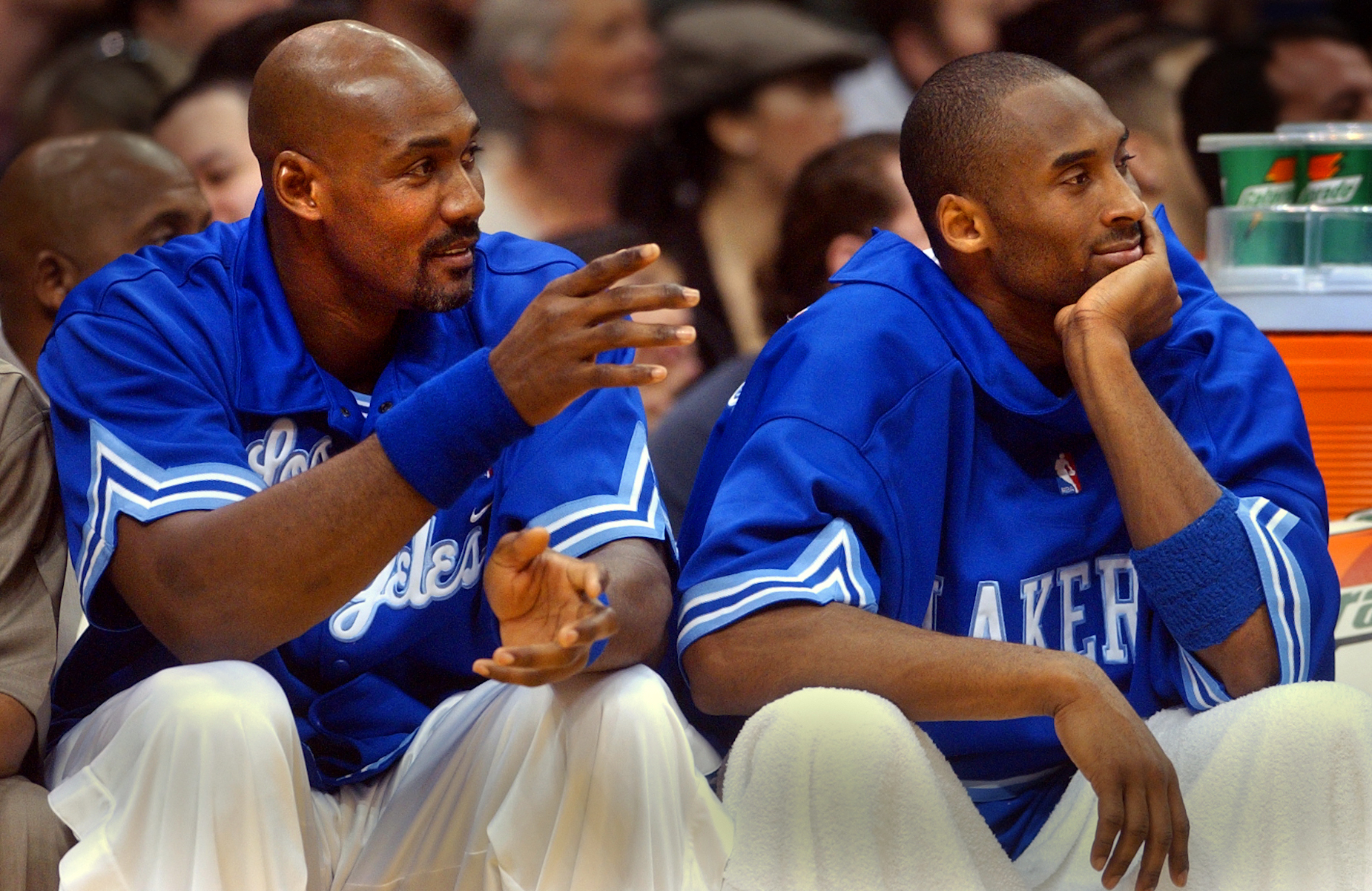 Karl Malone Once Offered to Fight Kobe Bryant After Allegedly Making 'Several Inappropriate Comments' to His Wife
While it's not exactly clear what Karl Malone did or didn't say to Vanessa Bryant, we know the Utah Jazz legend was willing to fight Kobe.
While he never managed to win an NBA title, Karl Malone had quite a career on the hardwood. The Mailman rightfully became a Utah Jazz legend; toward the end of his career, however, he left Salt Lake City and joined the LA Lakers, hoping to make one final run at a championship. There, the forward suited up alongside Kobe Bryant for the 2003-04 campaign.
While Kobe was never the easiest guy to deal with, he and Karl Malone clashed for an unusual reason. At one point, the Mailman apparently made "several inappropriate comments" to Vanessa Bryant, kicking off a public feud.
Karl Malone's legendary basketball career
In the big picture of sports nicknames, 'the Mailman' isn't the most exciting title you'll ever hear. Karl Malone, however, was a truly special player during his time on the hardwood.
While academic issues kept Malone from taking the court as a college freshman, the big man immediately made up for lost time. During his sophomore season at Louisiana Tech, he averaged 20.9 points and 10.3 rebounds per game; by the time he left campus, the Bulldogs had made their first two NCAA Tournament appearances in program history.
When the 1985 NBA draft rolled around, the Utah Jazz selected Malone with the 15th overall pick. Over time, that would prove to be quite the steal.
In Salt Lake City, Malone formed a dynamic duo with John Stockton, pulling down rebounds and finishing at the rim with ease. As his iconic nickname would lead you to believe, the Mailman was also incredibly reliable; during his 19 NBA seasons, Malone averaged more than 20 points per game 17 times.
An inappropriate comment and a public beef with Kobe Bryant
In a final attempt to win a championship, Karl Malone joined the LA Lakers for the 2003-04 season. While he didn't lift the Larry O'Brien Trophy, the Mailman did form a tight bond with Kobe Bryant. In the fall of 2004, however, everything fell apart.
According to an old ESPN News Services post, Malone attended a Lakers game in November 2004. There, he apparently made "several inappropriate comments," in the words of Rob Pelinka, to Vanessa Bryant.
According to Malone's agent, Bryant asked Malone, who was wearing a cowboy hat and boots, "Hey, cowboy, what are you hunting?" The forward responded, "I'm hunting for little Mexican girls."
Pelinka's account, however, included additional details. According to the then-agent, Malone asked Bryant to "sit next to [him] and give [him] a big hug" and wondered if she "liked him."
"From there Malone asked Vanessa if she could keep a secret, and that he would like to tell her something," Pelinka explained. "At which point Vanessa told him she was a married woman and he was a married man who was old enough to be her father. To which Malone replied, 'Oh, like your daddy?' At that point she told me she ended the conversation."
After the game ended, Malone made the hunting comment; on the way home from the area, Vanessa told Kobe what happened.
Karl Malone was willing to fight Kobe Bryant more than a decade later
According to the ESPN report, Karl Malone's agent said that "he had never made a pass at Bryant's wife … [but]apologized to both Bryant and his wife for any remarks she might have considered inappropriate." Despite that assertion, the Mailman still seemed willing to square off with Kobe.
As documented by Brian Lewis of the New York Post in February 2015, Malone appeared on Huff Post Live, where he discussed the beef with Bryant. While the veteran toward insisted that he didn't hold a grudge, he did tell host Marc Lamont Hill that he'd be willing to settle any issues the old fashioned way.
"You have the problem, I don't. I love Westerns. I'm old-school Western," Malone explained."Back in the day when you had a beef, you didn't go get guns and knives. You just, 'Hey Marc, I got a problem.' We just go in the back with no cameras, no nothing, and let's just knuckle up and get it over with.''
When asked if he had ever specifically told Kobe that he was up for a fight, Malone admitted that he hadn't. "No, but it's standing," he said. "It's a standing [offer].''
It's unclear if Karl Malone and Kobe Bryant ever buried the hatchet. In January, however, the Mailman did tweet his condolences after the Lakers legend's tragic death.
Stats courtesy of Sports-Reference and Basketball-Reference