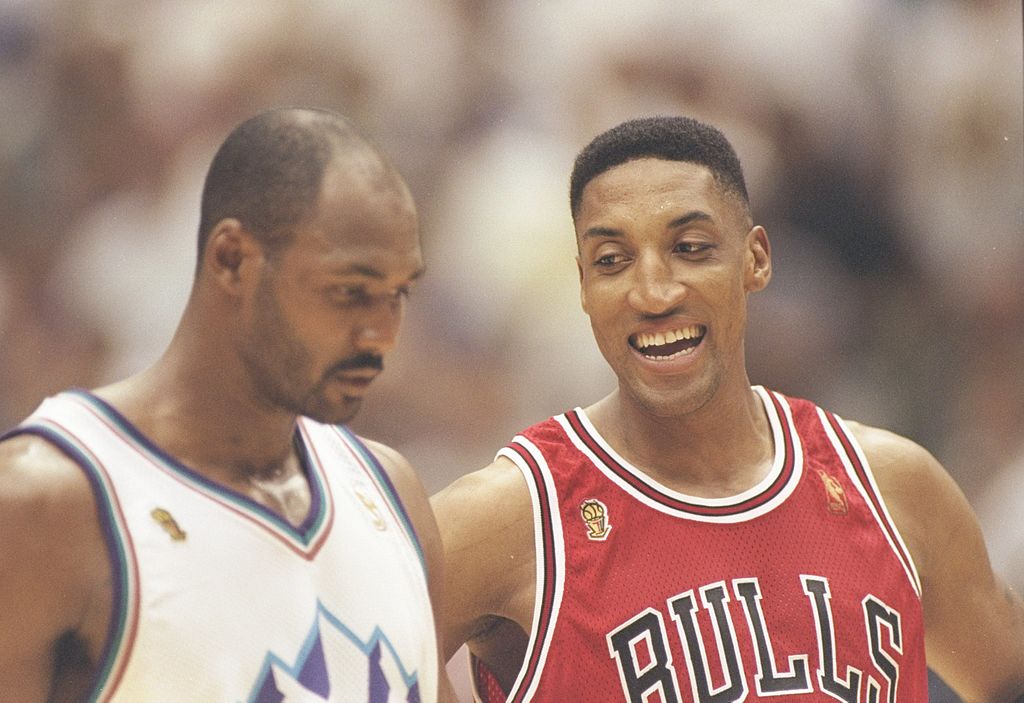 Scottie Pippen Once Roasted Karl Malone With 'the Greatest Line' of Trash Talk
Michael Jordan was known as an elite trash-talker, but Scottie Pippen once roasted Karl Malone with "the greatest line in basketball."
While sportsmanship is all well and good, things tend to be a bit different when a championship is on the line. That's why professional athletes often turn to trash talk. From Brian Bosworth to Michael Jordan and Scottie Pippen, some of sports' most prominent stars weren't afraid to engage in a war of words.
Although Jordan may have made headlines with his famous will to win, Scottie Pippen wasn't a slouch, either. In fact, he once delivered "the greatest line" of trash talk to Karl Malone during the 1998 NBA Finals.
Scottie Pippen's basketball career
Despite posting a strong high school career, Scottie Pippen didn't receive any attention from big-name colleges. He walked onto the team at the University of Central Arkansas, however, and, after a growth spurt, started dominating the competition.
After hammering out a draft-day trade with the Seattle SuperSonics, the Chicago Bulls landed Pippen in 1987. While he didn't blow anyone away during his rookie season, working with Michael Jordan helped Scottie take his game to a new level. Although he may be remembered as His Airness' right-hand man, he was an incredibly talented player in his own right, capable of excelling at both ends of the floor.
During his time in Chicago, Pippen won six NBA titles with MJ; he would also play one season in Houston and four campaigns in Portland. He averaged 16.1 points, 6.4 rebounds, 5.2 assists, and 2 steals per game for his career, earning a place in the Basketball Hall of Fame and the rafters of the United Center.
Talking trash to Karl Malone
While Scottie Pippen won plenty of silverware during his NBA career, he may hold another crown. During the 1997 NBA Finals, the forward uttered what he believes to be "the greatest line in basketball."
In the dying seconds of Game One, Utah Jazz legend Karl Malone stepped to the free-throw line, hoping to give his team the lead. Pippen wasn't much of a trash talker, but, it that moment, he stepped up to the plate.
"I had my brother in town, my brother was a postman," Pippen remembered on The Jump. "So Karl Malone is at the line, the game is on the line. I was pretty good friends with Karl actually, so I just walked by him and said, "the Mailman don't deliver on Sunday."
Not only was the line witty, but it worked. Malone, who was famous for his reliability, missed both foul shots. The Bulls would go on to win that game and the series; Michael Jordan claimed NBA honors, but Pippen deserved an assist for Game One.
Scottie Pippen learned from the best trash-talker around
During Scottie Pippen's early days in the NBA, Michael Jordan helped mold him into the perfect complimentary player. The forward probably learned a thing or two about talking trash from MJ, as well.
During his playing career, Jordan was driven by an insatiable will to win. That desire often manifested itself in brutal trash-talk. Whether you were a new teammate, a fan in the stands, or the President of the United States, His Airness wasn't going to bite his tongue. There's no doubt that Pippen was on the receiving end of plenty of verbal venom; that experience probably came in handy during the 1997 NBA Finals.
In sports, players' reputations are based on how they perform with the game on the line. By that logic, Scottie Pippen delivered one of the best trash-talking moments we've ever seen.