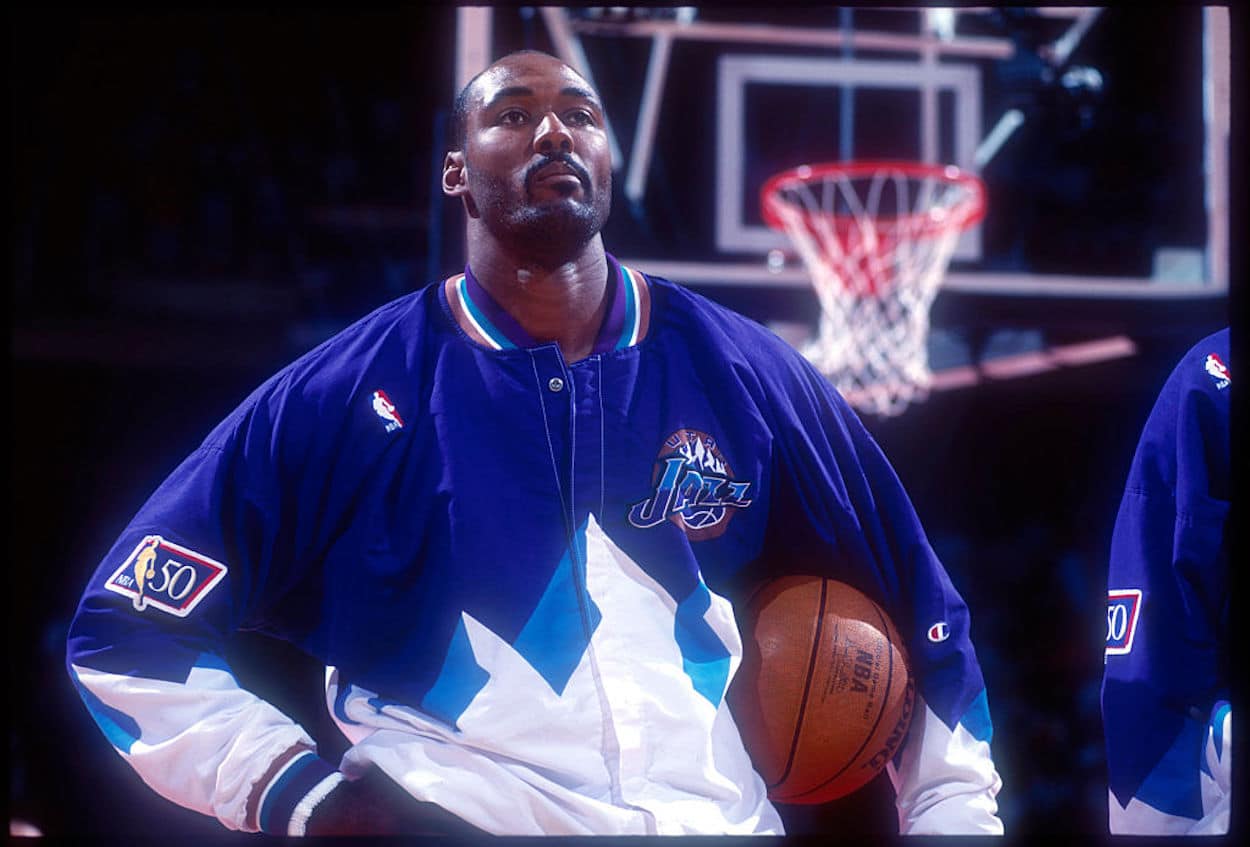 Karl Malone Responded to a Violent Threat From Maurice Lucas by Dunking On His Head
Karl Malone wasn't one to back down from any challenge, even if that challenge came from one of the NBA's premier enforcers.
During his time in the NBA, Karl Malone established a reputation as one of the toughest players around. The Mailman wasn't just big, although he clocked in 6-foot-9 and 250 pounds. He knew how to use his frame in the paint and wasn't one to back down from any challenge.
Maurice Lucas learned that the hard way.
During Malone's early days in the Association, Lucas told the young man that he better back off. Not only did the Louisiana Tech product refuse to take a step back, but he went right back at his opponent and dunked on his head.
Karl Malone proved his toughness to Maurice Lucas and never looked back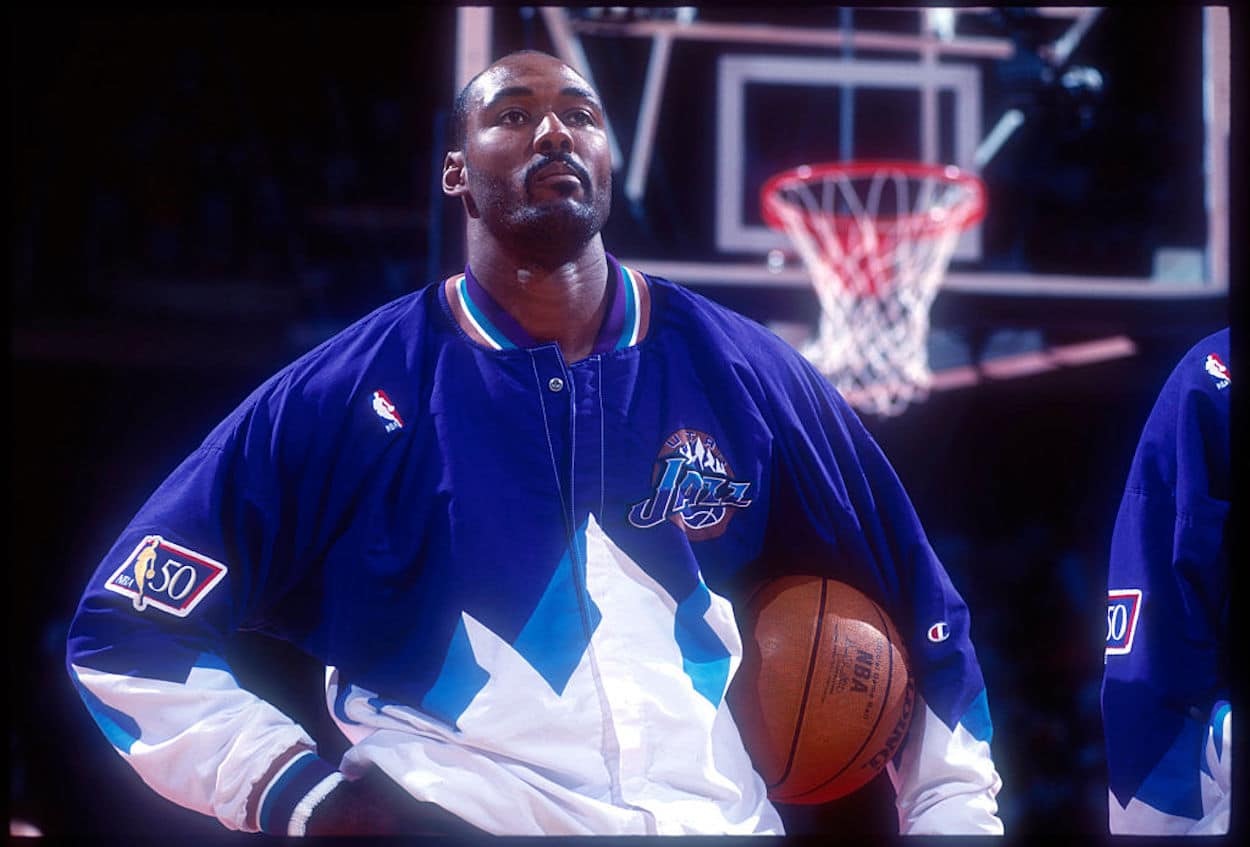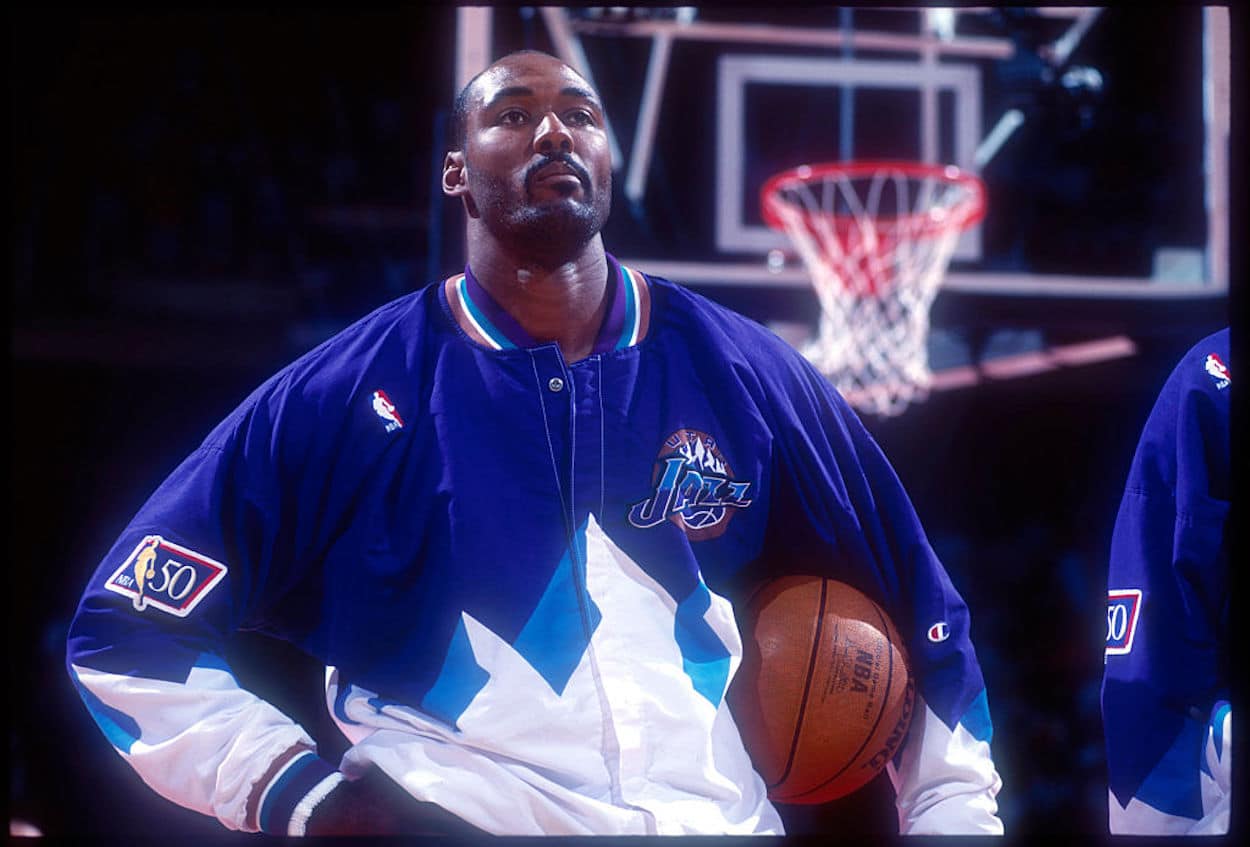 While some nicknames are given ironically, Maurice Lucas certainly earned the title of "the Enforcer." During the 1980s, though, Karl Malone put that famous toughness to the test.
"Shortly after the Mailman came into the league out of Louisiana Tech in 1985, he was upbraided on the court by Maurice Lucas, formerly the league's enforcer extraordinaire," Ralph Wiley explained in a 1988 Sports Illustrated story. "'Stop going over me,' growled Lucas, 'before I hurt you.'"
While that threat would have stopped many NBA veterans, let alone a relative newcomer to the professional scene, the Mailman wasn't going to let snow nor heat nor gloom of night nor Maurice Lucas stop him from completing his appointed rounds.
And what did Malone say to that? "Nothing. I came down and dunked on his bean." When you've put rings in the snouts of 200-pound razorback hogs, as the Mailman did as a teenager, the Maurice Lucases of this world don't seem bad. "Nobody's tried to intimidate me since," says Malone. "I can play that kind of game too. If you want that."

Ralph Wiley, Sports Illustrated
While Malone's account of things is probably a little bit biased — no tough guy is going to end his story without scaring off the antagonist — it's largely safe to take him at his word. The Utah Jazz forward was nothing if not tough, and that made his career.
In a sense, that show of toughness can almost be seen as Karl Malone's NBA origin story
As I mentioned above, we have to take things with a grain of salt. Malone was telling his story to a reporter, presumably with the knowledge that it would be used in a story. Even though that slightly cynical lens, though, this show of toughness can be seen as something of a foundation for the Mailman's professional career.
During his time in the Association, Malone was defined by his physical strength and unwillingness to back down, almost as much as his partnership with John Stockton. There was even a SLAM story, for example, about the forward that was simply titled "Toughness."
It was about more than being the baddest man on the block, though. That attitude was a key part of Malone's success.
"Malone lasted 19 years in the NBA, precisely because he worked so hard," Michael Bradley explained in that piece. "He worked on his body. On his jumper. On his passing. On his defense. On his free throws. (Boy, did he work on his free throws.) And when he was done working on all that, he found something else to do, whether it had to do with basketball or driving an 18-wheeler. He wanted to make his family proud. He didn't want to disappoint the fans. More than anything else, Malone wasn't going to cheat himself. Once you get to that point, you can do just about anything. The world is filled with people who will give you a break. They'll let it slide, back off or take five. You've done enough, they'll say. But they aren't you. And you can't be like them."
Beyond that, Malone was durable and didn't take a day off. During his time with the Jazz, he appeared in at last 80 games, except for the lockout-shortened 1998-99 campaign. That season, he suited up for 49 out of 50 regular-season contests. Only during the Mailman's final outing, which came with the Lakers, did he miss significant time.
Without that consistency and, as Bradley put it, his willingness to work, we probably wouldn't have seen the Malone who came to be known across the NBA. The big man famously failed to win a championship, but his resume still looms large over the basketball landscape.
Toughness, whether we're taking in a more abstract sense or something immediately understandable, like dunking on Maurice Lucas' head, is part of that success.
Stats courtesy of Basketball-Reference.