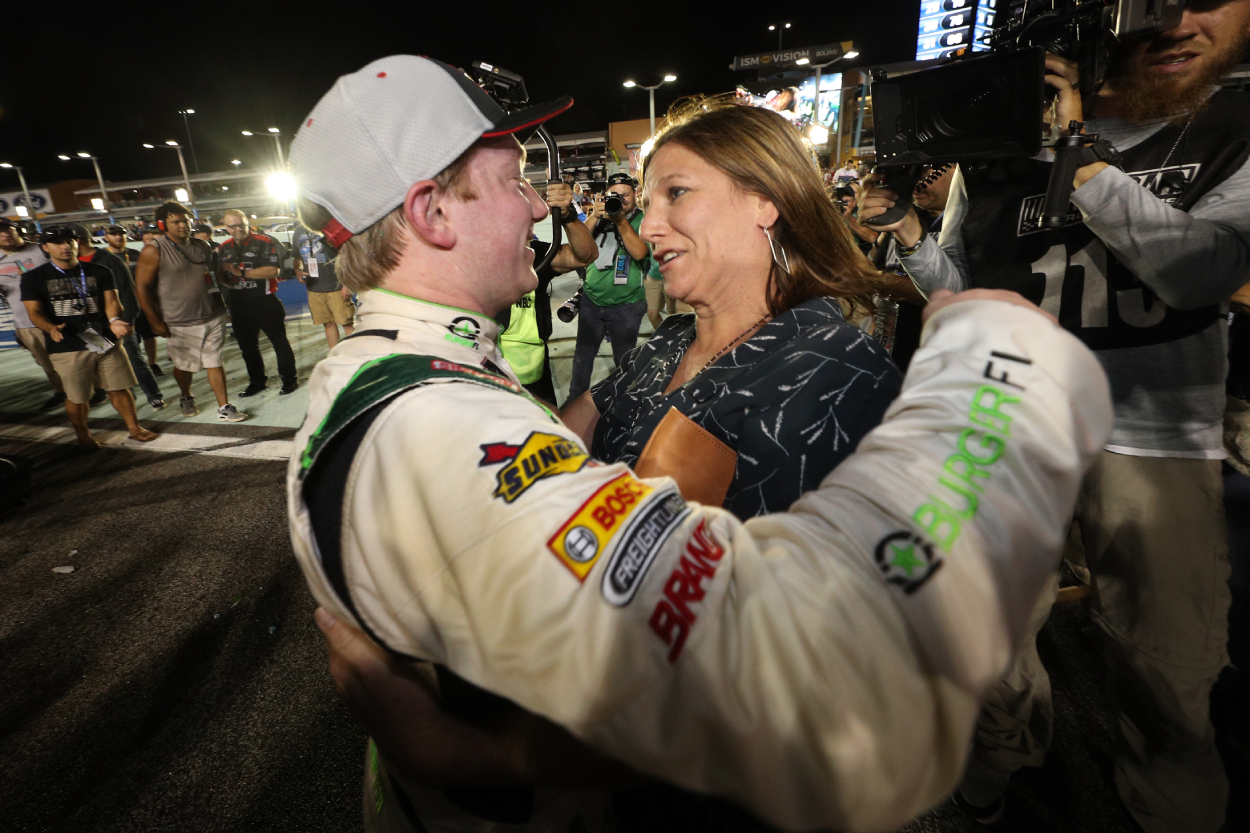 Kelley Earnhardt Was Able to Find the Positives During a Wild and Wacky 2020
Kelley Earnhardt was able to find some good that came out of 2020.
There wasn't a lot of good to come out of 2020. The coronavirus (COVID-19) pandemic dominated the news and turned many lives upside down. It wreaked havoc with much of the sports world. While it was tough for nearly everyone, Kelley Earnhardt Miller, the sister of NASCAR Hall of Famer Dale Earnhardt Jr., managed to find some good through the very bad of 2020.
Kelley Earnhardt was a mentor to Dale Earnhardt Jr.
While she might not be the most popular Earnhardt, Kelley Earnhardt might be the one who had the biggest impact on the Earnhardt family. Kelley is the daughter of the late Dale Earnhardt and sister of Dale Earnhardt Jr. She could be considered the glue of the family, especially during some rough times while growing up.
When Kelley and her younger brother were displaced by a fire that destroyed their home, Kelley stepped up. Kelley and Dale Jr. went to live with their father after their mother moved out of state to live with family members. Dale Earnhardt Sr. wasn't much of a father figure as he was consumed with his racing career. Kelley took charge.
She took Dale Jr. under her wing. Dale Jr. bounced around from school to school and wound up at a military school. Kelley dropped out of her school to join him. Dale Jr. hasn't forgotten that and other moments. "She dropped out of one school to enroll in military school, where I was, because she was worried about me," he said during his retirement speech in 2017. "She came to work for me even though it meant that she'd have to take a massive pay cut, but she knew that I needed her."
Kelley Earnhardt has quite the racing background
Although she stopped racing at a young age, Kelley Earnhardt was considered the best young racer in the Earnhardt family. Yes, she was considered better than her brother, Dale Jr., who later became a NASCAR Hall of Famer. Dale Jr. agreed.
"(Kelley) could have had a lot of opportunities had it been a different environment and a different culture and a different climate," Earnhardt Jr. said, according to ESPN. "She was hard-headed and tough and drove hard. She would eventually have polished her abilities to where she would have been a pretty good race car driver at the higher level."
Although she stopped racing, Kelley remains tied to the sport. She is the vice president of JR Motorsports, which she co-owns with her brother. Kelley Earnhardt is responsible for helping bring Danica Patrick into the racing spotlight.
Some positives were found during the pandemic
Just about everybody was struggling in 2020 with the COVID-19 pandemic. Quarantining and the lack of sports certainly didn't help. While times were tough, Kelley Earnhardt Miller was able to see the good that came out of it, and she discussed it in an interview with Graham Bensinger last April.
"In times like these, I think, you see the true meaning of humanity," Kelley said. "You see people coming together. You see us thinking about things in different ways. This morning we got a text from one of our workers who said, 'hey, can I go into the shop? The hospital near where I live needs these guards, like plexiglass guards, and I'd like to purchase the product and go make them there at the shop if I can.'
"You really see the true spirit of humanity. In the rat-race of life, it gets lost, where we're trying to achieve the next thing or win the next race or trying to get the next dollar. I think it gives us a chance to pause and kind of reflect. I've told my people every single week that I hope you're enjoying the family time and you're making family memories. In our sport, we don't get that very often. Take it all in. Yes, it's crazy. It's scary. Our jobs are at a standstill, but replace that with what is happening and what is good."