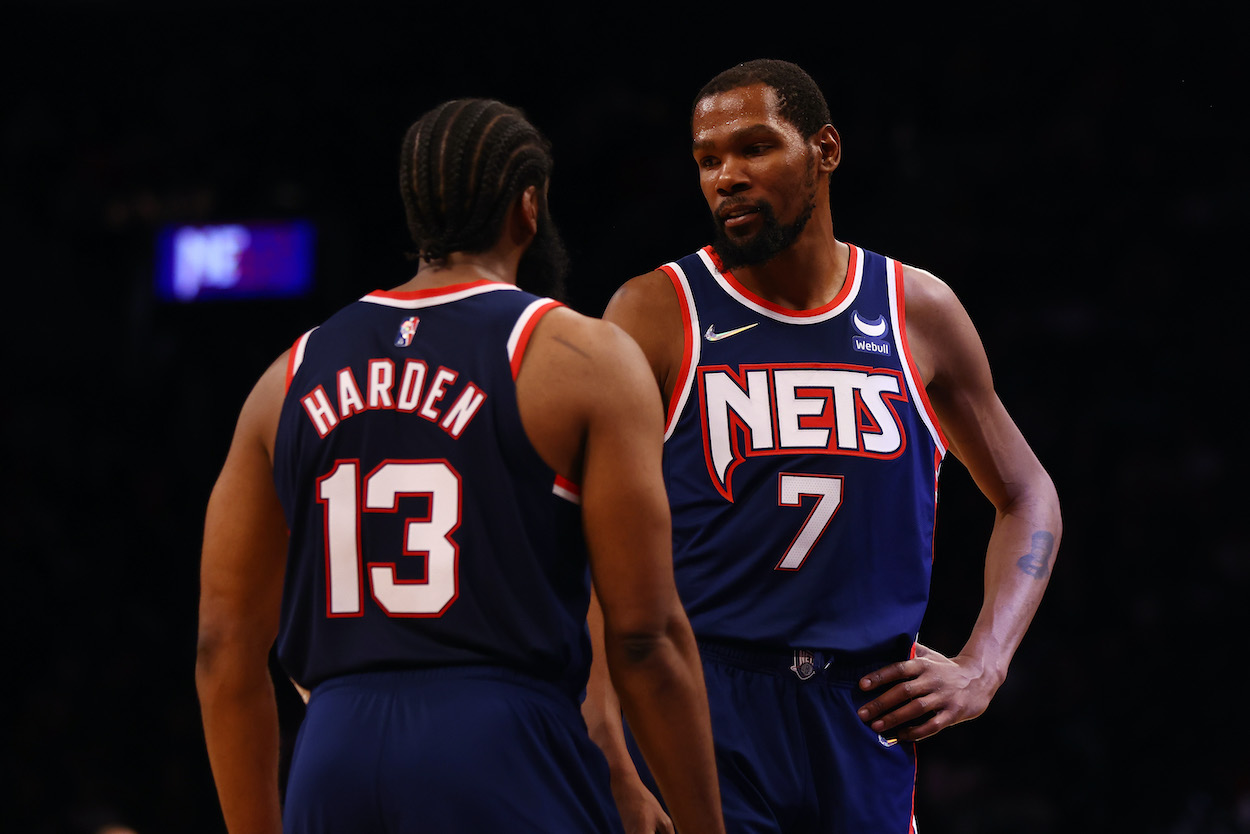 Kevin Durant Candidly Admits It Felt 'Incredible' to Embarrass James Harden and His New Team
Kevin Durant took the Nets' recent matchup against James Harden and the 76ers personally.
Kevin Durant has been involved in a ton of drama this season, and most of it hasn't even been his doing. For one, he's had to carry the load for the Brooklyn Nets with Kyrie Irving acting as a part-time player for most of the year. Then, as the NBA trade deadline approached, all he could do was watch as James Harden forced his way out of town. And now he has to deal with Ben Simmons and the mysterious back injury that might keep him off the court until next season.
Durant was given a chance at revenge last month when his Nets visited Harden and the Philadelphia 76ers, and the Slim Reaper embarrassed his former teammate in a blowout victory. In a recent interview, he admitted it felt "incredible" to take his frustrations out on the court.
Kevin Durant was caught off guard by James Harden's departure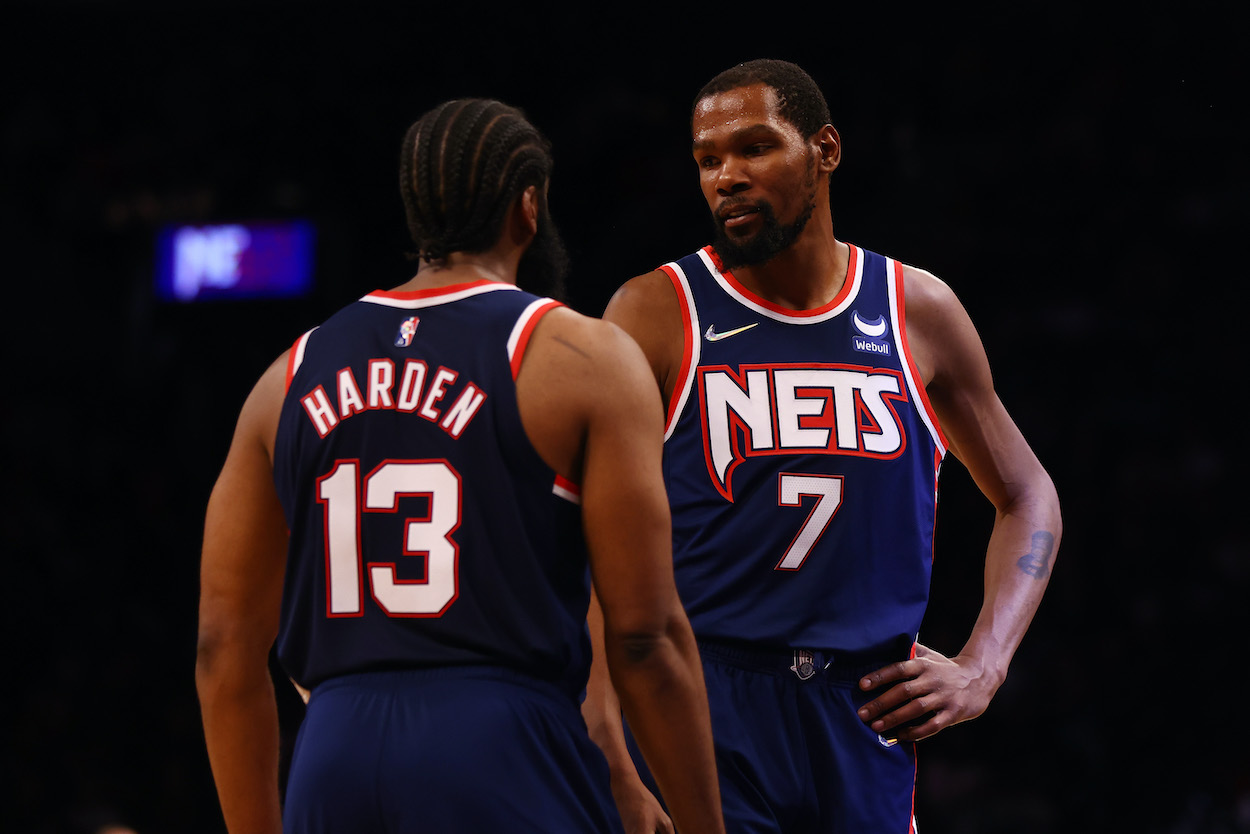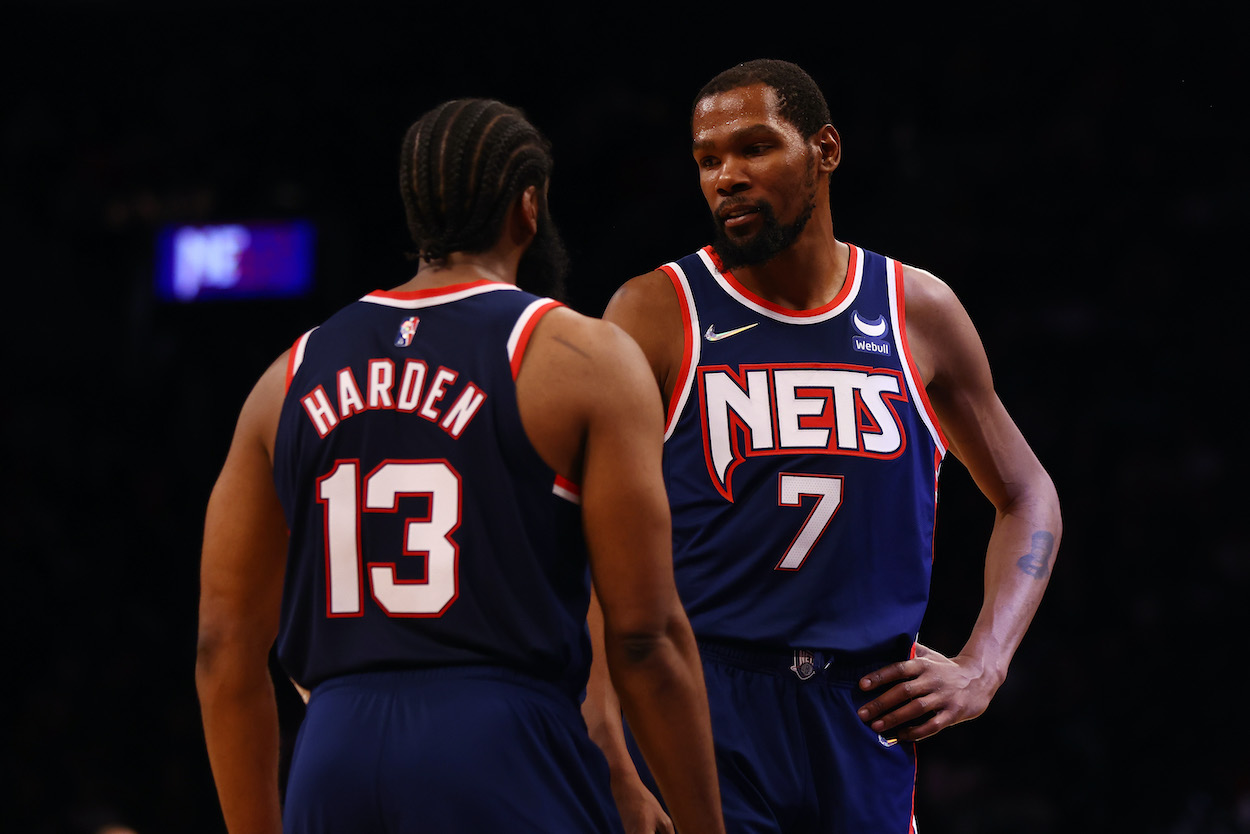 Durant couldn't have seen this dysfunctional season coming.
During a trip to Greece last summer, Harden reportedly told Durant he planned to remain in Brooklyn and sign a long-term extension when the time came. The two have been teammates two separate times and good friends for over a decade. It only made sense that they would want to win a championship together before their careers came to an end.
But a few months later, Harden gave up on the Nets and essentially forced a trade to the 76ers. Durant was understandably caught off guard, but he's realized he couldn't have done anything different to change how the situation shook out.
"It wasn't like it was a disconnect between us as individuals. I felt like we liked each other," Durant told Logan Murdock of The Ringer in a recent interview. "But I was focusing on rehab and he was focusing on the team. Naturally, I wasn't around the group, but I can't control how everybody feels about their situation. I can do my best and provide what I provide every day. If it helps someone, cool, if it doesn't, that's cool too, but I can't stress myself out wondering how somebody else feels about the situation."
Durant admits it felt "incredible" to get back at Harden
When the Nets visited the 76ers early in March, there was so much more at stake than just placement in the Eastern Conference standings. The game marked Simmons' first appearance in front of the Philly faithful as an enemy and Durant's first matchup against Harden since the trade.
Durant took his frustrations out with 25 points, 14 rebounds, and seven assists in only 32 minutes, and the Nets embarrassed the Sixers on their home court in a 129-100 win. Meanwhile, Harden struggled mightily, as he shot 3-of-17 from the floor and coughed up four turnovers in the blowout.
"S***, that was incredible," Durant told The Ringer. "Everybody had that game circled on their calendar for a couple weeks, especially since the trade. I wasn't expecting coming to the game to feel like that. I was just … once I seen the lights and the crowd and the ball was tipped, I was just amped."
Who will get the last laugh?
Durant might have won the first battle, but there's still a war to be fought between these two rivals. And in that war, Harden currently has the upper hand.
The 76ers are basically a lock to finish with a top-four seed in the East, whereas the Nets are destined for the play-in tournament. In fact, Brooklyn might be faced with two win-or-go-home games before it even reaches the playoff bracket.
But if the Nets get through the play-in, there's a possibility they'd meet the Sixers in the first round. And boy, what a show that would be.
Like Sportscasting on Facebook. Follow us on Twitter @sportscasting19.