Kevin Durant Eviscerates His Nets Teammates for Their 'F***ed-Up Attitude' in Embarrassing Loss to Clippers
The Brooklyn Nets shouldn't have had any trouble with an undermanned Los Angeles Clippers team on Saturday night. LA was missing Paul George, Marcus Morris, Ivica Zubac, Nicolas Batum, Luke Kennard, and more due to injuries and COVID-19 protocols, but it still found a way to upset a fairly healthy Nets squad as a 14-point underdog.
After the game, Kevin Durant didn't mince words with his criticism of his teammates and their "f***ed-up attitude" in the embarrassing loss.
Nets lose to undermanned Clippers as 14-point favorites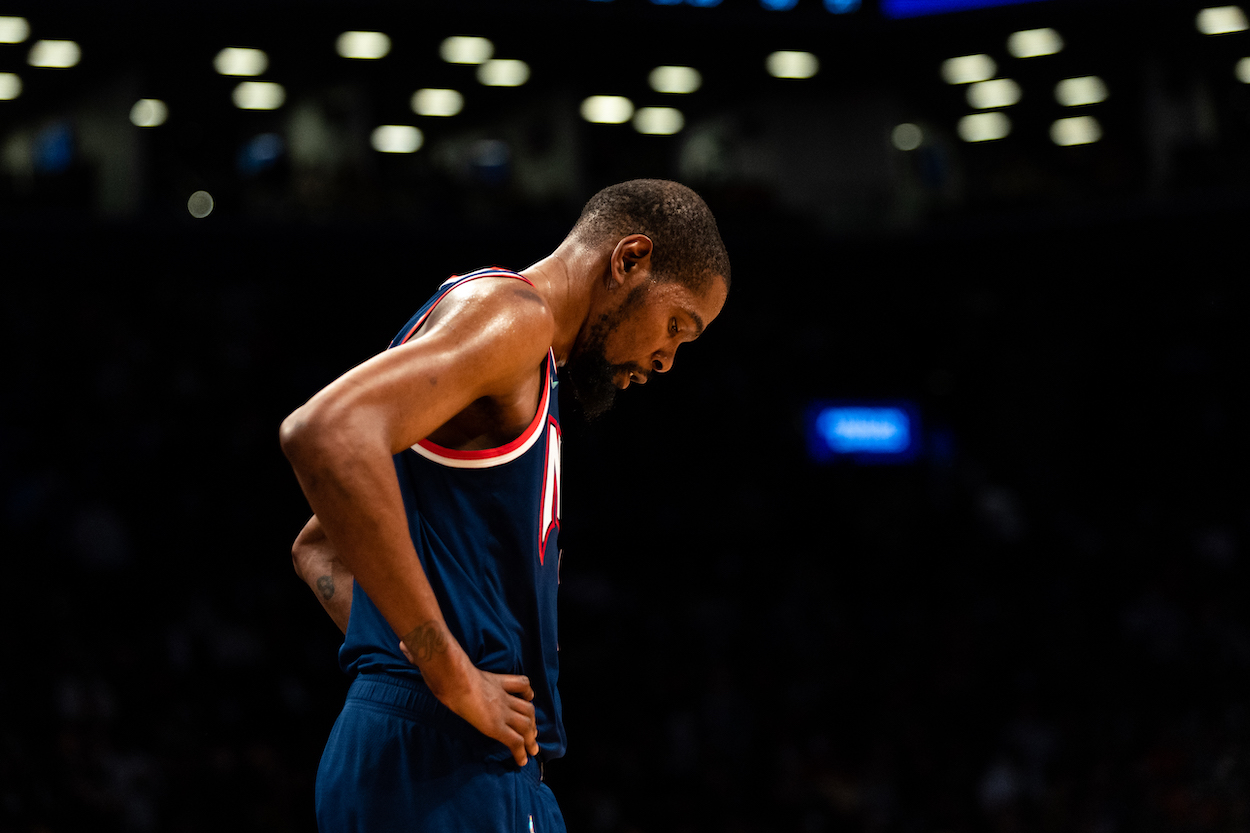 The Nets dropped a tough game to the Philadelphia 76ers at home on Thursday night, but a visit from the struggling Clippers was exactly what they needed to get back on track. With all the absences LA has been dealing with lately, the team was forced to rely on names such as Xavier Moon, James Ennis, and Wenyen Gabriel on Saturday.
Brooklyn entered the game as a two-touchdown favorite, but no one told the Clippers that. LA shot 48% and poured in 120 points in a shocking, four-point win on the road. Durant, James Harden, and Patty Mills combined for 79 points in the loss, but the rest of the roster only pitched in 37 in the loss.
But after the game, Durant wasn't worried about his team's lack of scoring options. He was upset with their attitude going up against an inferior opponent.
Kevin Durant eviscerates the Nets for their "f***ed-up attitude"
The Nets should've cruised to an easy victory on Saturday to stay atop the Eastern Conference standings through 34 games, but the surprising loss dropped them to the second spot below the Chicago Bulls. After the inexcusable loss, Durant let his team hear it.
We just relaxed too much. We get up 10, miss a layup or turn the ball over, and they get a fast break, give up a three, straight-line drive. Like coach [Steve Nash] said, we didn't deserve to win this game. We came in here with a f***ed-up attitude, thinking we were just going to walk into a W.

Kevin Durant
With COVID-19 still decimating the NBA, there are going to be games in which the opponent is missing most of its roster. Durant and the Nets now know they can't take those teams for granted.
"It's natural when a team is missing so many players," Durant said after the game, per ESPN. "They're going through so much over there. [We] relaxed. You don't think you could lose an NBA game like this. They're missing how many guys? They're playing guys that are up from the G League."
There are no guaranteed wins in this league, and Brooklyn learned that the hard way.
Durant wasn't the only one who was disappointed
Durant cursed out his team after one of the more embarrassing losses of his Nets career, but he wasn't the only one who was disappointed with the performance. Head coach Steve Nash also noticed a lack of focus and fire from his bunch that won't be tolerated moving forward.
"I just think 71 points in the second half is unacceptable," Nash said after the game. "We just never really had the care factor. Turned it up, we had a chance up nine, 10, 11 in the third and fourth at different times and just took our foot off the gas and got what we deserved, really. All those guys in there, I think they know it, they're disappointed of course, but it's a disappointment for all of us."
It sounds as if the Nets learned their lesson, so don't expect another flat performance like this one in the near future.
Like Sportscasting on Facebook. Follow us on Twitter @sportscasting19.