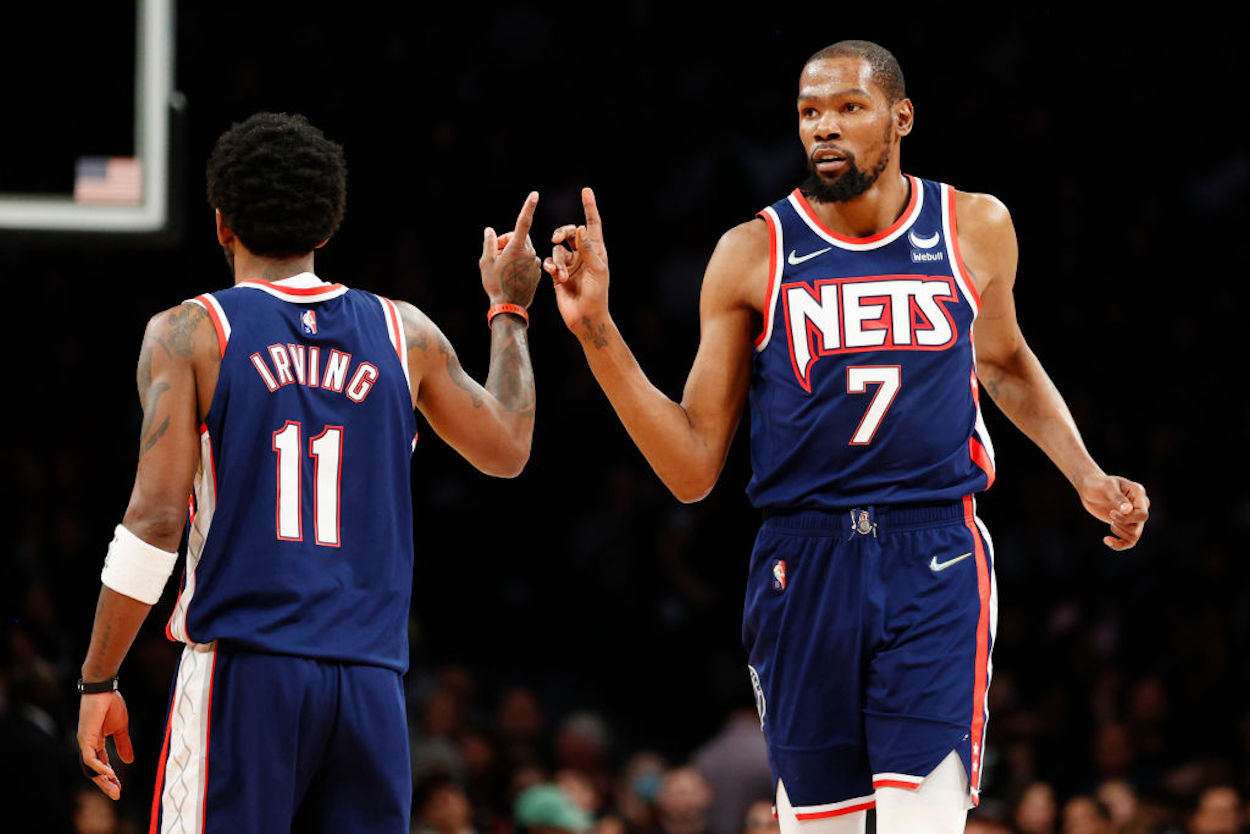 Kevin Durant and Kyrie Irving Planned Their Brooklyn Nets Partnership Over Vegan Snacks and NBA2K
Kyrie Irving and Kevin Durant may be the two cornerstones of the Brooklyn Nets franchise, but they planned their partnership in relatable circumstances.
While it might rub purists the wrong way, today's NBA is all about player power and super teams. Take, for example, the current Brooklyn Nets. Even though James Harden has headed south to Philadelphia, the club still has both Kevin Durant and Kyrie Irving on the roster. With those two working together, just no game is out of reach.
When you hear about players working together to form a partnership, you probably imagine those talks taking place on a private jet or in the back room of an exclusive club. Durant and Irving, however, did things a bit differently. While talks began aboard a luxury liner, the two got down to brass tacks in much more humble circumstances.
Kyrie Irving and Kevin Durant worked out a plan to become teammates in early 2019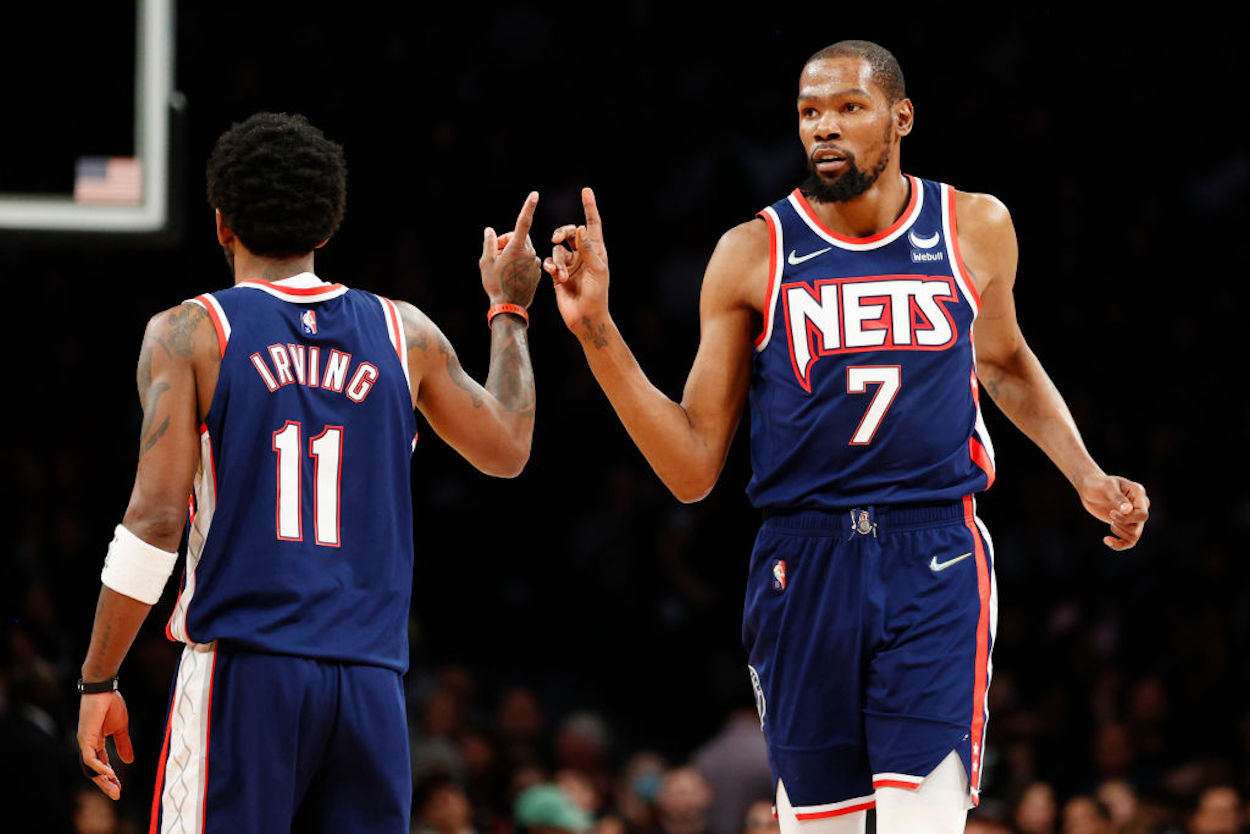 These days, Irving and Durant are the two lynchpins of the Brooklyn Nets lineup. Before the summer of 2019, though, they were just friends with a plan.
As laid out in Matt Sullivan's Can't Knock the Hustle (h/t Fox Sports), the two men discussed teaming up during the 2016 Olympics. On Team USA's yacht, Irving shared a toast and a wild idea with KD and DeAndre Jordan.
"Hey," Kyrie told him and KD, "this would be cool to do for real."

"What you mean by that?" DeAndre asked him.

"Let's all get on the same team," Kyrie said, "and play together."

Matt Sullivan, Can't Knock the Hustle
From there, the stars went their separate ways. Kyrie spent an unhappy stint in Boston; Durant won championships with Golden State but was looking for greener pastures. In January 2019, the Warriors traveled east for a date with the Celtics. It was time to talk turkey. KD headed to the guard's mansion for dinner, wine, and an important discussion.
Irving had his eyes set on Brooklyn. Not only would it represent a return home, but "the Brooklyn Nets were a team he and KD could manipulate — two max-salary slots, a flexible general manager, a few pieces, maybe even some room for their friend DeAndre Jordan." Durant, for his part, was guided by the words of Barack Obama and Andre Iguodala about taking the initiative to do what he felt was necessary.
KD would follow Kyrie's lead. That night in the suburbs, he even ate a vegan burger for the first time. "I could f— with this," he said. A super-team was starting to be formed, over a side of kale salad and… clink.

KD and Kyrie went upstairs to the playroom, shared a vegan smoothie, shot a Nerf ball into a toy hoop, and played NBA2K. Controlling miniature versions of themselves and their teammates, like marionettes, they wondered how else they could string together a team that was going somewhere. "And from that point," Kyrie said, "we took the power back and put it in our hands."

Matt Sullivan, Can't Knock the Hustle
From there, the rest is Brooklyn Nets history.
It's safe to say that things haven't gone as the Brooklyn Nets planned
While they might take issue with the whole "can manipulate" part, the Brooklyn Nets probably didn't have too many objections when they learned that Durant and Irving wanted to sign on the dotted line. In hindsight, though, things haven't exactly gone according to plan.
During the duo's first season in Brooklyn, KD missed the entire year recovering from his torn Achilles. Irving played well on his own, but the club failed to make it first the first round of an unconventional postseason.
James Harden made the duo a trio during the 2020-21 campaign, but that still wasn't enough for Brooklyn to claim the ultimate prize. Harden, Durant, and Irving seemed unstoppable on paper, but, in reality, they rarely played together. When the Nets fell in the Eastern Conference Semifinals, for example, both Irving and Harden missed time. KD played well, but he eventually came up a few inches short (or, more accurately, long) against the Milwaukee Bucks.
The current campaign, of course, became its own circus. The Nets originally refused to let Irving be a part-time play but relented and allowed him to appear in road games. Harden forced his way out of town, sending an injured Ben Simmons back to Brooklyn in return. Durant suffered a knee injury which, in part, consigned the team to the Play-In Tournament and the seventh seed in the Eastern Conference bracket. That set up a date with the Boston Celtics, which is an unenviable matchup. At this point, the entire project seems to hang in the balance.
With all of that being said, though, Durant and Irving don't seem to be going anywhere. KD just signed an extension, and Kyrie has a player option for the 2022-23 campaign. All it takes is a single successful season to change the narrative.
In the meantime, though, the Brooklyn Nets' situation is a solid reminder of what we all love (or hate) within sports: Even a super team doesn't always win out.