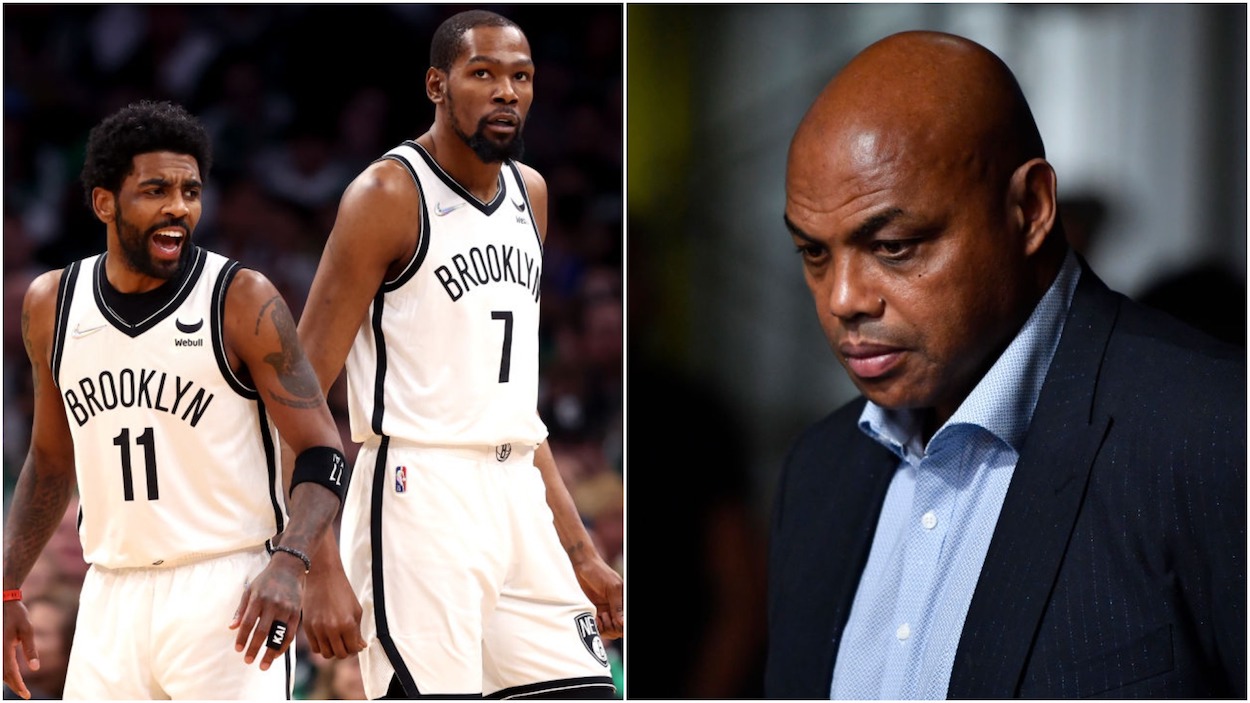 Charles Barkley Doubles Down on His Assessment of the Brooklyn Nets' Fatal Flaw
While the Nets didn't play poorly against the Celtics, Charles Barkley had seen enough to confirm his biggest doubt about Brooklyn.
Even though they lost the opening skirmish of their series with the Boston Celtics, the Brooklyn Nets are probably feeling pretty good about themselves. While there's little room for moral victories in the postseason, Steve Nash's squad played pretty well in hostile territory and came within seconds of stealing a win. Being down 1-0 is less than ideal, but there's certainly room for optimism in Kings County.
Charles Barkley, however, feels a bit differently.
Before the 2022 NBA Playoffs began, Sir Charles suggested that Brooklyn's weakness could be a reliance on both Kevin Durant and Kyrie Irving playing perfect games. After Sunday's loss in Boston, the TNT analyst had seen all he needed to double down.
Charles Barkley still thinks that the Nets are asking too much of Durant and Irving
For better or worse, the modern NBA is a star-driven league. Through that lens, it's tough to take issue with the Brooklyn Nets building their roster around Kevin Durant and Kyrie Irving. Charles Barkley, however, doesn't think those two have enough help around them to defeat the Celtics.
Chuck first made that claim after Brooklyn defeated the Cleveland Cavaliers in the Play-In Tournament, sealing a date with Boston.
"There's no way they can beat the Celtics," Sir Charles said. "They got two great players. They both actually played as good as they probably can play. Kevin Durant was fabulous with his passing and his defense. Kyrie was great. But other than that, I know they can't beat the Celtics. All these fools on all these morning talk shows can let this ship sail. Both of those guys played great, great, and they barely beat a mediocre Cavs team."
After the Celtics survived a tight contest on Easter Sunday, Barkley was emboldened and doubled down.
"You go back to the Play-In Game," he explained. "Look at the game today. I said this, I said, 'This team can't win a championship.' … [Durant and Irving] both played fantastic against Cleveland, and it was still a six-point game with three, four minutes to go. Can they have four perfect games? You see, today, one guy was amazing. The other guy had a little sub-par game, and they lost. That's what I think. Those two guys have to play great. One of them can't play great, they both have to play great. And I thought you saw a perfect example of that today, to be honest with you."
In fairness to Barkley, though, he did give KD and Kyrie plenty of credit.
"[Brooklyn is] not gonna get taller. They're never going to be great on the boards," Chuck said after Ernie Johnson highlighted Boston's dominance in the paint. "They still have two nuclear weapons, and if they both play great, they're gonna have a chance every game."
Chuck's point may sound a bit indecisive, but he does highlight Brooklyn's thin margin for error
Upon first glance, it's easy to rip Charles Barkley for making a big claim without actually saying much. Upon closer inspection, though, the TNT analyst actually does a solid job of underscoring a reality of the Nets-Celtics series: the matchup simply doesn't give Brooklyn much room for error.
To use a soccer-based framework, basketball is a strong-link sport. That means franchises are generally as successful as their strongest player; just think of someone like Michael Jordan or Kobe Bryant and how they were able to take over the game to drag their team to victory. Under normal circumstances, the combination of Durant and Irving gives the Nets the stronger link. Against Boston, however, things are a bit different.
Beyond the raw talent — Jayson Tatum is a legit star, and Jaylen Brown provides a capable second option — the current Celtics are a tough matchup for the Nets. Boston is one of the league's hottest teams, and the shine on both ends of the floor. Brooklyn, on the other hand, can be porous defensively, especially in transition.
That combines to give the Nets a small margin for error. Returning to the "strong-link" framework, there isn't an obvious advantage; Brooklyn's top-tier talent may be a bit better, but Tatum and Brown can certainly hold their own. Assuming the Celtics can more or less score at will, that will force Durant and Irving to hold serve. They'll have to step up or hope that someone like Seth Curry can lighten the load on a given night.
With all of that context, Barkley's point comes into a bit more clarity. It's easy to paint sports as black and white, but, in reality, things are a bit more nuanced. Anything can happen in a single contest, but you have to build things in a way to maximize your chances across a best-of-seven series.
In most situations, there's nothing wrong with the Nets' roster. Having Kyrie Irving and Kevin Durant will allow you to breeze by most challenges. The Boston Celtics, however, are a less-than-ideal matchup. That changes the calculus.
As Chuck said, Brooklyn has almost no margin for error. You can think of it like placing a bet. Can KD and Kyrie play perfect basketball every night? Can someone like Curry or Bruce Brown step up? Will Ben Simmons be able to make any impact on the series? Of course it's possible, but do you really want to risk your mortgage (or, in basketball terms, the season) on all three reels of the slot machine aligning perfectly?
The beauty of sports, however, is seeing players and teams defy the odds. Who knows, maybe this is the series when the Nets hit the metaphorical jackpot.