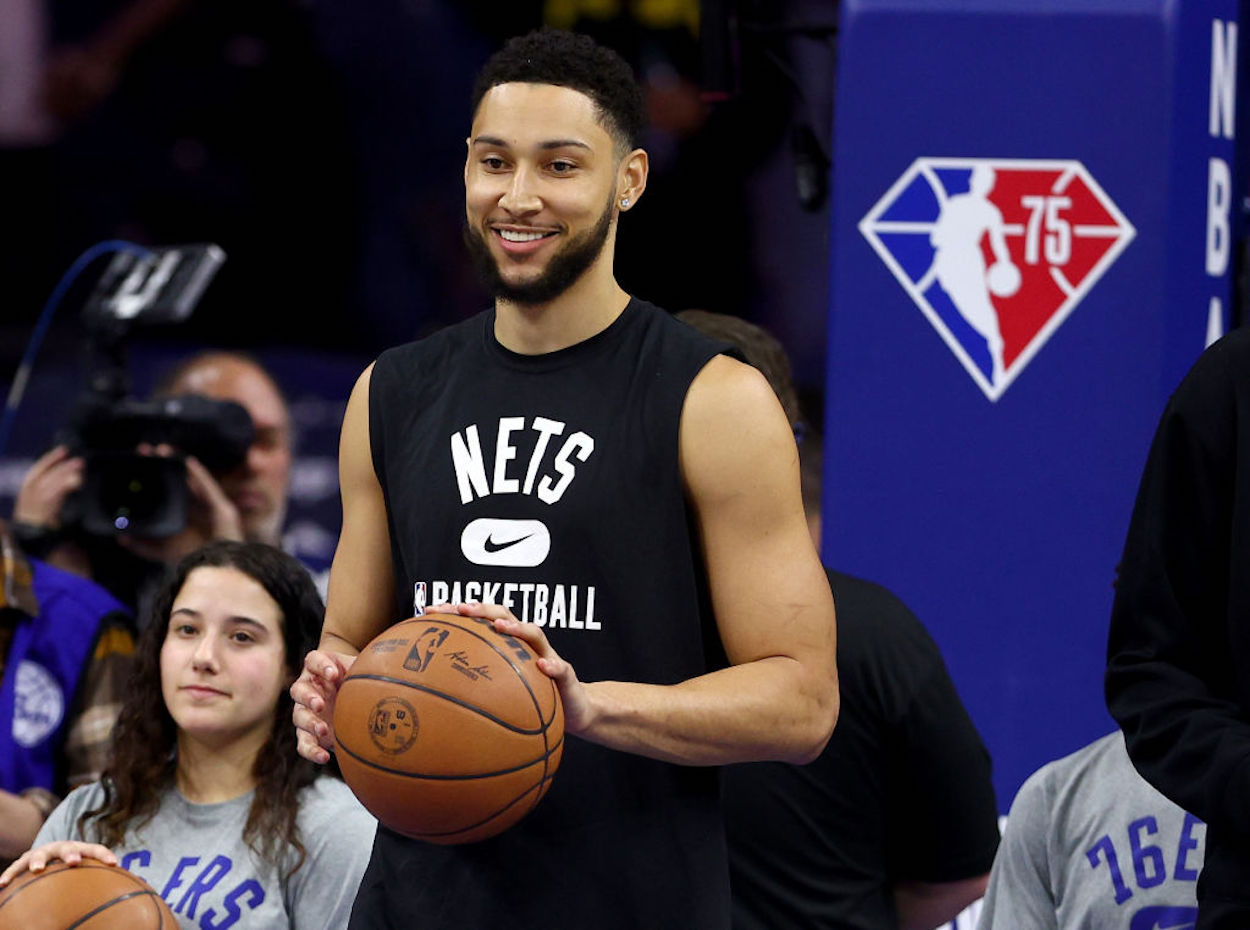 The Brooklyn Nets' Play-In Win Makes Ben Simmons More Essential Than Ever Before
Ben Simmons is yet to play for the Brooklyn Nets, but, with a series with the Celtics on the horizon, he could be an essential part of their rotation.
In the sports world, there are plenty of cliches about simply surviving to play another day. That's exactly what the Brooklyn Nets did on Tuesday night. While Steve Nash and his squad didn't want to find themselves in the NBA Play-In Tournament, they took care of business and defeated the Cleveland Cavaliers. Now, it's onto the proper postseason and a date with the Boston Celtics.
While that matchup will be tricky, the Nets could have a potential ace up their collective sleeve. If Ben Simmons is able to return, he could tip the balance of power in Brooklyn's favor.
The Brooklyn Nets will have Ben Simmons back during their series with the Boston Celtics
When the Nets traded James Harden to the Philadelphia 76ers, there was probably an element of addition by subtraction at play. With that being said, though, they did get some interesting pieces in return. Seth Curry and Andre Drummond have stepped into the rotation; Ben Simmons, however, has remained on the sidelines with a nagging back problem.
While Brooklyn hoped to have the big Australian back in the lineup during the regular season, that simply wasn't on the cards. Simmons didn't play in the Nets' Play-In Tournament victory over the Cleveland Cavaliers, and he seems set to miss the start of the first round series with the Boston Celtics. According to recent reports, though, he could be nearing a return.
"He is very confident that he will be able to make a return at some point in this first-round series," Shams Charania said on The Pat McAfee Show (h/t Mass Live.) "I think Games 1 and 2 in Boston is too quick. I definitely think after that is when the window for Ben Simmons to return starts opening up. Even if he's able to give them 15 or 20 minutes, that's a game-changer. He can move the ball, he can rebound, a lot can happen. I'm told he is very confident he will be back."
Ben Simmons could give Brooklyn the edge in a tough series with the Celtics
Thanks to the tail end of his time in Philadelphia, Ben Simmons being the key to a playoff series may sound like somewhat of an oxymoron. The memes, however, shouldn't overshadow his very real skills.
On the offensive end, Simmons won't need to be a major force, given Kyrie Irving and Kevin Durant's incredible skill sets. With that being said, though, he could still add some interesting wrinkles to Brooklyn's offense. The 6-foot-11 enigma could function as a guard, acting as a secondary ball-handler to facilitate pick-and-roll offense or drop into the paint as something of a stretch center. 
Let's say, though, that Simmons' worst-case offensive issues return. Even if that happens, his defensive prowess still makes him a net positive.
This season, the Nets have the Association's 20th-best defensive rating. While that's never ideal, it's made worse by a matchup with the Boston Celtics. Ime Udoka has his team firing on all cylinders, and their free-flowing offense ranks as the league's best. Having Jayson Tatum and Jaylen Brown running the show doesn't hurt either.
Simmons, however, could help address Brooklyn's weakness. Beyond potentially letting Steve Nash avoid a tricky matchup — Boston will want to force Andre Drummond to choose between staying in the paint or giving up easy jump shots — the Australian simply looms large as a standout defender. He possesses size, length, and mobility, letting him to survive just about any potential switch. He'll also help protect Kyrie, keeping the star guard out of unfavorable defensive situations. That skill set will be essential when facing an efficient offense headlined by Tatum and Brown.
All of those positives, however, come with an obvious caveat: Simmons simply hasn't played since last summer. Given his lack of reps with the Nets, not to mention a potential lack of confidence, things could go completely wrong once he hits the floor. If he's out of rhythm or otherwise struggles to adjust to the speed of playoff basketball, it's possible that the big man will be little more than a cheerleader at the end of the bench.
Given the potentially tricky matchup, though, the Brooklyn Nets will need all the help they can get. While nothing is guaranteed, Ben Simmons could have the perfect chance to prove his postseason worth once and for all.
Team stats courtesy of NBA.com