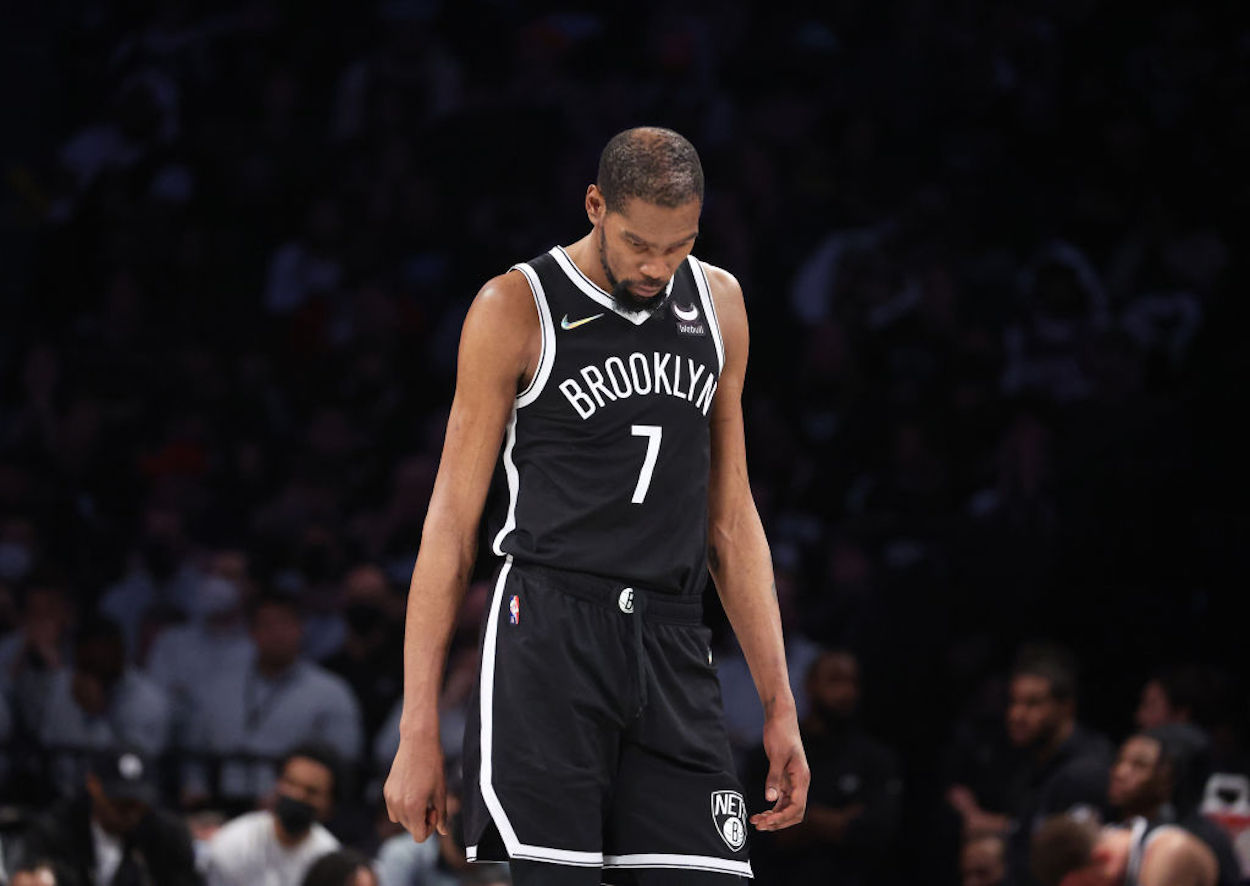 Kevin Durant's Postseason Struggles Highlight the Fatal Flaw in the Brooklyn Nets' Roster
Kevin Durant hasn't been playing his best basketball against the Boston Celtics, but he's not the only reason why the Brooklyn Nets are struggling.
Although the Brooklyn Nets knew that their date with the Boston Celtics would be tough, they probably didn't expect things to be this challenging. The Kings County club is down 3-0 in the series and looks to be on the ropes. At this point, it's about living to fight another day, not pulling off an upset. Before the playoffs began, that situation seemed unimaginable for a squad led by Kevin Durant and Kyrie Irving.
While Durant is fully capable of taking over any game, the Slim Reaper has struggled to make an impact against the Celtics. Some credit has to go to Boston's tough defense, the forward's quotes and overall play highlight something larger. The Nets have dropped the ball from a roster-construction perspective.
Kevin Durant seems lost against the Boston Celtics
For most players, averaging 22 points per outing would be quite the feat. For Kevin Durant, though, that represents some tough sledding.
Through three games against the Celtics, KD has looked largely out of sorts. While there's the obvious disclaimer of small sample sizes, his 22 points per game are significantly lower than his usual postseason performances. He's also shot the ball poorly from the field — 36.5%, which, again, is worse than his historical averages — and turned the ball over 12 times.
Beyond the raw numbers, Durant's quote suggests a surprising lack of confidence.
"I feel like the first two games I was trying to be too aggressive," Durant said after Brooklyn's Game 3 loss, according to ESPN's Nick Friedell. "A team that's loading up on me, that's trying to take me out of all my actions. I felt like I was still trying to force the first two games and watching film, a lot of my teammates were open, and they were knocking down shots, so I felt my approach to this game was to play off of everybody — get in the flow of the offense and let the ball move and find me."
KD also broke out a familiar, but less than ideal, sports cliche: overthinking.
"Every team I've been on, you're just trying to figure out the best way to play," he explained. "When you got good teammates around you as well, you're trying to figure out, I try to figure out how I can be the best version of myself and also not getting in my teammates' way. Sometimes I think too much about it. Sometimes I need to go out there and just [have] no thoughts in my head and just play."
While Kevin Durant can play better, he's being sold short by the Brooklyn Nets' roster
As mentioned above, Durant did delve into sporting cliches when he said that he needs to stop overthinking and simply play basketball. Another part of his quote, however, is even more telling.
"When you got good teammates around you as well, you're trying to figure out, I try to figure out how I can be the best version of myself and also not getting in my teammates' way," the forward said. While he presumably was trying to suggest that he does have good teammates around him, that phrasing does shine a spotlight onto the Nets' overall roster.
Part of the reason why Durant and Kyrie Irving are under so much pressure is because they are the team. Ben Simmons, for better or worse, isn't ready to play. Joe Harris hasn't played since November. The likes of Andre Drummond, Bruce Brown, and Seth Curry are capable role players who can steal a single game, but they're not going to win an entire series.
While a two-man game works on paper, it's susceptible to situations like this. The Celtics play tough defense and have been trying to outmuscle Durant at every opportunity. Under normal circumstances, he could give the ball to Kyrie, but the guard is being locked-down by Marcus Smart. That means someone else has to step up, and no one is.
Through three games of the series, Durant and Irving are averaging a shade under 44 points per contest. After that, Bruce Brown is the third-leading scorer with 18 points per outing; he's put up 7.6 points per game for his career, though, so you probably don't want to bank on him shouldering too much of the load. Beyond that, Curry is the only Net averaging double-digits during the 2022 postseason.
To make things even worse for the Nets, they're facing a cap crunch in the offseason. As much as general manager Sean Marks might want to build out the supporting cast, his hands are somewhat tied.
At the risk of bringing another team into the mix, consider what happened to the Los Angeles Lakers. Rob Pelinka and company replaced perimeter defenders and role players with Russell Westbrook, only to have things fall apart. While injuries obviously played a major role in Hollywood, the club looked like a shell of Frank Vogel's former squads. They didn't even make the Play-In Tournament and will now face a seemingly impossible offseason.
While it's admittedly tricky to strike the right balance in a star-driven Association, top-tier talent needs to be balanced by reliable role players. Jayson Tatum and Jaylen Brown have Marcus Smart. Giannis Antetokounmpo runs with Khris Middleton and Bobby Portis. The 2019 Raptors had Kawhi Leonard running the show but backed him up with Pascal Siakam, Kyle Lowery, and Marc Gasol.
The list goes on and on.
If the Nets' season comes to an end on Monday night (or even Wednesday), it will be easy for everyone to point the finger at Kevin Durant. He's the man, and assuming things hold to their current form, he'll have fallen short. While that may be true, Brooklyn's roster didn't exactly set him up for success.
Stats courtesy of Basketball-Reference