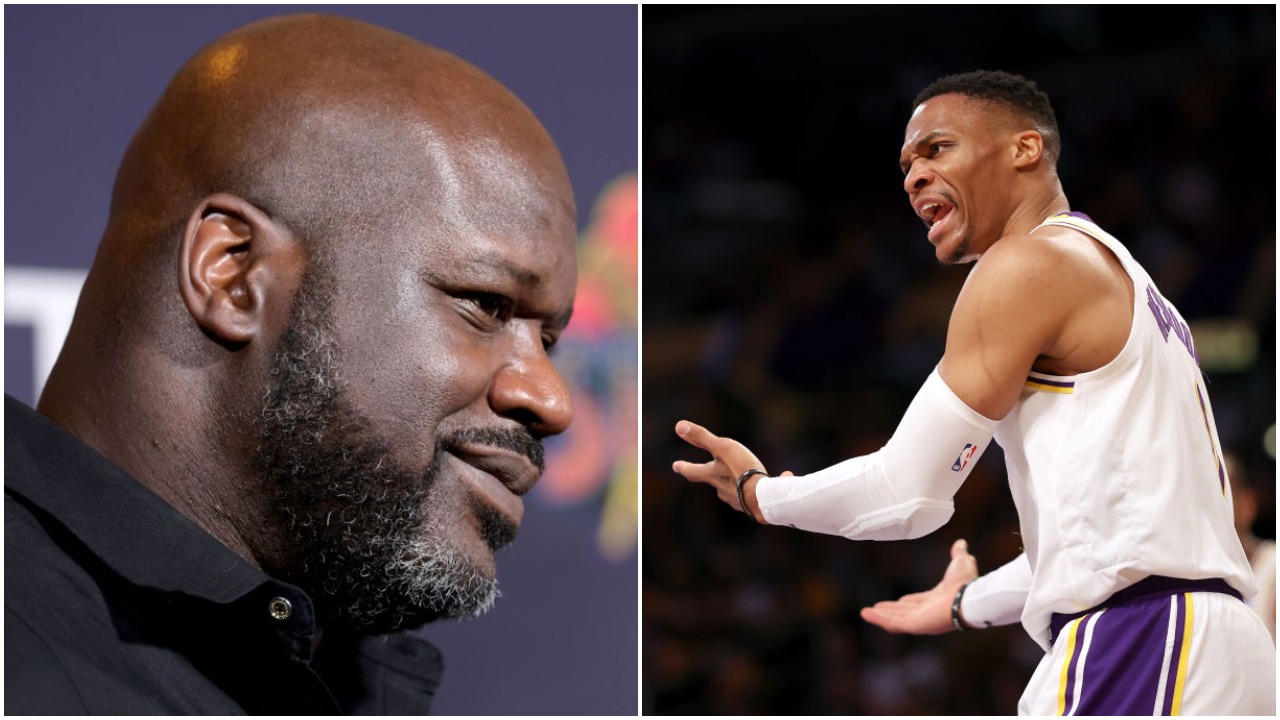 Shaquille O'Neal's Impossible Offseason Blueprint Underscores the Lakers' Biggest Problem
While Shaquille O'Neal was trying to explain how the LA Lakers can improve during the offseason, he inadvertently highlighted the club's crippling financial problem.
At this point, it's not breaking news to say that the Los Angeles Lakers are suffering through an awful season. Despite a star-studded roster, nothing has gone right. LeBron James and Anthony Davis have battled through injuries, Russell Westbrook has been a disaster, and, on the whole, the roster construction has hamstrung the team. During the offseason, something will have to be done to change the franchise's fortunes.
According to Shaquille O'Neal, that something will have to be tearing the team down to the foundation and rebuilding it with younger, more athletic players. If you've watched the Lakers this year, that doesn't sound like too bad of an idea. There is a catch, though.
When you look a bit further into the numbers, Los Angeles simply can't follow Shaq's master plan. If anything, his suggestion underscores just how ugly things truly are in Hollywood.
Shaquille O'Neal believes the Lakers should move everybody other than LeBron James and Anthony Davis
While you could argue that Shaq isn't the greatest analyst ever to grace your TV screen, the NBA legend always speaks his mind. That's been especially true when it comes to the Lakers. He's accused the players of lacking effort and, more recently, said they were unlikely to even make the play-in game.
Now, it seems O'Neal has his eyes turned toward the offseason. With his former team seemingly set to miss the playoffs, the big man shared his blueprint for how LA can get back to their best.
"Gotta get rid of expiring contracts, you gotta get rid of the projects that didn't work, and we gotta try to get younger and more athletic around LeBron," he told CBS Sports HQ. "Because paper wise, when everybody did the deals, it was like, 'ooh Westbrook, ooh this, that.' But, you know, age is a factor. AD was hurt all year. I think he played last night but gotta keep him healthy. Still keep LeBron and AD, and prolly gotta, you know, make moves for everybody else."
While it's unclear which game Shaq meant when he referred to "last night," the timing of the tweet suggests that he was talking about Friday, April 1. Regardless of the specific dates, though, the message is clear. A team like the Lakers can't truly rebuild, but the storied franchise needs to hit the reset button as fully as possible.
The Lakers financial situation means they really can't follow Shaq's advice
On paper, Shaq's statement makes sense. For all their issues, LeBron James and Anthony Davis are two incredible talents. If you clear the decks and surround those two stars with some young players capable of playing defense and running the floor, things would probably improve.
There is one major problem, though. The finances simply don't work.
Let's start with the easiest part of O'Neal's plan and look at the expiring contracts. If LA simply let every one of those players walk, they'd lose Carmelo Anthony, Trevor Ariza, Avery Bradley, Wayne Ellington, Dwight Howard, Kent Bazemore, Malik Monk, and D.J. Augustin to unrestricted free agency. Mason Jones will be a restricted free agent, while both Austin Reaves and Stanley Johnson will have team options; in theory, those three can also be kicked to the curb.
That clear-out would leave the club with six players on the roster. While you might think that's set the stage for a new crop of stars, it isn't the case.
| | |
| --- | --- |
| Player | 2022-23 salary |
| Russell Westbrook | $47,063,478 |
| LeBron James | $44,474,988 |
| Anthony Davis | $37,980,720 |
| Talen Horton-Tucker | $10,260,000 |
| Kendrick Nunn | $5,250,000 |
| Wenyen Gabriel | $1,602,798 |
To be fair, there are some caveats to note regarding the above table. Westbrook has a player option, but, given his struggles this season, it's safe to assume he won't want to hit the open market. Kendrick Nunn could also opt for free agency via an option, and, since he chose to accept less money for a chance to win a ring in Los Angeles, he could decide to cut the cord and seek greener pastures. Lastly, Gabriel's salary is an estimate; his financial burden, however, is frankly insignificant.
Those six contracts add up to roughly $146 million. Next season's salary cap is expected to land at $121 million, with the luxury tax threshold settling around $147 million. You don't have to be an NBA general manager to see the problem.
While the Lakers need to fill out that hypothetical roster, the money is barely there for warm bodies, let alone legitimate contributors. The most obvious place to save some cash is on Westbrook — Shaq mentioned building around James and Davis, so he presumably imagined moving the guard — but that's easier said than done. As mentioned above, the 33-year-old has a player option, meaning he'll remain the Lakers' problem. That would mean a trade is the only solution, and it's tough to imagine any team wanting to take on his sizable salary after an awful 2021-22 campaign.
The best place to add young, talented, and, above all else, affordable players is the NBA draft. That, however, raises another problem for the Lakers. The club has dealt both of their selections for 2022, meaning that, barring a trade, they won't be adding any top-tier rookies this year. They'll be left to fight it out in the undrafted free agent market, offering a chance to play alongside King James and AD but not much else.
The easiest potential solution (using the term loosely) could actually be moving Anthony Davis. Despite his injury issues, he's probably the club's most tradable asset. That hypothetical deal would free up some salary and presumably bring back a handful of draft picks, but it runs counter to Shaq's plan and raises another issue. Would the Lakers really be willing to take a short-term step back right now? Probably not.
At the risk of speaking for most Lakers fans, the end of the current season can't come soon enough. As O'Neal's blueprint for the future suggests, though, the franchise's problems won't magically disappear once the final whistle blows.
Financial data courtesy of Spotrac.