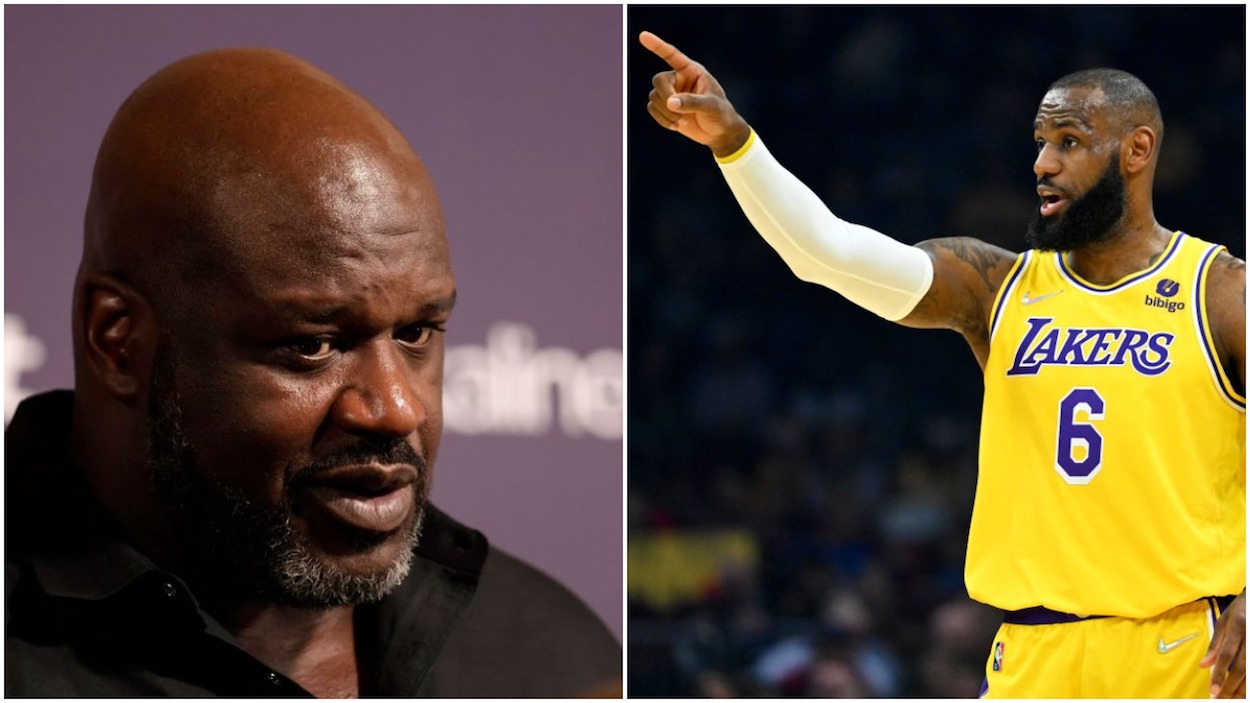 Shaquille O'Neal Makes an Overconfident and Contradictory Claim About the Lakers' Playoff Chances
Shaq isn't confident in the LA Lakers making the NBA Playoffs, but, if they do, he backs them to pull off a major upset.
On the whole, it's tough to take issue with Shaquille O'Neal and his impeccable career. The big man dominated the hardwood as a player and, in retirement, has used some savvy business decisions to build up a massive net worth. He's also become a media fixture, appearing in countless commercials and contributing to TNT's NBA coverage. If there's one weakness in Shaq's game, though, it can sometimes be his basketball analysis. With all due respect to the living legend, he tends to look at things from a player's perspective, defaulting to cliches and retorts about his championship rings instead of offering deeper analysis.
Take, for example, his recent comments about the Los Angeles Lakers and their postseason chances.
While O'Neal began with an accurate, if somewhat obvious, criticism of the aging roster, he followed it up with a rather questionable claim. He doesn't think the Lakers will make the playoffs but, if they do, he likes their chances of upsetting the Phoenix Suns.
Shaquille O'Neal 'is disappointed' in the Lakers, but still thinks they can beat the Phoenix Suns
At this point, it's been almost 20 years since Shaq left the LA Lakers. He still holds some affinity for the franchise, though, meaning he isn't happy with the current campaign.
"I'm disappointed in my Lakers. A lot of people are," O'Neal explained on a clip from The Big Podcast With Shaq, which was shared on the NBA on TNT's Twitter account. "We all forgot about their ages. 'Ooh, Westbrook's coming. Ooh, they got Carmelo.' Like, we're used to having teams with big-name stars on them. So, you got a team with three Hall-of-Famers, you'd think they'd be sixth or seventh, but… and then [Anthony Davis is] not playing. So, I doubt they even make the play-in game."
If you can set aside the fact that many analysts thought the Lakers' aging roster could have some obvious problems, Shaq makes a perfectly valid point. When you see a big-time franchise trotting out a star-studded roster, it's easy to think that success is guaranteed.
With all of that being said, though, O'Neal's analysis then took a bizarre turn. In his mind, the Lakers "will beat Phoenix" if Los Angeles escapes the Play-In Tournament and earns the eighth seed.
When pressed for an explanation, the Lakers legend suggested that his former team could still find their feet.
"AD gonna be back," Shaq explained. "Shaqstradamus will be correct. Westbrook's been playing bad. All it takes is for certain people like that to just play good [for] one or two games, and then it snaps right back."
Nischelle Turner, trying to be the voice of reason, stepped in to say that the former center "just [likes] to double down on the disrespect," which set the big man up for another retort.
"Why is it disrespect? Because they're in the first spot? Whoopy freakin' doo," he said. "OK, golf clap. Everybody in here, clap. Phoenix is in the first spot? See? Congratulations. They have the first spot. Whoopy freakin' doo."
Shaq made some valid points, but it's impossible to get past the overall heat of his take
In fairness to O'Neal, he did make some valid, if surface-level observations. As noted above, he questioned the Lakers roster and said that they might not make the Play-In Tournament. He also accurately noted that seeding doesn't guarantee success and that, in the postseason, a single hot streak can change the course of the series.
With all of that being said, though, those points are a bit overblown in the big man's argument. While being the top seed doesn't give you a free pass to the NBA Finals, it's still indicative that you're doing something right. The Suns could lose to the Lakers, but, over a 70+ game sample, Phoenix has proven themselves to be the better team. It would be naive to ignore that reality.
Moving onto the subject of Anthony Davis and the "few good games" from (presumably) Russell Westbrook, a similar counterargument emerges. While the big man could return within the first week of April, he'll have to get up to speed within a matter of days. Even if he can return to his best in time for a series with the Suns, he'll also have to remain on the floor in order to make an impact. For all of his talent, AD has unfortunately struggled to stay healthy during his time in Hollywood.
Looking at Westbrook, we can follow a similar though process. While the guard certainly possesses the talent to take over any game, he's struggled to make a consistent impact all season. Suggesting that he'll string together several good performances simply because the playoffs have begun is illogical. At the risk of defaulting to a rather base-level argument, if Russ could simply start playing well at any point he desired, he probably would have done so by now.
Lastly, the largest elephant in the room is the pure quality of the Phoenix Suns. At the risk of stating the obvious, the reigning Western Conference champs are pretty good at basketball. Chris Paul is still running the show like it's 2014 (when healthy), Devin Booker is scoring with the best of them, and Deandre Ayton is capable of stepping up and doing it all when the game is on the line. Add in the defense of Mikal Bridges and an improved pace of play (9th best in the league as of March 24), and it's easy to see why the club is sitting atop the standings.
It's also worth noting that both Bridges and Ayton have stepped up during Paul's stint on the sidelines. That improved efficiency will force opposing teams to pick between multiple poisons, which should only help fuel another deep postseason run.
Thus far in the season, the Lakers and the Suns have met three times, with Phoenix winning each head-to-head contest. While there does seem to be some credence to Shaq's argument — LA lost by 10 with Davis in the lineup and got thumped by 18 and 29 with him on the sidelines — going 0-3 doesn't exactly inspire confidence in a seven-game set.
Without being inside O'Neal's head, it's impossible to know why he said that the Lakers would probably fail to reach the Play-In Tournament and definitely upset the Suns in the same breath. Was he simply trying to make headlines with a bold claim? Is he unable to overlook the greatness of LeBron James? Does simply think the Phoenix Suns are unable to win a title and isn't sure who will beat them? How could the Lakers be so bad that they'll miss the playoffs but be good enough to defeat the best team in basketball without batting an eye?
Your guess is as good as mine.
One thing, however, is clear. While you can never predict the future with 100% accuracy, Shaqstradamus was probably right to make a prediction out of both sides of his mouth.
Stats courtesy of Basketball-Reference