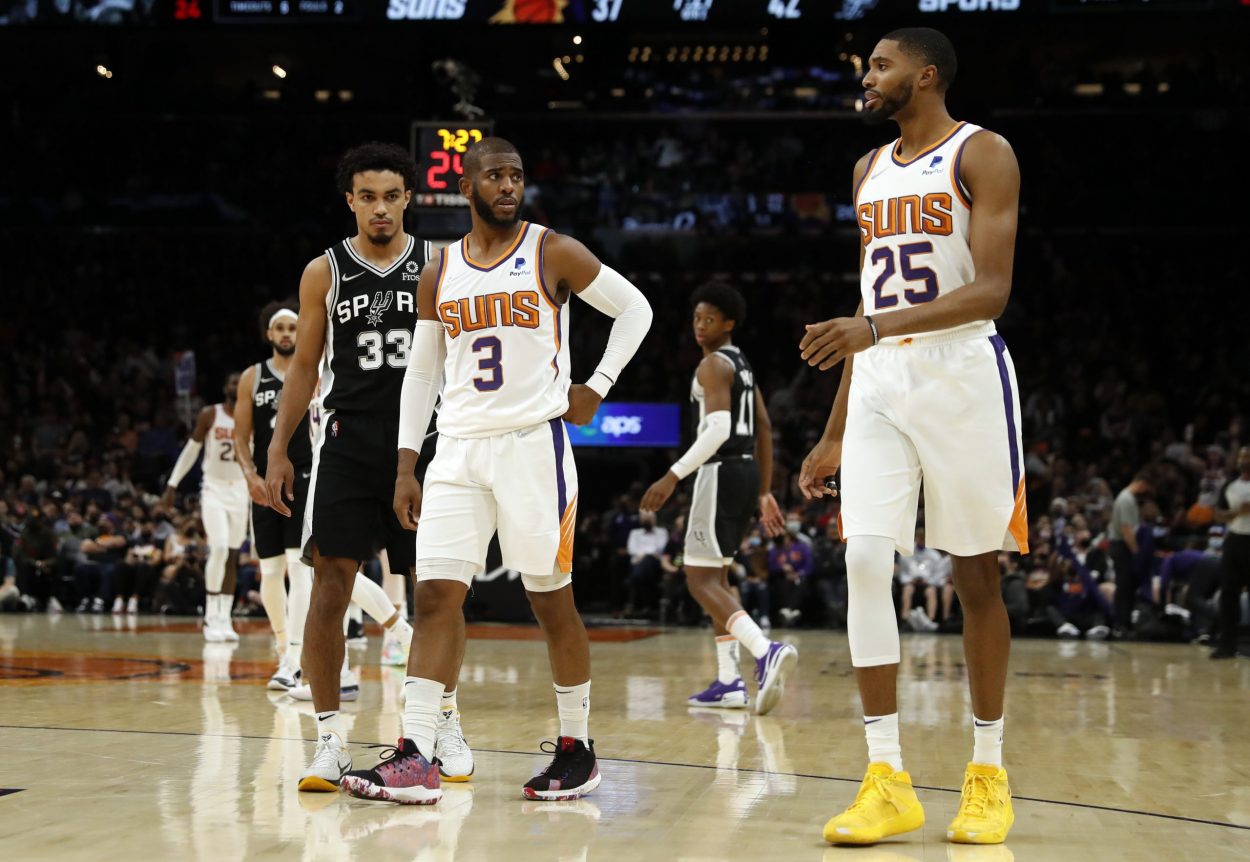 The Suns Need Mikal Bridges' Star Turn Now More Than Ever
Mikal Bridges is rapidly developing into a star. It could not come at a better time for a Phoenix Suns team that must trudge on without Chris Paul.
The Phoenix Suns entered NBA All-Star Weekend with a 6.5-game gulf between themselves and the No. 2-seeded Golden State Warriors in the Western Conference standings. Just when it looked like the Suns had established themselves as the top favorites in the West, however, Chris Paul's injury has suddenly thrown the top of the conference into a state of chaos. Now, Phoenix needs Mikal Bridges more than ever before.
Though Paul and Devin Booker set the tone for the Suns' success, Bridges' two-way value has made him an indispensable part of the rotation. In an encouraging turn of events, the former Villanova star has elevated his play to a higher level.
Phoenix needs to withstand the storm with CP3 on the sidelines. Bridges could ultimately be the guy who determines whether the Suns can go to deep waters and keep the No. 1 seed entering the playoffs.
Mikal Bridges has flashed star potential for the Suns
Bridges is a candidate for the NBA Defensive Player of the Year Award. His ability to make things tough on top talents like Stephen Curry and James Harden explains why the Suns gave him a $90 million extension this past offseason.
But while Bridges hangs his hat on his reputation, he's also developed as a viable scoring option as of late.
In his last 11 games before the All-Star break, Bridges averaged 19.4 points, 5.5 rebounds, and 2.4 assists on 61.5% shooting from the field. He had an average plus-minus of 8.5 and helped anchor Phoenix's seven-game winning streak.
The most impressive aspect of this stretch is how Bridges got his points. According to NBA.com, Bridges went 9-of-15 on pull-up jumpers and went a perfect 6-of-6 on turnaround jumpers. Although most of Bridges' opportunities come from off-ball cutting, he's shown more creation on the ball and can score effectively off the dribble.
Keep in mind: Bridges made those gains with Chris Paul still in the lineup. The Suns need him to keep progressing and fill some of the holes left by CP3's absence.
Providing more shot-creation for the Suns in light of Chris Paul's injury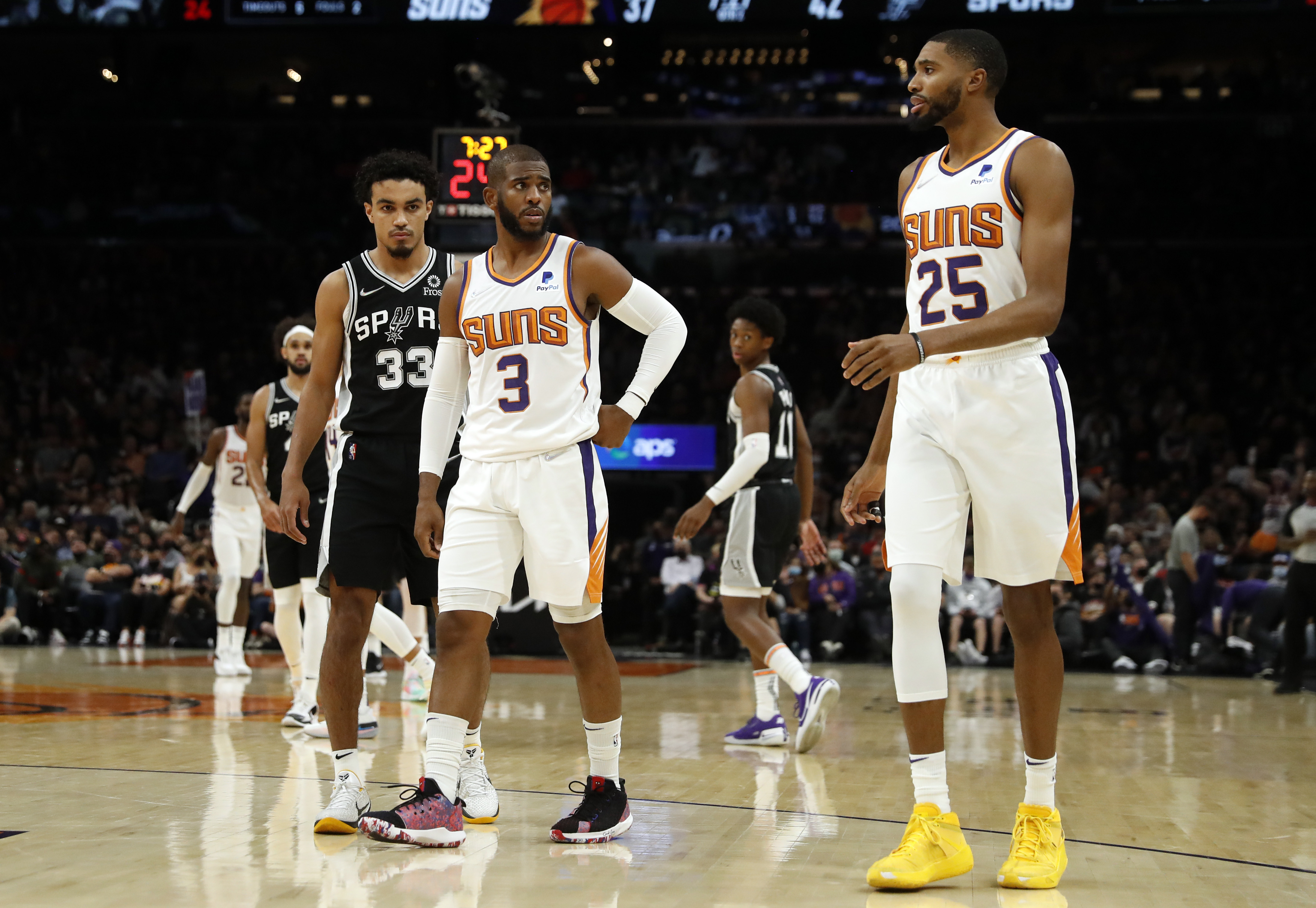 Paul's court vision and mid-range excellence mean the world to the Suns' offense. Phoenix needs to try to replicate his value in the aggregate.
Much of that responsibility falls on Devin Booker, who will likely shoulder the brunt of the scoring load. The Suns could run more post-up looks for Deandre Ayton and leverage his size and agility on the low block. Naturally, they'll need Cameron Payne, Aaron Holiday, and Elfrid Payton to provide quality minutes at the point guard spot.
Still, Bridges' shot-creation and improved playmaking are absolutely vital to the Suns.
Although the 25-year-old's three-point percentage has fallen from 42.5% to 36.5%, he remains a capable floor-spacer who can knock down catch-and-shoot triples. Bridges' capacity to create separation on dribble drives and drain pull-up jumpers should make him a more dangerous scoring threat. Additionally, he can seal on post entries and use his size to shoot over defenders on turnarounds.
If Bridges takes on a higher usage and continues to thrive offensively, then the Suns have a good chance of maintaining their success. But he'll also be tasked with more on the defensive end.
Bridges must do it all defensively
The Suns rank third in defensive rating. But they could experience some difficulties following Chris Paul's injury.
Paul's knack for being a harassing on-ball defender allows Bridges to be a rover and take more risks. He might not have the chance to play that role without CP3 on the court.
For the sake of clarity: Bridges will likely still guard the opponents' most dangerous scorers and wing players. That won't change. However, the communication between himself and Phoenix's reserve guards in drop coverage on pick-and-roll will need to be more precise. The defensive rotations might look clunky at first because the Suns' guards behind Paul aren't as adept at fighting through screens or knowing when to help and get hands in the passing lanes.
The versatility of Bridges and Jae Crowder becomes all the more important on the defensive end. For Bridges' part, the Suns are also hoping he keeps building momentum as a scorer.
In that sense, Bridges might be the X-factor who determines whether the Suns retain the No. 1 seed.
Stats courtesy of Basketball Reference unless otherwise noted.