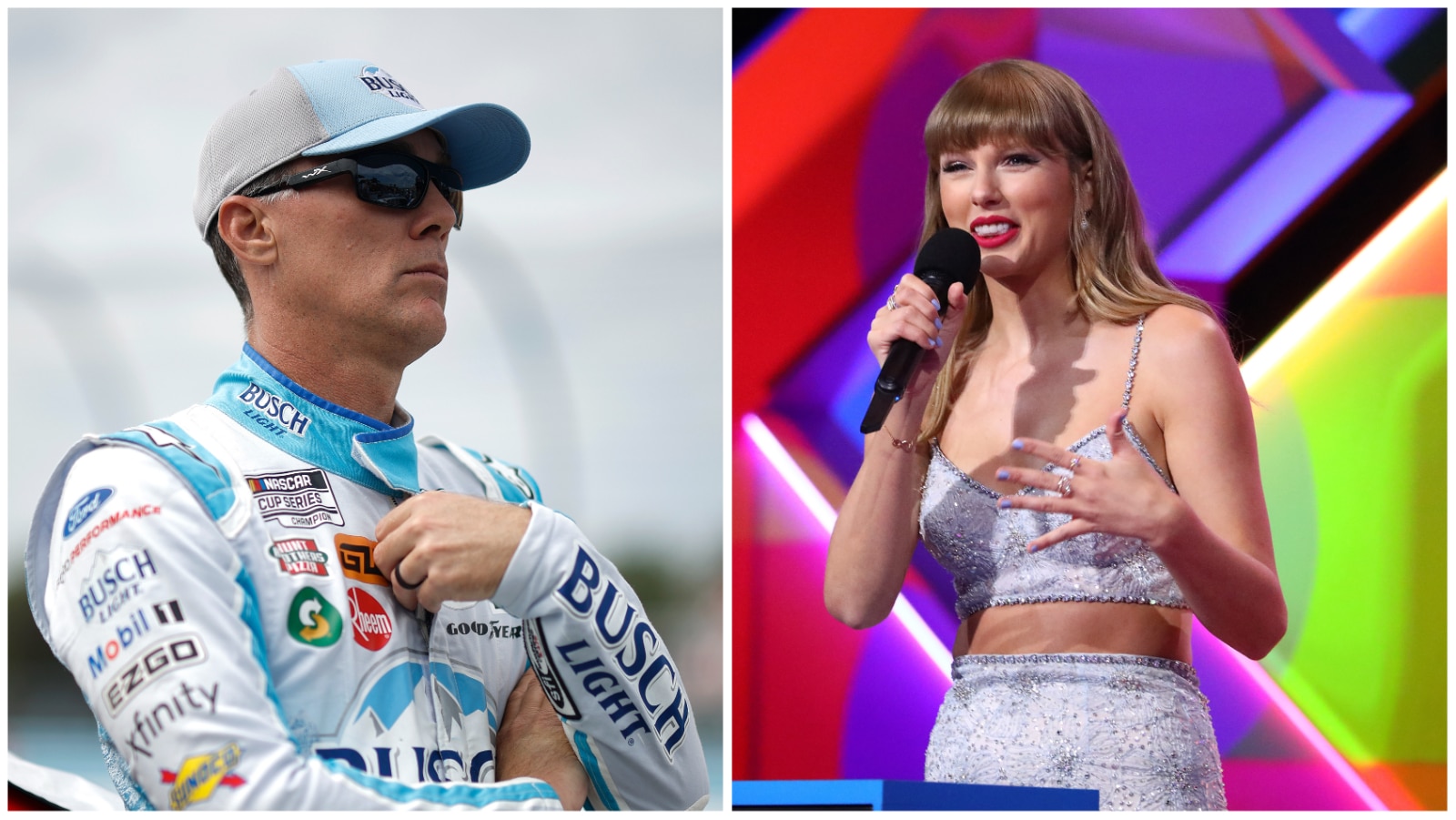 Kevin Harvick Couldn't Escape Taylor Swift and Heartbreak
He's come close three times, but Kevin Harvick can't quite close the deal by winning in the aftermath of album releases by Taylor Swift.
We're in the middle of the NFL season, the NBA and NHL have started up, and the World Series is on deck. We're also just days away from the Martinsville race setting the field for the NASCAR Cup Series Championship 4. So, naturally, let's talk about the connection between Kevin Harvick and Taylor Swift instead.
The world stands still when Taylor Swift drops a new album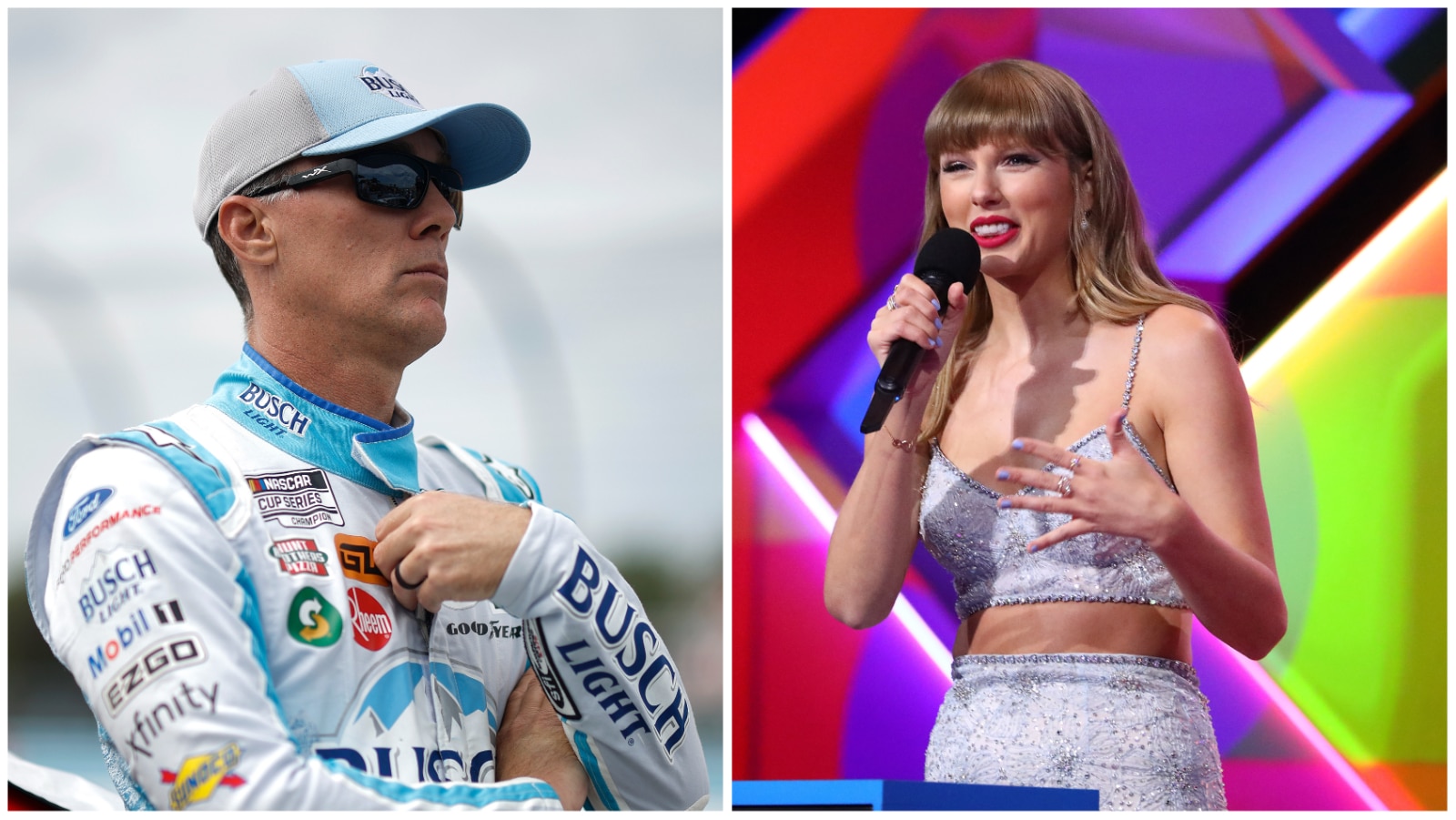 Anyone who's ever browsed the tabloids rack in a supermarket knows Taylor Swift cannot put out new music without referencing the relationships in her life. She's reached cliché status with such, but Swift earns a pass from her record label and fans as one of the most successful performers of the century as we approach the quarter pole.
Every release of new tunes is big news, not to mention big money. Swift released Midnights, her 10th studio album, on Oct. 21, and the impact was immediate. Spotify's servers couldn't keep up with the traffic in times in the initial 48 hours. The Guinness World Records people credit her with broken records – Are broken records something to be happy about when it comes to music, or are we far enough beyond the vinyl era? – for album streams (184.6 million) and artist streams (228 million) in 24 hours.
So, how does this relate to Kevin Harvick and NASCAR? Well, it's "a thing" to treat Swift's new albums as I-remember-what-I-was-doing-when-she-released-it moments. And there happens to be a correlation between Swift and Harvick.
Kevin Harvick couldn't escape Taylor Swift and heartbreak
Taylor Swift has spent much of her music career releasing new albums in predictable fashion: generally every other year and generally in the fall. Nine of her 10 studio albums have rolled out during the NASCAR Cup Series season, and Jimmie Johnson is the only driver to have won the first race after two album releases. (Note: The above tweet, which sent me down this rabbit hole, doesn't quite jibe with actual results.)
Tony Stewart, Atlanta, album released Oct. 24, 2006.
Carl Edwards, Homestead-Miami, Nov. 11, 2008.
Clint Bowyer, Talladega, Oct. 25, 2010.
Jimmie Johnson, Martinsville, Oct. 22, 2012.
Johnson, Texas Motor Speedway, Oct. 27, 2014.
Matt Kenseth, Phoenix, Nov. 10, 2017.
Erik Jones, Darlington, Aug. 23, 2019.
Brad Keselowski, Loudon, July 24, 2020.
Kyle Larson, Homestead-Miami, Oct. 21, 2022.
The 10th album in Swift's catalog came after the 2020 NASCAR season concluded.
Kevin Harvick is the hard-luck man in this Swift story. The NASCAR veteran owns the distinction of being the only driver to finish as the runner-up – i.e., the first loser – in more than one of the above races: Behind Edwards in 2008, Bowyer in '10, and Johnson in '14.
One other bit of trivia: Kyle Larson is the only driver to have finished first (last weekend at Homestead-Miami) and last (2017 at Phoenix) after Swift's album releases.
College football may have been ground zero for the 'Taylor Swift Phenomenon'
As best as I can tell, the idea of tracking wins, or anything else for that matter, tied to release days for Taylor Swift's albums began with a Purdue football follower who was horrified to realize the Boilermakers were winless in the immediate aftermath of her new music dropping.
The Extra Points website found it too intriguing to ignore, so Matt Brown went on a really, really deep dive and looked at how every Football Bowl Subdivision team fared on those same weekends.
By his count, Purdue was the worst program in the country at 0-8, though Akron (0-6) also had zip to show in the win column despite a lot of opportunities. At the other extreme, Ohio State (8-0), Alabama (6-0), and Boise State (6-0) have been particularly inspired by Swift's songs.
Got a question or observation about racing? Sportscasting's John Moriello does a mailbag column each Friday. Write to him at [email protected].
Have thoughts on this topic? Keep the conversation rolling in our comments section below.