Kevin Harvick Discusses Retirement in Lengthy Interview and Surprisingly Brings Up Carl Edwards and Unpleasant Memory from the Past
After months of speculation, Kevin Harvick made it official this week that the 2023 Cup Series season, his 22nd in NASCAR's premier series, will be his last. The Stewart-Haas Racing driver announced the big news on social media. 
Shortly after the announcement, he appeared on SiriusXM NASCAR Radio to discuss the decision. During that lengthy conversation, the 2007 Daytona 500 winner talked about the process he went through to arrive at his final decision and then surprisingly brought up former Cup competitor Carl Edwards and an unpleasant memory for his fans.     
Kevin Harvick announces he will retire after 2023 season
At 47 years old, Kevin Harvick and his fans knew the day was soon coming that he would call it quits. This week, the veteran driver, who has produced a Hall of Fame-worthy career that includes 60 Cup wins and the 2014 championship, revealed that he plans on stepping away from NASCAR competition after the 2023 season.
This upcoming year will be a farewell tour, where the driver will have the opportunity to show his appreciation to all those who have supported him throughout his 23-year Cup career, including his crew, sponsors, and loyal fans.   
Harvick brings up Carl Edwards and his retirement decision
After Harvick made his decision known on social media, he visited with Dave Moody on SiriusXM NASCAR Radio to talk about his pending retirement, and he candidly offered a detailed account of what all factored into his decision. 
"There's a lot that's actually gone into it," Harvick admitted. "When I first started a couple of years ago about when was the right time, I started quizzing people. There was really no clear answer. I think it's a little bit different for everybody. The biggest thing I didn't want to do was retire and then unretire. 
"I wanted to try to do it the right way so that it was fair to my team, my sponsors, and everybody to have sufficient time to run the race teams correctly and have all the proper funding and do all the things it took when I was done because we're so tied to so many of the sponsors and people and different things. It's a snowball effect. It wasn't really all about me personally. I felt like there's a lot of bigger things that are attached to it. 
"In the beginning, I wanted to do it the Carl Edwards way and just walk up on the stage and say that I was done. I think after talking to people and just understanding the situation and trying to be as professional as possible and be as fair as possible to everybody involved, when it comes down to the fans, to the people, to everything you touch, it's important. 
"It's like your first time of anything. You only get one chance to do your last time. We wanted to have a proper plan and we needed to talk to a lot of people and lay things out and really use the last year to pay respect to all the people, sponsors, and fans, and everything that's been part of my career and try to do it the right way."
Edwards stepped away unexpectedly and heard about it from fans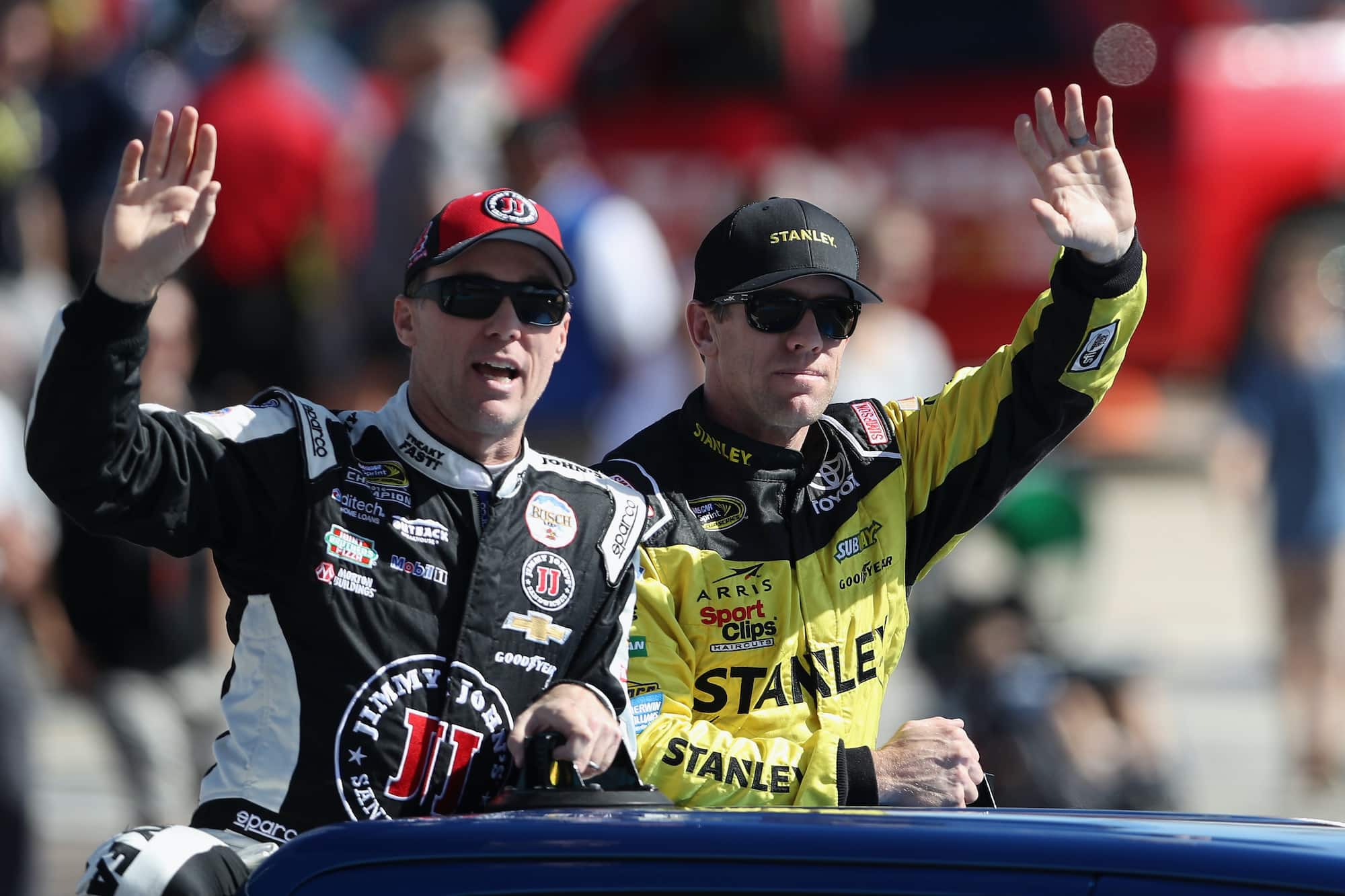 Harvick bluntly admitted that he wanted to pull a retirement move like Edwards, who shocked team owner Joe Gibbs and his fans when he unexpectedly announced after coming oh-so-close to winning the 2016 championship that he was walking away from the sport before the 2017 season at just 37 years of age. 
Unsurprisingly, Edwards felt the wrath of a portion of his fans who somehow felt betrayed by the move and took to social media to express their displeasure with the decision.
Harvick clearly considered that and his farewell tour will avoid upset fans. But, as he described in his interview, the fans are important but are just one piece of a much larger puzzle. He wanted to be as "professional and fair as possible" to all of those who have had an impact on his career and pay respect to them all.
And he will get a chance to do that one final time in 2023.