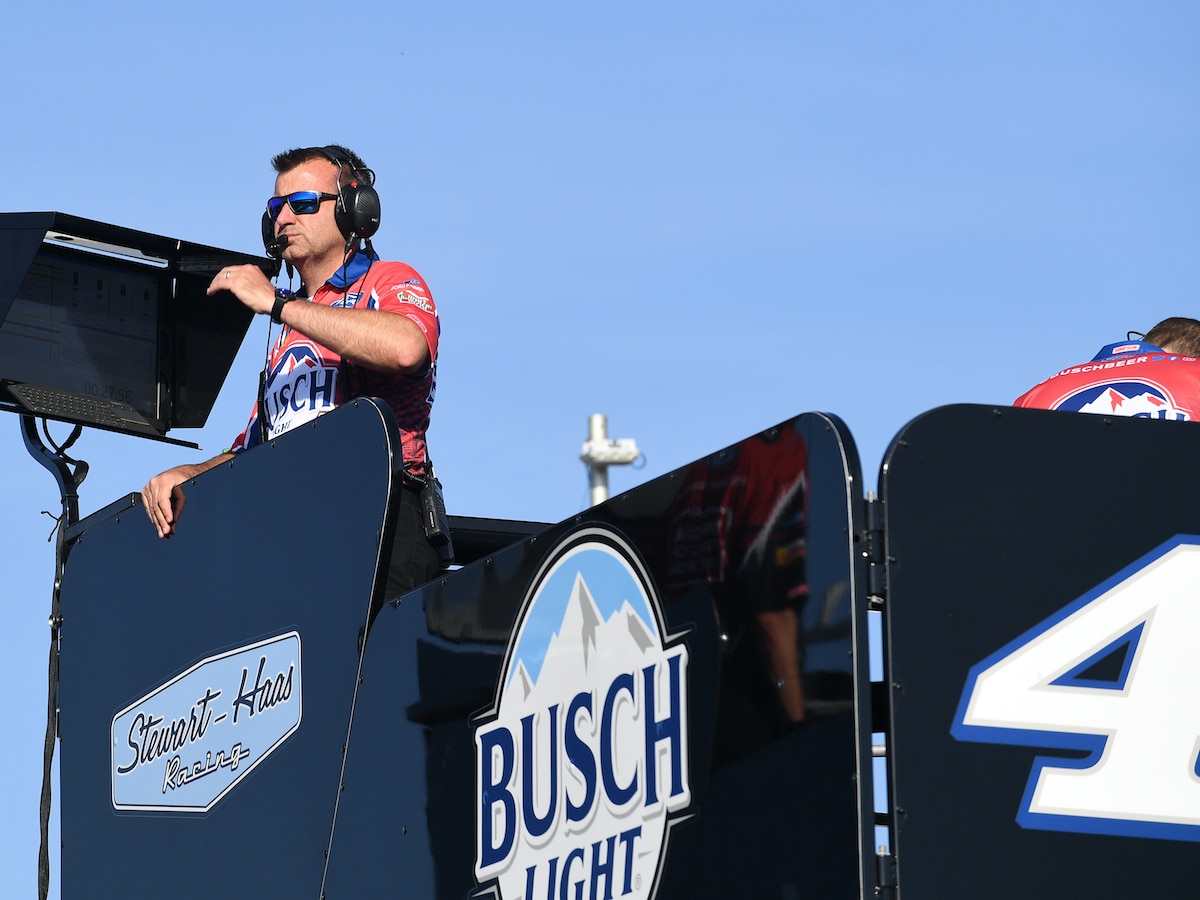 Kevin Harvick's Crew Chief Rodney Childers Reveals Scary Personal News and Why He Won't Be at Watkins Glen
Kevin Harvick's crew chief Rodney Childers revealed some scary personal news on social media and why he won't be attending Sunday's race at Watkins Glen.
Kevin Harvick and Rodney Childers are in their tenth year working together. They've combined for 37 wins and one Cup Series championship. This will be their last year together, with the driver hanging up his helmet for the final time after the 2023 season. 
This weekend, the two won't be together at Watkins Glen as the crew chief announced on social media that he wouldn't be in attendance at the race because he had to unexpectedly fly home for a family emergency on Saturday.
Kevin Harvick and Rodney Childers have a special bond
Rodney Childers was a crew chief for seven drivers over nine seasons before he got the call from Kevin Harvick in 2013. That call changed his career and his life.
"I was kinda lost at what I wanted to do with my life," Childers tweeted earlier this year after Harvick announced his retirement. "Then KH called and wanted me to start the 4 team with him. He looked me in the eyes and told me he believed in me and wanted to win races and championships with me. He gave me the chance of a lifetime." 
Since pairing together, the two have won 37 times, including five trips to Victory Lane during their first year together in 2014, which ended in the title. 
Childers reveals he won't be at Watkins Glen due to family emergency
Childers was in New York at Watkins Glen with Harvick on Saturday, where the No. 4 team qualified 33rd. While the crew chief was working on ways to get the car better for Sunday's race, his focus quickly shifted during the day when he learned about a family emergency back home. He revealed the details on social media.
"I won't be in Watkins Glen today. But will be headed to the war room at SHR for the race," Childers tweeted. "It's been an eventful 14 hours. Yesterday afternoon my dad felt something wasn't right with my mom. He called 911, and when the medics were loading her in the ambulance her heart stopped. Thankfully the medics were there and after 11 minutes got her going again. 
"Currently she is in ICU on a ventilator. Doctors say she is stable and her vitals are doing ok. Right now we're are just praying that things turn out ok over the coming days. I can't thank Dale enough for getting me home last night. It means the world to me. Thank you all for the prayers."
To stay up to date on the latest happenings in NASCAR, including breaking stories you can't find anywhere else, follow Kyle on YouTube and Twitter.