Rodney Childers' Heartfelt Message About Kevin Harvick Explains Why They've Won So Much
When asked whether he'll ride off into retirement with Kevin Harvick after the upcoming NASCAR season, Rodney Childers joked that he'd need to win the lottery to pull that off.
Those odds are super-stacked against Childers. Just ask him and he'll tell you he already won the lottery once when Harvick brought him aboard as the crew chief for the No. 4 Ford.
Rodney Childers indicates he'll stay after Kevin Harvick leaves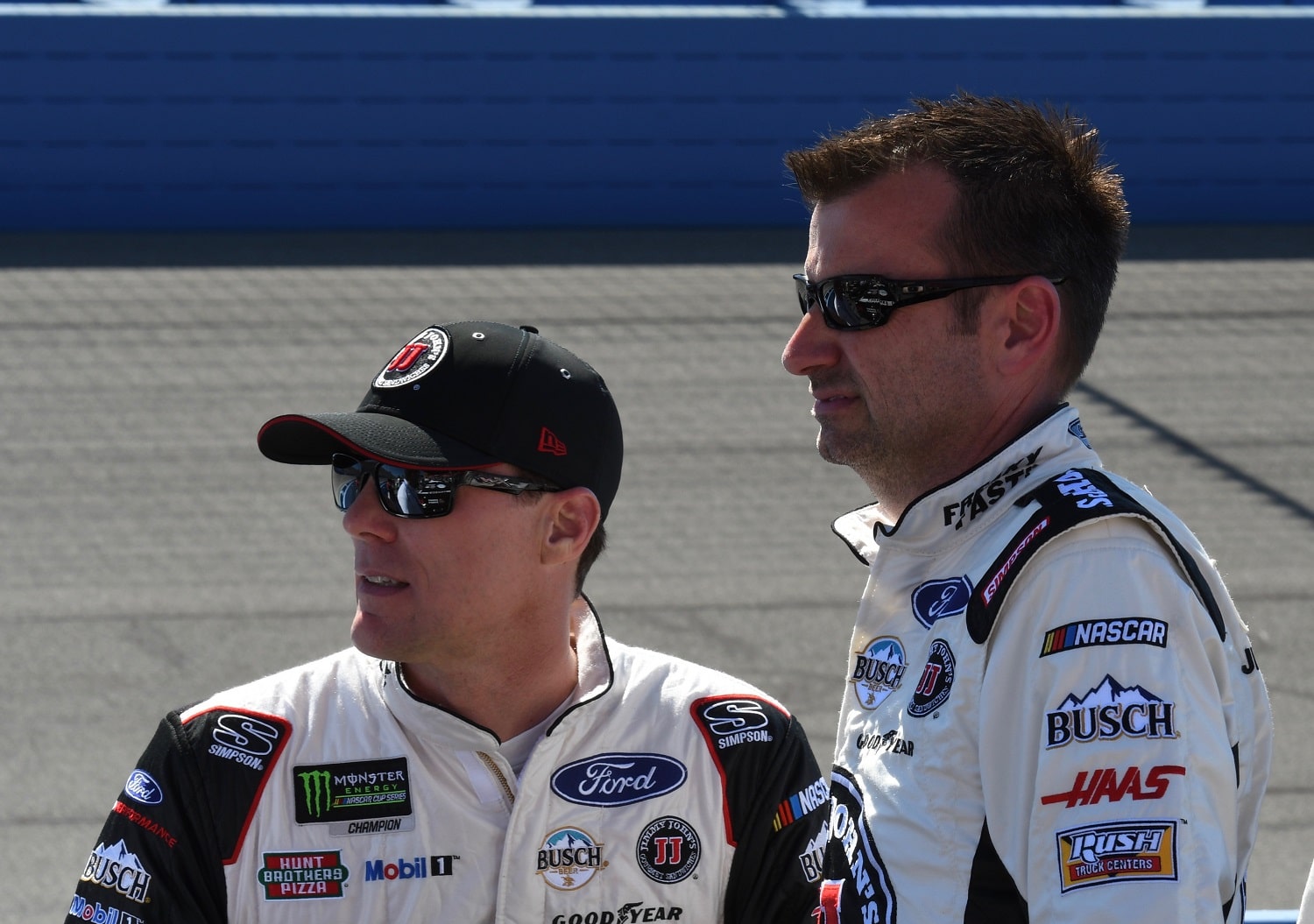 At 46 years old, Rodney Childers is a year younger than Kevin Harvick, the Stewart-Haas Racing veteran who said this week the 2023 season will be his last in the NASCAR Cup Series. While Harvick is toward the high end of the age range for drivers, even top crew chiefs often work until they're closer to collecting Social Security.
Given the disparity in pay between a Hall of Fame driver and a crew chief, even one of Childers' caliber, sticking around longer can be a necessity. The man atop the box for 37 of Harvick's Cup Series wins alluded to such on Twitter on Thursday when a follower asked whether he was following the driver into retirement.
"Depends if I can win the lottery," he responded. "I think that's about a .0000003% chance I can retire …"
The driver-crew chief relationship clicked from the start
Though Michael Waltrip's Cup Series team would continue on for two more seasons, Rodney Childers had seen enough by late in the 2013 season. He was ready to go even before NASCAR came down hard over shenanigans in the final regular-season race, during which Clint Bowyer and Brian Vickers made questionable moves designed to get Martin Truex Jr. into the playoffs.
"I was kinda lost at what I wanted to do with my life," Childers tweeted. "Then KH called and wanted me to start the 4 team with him. He looked me in the eyes and told me he believed in me and wanted to win races and championships with me. He gave me the chance of a lifetime."
Harvick was on the move from Richard Childress Racing to Stewart-Haas Racing, and he got off to a flying start. After four wins and third place in the final standings in his RCR swan song, Harvick teamed with Childers to reach Victory Lane five times in 2014 and capture the Cup Series championship.
Rodney Childers' heartfelt message about Kevin Harvick
Rodney Childers was a crew chief for seven drivers over nine seasons, but he's now worked more races with Harvick than with all the others combined. He may have enjoyed some of the previous working relationships, but nothing compares to his time overseeing Harvick's No. 4 Ford.
"It's been easy, every day," he wrote. "We've talked every day for 9 years. Our passion and push to be the best has never changed. And isn't going to change. We still want to win every single week that we show up."
Childers explained that he and Harvick have become brothers and best friends.
"He taught me to be a better person, smarter, more intelligent.  And most of all we learned what good people with the same goals can do if they really want it. Our team is our backbone, and they have believed from day one."

Rodney Childers
Now, the crew chief knows time is running out. Harvick will leave the Cup Series, likely for the Fox Sports broadcast booth, at the end of the season.
Last season was the first time since 2016 that Harvick didn't finish in the top five in the standings, and Childers looks forward to going out on a positive note.
"This year is going to be fun, and we are going to race like hell," Childers tweeted.
Got a question or observation about racing? Sportscasting's John Moriello does a mailbag column each Friday. Write to him at [email protected]