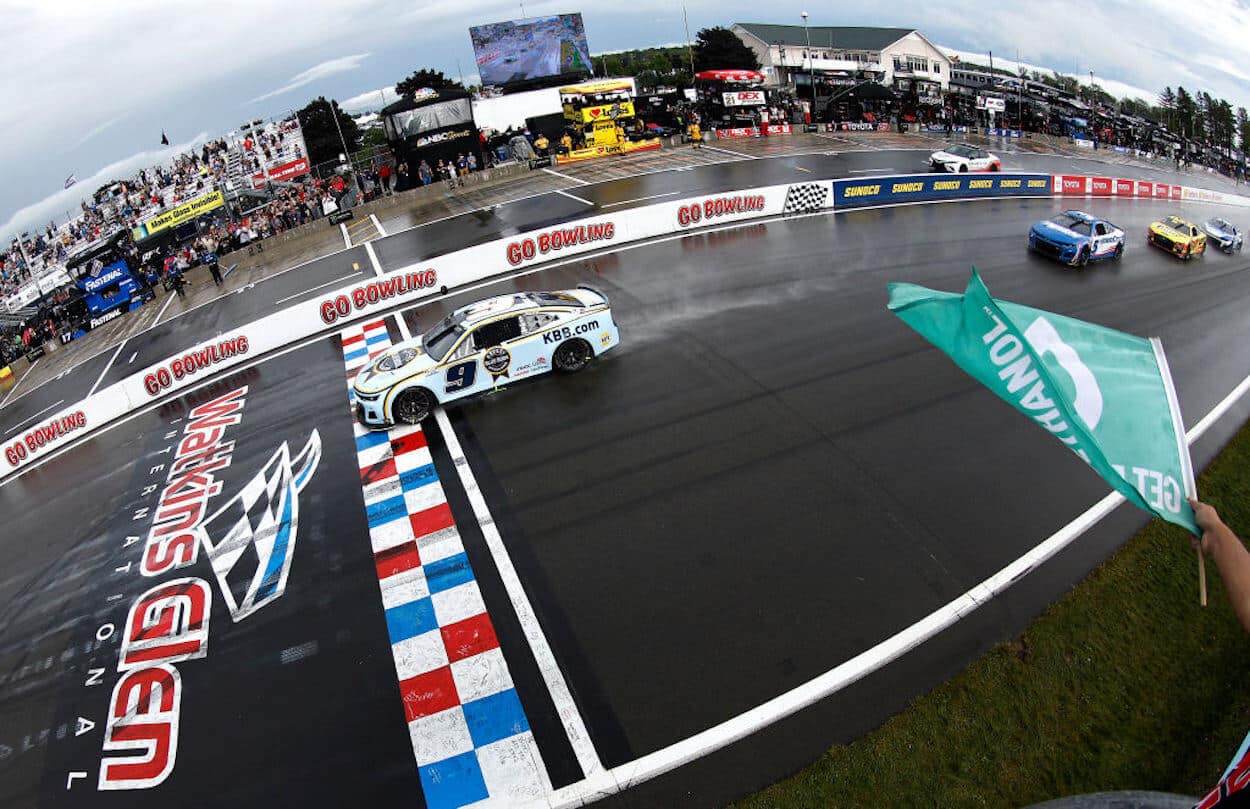 Watkins Glen Is Looking Like Chase Elliott's Only Good Chance to Punch a Playoff Ticket
While Chase Elliott might not be in the most comfortable position imaginable, all's not lost with a trip to Watkins Glen still on the calendar.
With 16 races down and 10 remaining in the NASCAR Cup Series regular season, Chase Elliott is in a predicament no one expected him to be in when the year began.
His only way out? Win one of the next 10.
Otherwise, NASCAR's five-time most popular driver will miss the playoffs for the first time in eight tries due mainly to his absence from seven of the season's first 15 events when he, of course, collected no points.
But thanks to NASCAR granting Elliott not one but two waivers, the Hendrick Motorsports driver remains playoff-eligible. To make it into the 16-driver field of championship contenders, though, he'll need to find his way to Victory Lane before the regular season concludes — a fairly tall order if you look at the list of upcoming tracks.
That said, there's one track still left on the regular season schedule where Elliott has a golden opportunity to score a playoff-clinching win. That track is Watkins Glen International, the fast 2.45-mile road course in Upstate New York.
And in just a moment, we'll explore why WGI is far and away Elliott's best chance to get it done.
The last 10 regular-season races, taken in totality, don't bode well for Chase Elliott
Looking ahead to the final 10 tracks of the NASCAR Cup Series' regular season, Chase Elliott is going to have his work cut out for him. At least if history — or lack thereof — means anything.
Of the remaining pre-playoff venues, Elliott has competed at but never won at five of them. Then there's the inaugural race on the Chicago street course, which will be new not only to Elliott but the entire field of drivers.
Given everyone's lack of experience on the Chicago circuit, it's anyone's guess who might emerge victorious. Although Elliott could be a contender in light of his past success on road courses, he's far from a shoo-in. So for the sake of argument and, given all the unknowns, the odds don't favor Elliott in the Windy City.
That leaves four upcoming tracks where Elliott has won a race in NASCAR Cup Series competition. The term "won" is being used pretty loosely here, however, considering that while the history books show Elliott as a past winner at Pocono, he's never actually taken the checkered flag running P1 at the triangle-shaped Pennsylvania track.
Elliott was merely declared the winner of last August's race at Pocono when NASCAR disqualified the top-finishing cars of Joe Gibbs Racing teammates Denny Hamlin and Kyle Busch after the two Toyotas both flunked post-race inspection for the same reason.
So, this leaves only three upcoming tracks where Elliott is a past winner in the purest sense. Those tracks are Watkins Glen, Nashville Superspeedway, and Atlanta Motor Speedway — the track not far from his hometown of Dawsonville, Georgia.
But it's Watkins Glen, not Atlanta, where Elliott has a significantly more favorable shot to get the win he so desperately needs.
History is overwhelmingly on Chase Elliott's side at Watkins Glen, but winning elsewhere seems like a stretch
Chase Elliott has raced nine times at Atlanta Motor Speedway and finished in the top five just twice. While one of those top-fives was his lone victory at the 1.54-mile Georgia track, where he beat Corey LaJoie in a thriller last summer, his overall record at AMS isn't that impressive.
Since the first Atlanta race of 2022, the track has also been much more of a crapshoot for drivers than it used to be due to a reconfiguration of the track that now makes it race much like a superspeedway — where just about anyone has a chance to win if they can somehow stay out of trouble and get the right push from the right drafting partner at the right time.
All factors considered, Elliott is unlikely to prevail at Atlanta when the Cup Series returns there in July, even though he triumphed in his most recent start at the facility.
As for Nashville, Elliott is batting 1-of-2 at the 1.33-mile concrete oval where the Cup Series first competed in 2021. After being disqualified from the inaugural Cup Series race at Nashville two years ago for having loose lug nuts in post-race inspection, Elliott came back in a big way last year when he won in the Music City but only led 42 of 300 laps.

His successful 2022 outing at Nashville notwithstanding, only two races at the track is a painfully small sample size on which to base a judgment about Elliott's chances of returning to Victory Lane at Nashville next weekend.
Chances are, Elliott won't win at Nashville for the simple reason that drivers rarely go back-to-back at the same track. In other words, the odds are against him.
Watkins Glen, however, is an entirely different story. In six Cup Series at the popular road course, Elliott has won twice and finished no worse than 13th. But even more impressive, perhaps, than his dominant, back-to-back victories at The Glen in 2018 and 2019 is the fact that he's finished no worse than fourth in his last four trips to the facility.
After coming home second at The Glen in 2021 (the Cup Series didn't race here in 2020 due to restrictions in connection with COVID-19), Elliott was in position to score his third WGI victory last August when an aggressive move by Hendrick Motorsports teammate Kyle Larson on a late restart caused Elliott to run out of racing room and ultimately go from first to fourth almost in an instant.
Afterward, Elliott refused to directly criticize his teammate — who held on for the win — but the 2020 Cup Series champion was clearly outraged by what had taken place, and the look on his face said what he didn't say with his mouth.
Elliott will have a chance to avenge that bitter defeat when the Cup Series returns to Watkins Glen on August 20. And, to make the playoffs, he'll likely need to milk it for all it's worth.